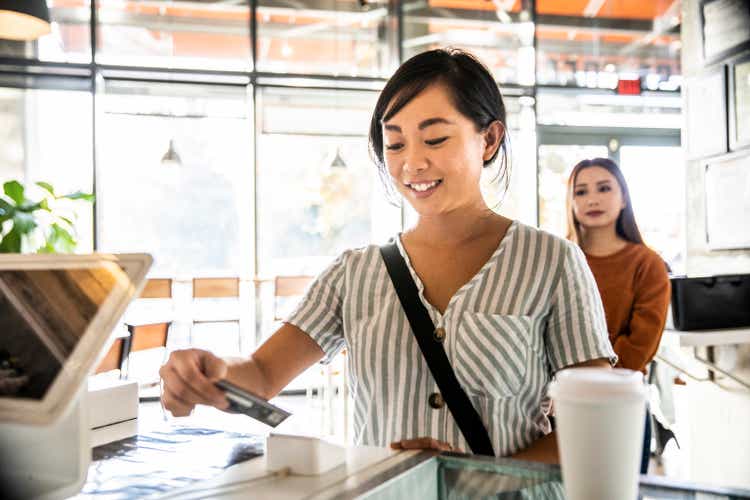 Fiserv (NASDAQ:FISV) has been among the slow-growing businesses in an industry marked by disruption and new entrants. Often seen as a legacy player heading to extinction, Fiserv has become a typical value stock that has been of little to no interest to most retail investors. After all, why go for a slow-growth legacy business when you can be part of the digital transformation with the likes of PayPal (PYPL) and Block (SQ)?
Turns out, however, that since my first analysis on Fiserv, the company has become one of the best-performing stocks in its peer group, coming second after Visa (V).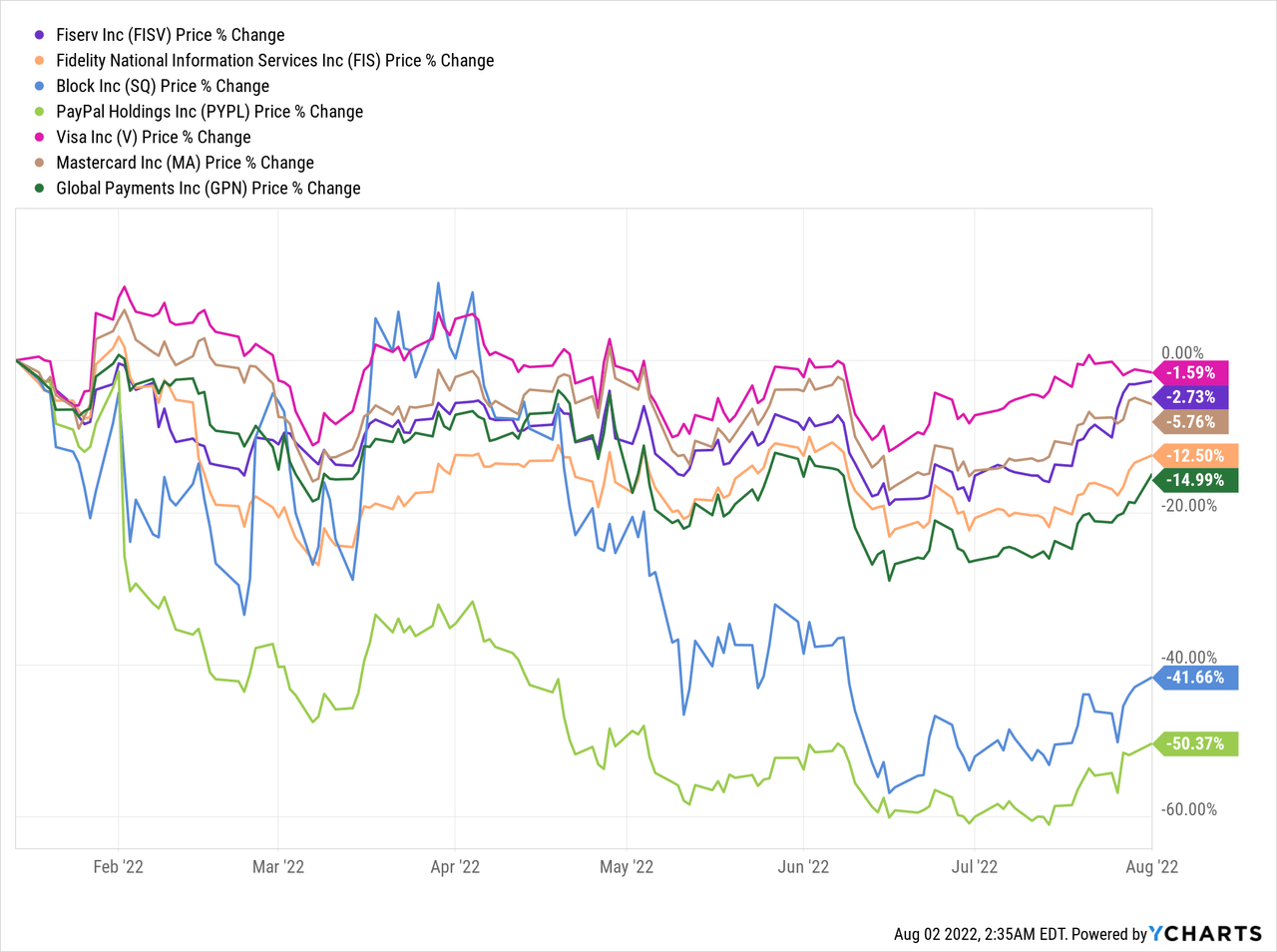 The high-flyers on the other hand lost nearly half of their value in just a few months and might not recover to their previous highs anytime soon.
Although a negative 3% return over the course of less than a year is hardly anything to brag about, Fiserv's resiliency during the recent market downturn is worth noting. More importantly, however, the investment thesis on Fiserv remains solid as the company continues to execute on its long-term strategy.
Fiserv Beating Expectations
To put it briefly, the investment thesis I laid out in January of this year is based on the slow transformation of Fiserv's business model. The business turnaround, however, is not happening overnight and that is causing the conservative pricing of Fiserv shares.
In hindsight, Fiserv's forward revenue growth of 2.9% as of January of this year appears to have been way too low. The graph below compares Fiserv's expected revenue growth rate to some of its peers in the electronic payments space as of January 2022.
Less than 8 months later on, the company has already increased its guidance for fiscal year 2022 from 7-9% to 9-11%.
Looking into the remainder of the year, our year-to-date organic revenue growth outperformance of 11% puts us in a very good position to beat our prior organic revenue growth guidance for the full year. Given the strength in the first half of the year, we are raising our full year organic revenue growth outlook to a range of 9% to 11%, up from 7% to 9% previously.

Source: Fiserv Q2 2022 Earnings Transcript
Not only that, but profitability remains strong and is expected to further improve through the rest of the year.
(...) we now expect our full year adjusted margin expansion to be at least 100 basis points.

Source: Fiserv Q2 2022 Earnings Transcript
As a result, FISV estimated forward revenue growth currently stands at 6.75%, which even though is still considered very low is significantly higher to the low single digit number we had back in January.

The revenue growth this year was primarily driven by the Merchant Acceptance segment where the Clover platform is accounted for. As I noted previously, Clover holds enormous potential as a leading point of sale platform that has surpassed Block's square offering in terms of gross payment volume.
FISV is also focusing on offering entire operating systems around Clover and Carat which will significantly expand its total addressable market but more importantly will also improve the stickiness of the service.
Starting with merchants, we are transforming from selling merchants individual point solutions to offering operating systems, Clover for small- to medium-sized merchants and Carat for large enterprises. This operating system approach expands the size of our total addressable market and makes us more valuable to our customers.

Source: Fiserv Q2 2022 Earnings Transcript
The fintech and payments segments registered far lower topline growth in recent months, however they remain highly profitable business areas of Fiserv and help finance the future transformation of the company.
In these areas, Fiserv is positioning itself to be a leader in the embedded finance and banking-as-a-service space, while at the same exploring a potential offering of cloud native banking solutions. I covered all that back in May of this year.
Even as Fiserv continues to execute on its strategy and the share price significantly outperforms most of its peers, the company remains one of the most conservatively priced when considering the currently expected revenue growth rates and forward Non-GAAP Price-to-Earnings ratios.
Investment Opportunities Ahead
Moving down from the topline, Fiserv remains one of the most profitable names in the sector.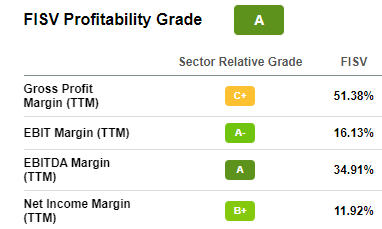 We should note that this is the case, even as the company is shifting its focus to lower margin and higher growth areas in the merchant's acceptance space at the expense of the traditionally highly profitable payments segment.
On the surface, FISV also appears to be faced with declining free cash flow on a per share basis, while a free cash flow yield of 3.5% might not sound compelling enough for most value investors.
This trend, however, reflects the higher reinvestment rate of Fiserv as it finances its future growth initiatives internally. That resulted in a significant increase in both absolute level of capital expenditure and a share of sales.
The higher Capex number also reflects new opportunities arising from Fiserv's recent acquisitions which are aimed at transforming some of the company's legacy business areas.
We continue to see opportunities to innovate for our clients through our recent acquisitions such as Ondot, BentoBox and Finxact as well as organic investments across our portfolio.

Additionally, these investments and accelerated revenue growth resulted in higher capital expenditures and working capital, leading to free cash flow of $658 million for the quarter and $1.3 billion year-to-date.

Source: Fiserv Q2 2022 Earnings Transcript
All that also reflects on the company's higher working capital needs, which put further pressure on free cash flow.
Having said that, the lower free cash flow per share does not mean that Fiserv's business is struggling, but quite the opposite. More growth opportunities mean that FISV's free cash flow will likely remain under pressure over the coming years which might dissuade impatient value investors from taking a piece of the company.
In the meantime, financial risk profile of FISV has improved considerably in recent years which combined with the relatively conservative pricing of its shares creates a significant margin of safety.
Conclusion
Fiserv is an excellent example of how too pessimistic market expectations about the future, based on the past performance of a company, could create an attractive buying opportunity. The full potential of Fiserv's investment thesis, however, is far from realized in my view. The Clover and Carat platforms hold an enormous growth potential, while at the same time Fiserv remains a highly profitable enterprise.
The company is also in a good position to expand in areas such as embedded finance and banking-as-a-service, which benefit from recent trends of more nonbank companies offering financial services. In a nutshell, FISV has a range of investment opportunities ahead of itself which is the reason why management has recently expanded its capital spend program.