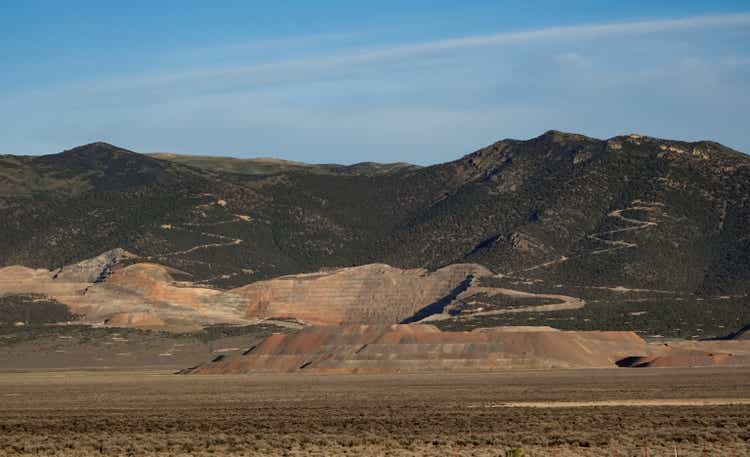 It's been a rough year thus far for the Silver Miners Index (SIL), which is not surprising, and it was one reason I chose to avoid the group this year. The reason was that the producers were coming up against difficult year-over-year comps following last year's 'silver squeeze' that benefited pricing while also enduring considerable inflationary pressures. Fortunately, First Majestic (NYSE:AG) picked up a gold mine in Nevada to better diversify itself, which should have made it more insulated from this pricing shock.
However, the stock has hardly been immune from the sector-wide sell-off. In fact, the stock has found itself down 65% from its Q1 2021 highs, trading at its lowest levels since March 2020. While I believe most of the downside is over at the recent low of US$6.30, major support sits lower near US$5.00, so I would be waiting for pullbacks to US$5.80 or lower if I was looking to buy the stock from a swing-trading standpoint. This would leave the stock closer to support and at a more reasonable valuation of ~1.50x P/NAV, closer to its peer group.
Q2 Production
First Majestic released its Q2 financial results this week, reporting quarterly production of ~7.7 million silver-equivalent ounces [SEOs], a 20% increase from the year-ago period. This was driven by another strong quarter at Santa Elena and a full quarter of contribution from the company's new Jerritt Canyon Mine in Nevada (closed April 30th, 2021). Unfortunately, it was partially offset by a softer quarter from San Dimas due to lower throughput and La Encantada, its smallest operation, which saw a dip in grades vs. year-ago levels.
While the focus seemed to be on the ugly production numbers out of Jerritt Canyon (~18,600 ounces produced) due to the failure in the oxygen plant that reduced roasting capacity and lower grades, Santa Elena performed extremely well. This was evidenced by the operation producing ~2.24 million SEOs, a 103% increase year-over-year due to the introduction of Ermitano ore. The Ermitano ore (5.0+ grams per tonne gold-equivalent) more than offset the decline in silver grades from the Santa Elena Mine, pulling costs down to $15.34/oz on an SEO basis a 32% decline year-over-year.
First Majestic noted in its prepared remarks that it's constructing an LNG power plant expansion and power line to provide lower-cost clean power to Ermitano. The power line was completed in July 2022 and will be connected to the Santa Elena power plant in Q3. It also plans to install additional LNG generators in Q3. Finally, First Majestic installed a 4th CCD thickener in the quarter and will commission a new tailings filter-press in Q4. This should allow for improved recovery rates, higher throughput, and lower costs.
Circling back to Jerritt Canyon, the criticism for the mine is understandable, with any mine operating at costs $500/oz above spot prices being a black eye for a company (Q2 2022 costs: $2,428/oz). That said, this was an unusually weak quarter, and the company is in the process of adding two new satellite mines to increase throughput to utilize the significant excess processing capacity. The company has also executed a further roaster expansion study, connected its underground mine (Smith and SSX), and is working to optimize the underground mining plan. If these optimizations are successful, this could be a ~170,000-ounce per annum operation in 2024 at much lower costs.
To summarize, this was a decent quarter from an operational standpoint, especially if we ignore the abnormally weak quarter from Jerritt Canyon. Ignoring the soft results is fair, given that there's no point in judging an operation while it's in the process of a turnaround and has recently been acquired. Importantly, this isn't the case of a mine that's been under First Majestic's ownership for years that we are giving 4th or 5th chances from a performance standpoint. Instead, it's a mine where the company had to make significant modifications across the board after acquiring it.
Costs & Margins
Moving over to costs, it was a much higher-cost quarter year-over-year due to inflationary pressures that was exacerbated by a very high-cost quarter for Jerritt Canyon. All-in sustaining costs [AISC] on a consolidated basis came in at $19.93/oz, roughly 1% above my estimates of $19.80/oz. However, while these costs look very high, it's important to note that excluding Jerritt Canyon, AISC came in at a much more respectable figure of ~$15.40/oz, which is closer to the industry average. Meanwhile, and as pointed out earlier, Santa Elena's costs continue to trend down now Ermitano is online, with costs of $15.34/oz in Q2, with further improvements on deck in H2 (guidance: $12.60/oz).
Looking at margins, we saw meaningful margin compression both year-over-year and sequentially. That said, First Majestic's average realized silver-equivalent price of $23.93/oz came in above my estimates of $23.70/oz, more than offsetting the slightly higher AISC and beating my margin outlook. This translated to AISC margins of $4.02/oz, down 49% year-over-year. That said, we should see a meaningful cost improvement in the second half of this year and further margin gains in H2 2023. It's also worth noting that while First Majestic was up against insurmountable comps in H2 2022 due to the silver squeeze, it's now found itself up against very easy comps in H2 2023 as it laps this period of depressed silver prices - a positive development from a comp standpoint.
Financial Results
Finally, looking at the financial results, First Majestic reported quarterly revenue of $159.4 million, translating to a 3% increase from the year-ago period. This figure would have come in at a 7% gain year-over-year if not for the withheld inventory (200,000 silver ounces). Assuming these ounces are sold in Q3 2022, if the silver price rebounds, this could help to pad the quarterly revenue a little in a much weaker quarter due to the sharp decline in silver prices.
From a cash flow standpoint, First Majestic reported an operating cash outflow of $32.2 million year-to-date due to substantial income taxes paid in the period, or cash flow of $68 million before movements in working capital and taxes. Meanwhile, H1 free cash flow came in at (-) $77.9 million, up from (-) $44.9 million in H1 2021. This was related to higher sustaining capital expenditures this year. The one piece of positive news from a financial standpoint was that First Majestic appears to have settled its issue with the Servicio de Administracion Tributaria ("SAT"). SAT was looking for considerable back taxes related to the Primero acquisition for those unfamiliar, and First Majestic believed this violated the Advance Pricing Agreement.
As discussed by First Majestic, it paid $21.3 million from Corpocacion First Majestic S.A. de C.V. ("CFM")m and has surrendered $54 million in tax loss carryforwards, translating to a deferred tax expense of $54 million. Given the ~$200 million figure that SAT was quoting, I see this as a positive outcome, and First Majestic finally appears to be in the clear. This should help reduce uncertainty around the stock, given that if it were required to pay the full amount, this would have been a large hit to its balance sheet (~$120 million cash).
So, is the stock a Buy?
With First Majestic trading at more than 2.0x P/NAV, while major gold producers trade at less than 1.0x P/NAV with much more attractive margin profiles, I continue to see far more relative value elsewhere in the sector. That said, for investors looking for leverage to the silver price, First Majestic makes a great trading vehicle given its superior liquidity, considerable silver exposure, and the ability to sell at higher prices than peers (bullion store). This leverage was evident in 2016 when the stock enjoyed a 600% return in less than eight months, massively outperforming the Silver Miners Index, which posted a 260% return in the same period. So, it all depends on what one's goals are.
If one is looking for a large margin of safety and likes consistent income, I see Agnico Eagle (AEM) as a superior pick with limited downside and an attractive 3.9% dividend yield trading at less than 1.0x P/NAV. If one is a trader that is willing to take on more risk and doesn't mind holding lower-margin producers, AG is arguably the best trading vehicle in the silver space and has considerable upside if silver gets back above $25.00/oz. Finally, if one wants silver exposure without worrying about silver prices, SilverCrest Metals (SILV) is the best candidate, benefiting from sub $8.00/oz AISC, giving it a top-10 margin profile industry-wide.
From a trading standpoint, the ideal buy point for First Majestic looks to be at US$5.80, where the stock would have a 5 to 1 reward/risk ratio based on support at US$5.00 and resistance at US$9.80. Hence, I don't see an ideal buying opportunity just yet. For this reason, I continue to focus elsewhere in the sector currently. If AG were to retreat below US$5.80 before year-end, I would consider the stock from a swing-trading standpoint, given how quickly it can move when it finally reaches a major low.
Summary
First Majestic Silver had a decent Q2, and while costs increased due to inflationary pressures, we should see costs improve over the next couple of quarters. From a bigger picture standpoint, the major drag on costs is Jerritt Canyon, and this could look like a completely different operation in 2024 if the company can increase throughput to 3,700+ tonnes per day. That said, violent bear markets in the sector only come around so often, and I believe it makes sense to buy the best and sit tight, which is how I prefer to position my portfolio. So, while I think we've seen the worst of the downside here, and I would expect any pullbacks below US$6.00 to be short-lived if we do see one, I continue to focus elsewhere for now.