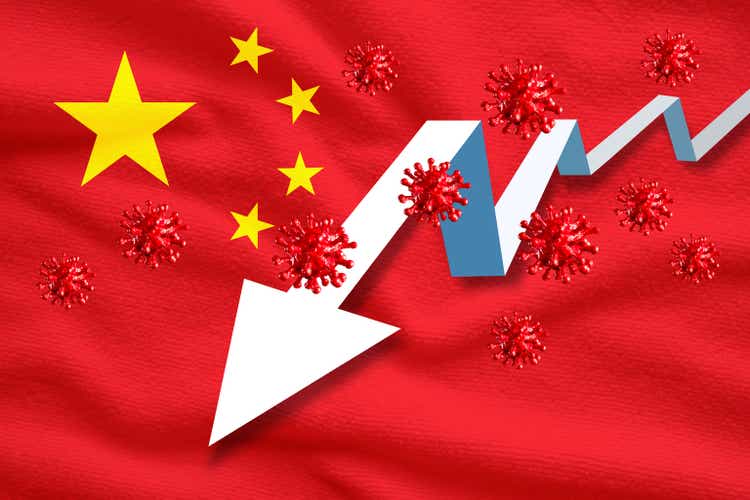 After a dozen downside revisions, Alibaba Group Holding Limited (NYSE:BABA, OTCPK:BABAF) has barely managed to beat the street revenue estimates, which helped its stock to somewhat recover after weeks of constant losses. However, Alibaba continues to trade in a distressed territory, it's not making as much money as before, and it continues to earn less from its investment in Ant Group, which has been its cash cow for years thanks to the dominant position of Alipay in the online payments market. Add to this China's weak economic growth along with Beijing's determination to stick with the zero-Covid-19 policy and it becomes obvious that it's unlikely that Alibaba will be able to show exceptional results anytime soon.
Let's not forget that without a solid growth of its core domestic commerce business, which accounts for the overwhelming majority of total revenues, it won't matter how strong all of its other endeavors are performing, as they won't be able to replace the decline of the commerce business.
Major Roadblocks Ahead
It's hard to call Alibaba's latest earnings results decent given the fact that the company managed to beat the revenue estimates only by $530 million after a dozen of downward revisions were issued in recent months. Beijing's aggressive interference is undoubtedly to blame the most for this considering that its regulations have prevented Alibaba from showing double-digit growth rates, which it was able to do with ease in the past. Just two years ago, when the pandemic was still at its height, the analysts were nevertheless expecting Alibaba to report over $40 billion in revenues in the recent quarter. However, earlier today Alibaba reported only $30.69 billion in revenues in Q1, $10 billion short of the consensus that was issued back in 2020, and barely above the latest revised street estimates of $30.16 billion.
What's also important to note is that the latest Q1 results published today also showcase how dependent Alibaba is on its core commerce business, which during the quarter generated 141.9 billion RMB, down from 144 billion RMB a year ago, and accounted for 69% of total revenues. At the same time, its adjusted EBITDA declined from 50.8 billion RMB a year ago to 43.6 billion RMB in Q1, while the adjusted EBITDA margin has fallen to 31% from 35% a year ago. Even a 5% and 10% growth in revenues of Alibaba's local consumer services and cloud business, respectively, aren't able to move the needle in the grand scheme of things no matter how quickly they are growing.
During the conference call, the management was talking about the plans to increase its presence in Europe to tackle its growth problems, but that is unlikely to move the needle as well. First of all, the international commerce business accounts only for 7% of total revenues and is dependent on high consumer spending, which Europe doesn't have at the moment due to the record inflation and high energy costs that could lead to 70 billion euros in lost consumption this year alone. At the same time, due to the war in Ukraine, Beijing suspended the financing of its One Belt One Road initiatives in Russia, which served as the main connecting hub between the mainland and Europe. This will undoubtedly affect the shipment of goods between China and the European Union.
Therefore, Alibaba's only way to recover is to improve the performance of its core business at home. The problem is that the economic situation in China is not as great as it used to be and there's a risk that things will deteriorate even further in the following quarters. Let's not forget that in Q2, China's GDP increased by only 0.4% Y/Y versus the estimates of a 1% Y/Y growth. At the same time, Beijing expects the country's economy to grow by 5.5% in 2022, which is the lowest official target in decades.
What's worse is that it's unlikely that China will see even this growth rate due to numerous systemic challenges that it currently faces. Right now it's in the midst of a widespread mortgage boycott, which could lead to the burst of a property bubble, while at the same time Xi Jinping is determined to stick to the zero-Covid-19 policy that has negatively affected businesses and is in part to blame for Alibaba's weak Q1 results. Just a month ago there were still around 250 million Chinese under different forms of movement restrictions, and with the resurgence of new Covid-19 variants, there's a possibility that we could see new wide-scale lockdowns closer to winter. That's why even the World Bank doesn't believe that China will grow at an official target rate and expects the country to grow at a revised rate of 4.3%, down from its previous expected rate of 5.1% that it issued in December.
Considering this, it's safe to assume that Alibaba's growth opportunities are relatively limited, especially in case of new wide lockdowns or new systemic shocks, both of which could happen later this year. What's worse is that while Alibaba looks for opportunities to improve its performance, its bottom line continues to struggle. The Q1 report showed that its net income of 23.3 billion RMB was down 53% Y/Y, its non-GAAP net income of 30.3 billion RMB was also down 30% Y/Y, while its stakes in other entities except for Ant Group accumulated a 2.6 billion RMB loss. Even profits from Alibaba's stake in Ant Group decreased by 17% in the June quarter to 3.7 billion RMB, as the latter is in the midst of restructuring, while Beijing continues to take its market share in the online payments market with the help of a Digital Yuan, which is experiencing an increase in transactions this year.

What's Next?
At this stage, it seems that Alibaba lacks direction. Its core business is struggling, the company fully relies on the growth of the Chinese economy to show decent returns, and while Beijing has eased its pressure, it still remains an existential threat to Alibaba given its actions in the past two years. As a result, it's safe to say that Alibaba's growth is limited in the current environment, as its non-core business won't be able to move the needle. The decline in margins of the domestic core business along with the decrease in profitability are making the stock an unattractive investment.
While Alibaba's consensus price target is $155.01 per share, the company's stock is nothing more than a value trap at this stage. It appears to trade cheaply and could be considered a bargain based solely on the fundamentals. However, when you consider all the downsides that are associated with it along with its overreliance on the Chinese economy and Beijing's internal and external policies, then you could come to a conclusion that even such an upside is not worth it in the end. Let's not forget that Alibaba has been trading below the street consensus for over a year already, but that didn't stop the stock from depreciating to even lower levels in recent months. The same could happen again as the Alibaba outlook remains dim in my opinion.