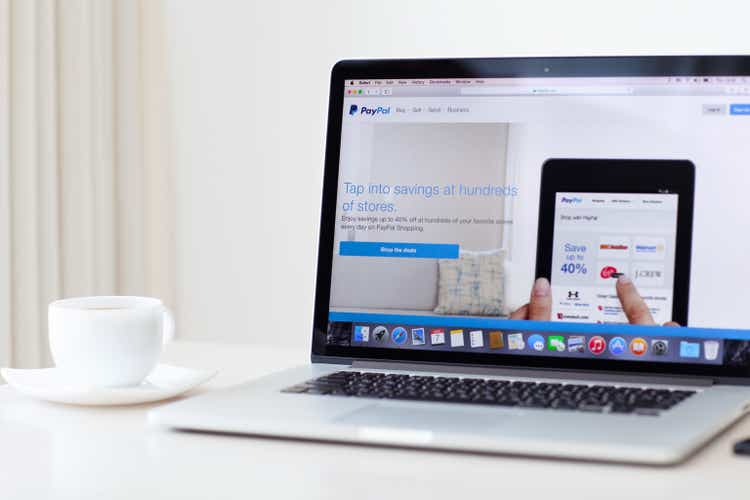 PayPal (NASDAQ:PYPL) soared after second quarter earnings results in spite of results being more or less as expected. I suspect the optimism to be due to the involvement of activist investor Elliott Management and the company's apparent commitment to boosting profit margins. This once-high-flying tech stock has traded so low that it is arguably a value stock. Not much has to go right for this investment to work out, but that may be understating the investment proposition as I do not believe that this secular growth story is over. I reiterate my strong buy rating for the stock.
PYPL Stock Price
PYPL peaked above $310 per share amidst the pandemic but has since fallen nearly 70% since then.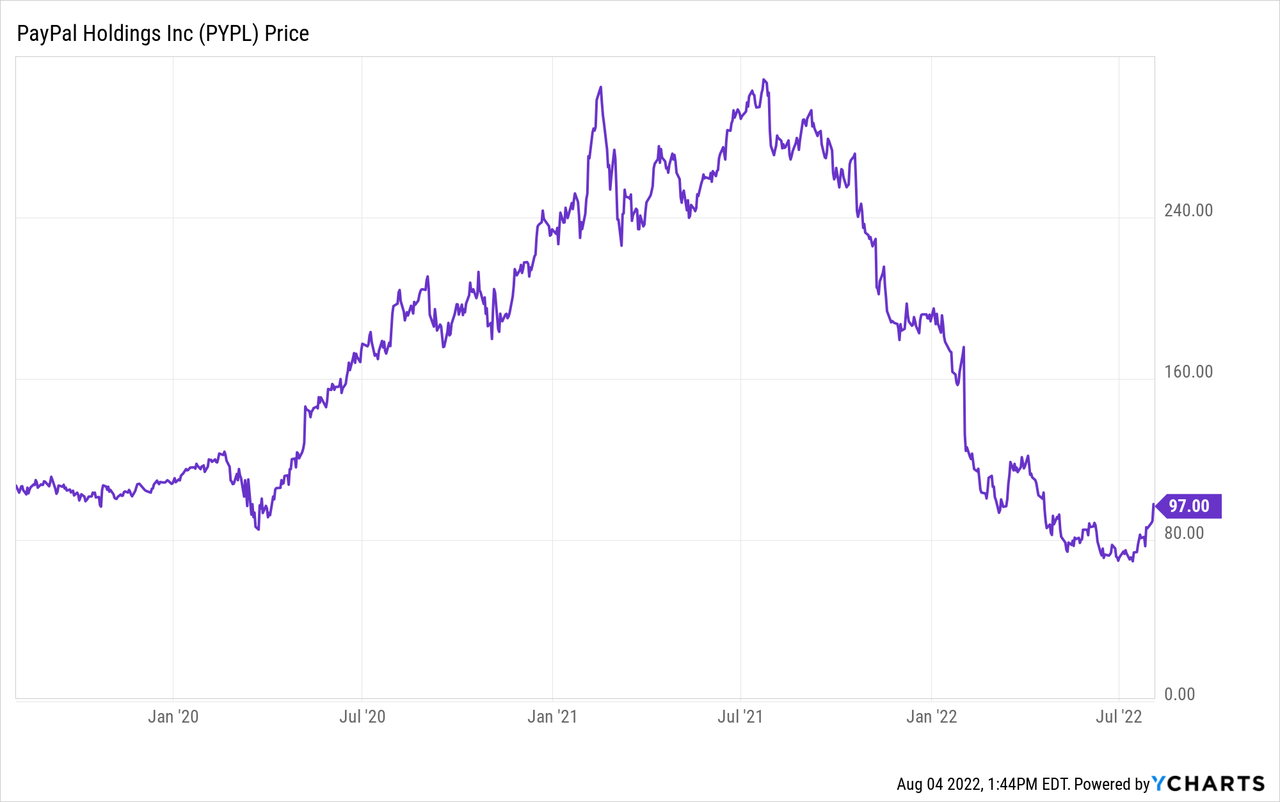 I last covered PYPL in May where I discussed 4 key questions facing investors. The stock has bounced by double-digits since then, but I see considerably more upside ahead.
PYPL Stock Key Metrics
PYPL had previously guided for 9% revenue growth in the quarter, and that's what the company delivered.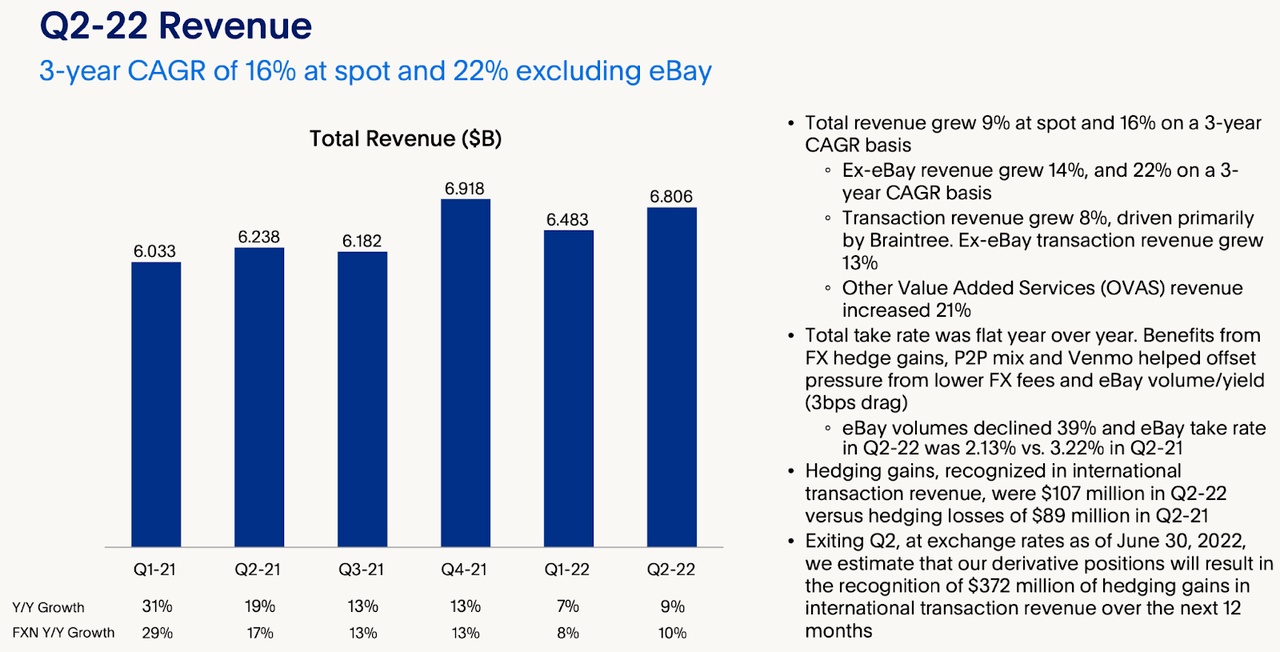 PYPL has seen decelerating growth rates due to not only tough comparables but also due to eBay (EBAY) moving away from PYPL in 2021. Excluding eBay, total payment volumes grew by 15% on a currency neutral basis.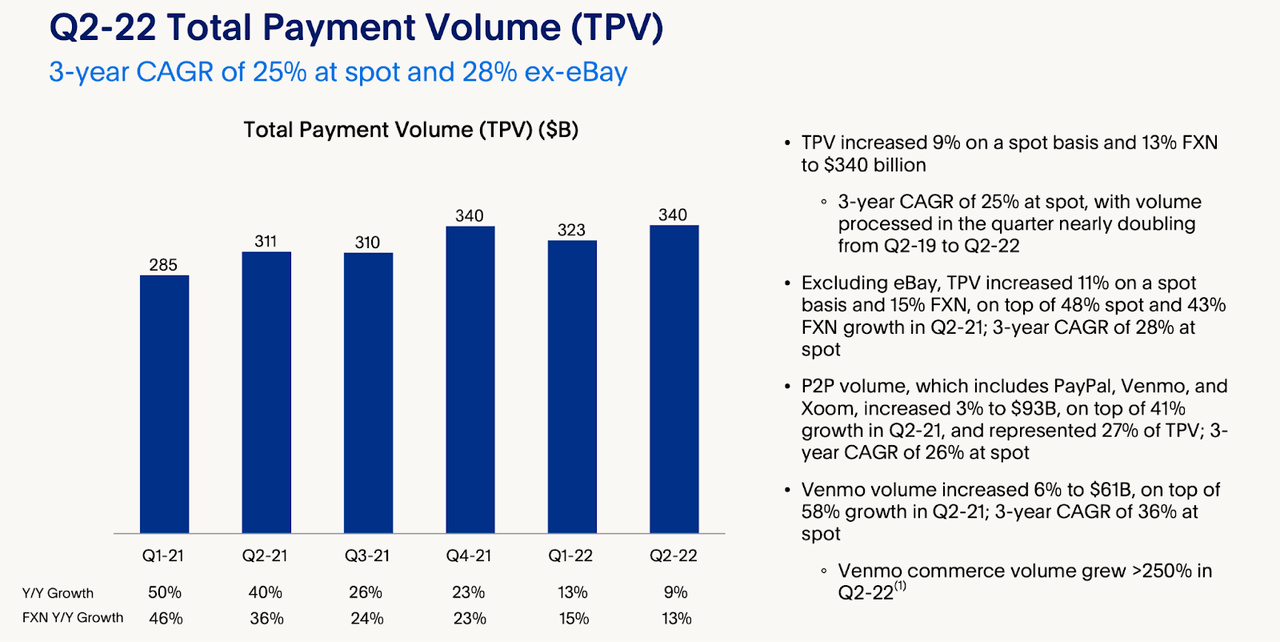 Earnings per share declined 19% year over year. Much of that decline was attributed to the aforementioned eBay exit as well as the fact that the company benefited from releasing credit loss reserves in the prior year's quarter. Excluding these two factors, EPS would have remained roughly flat - reflecting increasing operating expenses.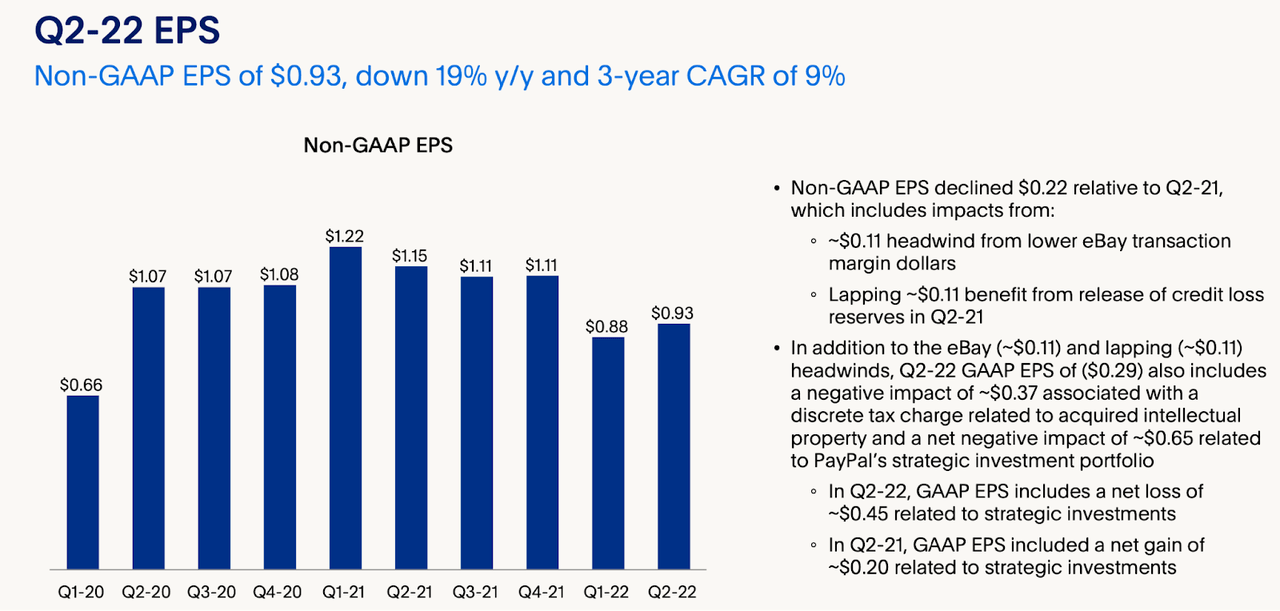 PYPL returned $750 million to shareholders through share repurchases in the quarter, repurchasing around 8 million shares at an average price of $98.71 per share. In the past PYPL has been an indiscriminate buyer of its stock (it was buying back stock at the highs), but now I have no issue with the share repurchase program considering the low stock prices. The company approved a new $15 billion share repurchase authorization as well.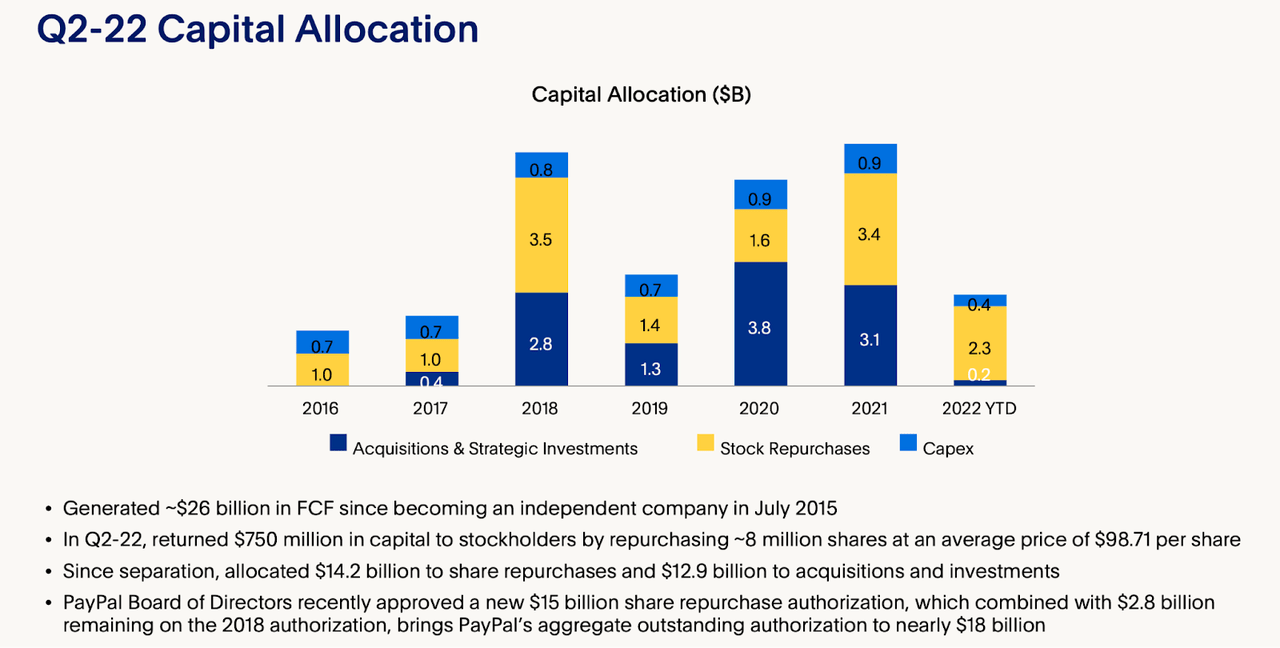 While PYPL reduced its net revenue growth guidance to 11% (previously guidance called for up to 13% growth), it did increase its guidance for non-GAAP earnings to up to $3.97 per share, up from $3.93 per share previously.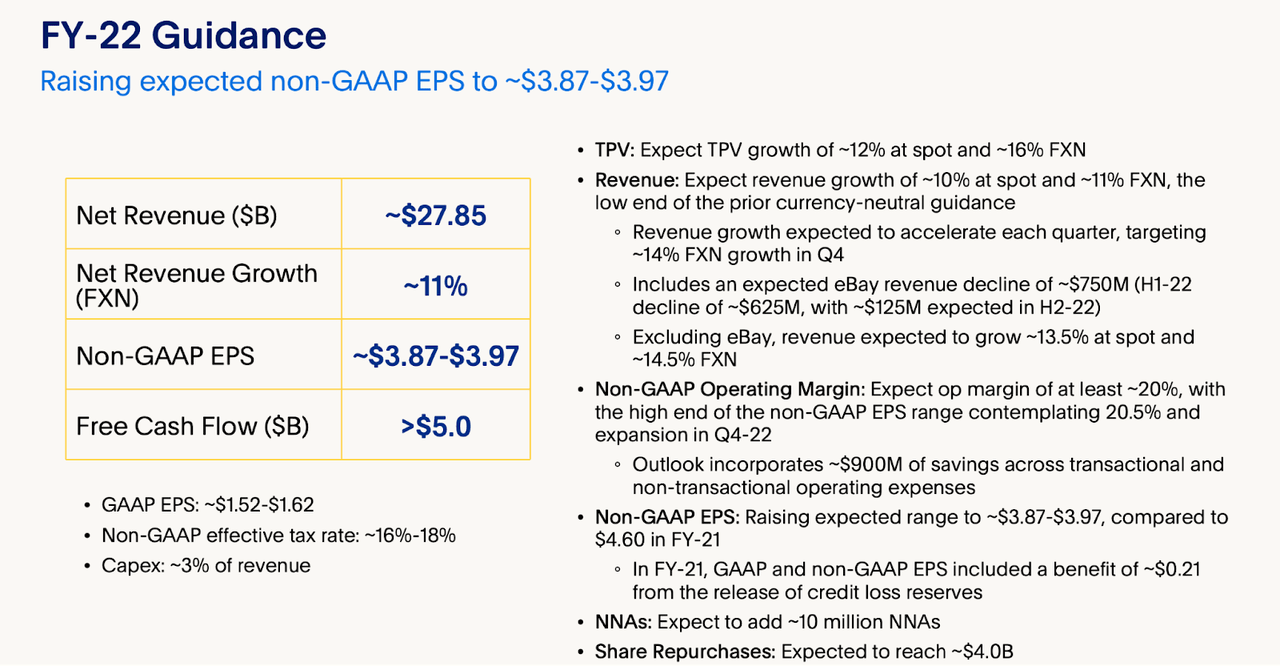 PYPL expects to realize that margin expansion due to $900 million of cost savings. I suspect that this focus on profitability may have been in part influenced by the involvement of activist shareholder Elliott Management. I continue to expect growth rates to be stronger next year as the company moves past tough comparables.
PYPL has also guided for at least $1.3 billion of savings in the next fiscal year, with the goal of reinvesting a portion of those savings in "high-conviction growth opportunities."

PYPL further stated that it would hold an investor day in early 2023 to discuss the new strategy - this may help improve investor sentiment in the meantime.
Is PYPL Stock A Buy, Sell, or Hold?
At recent prices, PYPL is trading at 4x sales and 25x earnings. Given the business model's potential for operating leverage, I expect considerable margin expansion over the long term. Assuming 40% long term net margins, a 1.5x price to earnings growth ratio ('PEG ratio'), and 14% growth, I can see PYPL trading at 8.4x sales, implying a stock price of $203 per share. That suggests over 100% upside from recent prices. I also can see multiples expanding in the near term due to the involvement of Elliott Management, as it appears that the company is now prioritizing margin expansion during a period in which the market has been rewarding present-day profits. The key risk here in my view is that of competition and decelerating growth rates. PYPL adds undeniable value to e-commerce sites because it removes friction at time of payment (no need to enter payment and address details every time). But competition is emerging from competitors like Apple (AAPL) Pay, Shopify (SHOP) Pay, and more. It is possible that PYPL can never return to stronger growth rates due to competition. Given where the stock trades today, I'd argue that this scenario is already priced in, as I can see PYPL driving strong bottom line growth even without strong top line growth due to operating leverage. I rate PYPL a strong buy on account of the valuation and my view that secular growth will return next year.