New York-based hedge fund manager Two Sigma Investments was established in 2001 by John Overdeck, David Siegel and Mark Pickard, and had $8.7 billion in 13-F assets per its latest Q4 filing. Two Sigma is a quantitative hedge fund, firmly grounded in leveraging technology to drive trading profits, and employing statistical models developed using rigorous mathematical analysis and industry insight in deploying its assets. The fund holds a diversified portfolio of over 2,200 equity positions, with about 40% each of its assets deployed in large-caps and mid-caps, and small-caps accounting for the remaining 20%.
We analyzed Two Sigma's equity holdings in its Q4 13-F to determine its highest conviction bets, selecting the largest buys and sells in size, where the buy/sell is also a significant proportion of its prior quarter position in that company. Based on that analysis, the following are its high conviction bullish positions, that are also trading at a discount to the peers in their group (see Table):
Seagate Technology (NASDAQ:STX) and Western Digital Corp. (NASDAQ:WDC): Seagate manufactures hard disk drives for the enterprise, desktop, mobile computing and consumer electronics markets. Two Sigma added a new $61 million in Q4. Other major institutional investors with large bullish bets on STX in Q4 include Ameriprise Financial adding 7.6 million shares to its 2.1 million share prior quarter position, and JAT Capital Management adding a new 5.5 million share position.
STX has been in strong rally mode since the beginning of the year, up about 65% YTD and approaching multi-year highs. The company reported a stellar Q4 at the end of January, arguably among the best reports among large-caps so far for Q4, in which it obliterated analyst earnings estimates ($1.32 v/s $1.08) and gave strong guidance on revenue and gross margin for the next quarter and full year. The stock currently trades at a very cheap 3-4 forward P/E, while earnings are projected to rocket up at an 167.2% annual rate from $1.24 in 2011 to $6.24 in 2012 and $8.85 in 2013.
Two Sigma also loaded up in Q4 on STX's closest peer WDC, another hard disk drive manufacturer, adding $37 million to its $13 million prior quarter position. WDC has also been strong this year, up about 35% YTD. WDC just closed last week on its acquisition of Viviti Technologies Ltd, the former hard disk drive division of Hitachi, and in its latest Q4, it missed on earnings but strongly beat revenues and raised Q3 (March) guidance. Its shares are up strongly since the report, partly on the strength of the guidance, but partly also based on the improving fundamentals in the hard disk drive business. Both STX and WDC are benefiting from improved pricing for their products in the aftermath of the flooding in Thailand last year that wiped out much of the capacity. WDC shares trade at 4-5 forward P/E and 1.6 P/B, while earnings are projected to be up strongly from $3.28 in 2011 to $8.60 in 2013 at an average annual growth rate of 61.9%.
Duke Energy Corp. (NYSE:DUK): DUK provides electrical and natural gas utility services to about 4 million electric and 0.5 million gas customers in the Americas. Two Sigma added $40 million in Q4 to its $16 million prior quarter position. Other major institutional investors with large bullish bets on DUK in Q4 include Fidelity Investments adding 19.6 million shares to its 15.2 million share prior quarter position, and Bank of New York Mellon Corp. adding 2.3 million shares to its 14.1 million share position. DUK shares are up about 15% in the past year, trading near 10-year highs at a discount 14-15 forward P/E and 1.2 P/B compared with averages of 20.1 and 1.3 for its peers in the electric utilities group. Also, it yields an attractive 4.8% dividend yield, well above the 3.7% average for the group.
DISH Network Corp. (NASDAQ:DISH): DISH provides direct broadcast satellite subscription TV services nationwide. Two Sigma added $33 million in Q4 to its $6 million prior quarter position. Other major institutional investors with large bullish bets on DISH in Q4 include leading hedge fund Third Point adding a new 4.0 million share position, and global investment and trading firm Susquehanna International group that added 1.2 million shares to its 0.8 million share prior quarter position. DISH shares received a boost on Thursday after a favorable FCC rulemaking proposal announced late Wednesday that seeks to allow satellite airwaves to be available for mobile broadband use, that would enable DISH to launch a wireless cellular network. Its shares now trade at 11-12 forward P/E compared to the 21.8 average for its peers in the cable TV group.
Other high conviction buys by Two Sigma in Q4 include (see Table):
The following are Two Sigma's high conviction bearish picks based on its Q4 selling activity (see Table):
Philip Morris International Inc. (NYSE:PM), a manufacturer of cigarettes sold worldwide under the Marlboro, LM, Parliament, Virginia Slims and other brands, in which it cut out completely its $240 million prior quarter position;
Las Vegas Sands Corp. (NYSE:LVS), an owner, developer and operator of various integrated resort properties in the U.S., Macau, and Singapore, in which it cut $152 million from its $180 million prior quarter position;
Priceline.com Inc. (PCLN), the pioneer of name-your-own price service, and a diversified online travel services company that provides airline ticket, hotel room, car rental, vacation package, and cruise services through Priceline.com, in which it cut out completely its $113 million prior quarter position;
Freeport McMoran Copper & Gold (NYSE:FCX), engaged in the exploration and development of copper, gold, silver and molybdenum mines in Indonesia, North and South America, in which it cut $108 million from its $115 million prior quarter position;
Schlumberger Ltd. (NYSE:SLB), a provider of technology services, project management and information solutions to the petroleum industry worldwide, in which it cut out completely its $106 million prior quarter position; and
Halliburton Company (NYSE:HAL), that provides a variety of equipment, and maintenance, engineering and construction services to the oil and gas exploration and production (E&P) industry, including reservoir completion and drilling services, in which it cut $63 million from its $75 million prior quarter position;
Table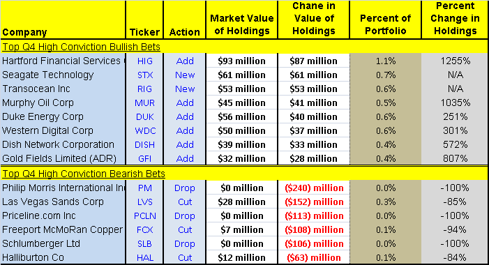 Credit: Historical fundamentals including operating metrics and stock ownership information were derived using SEC filings data, Zacks Investment Research, Thomson Reuters and Briefing.com. The information and data is believed to be accurate, but no guarantees or representations are made.
Disclosure: I have no positions in any stocks mentioned, and no plans to initiate any positions within the next 72 hours.
Disclaimer: Material presented here is for informational purposes only. Nothing in this article should be taken as a solicitation to purchase or sell securities. Before buying or selling any stock you should do your own research and reach your own conclusion. Further, these are our 'opinions' and we may be wrong. We may have positions in securities mentioned in this article. You should take this into consideration before acting on any advice given in this article. If this makes you uncomfortable, then do not listen to our thoughts and opinions. The contents of this article do not take into consideration your individual investment objectives so consult with your own financial adviser before making an investment decision. Investing includes certain risks including loss of principal.