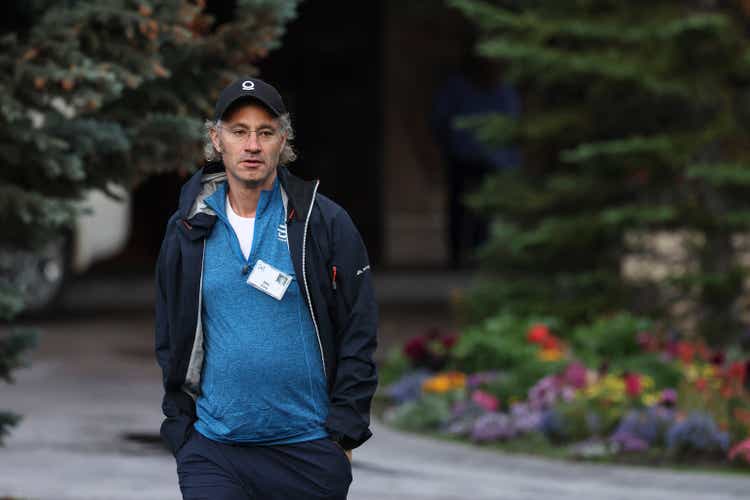 On Monday, Palantir (NYSE:PLTR) will report its Q2 earnings results, which will be able to answer several critical questions regarding the company's future. Since becoming a public company in late 2020, Palantir's bears have been repeating the same talking points about the excessive stock-based compensation policy and constant insider selling to justify their short positions in the company. While those talking points certainly exposed some of the risks related to owning Palantir, most of them are no longer relevant that much after the management began to tackle those issues in recent quarters, which I have covered in one of my latest articles on the company earlier this year.
The important question at this stage is whether Palantir will be able to continue to grow at a double-digit rate in the current turbulent environment that's full of new systemic shocks and challenges. Earlier this year the company reported a weaker than expected outlook for Q2 amid the lower government spending, which could prevent its defense business from growing at an aggressive rate in the following months. As all of us wait for the results to come out in order to figure out what the future holds for Palantir, this article will highlight some of the recent developments that could have a lasting impact on the company's financials in the following quarters.
Reasons To Be Optimistic
After releasing its Q1 earnings report a few months ago, Palantir's management gave relatively weak guidance for Q2. While the street expected Palantir's Q2 sales to be $483.76 million, the management announced that its base scenario projects only $470 million in sales for the June quarter. However, the company hinted that the top-line performance could be better than expected by stating the following:
There is a wide range of potential upside to our guidance, including those driven by our role in responding to developing geopolitical events.
Considering that in Q1, Palantir's customer count grew by 86% Y/Y, the company does have an opportunity to beat its guidance thanks to the potential increase in revenues from those new clients. At the same time, there's also a possibility that Palantir will be able to grow its revenues thanks to the signing of new contracts and winning new awards from governmental agencies. In my latest article on the company, I have already noted how the war in Ukraine along with the increase in defense spending by NATO members is a major long-term growth catalyst for Palantir due to its close connections with the U.S. Department of Defense.
Let's not forget that Palantir is one of the few companies in the world along with Microsoft (MSFT) and Amazon (AMZN) that has an impact level 6 DoD SRG authorization, which allows the storage and transfer of secret classified data through its software solutions. As a result, we could expect Palantir to sign new governmental contracts in the future especially since defense spending is expected to accelerate in the following years. Last week Palantir has already signed a new $99.9 million deal with the U.S. Army to implement AI and ML capabilities for the combatant commands, and it's unlikely to be the last deal with the army, considering that the company is also working on the TITAN program to enhance multidomain operations.
In addition to all of this, the number of Palantir's commercial deals with private and public companies has been on the rise as well. The latest earnings results proved that the company's solutions are in high demand even in the current environment, as its commercial revenues were up 54% Y/Y, while its commercial revenues in the United States alone were up 136% Y/Y. As corporations grow and their processes become more complex, they need companies such as Palantir to handle all the data in order to figure out where all of their weak spots are and how to tackle them.
In addition, as Big Tech talks about a hiring freeze, Palantir doubles down on employees and expects to increase its headcount by 25% by the end of 2022. This is a sign that its business is growing and its software solutions continue to be in high demand despite the turbulent environment.
What's also important to mention is that despite having a forward P/S ratio of ~12x and trading at a premium, the street believes that the stock still has an upside, as its consensus price target is $11.99 per share. There are several reasons for it. First of all, Palantir has $2.52 billion in cash reserves and no debt, which gives the company more flexibility in the current environment with higher interest rates. At the same time, the business has an insane gross profit margin of nearly 80%, as its main expenses go mostly to retaining the top talent to develop unique software solutions that could generate nearly $2 billion in revenues this year alone.
Let's not forget that despite all the challenges, Palantir continues to grow at an aggressive double-digit rate and the street's consensus is that the business will continue to grow its top line at a nearly 30% rate in the following quarters. That's why we could justify Palantir's premium multiples given its ability to grow at an aggressive rate after being in the business for nearly two decades even in the current environment.

What Could Go Wrong?
As I've already mentioned at the beginning of this article, the constant insider selling and an excessive stock-based compensation policy are no longer as big of a threat to the stock as they were before. The latest data shows that after Alex Karp's options expired in December, the constant dumping of shares that was creating selling pressure already stopped more than half a year ago. At the same time, the stock-based compensation expenses, which are non-cash expenses, have been declining as well in recent quarters. Therefore, I don't see both of those risks relevant anymore, especially since Palantir insiders still have skin in the game, continue to own 10.74% of the company's outstanding shares, and don't benefit from the declining share price as well.
However, several real challenges could prevent Palantir's stock from rising higher in the short to near term. First of all, we already saw how growth stocks collapsed since the beginning of the year due to the worsening macro environment. As Fed continues to raise interest rates to tackle inflation, which could likely result in a moderate recession, there's a risk that growth names will continue to trade in distressed territory for a while in the foreseeable future.
What's worse is that in recent years Palantir has been actively investing in various SPACs to gain access to various markets from different industries. The problem is that SPACs are unlikely to perform well in the current turbulent environment as well, so there's a high possibility that in addition to a badly performing stock Palantir could also have significant unrealized losses from its investments. The problem is that we won't be able to figure this out since the full terms of the deals that Palantir made are not reported directly, which leaves investors in the dark.
There are however some investments with the potential to create an additional shareholder value such as Palantir's equity stake in the geospatial intelligence firm BlackSky (BKSY), which recently has been winning major awards from the private and public sector organizations. However, other than that most of the information on those investments is fairly limited, which could lead to major losses for Palantir without investors knowing about it. As a result, there's always a risk that Palantir could underperform and disappoint its investors.
The Bottom Line
Despite the short to near-term risks described above, we shouldn't forget that even in a conservative scenario Palantir is projected to continue to grow at an aggressive double-digit growth rate after being in the business for nearly two decades. The company has a healthy balance sheet with enough liquidity to tackle the incoming challenges, while its capital-light business model will help it to continue to keep its operating margins at high levels and generate a meaningful FCF for years to come.
At the same time, greater penetration of its software solutions in the commercial field along with a close relationship with the Department of Defense should help the company to continue to expand at an aggressive rate in the future. For that reason, I continue to be a long-term bull of Palantir and believe that no matter what numbers are reported tomorrow, the company has much more room for growth from the current levels.