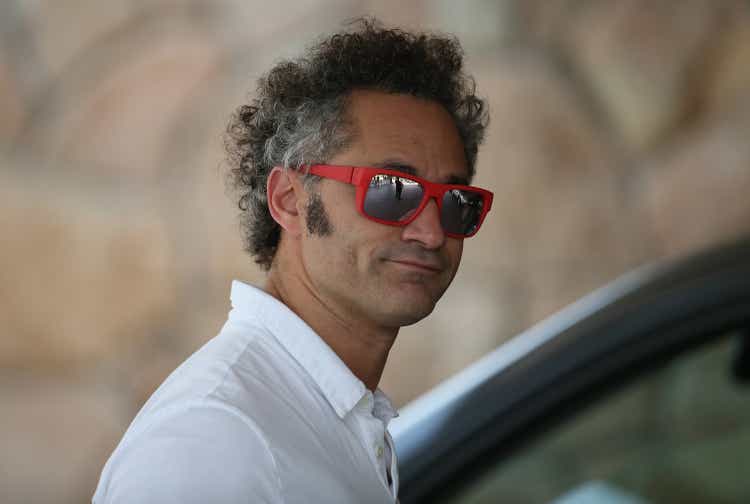 Investment Thesis
Palantir (NYSE:PLTR) is a leading software company helping organisations to make sense of the massive amounts of data they ingest on a daily basis – transforming this from billions of data points into actionable information. It started off predominantly by serving governments, but in recent years Palantir has been expanding rapidly into the commercial market, opening up a much larger opportunity.
It's been quite a rollercoaster for shareholders following Palantir's direct listing in September 2020, with shares currently sat 70% below their all-time highs. A company whose PLTR ticker was thrown in amongst many 'meme stocks' and 'hype stocks' during the market boom in 2020, Palantir has seen its shares tumble whilst business execution has remained strong. In my previous article, I highlighted my belief that Palantir is a broken stock rather than a broken business, and that the current prices could provide great opportunities for long-term investors.
My investment thesis for Palantir is the following: the amount of data that businesses have to work with is only going to increase exponentially, and they need a way of coping with this data & making use of it – this is where Palantir comes in. I want to see continued expansion within commercial customers, a strong dollar-based retention rate implying high switching costs, & continued execution of Palantir's 'land and expand' strategy, as well as margins improving over the long term.
The company just reported Q2'22 earnings, so it's time to see whether the thesis is still on track, or if there are some warning signs for investors?
Earnings Overview
The headline numbers do not make for great reading if, like me, you are a Palantir shareholder. Revenue grew 26% YoY to $473m, beating analysts' estimates of $469m & also beating management's guidance of $470m. Unfortunately, that's where the good news ends. Management's revenue guidance for Q3'22 of $474-$475m represents just ~21% YoY growth & came in well short of the $503m expected by analysts.
Now some people might say "well you can't blame the company for analysts being wrong in their estimates", but sadly you can blame this company. In Q1'22, Palantir guided for "annual revenue growth of 30% or greater through 2025", so I'm sure analysts had baked in ~30% YoY growth in 2022 – which would be revenue of ~$2,004m.
But Palantir's full year guidance for 2022 was cut this quarter. Management have now guided for full year revenue of $1,900-$1,902m, coming in well short of analysts' estimates of $1,980m & representing only ~23% YoY growth.
For a company like Palantir that doesn't give EPS guidance, I don't pay much attention to how it performs against analysts' expectations – this isn't a company that is currently focusing on bottom line profitability. Yet it can still be useful to gauge whether or not a company's margins appear to be deteriorating, and so another quarterly EPS miss for Palantir will just pile more pressure on the shares.
The company reported adjusted EPS of ($0.01) vs analysts' estimates of $0.03; like I said, not a big deal for me, but it's another mark against Palantir's name.
All in all… pretty terrible headline figures. As I write this, shares are down by ~15% in pre-market, and that appears to be a justifiable reaction to Palantir's revenue guidance – both for Q3 and FY22.
Customer Trends & Commercial Momentum
A big focus for me when it comes to Palantir is the company's expansion beyond government customers and into the commercial market – although it actually grew government customers by the largest absolute figure for a long time, going from 93 customers to 101, which was a bit of a bonus!
But looking at the commercial customers, Palantir did successfully grow 10% QoQ or 157% YoY. Whilst these may look like impressive numbers, it's worth highlighting that the 10% sequential growth is the lowest commercial customer growth rate demonstrated since Palantir started splitting out the two segments. This is most likely due to macroeconomic concerns & many economies in the world facing a recession, so companies are less likely to be investing in large projects – such as adopting Palantir's solutions.
This was certainly a better quarter for Palantir's government segment, as revenue grew 9% QoQ compared to just 3% for the commercial segment. Yet when we look at the YoY comparisons, it is clearly still the commercial segment where the growth is, with Q2'22 revenues growing 46% YoY.
Since Palantir operates with so few customers & such large contracts, the date that deals are signed can have a substantial impact on results. If we look at the above graph, we can see that last year Q2 was the peak for government revenue & a low point for commercial revenue, before momentum shifted between the two. I'm not saying that we'll see government revenue drop off in Q3'22 & commercial revenue regain momentum, but just something to keep in mind.
Strong Growth Within The U.S.
One of the big stories that Palantir wanted to put across this quarter was its momentum in the U.S. market, and understandably so, since growth was very impressive.
CEO Alex Karp said the following in his shareholder letter:
The strength and momentum we are seeing with our customers in the United States is a reflection of the refinement and maturation of our software platforms, which we believe will continue leading to increasingly broad adoption across sectors.

We have found that commercial enterprises and government agencies in the United States have been the earliest adopters of new forms of technology.

The willingness of American institutions to experiment with novel software platforms, and to invest in the success and durability of their organizations over the long term, remains unparalleled.

Our quarterly revenue numbers in the U.S. market underscore the significant and unrelenting growth of our business in recent years.
I'm pretty sure the story he wants to put across is that the U.S. market is more open to embracing the new technologies that Palantir has to offer, and that the rest of the world will eventually follow – and, as such, the strong performance in the U.S. could be a prelude to impressive future global performance.
Whilst it was interesting to read the shareholder letter from Alex Karp, there's one thing that concerns me as an investor – it was all positive, every single word. There was no acknowledgement of any macroeconomic difficulties, no implication that business was anything but booming, and no explanation offered about the guidance cut.
I understand that the CEO wants to paint a positive picture & I do believe a lot of the positives within the letter, but following a quarter like this, it felt more like a CEO burying their head in the sand rather than offering any useful explanations to investors.
I will read the earnings call transcript once its released, and hopefully this will provide investors with more detail behind the lowered revenue guidance – because that CEO letter did not give me any clarity.
Valuation
As with all high growth, disruptive companies, valuation is tough. I believe that my approach will give me an idea about whether Palantir is insanely overvalued or undervalued, but valuation is the final thing I look at - the quality of the business itself is far more important in the long run.
I have changed my valuation model slightly to better represent a bull & bear case scenario; I also outlined all assumptions in my base case in a previous article, and will only highlight changes to this.
In terms of changes to the base case, I have updated the revenue growth rates for 2022 to reflect management's latest guidance of ~$1.9B. I have also reduced the FCF margins substantially, as Palantir is currently way behind where it was last year in terms of H1 FCF margins.
My bull case scenario allows for a revenue recovery in 2023 after a recession-induced slowdown in 2022, followed by strong revenue growth throughout the period covered. I do believe this to be realistic, as Palantir's TAM remains huge & it always has opportunities to upsell to its existing (particularly commercial) customers. I do also allow for slightly higher FCF margins generated, as Palantir continues to scale.
In the bear case, I am assuming this slowdown to be deeper and longer than Wall Street expects, with an eventual semi-strong recovery coming in 2025. Revenues over this period will still grow at a 21% CAGR, but way below what I believe Palantir is capable of achieving. I have also assumed that FCF margins do not materialise above 20% before 2026.
Put all this together, and I can see Palantir shares achieving a CAGR through to 2026 of 5%, 23%, and 35% in my bear, base, and bull case scenarios respectively.
Investment Thesis: On Track With Warning Signs
Palantir is continuing to add more commercial customers, and had a dollar based net retention rate of 119% in the quarter, implying that it is still upselling to its existing customers. But this DBNRR of 119% is down from 124% in Q1'22 and 131% in Q4'21, so there's no telling exactly how far it will fall. Similarly, there is clear evidence of a slowdown in commercial customers joining this quarter.
Investors should not ignore the macroeconomic environment that sets the scene for these results. A slowdown in commercial customers is no surprise, as businesses look to cut costs & delay large transformational projects until there is more certainty in the economy – so it's no surprise to see Palantir negatively impacted by this. I would also look to the earnings call transcript where, hopefully, CEO Karp will acknowledge the difficult quarter & offer up some explanations to put investors' minds at ease.
One quarter does not break a company, nor does it make a company, and I don't think there is anything bad enough in this quarter to change my long-term view on Palantir. It is still a leader in its industry, and continues to sign more commercial customers even in these difficult times.
I can't ignore the bad news, however, and the increased uncertainty that comes with business slowdowns and guidance cuts. I still believe that Palantir is set up for long-term success, but this increased uncertainty means that investors should proceed with more caution. Given this, I am downgrading my recommendation on Palantir from 'Strong Buy' to 'Buy'.