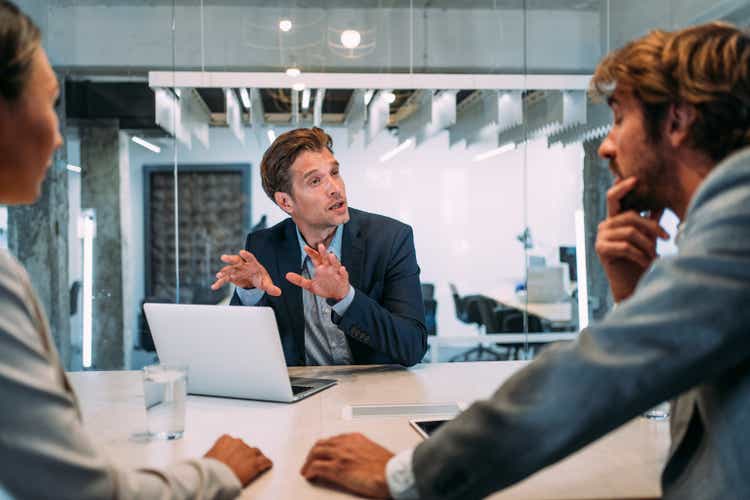 Elevator Pitch
I rate Stifel Financial's (NYSE:SF) shares as a Hold.
My initiation article for SF was written earlier on September 6, 2021, and I discussed about Stifel Financial's capital allocation and recruiting in that article. In this latest update, I highlight Stifel Financial's fiscal 2022 revenue outlook and its recent M&A transaction.
On the negative side of things, Stifel Financial's near-term financial performance will be weak considering the lackluster outlook for its capital markets business. This has led SF to cut its revenue growth guidance for FY 2022. On the positive side of things, this should be a typical cyclical downturn for financial services businesses like Stifel Financial which should eventually blow over in time to come. More importantly, SF has set its sights on long-term growth opportunities, with its recent acquisition helping to expand its geographical footprint in Europe.
Taking into account both the positives and negatives for the stock, I decide to retain my Hold investment rating for Stifel Financial.
Disappointing Full-Year Guidance For SF
Stifel Financial noted at its recent Q2 2022 investor briefing in late-July 2022 that it expects a "5% variance above or below 2021's net revenue" for the company's top line this year. In other words, the mid-point of SF's full-year FY 2022 revenue guidance points to a flat top line for the company in the current year.
In comparison, Stifel Financial guided for a fiscal 2022 revenue of between $4.9 billion and $5.2 billion or a mid-point of $5.05 billion at the end of April 2022. That would have translated into a +7% revenue expansion for SF this year based on the mid-point of SF's prior revenue guidance.
The expected weakness for the company's Institutional Group business segment is the key reason for Stifel Financial's reduced revenue guidance for the current fiscal year. At its second-quarter earnings call, SF mentioned that its clients are of the view that "it's a difficult market to execute transactions, especially capital markets", and this has resulted in "a pause, especially on the capital raising side due to volatility in the market."
SF's negative outlook is reflected in the company's financial results for the second quarter of 2022. Stifel Financial's top line contracted by -1% QoQ and -4% YoY to $1,108 million in Q2 2022 as indicated in its recent quarterly results presentation slides. SF's non-GAAP adjusted EPS also decreased by -18% YoY and -6% QoQ to $1.40 in the second quarter of this year. Stifel Financial's top line and bottom line for Q2 2022 came in -6% and -14% below the market's consensus revenue and EPS estimates, respectively.
A +10% YoY increase in segment revenue for the Global Wealth Management business segment was more than offset by a -21% YoY drop in the Institutional Group business segment's top line for the recent quarter. Specifically, SF's revenue derived from (equity and debt) capital raising (sub-segment of the Institutional Group business) fell by -58% YoY to $66 million in Q2 2022. Notably, Stifel Financial also guided at its Q2 2022 results briefing that 2H 2022 "will be similar to the first half where we had no basically equity capital markets revenue."
Within the Global Wealth Management business segment that performed better in the recent quarter, SF specifically benefited from higher net interest income which rose by +25% QoQ and +57% YoY to $196 million in Q2 2022. But slower-than-expected loan growth could be a key downside risk for Stifel Financial in the second half of the year. At its second-quarter earnings briefing, SF acknowledged that future loan growth will be dependent on "economic conditions" and if "there's a recession looming."
In a nutshell, the 2H 2022 outlook for Stifel Financial isn't great as indicated by SF's management guidance and its recent quarterly results. The Wall Street analysts are also bearish on Stifel Financial with expectations that SF's financial performance for FY 2022 could be potentially worse than what it guided for. The consensus sell-side financial forecasts point to Stifel Financial's revenue declining by -2.5% in fiscal 2022, which is below the company's mid-point revenue growth guidance of 0%.
Stifel Financial's Recent Acquisition Draws Attention
Moving away from the near-term outlook for SF, Stifel Financial's future investments are what investors should pay close attention to.
At the company's Annual Shareholders Meeting on June 13, 2022, SF stressed that "the balance of our business model, augmented by acquisitions, creates continued opportunities for growth." In my September 2021 initiation article for Stifel Financial, I also noted that "a new M&A deal could excite the market" and "help in the positive re-rating of Stifel Financial's valuations." These indicate that investments and acquisitions are a key element of Stifel Financial's growth strategies.
On July 1, 2022, Seeking Alpha News reported that Stifel Financial has concluded the takeover of "European financial advisory firm ACXIT Capital Partners." An earlier June 7, 2022 Seeking Alpha News article cited comments from SF that the company is "extending our footprint into strategically important European markets" with this recent deal, considering ACXIT Capital Partners' current presence in "Frankfurt, Zurich and Munich."
Notably, SF generated 91% of its fiscal 2021 revenue from its home market in the US, as per its most recent 10-K filing. As a comparison, the company's largest international market, the United Kingdom, contributed a mere 5% of Stifel Financial's top line last year. In that respect, it makes a lot of sense for SF to grow its geographical footprint in Europe by acquiring ACXIT Capital Partners.
Concluding Thoughts For SF
My Neutral view and Hold rating for Stifel Financial remain unchanged. I like the fact that SF continues to seek out inorganic growth opportunities in tough times like these, and there is room for Stifel Financial to grow its revenue contribution from foreign markets outside the US with its recent purchase of European financial services firm ACXIT Capital Partners. On the other hand, SF is expecting zero revenue growth for full-year FY 2022, which is a reflection of the challenging business outlook for the company and its peers in the near future. In conclusion, I think a Hold rating for SF is fair.