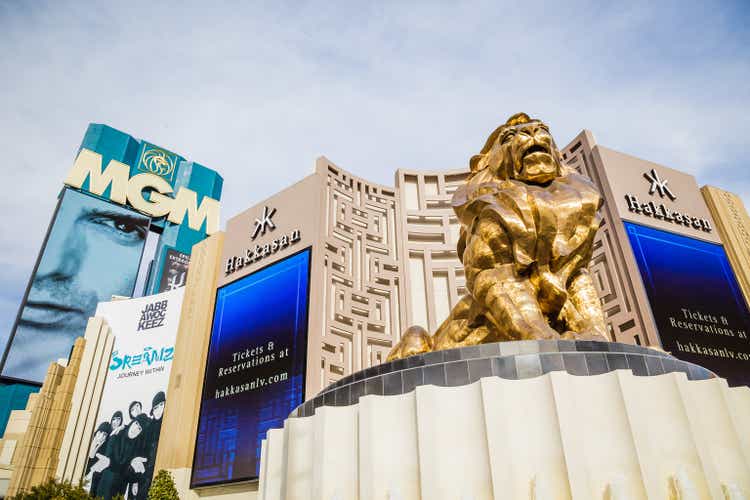 "Perhaps the mystery is a little too plain, said Dupin…"
The Purloined Letter by Edgar Allan Poe.
For those who have not read Poe's famous 1845 detective story from which the above quote is drawn, a quick heads up. "The Purloined Letter" is a short story about a stolen letter from a royal woman who urgently enlists the police to retrieve it. They bring in legendary detective Auguste Dupin to pitch in for the desperate search. His comment sums up the message as he solves the case:
Truth is often hidden in plain sight.
More often than not these days, blizzards of data and the commentary drawn from it bury investors, contributing as much confusion as enlightenment. Poe's story has much resonance. That was my primary takeaway from listening to the earnings call of MGM Resorts International (NYSE:MGM) and sifting through the data of its 2Q22 performance.
It is why I see a long haul buy hiding behind the normal run of corporate speak and analyst Q and A.
I read through tons of comments from sector analysts and industry observers. I talked with colleagues about my sense that the big story of MGM lies buried in plain sight if you fit the pieces to the puzzle together from the comments and responses of management.
It's a puzzle that began to form in 2015.
The takeaway to me was not just a thumping good second quarter for MGM and kudos to management for it. But staring you in the face was the clear intention here that the company was well advanced on the runway of becoming the globe's largest and most profitable gaming business by far within the decade. And at its current dead pooled stock price, it deserves a much higher valuation just for that.
MGM has been transparent in its aims and strategies going back even before the management change that brought Bill Hornbuckle into the CEO chair. They have not only talked a good game, but since the arrival of the new management, have walked the walk.
A snapshot of 2Q22: Moving on multiple fronts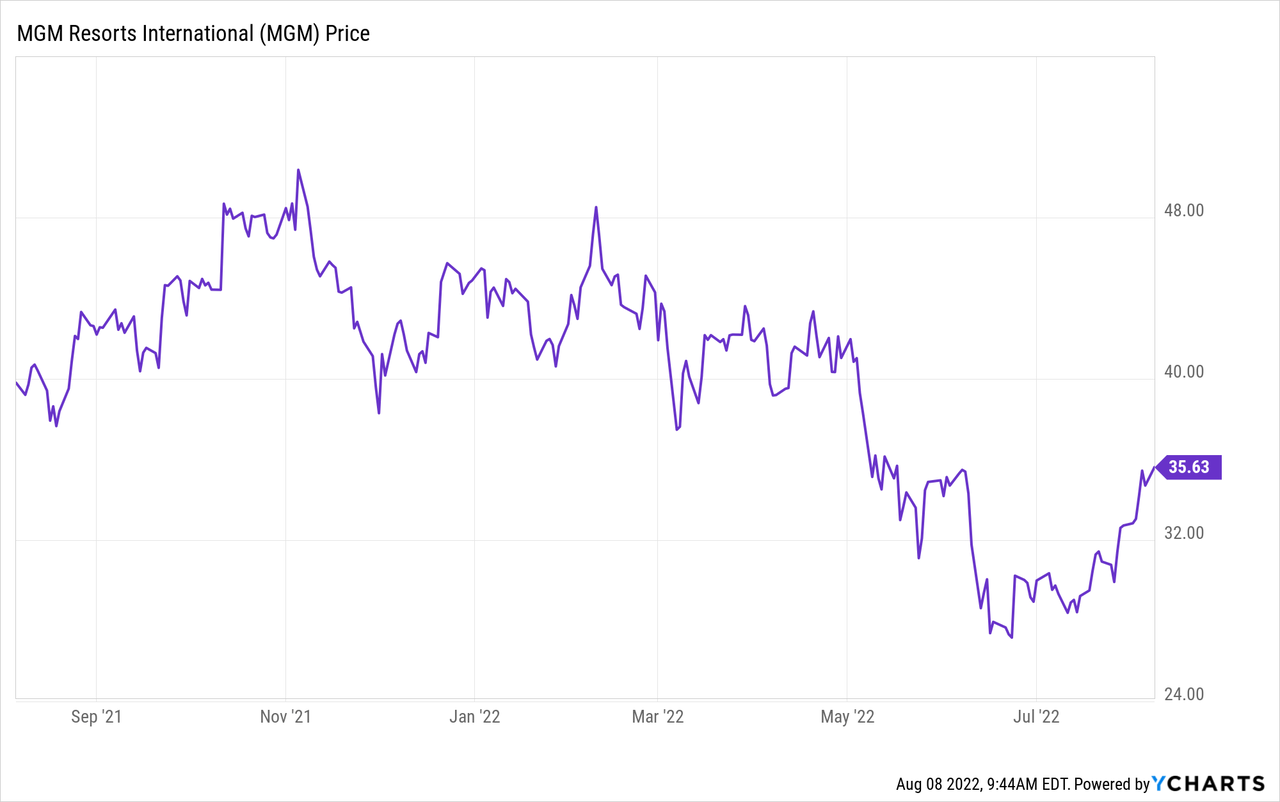 Above: Hammered by the pandemic as are all verticals in the sector, but with prospects that are international and a currently cheap valuation that does not bake in such prospects.
Price at writing: $34.71.
52 week range: $26.41—to $51.70.
Discount off high: ~30% (Nov.'21 before mass outbreak of Omicron variant spooked the sector).
FWD EPS: $1.04.
Market cap: $13.6b.
Analyst earnings full year 2022 E $1.71.
Analyst est. earnings 2023: $1.73.
We see the thinking, but believe it is way low not fully anticipating and meaningful recovery in Macau and U.S. regionals beyond their current performance of single-digit Q on Q growth.
We also expect the Las Vegas record breaking performance undervalues the anticipated spurt we see coming in tour and travel, FIT and convention attendees in terms of non-gaming spend in the balance of 2022. We see a somewhat more bullish surge in 2023 as huge sequential conventions like COMDEX return.
If the company does achieve positive EBITDA on BetMGM in 2023, plus the Vegas recovery and what we see as the beginnings by mid year of a Macau recovery (MGM hold ~a 10% share of market pre-pandemic there and we expect it can hold that position). Based on a series of round robin calls we have made to associates in seven regionally balanced casino states in the U.S. we likewise anticipate a regional recovery q on q beginning in 2q 23 into double digits for MGM, ~11.2% averaged across its entire regional portfolio.
2Q22 results in brief show continued surging of the Las Vegas strip MGM properties with hotel occupancy levels reaching over 90% and only limited going forward by management imposed capacity constraints connected to labor shortages. At this quarter, MGM said it has 5,000 job openings and is filling about 1,500 to 2,000, that's not pretty of course.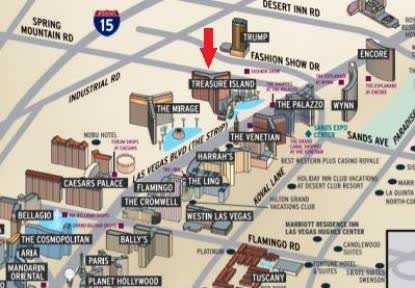 Above: The Las Vegas strip is now the world's biggest gaming market as Macau still sits virtually closed due to China covid-19 policy. MGM is one of two dominant fortress operators as Vegas recovers.
Yet it falls somewhere within striking range of pre-pandemic normalcy levels and is not expected to materially impede revenue growth as the market continues its recovery the balance of this year and 2023 as well. On a TTM basis, MGM revenue is $11.77b yielding $26.09 per share in revenue.
Analyst forecast for 2023 revenue is an average consensus of $12.3b. My view examining the volumes, average bets, non rated play, rise of international VIP group visits, sports betting cross over rewards sign ups and talking with my Vegas spotters, linked to my own archived historical research of post-recession Vegas is a bullish story. I have come to an estimated revenue scenario between $14.2b and $14.6b for 2023 with gross margins built off leveraging capacity brought on line full blast against pent-up demand in the U.S. On that basis I think MGM can earn anywhere between $2.75 and $3,20 a share for 2023.
The MGM China business continues to be a drag on revenue recovery and earnings. The company reported accumulated losses in Macau of $306m for the first six months of this year. And help does not appear to be on the way as Beijing sticks to its zero tolerance covid-19 policy. What is not widely reported however, is a persistent belief among Beijing watchers we know inside the industry that the party congress scheduled for this November, might be the politically best moment for the communist leaders to announce the end of the zero tolerance policy. It's a big if, but should it happen then or before, expect a surge of bullish tone returning to all Macau stocks, MGM among them.
Also gaining some currency among insiders is that MGM, along with LVS is watching unfolding events in Thailand leading to casino legalization. MGM has rumors also abound for Singapore—but that seems way out of the calculation of what ifs at the moment. Thailand can be a serious topic in MGM forward planning if legislation follows the recent report favorable to legalization.
BetMGM: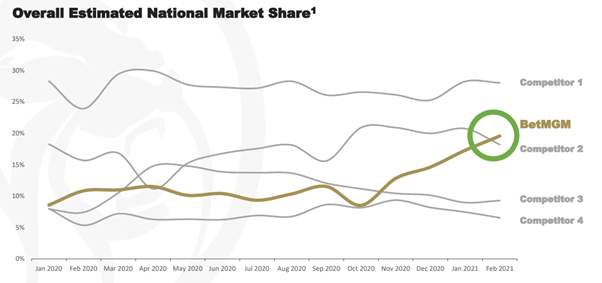 The company is guiding net revenues from its 50% online casino and sports betting entry to reach $1.3b for 2022 against an expected growth in market share to the 20% to 25% level in all the markets in which it operates. More importantly, BetMGM, last year among the bigger spenders on sports betting media ads, said it expects to significantly curb that expense going forward joining Caesars (CZR) and Barstool Sports (Penn) in pivoting toward becoming profitable in sports betting with a positive EBITDA goal by 2023.
We believe part of this goal will be met by what is clearly the beginning of the consolidation trend in sports betting we have long forecast. We already know that WynnBet (WYNN) has put up the for sale sign on its platform. Churchill Downs (CHDN) the venerable leader in horse racing online, just announced it was leaving the sports betting sector as well.
Like its peers, it dove headlong into the business just after the SCOTUS decision in 2018, announcing its head start with its Twin Spires horse racing site would be transformed into BetAmerica, booking bets on everything.
Now they are gone. It is just a matter of time we believe before they will be joined by other platforms either giving it all up, or at least seeking partners in a more passive stance as merely a service arm to customers.
Now tracking at #3 among our index of the 14 currently active platforms BetMGM is clearly going to be a long- term player on this turf. And what is more critical are its goals of attaining first tier leadership in market share.
The market wants to believe in sports betting badly as evidenced by the recent bullish run of Draft Kings into the high teens. That move is driven by strong revenue expectations uttered by CEO Robin during the earnings call, while excessive marketing spend continues to pile up losses. MGM can reach breakeven to profitability by late next year, among the first in the sector. They are on the record now pledged to dramatically reduce marketing spend. They have moved ahead on market share and have both the scale and resources to reach the promised EBITDA land as announced next year.
Balance sheet highlights (mrq)
Cash and cash equivalents: $5.78b
Cash per share: $14.71
Long term debt: $33.7b
Current ratio: 1.65
Operating cash flow: $1.94b
The master plan Mr. Market has either not recognized yet, or does not see as producing the bullish scenario outlined below. Time to call in Inspector Dupin—with all due respect to that great analytical gumshoe.
All efforts to smoke out the obvious from its hiding place among the tons of data thrust upon investors these days on MGM are best expressed through a chronological review of moves by the company and my view of how they knit together into a grand plan to build MGM into the globe's largest, most valuable gaming franchise both in brick and mortar and online is presented here.
2015: MGM Growth Properties LLC (MGP) formed as a real estate investment trust ("REIT") home for selling the entire realty base of the company in Vegas and its regional casinos. The pressure for this move emanated from shareholder discontent with management's often confused efforts to build shareholder value. But later on it was promoted as part of a much bigger focus: that MGM, recognized it was an operator of gambling establishments, not a holder of limited use reality. And that the money to be made in the sector would be in operations, not merely a theoretical periodic up valuing of its realty.
(MGM sold MGP to Vici Properties Inc. REIT this year).
2016: MGM pays $900m to Boyd Gaming Corp (BYD) for the 50% of the market leading Borgata Hotel Casino in Atlantic City it does not own. Along the way it adds or sells off regional casinos focusing its resources on the US east coast's lucrative, highly mature markets now with casinos in Springfield Massachusetts, New Jersey, New York, and Maryland.
2018: MGM opens second property in Macau's Cotai Central area in order to compete with capacity growth by peers Las Vegas Sands (LVS) Wynn Resorts and the four other concessionaires in that market. It is clear then it sees Asia as part of its future.
2018: MGM partners with UK betting giant ENTAIN to attack rapidly growing US sports betting market. In 2021, MGM made an offer to acquire Entain to give it a foothold in the EU online market. The bid, along with another coming from DraftKings (DKNG) was spurned by ENTAIN management. MGM since brought in ecommerce giant IAC Interactive, which made a $1b investment in the company and said it stood ready to pour more cash into MGM to help finance a future bid. We believe this will happen. MGM's focus on digital has a global ambition attached.
2018: From the get go, MGM was one of the US based casino operators announcing it intended to bid on one of three licenses to be issued for casinos in Japan just after the legislation passed. Since then, it is the only major US bidder left, having done a 50/50 deal with Japanese consumer credit giant ORIX Corporation (IX). Competitors have cited the mushrooming expected costs as a turnoff but MGM has stayed the course and now has the pole position on opening its project in Osaka, seen as one of the top venues to come. It is a $10b project slated for a best case opening in 2031. But it signals where MGM's thinking is moving. As that project materializes and gains news flow momentum, even though it's years away, it will be bullish for the stock.
2019: MGM pays $850m to acquire the Empire casino in suburban Yonkers New York, lobbying to have standard casino gaming approved while it operates electronic lottery machines. Neighboring New York City is on the edge of receiving bids for casinos in the metro area. MGM is considered a leading candidate to convert to a full casino at Empire but also to add significant hotel and non-gaming amenities there.
2022: MGM Buys Scandinavian based online betting platform LeoVegas for $607m or $616 a share at a 44% premium. The deal brings MGM's footprint into the EU with a platform primarily operating in Scandinavia. The deal immediately sent the rumor mill spinning. Observers in the sector asked: How will this acquisition impact MGM's partnership with Entain as the UK online site would be a competitor? Link this to Entain's spurning of MGM's offer to buy it and you have a clear scenario: MGM is fully committed to a digital presence across the entire EU.
Some industry insiders see the LeoVegas deal as a stalking horse for a much larger move in the EU by MGM down the line. That implication cannot be lost on ENTAIN management. For that reason, we have not totally dismissed the idea that MGM might well be poised to take a second pass at ENTAIN at some point next year. Or failing that, buying out its partnerships is part of MGM's DNA as demonstrated by its Borgata deal in Atlantic City where it paid $900m for Boyd Gaming Corporations 50% of that leadership property.
Conclusion
Among the recurring blunders we have all observed in corporate America is the penchant to develop an appetite bigger than a stomach. Most recently we have the 2018 AT&T (T) disaster in its acquisition and subsequent fire sale of Time Warner (WBD). A bad idea compounded by corporate culture clash. There are dozens of others investors have seen tank over the decades. Conversely, there are speed-lane growth companies that have created viable empires. Those are the ones which have not misjudged the value of diversity of product and financial power of scale. I believe MGM is one of them. And I believe looking past the immediate news flow from its quarterly earnings you can see the outlines of a smart, integrated strategy.
MGM peers have varying visions of their futures. At present, much is uncertain due to the effects and aftereffects of the pandemic. Caesars, its key competitor in the Las Vegas Strip, sees its future more or less stopping at the water's edge. Global doesn't figure yet in their grand design. Digital clearly does.
Penn National Gaming is a U.S. regional powerhouse with a digital ambition scaled to produce profit regardless of scale, happy in a sense to occupy a second tier position in the market and make money.
Boyd Gaming Corporation is convinced the Las Vegas locals market will grow with its economy and population. Its regional properties are likewise aimed at a very specific 55+ slot player with its digital platform to be used as a marketing tool for younger demos.
Wynn Resorts Ltd. is a barbell strategy. An upscale product for Vegas on one end and two superior resorts in Macau. It occupies the higher end and has already decided to leave the digital field of play.
Las Vegas Sands for the foreseeable future is all-in on Asia. It is in the early throes of recovery in Singapore, waiting it out in Macau and clearly one of the favorites should the Thailand legislature approve gaming for that nation. Long after the death of Sheldon Adelson, it still has not moved to either buy or create a digital presence.
Of all its peers, MGM is the only company with a clear message to investors that it is about the business of creating a global gaming giant in both brick and mortar as well as digital channels. It has acted on that vision scaling ever larger, but with a singular vision to not be limited by geography.
For that reason we believe it deserves a better valuation beyond quarterly numbers that investors focus on pandemic recovery. The stock is a buy and hold as the narrative becomes reality.
What has been hiding in plain sight is this singular staking out of a global vision that should surprise nobody at this point. And that vision and the company's ability to execute is in our view worth nearly double its current trade understandably still bogged down by pandemic woes in the sector.
While it's true that all good things come to an end, never forget that all bad things also come to an end.
Case closed—at least for me.