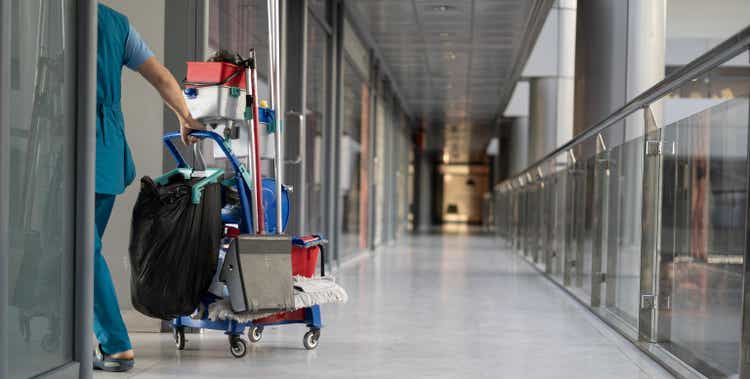 The larger a company grows, the more it has to engage in activities that may not relate to their core business functions. Over time, this has led to the development of the business-to-business service space, where companies have formed with the sole purpose of providing various services to other businesses. One great example of a company in this space is ABM Industries (NYSE:ABM). In recent years, the overall trend for the company has been positive, with revenue and profitability mostly rising prior to the COVID-19 pandemic. The crisis did hurt the company for a couple of years, but the picture since then has been looking up. Although I wouldn't classify ABM stock as particularly cheap, it doesn't look bad on a forward basis and it seems to offer some degree of upside moving forward. As such, I ended up rating the company a soft 'buy', reflecting my belief that it would likely outperform the market slightly for the foreseeable future.
Making money by serving
To best understand ABM Industries, we should delve into each of the operating segments that it has. First and foremost, we have the Business & Industry segment. This is the largest portion of the company and encompasses the work that it does under the janitorial, facilities engineering, and parking services categories for commercial real estate properties, sports and entertainment venues, health care facilities, and more. It also provides vehicle maintenance and other services to rental car providers. During the company's 2021 fiscal year, this segment made up 52.5% of the company's revenue and 57.8% of its profits. Next in line, we have the Technology & Manufacturing segment. This particular unit provides the same kind of services to industrial and high-tech manufacturing facilities. Last year, it accounted for 15.5% of the company's revenue and 17.8% of its profits. It is worth noting that, following an acquisition the company made in late 2021, it ended up replacing this segment with one called Manufacturing & Distribution. Through this, the company provides facility services, engineering, janitorial, and other specialized services to manufacturing, distribution, and data center facilities. Under the manufacturing moniker, it provides work for motor vehicles, batteries, pharmaceuticals, steel, semiconductors, chemicals, and more. And under the distribution facilities category, it provides work associated with e-commerce businesses, cold storage, logistics firms, and other activities.
Under the Education segment, the company offers janitorial, custodial, landscaping, facilities engineering, and parking services for public school districts, private schools, colleges, and universities. Last year, this segment was responsible for 13.1% of the firm's revenue and for 10.4% of its profits. The Aviation segment, meanwhile, supports airlines and airports with a variety of services ranging from parking and janitorial to passenger assistance, catering logistics, air cabin maintenance, transportation, and more. Last year, this segment accounted for 10.8% of the company's revenue but for only 5.6% of its profits. And finally, we have the Technical Solutions segment. Through this, the company provides mechanical and electrical services to its customers. These particular activities are offered across the company's other segments. Last year, it accounted for 8.4% of the firm's revenue and for 8.5% of its profits.
The types of contracts that ABM Industries offers are varied. For instance, it offers its services through monthly fixed-price contracts. Some arrangements can also be done at a cost per square foot. Other contracts that it engages in can be done using cost-plus pricing. Work orders, which usually consist of supplemental services requested by clients outside of typical services, can also be provided. A fixed price based on transactions can also be accommodated for some activities, such as wheelchair passengers served or airplane cabins cleaned. Some of its contracts can be done on an hourly basis while others can be done using a management fee with a pass-through convention related to certain expenses. The company is flexible in that it also provides the option whereby it will pay a fixed amount of rent plus a percentage of revenues derived from monthly and transient parking to a property owner. This gives customers the ability to monetize their relationship with ABM Industries. Somebody also engages in energy savings contracts, fixed price repair and refurbishment contracts, and even franchise arrangements associated with engineering services. In short, it can accommodate almost any sort of arrangement with its clients. It is worth mentioning that while the company does have overseas operations, the vast majority of its business is centered around the U.S. market. Last year, for instance, 93.9% of all the revenue it generated was associated with the U.S. market.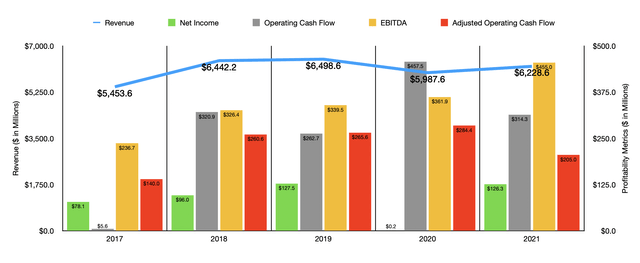 In the years leading up to the pandemic, things were going quite well for ABM Industries. Revenue increased from $5.45 billion in 2017 to $6.50 billion in 2019. In 2020, sales dropped some to $5.99 billion before staging a partial recovery in 2021 when revenue rose to $6.23 billion. The good news for investors is that the firm has seen its rebound continue into the current fiscal year. Revenue in the first half of the year totaled $3.83 billion. This represents an increase of 28.2% over the $2.99 billion generated just one year earlier. The company continued during this time frame to benefit from a recovery following the pandemic. It also saw the expansion of business associated with other aspects of the firm that were not impaired so much by the pandemic. Having said that, the largest chunk of the increase seems to have been related to its acquisition of Able in the final quarter of 2021. That purchase alone contributed $590.6 million in additional revenue to the company's top line in the first half of the year.
Profitability has followed a similar trajectory for the company. Between 2017 and 2019, net income rose from $78.1 million to $127.5 million. In 2020, profits plunged to just $0.2 million before skyrocketing back to $126.3 million last year. We should also pay attention to other profitability metrics. For instance, operating cash flow has been a bit volatile, but the general trend has been positive. Ultimately, it rose from $5.6 million in 2017 to $457.5 million in 2020 before dropping to $314.3 million last year. If, however, we were to adjust for changes in working capital, the trend would have been a bit smoother, with the metric climbing from $140 million to $284.4 million before dropping to $205 million last year. Meanwhile, EBITDA has been on a constant incline, rising from $236.7 million to $455 million over the past five years.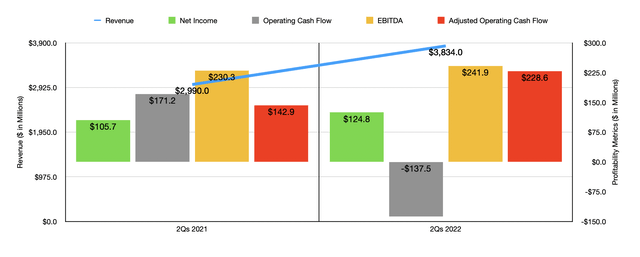 For the first half of 2022, profitability has been somewhat mixed. Net income of $124.8 million beats out the $105.7 million reported one year earlier. On the other hand, operating cash flow dropped from $171.2 million to negative $137.5 million. If, on the other hand, we adjust for changes in working capital, it would have risen from $142.9 million to $228.6 million. Over the same window of time, EBITDA for the company increased from $230.3 million to $241.7 million. For the 2022 fiscal year as a whole, management has not provided any guidance when it comes to revenue. But they did say that earnings per share should be between $2.91 and $3.11. On an adjusted basis, the figure should be even higher at between $3.50 and $3.70. This adjusted figure would translate to net income of $240.4 million. No guidance was given when it came to other profitability metrics besides saying that the EBITDA margin should be between 6.4% and 6.8%. But without a revenue estimate, this is meaningless. If, instead, we were to assume that the rest of this year would look like the first half did, then adjusted operating cash flow should be around $327.9 million while EBITDA should total about $477.9 million.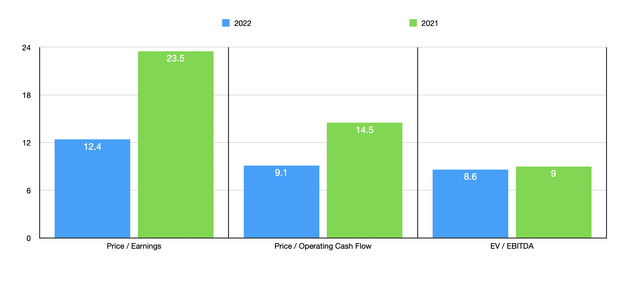 Taking this data, valuing the company is not that difficult. On a forward basis, the firm is trading at a price-to-earnings multiple of 12.4. This compares to the 23.5 reading that we get using 2021 results. The price to adjusted operating cash flow multiples should be 9.1, down from the 14.5 number calculated using 2021 figures. The EV to EBITDA multiple with the company, meanwhile, should drop from 9 to 8.6. To put the pricing of the company into perspective, I compared it to five similar firms. On a price-to-earnings basis, only three of the companies had positive results, with their multiples ranging between 15.9 and 92.1. In this case, one of the three companies was cheaper than ABM Industries. On a price-to-operating cash flow basis, the five companies ranged from a low of 12.3 to a high of 37.3. One of the companies was cheaper than our prospect, while the other matched it. And using the EV to EBITDA approach, the range was from 9.1 to 28.3. In this case, our prospect was the cheapest of the group.
| | | | |
| --- | --- | --- | --- |
| Company | Price / Earnings | Price / Operating Cash Flow | EV / EBITDA |
| ABM Industries | 23.5 | 14.5 | 9.0 |
| Casella Waste Systems (CWST) | 92.1 | 22.2 | 23.5 |
| Clean Harbors (CLH) | 15.9 | 14.5 | 10.5 |
| Stericycle (SRCL) | N/A | 34.5 | 17.3 |
| Montrose Environmental Group (MEG) | N/A | 37.3 | 28.3 |
| BrightView Holdings (BV) | 43.4 | 12.3 | 9.1 |
Takeaway
Based on all the data provided, it looks to me as though ABM Industries has fully recovered from the pandemic. This has been aided, in part, by the aforementioned acquisition of Able during the final quarter of the company's 2021 fiscal year. Overall, the future for the company is looking up, especially if the first half of the year is any indication of what the second half will look like. Shares are not extremely cheap, but on a forward basis, they do look fairly appealing. I don't think the company offers a tremendous amount of upside relative to the market, but they are likely to outperform it for the foreseeable future by at least some degree based on my opinion.