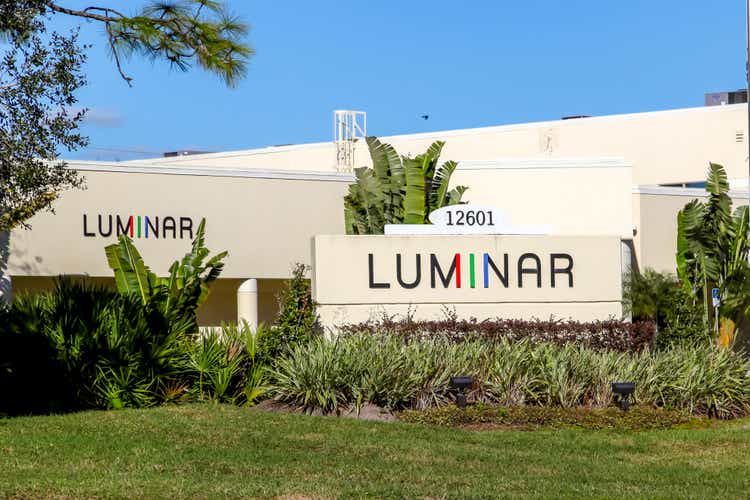 The case for Luminar Technologies (NASDAQ:LAZR) and other Lidar sensor companies is becoming very clear. These stocks should trade more on the surging order books while investors should focus far less on current revenues. My investment thesis is more Bullish on Luminar as the order book surges and the company hints at needing production volumes next year.
Surging Order Book
Due to some questionable financials presented during SPAC mergers, the market wrongly questions the current backlog numbers of the Lidar sector. Most of the companies don't appear on a path to hit original grand revenue targets, but this doesn't mean that the current order book is flawed, or that Luminar will miss impressive current projections.
Along with the Q2'22 earnings report, Luminar forecast the forward-looking order book was now set to grow 60% this year, up from prior expectations of 40% YoY growth. Also, the company reported revenues reached $10 million in the quarter and 2022 revenue guidance was hiked to $40- $45 million from just $40 million.
Luminar ended last year with an order book of $2.1 billion, suggesting a surge of $0.63 billion in new orders this year alone. One should value the stock based on the $630 million increase in the order book, not the $40+ million in reported revenue this year.
This number is far more important than the Q3'22 guidance for revenue in the $8 to $10 million range. The macro-environment and volatile nature of pre-production orders aren't where investors should focus.
As expected, Luminar is burning some $56.5 million in cash per quarter, but the company has a large cash balance to fund the business until auto OEMs launch production use of their Lidar sensors. Luminar ended June with a cash balance of $605 million.
Management continues to promote strong auto demand from simply improving safety and the driver experience, with no need to leap forward to driverless cars in order to implement their technology. The company forecasts a new manufacturing facility with Calvary Robotics that will provide a dedicated high-volume facility capable of producing 250,000 units by 2H23.
On the Q2'22 earnings call, CEO Austin Russell made some implications that increased demand was pushing this move to quickly ramp up automated production:
And I think it's fair to say that this is not a huge surprise totally out of nowhere that the customers are going to want increased volume from this. They've been talking in theory about it for quite some time, but we're seeing more and more of it materialize at the table. That's why we're pulling the trigger to really accelerate this and get that dedicated facility with this.
Hitting Bottom
The stock finally appears to have reached a bottom following the relentless selling all year. Luminar Technologies originally topped $40 towards the end of 2020 on the hype surrounding the demand for Lidar sensors via self-driving vehicles. As mentioned above, the company is now on pace for 60% order book growth this year, yet the stock is down substantially during this period. The investment story has less risk here, a couple of years closer to production launch while the order book constantly expands.
Luminar forecasts ending the year with 360 million shares outstanding. The stock only has a market cap of $2.9 billion, or roughly just 1x the updated order book forecast for 2022. Assuming an initial 2023 order book target of 40% growth, the company could approach an order book target of $4.0 billion next year.
The actual revenue targets pale in comparison to the order book. The 2024 revenue target of $355 million appears low considering the production facility being built in 2023 for 250,000 units. A Lidar unit price of just $1,000 produces annual revenue of $250 million from this facility alone and prices are likely going to start much higher.
Takeaway
The key investor takeaway is that Luminar trades at a fraction of the forward-order book expected by 2023. The stock should start trading at multiples of the deals already lined up for future years, as the market gains confidence in these deals eventually turning into production sales.
Investors should use the weakness to load up on Luminar with the story de-risked and the company holding enough cash to fund losses for multiple years.