This past year-and-a-half has been rough going for anyone exposed to investing in Chinese American Depository Receipts (ADRs). For those of you not familiar with recent events, Chinese ADRs have traded with extreme stock price volatility over the past year-and-a-half. Fraud allegations, among other factors have led some ADRs to be delisted off major U.S. stock exchanges. ADRs have even ceased trading on the lesser known over-the-counter markets, seeing their entire company value wiped out. During these events, I have had to ask myself one question: are there any Chinese ADRs out there offering any long-term value?
To find some answers to this question, I compiled a list of historical stock performances for roughly 115 Chinese ADR companies. The focus of this list is not to provide detailed analysis, rather it primarily looks at periods before and after the "Dotcom Bubble", "Housing Bubble", and most recent "Chinese ADR Bubble". The aim of this information is to display the level of risk that is involved in investing in Chinese ADRs. However, as the data suggests, there are some industries and sectors that over the long term, have performed quite well, despite the risk premiums these stocks command.
There are many trends and observable characteristics from the data. For instance, there are general variations in performance between companies that began trading on U.S. exchanges in the mid- to late-1990s compared to companies that began trading in the mid- to late-2000s. There are some correlations, with certain sectors and industries performing better than others, and there are also some correlations between market capitalization and company performance. Again, this information serves as the basis of a basic approach for anyone who wishes to delve further into such analysis.
Click to enlarge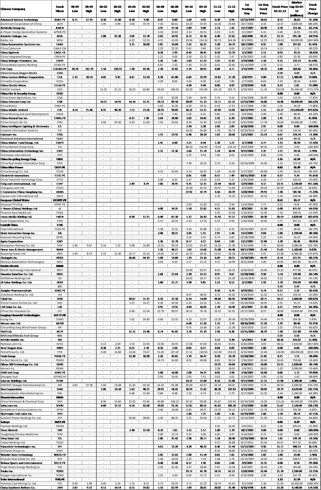 The data source used to build the historical list is from Yahoo Finance, Historical Prices [Aluminum Corporation of China (NYSE:ACH) as an example]. Before getting into the analysis, the first thing to note is there are 14 Chinese ADRs that did not have any available historical data (bold in the list). I will highlight a few of these companies just to shed a little light on the reasons for this.
For example, ADRs such as China Fire and Security Group (NASDAQ:CFSG), Harbin Electric (NASDAQ:HRBN), and Shanda Interactive (NASDAQ:SNDA) were recently bought out by private entities, therefore their historical stock price information is no longer available on Yahoo. Similarly lacking historical information from Yahoo, ADRs including Duoyuan Global Water (OTCPK:DGWIY) and Yuhe International (YUII) were delisted off U.S. stock exchanges and now trade on over-the-counter markets, and ADRs like Longtop Financial (LGFTY.PK) no longer trade on any U.S. exchange.
In order to compare ADR performance, the first trading day stock price is measured against the closing stock price as of March 21, 2012. For those not familiar with recent events, Tudou Holdings Ltd. (NASDAQ:TUDO) was recently acquired by Youku Inc. (NYSE:YOKU), so TUDO's price and resulting performance is much higher based on that event. YOKU has already climbed back down from its short-lived rally. So similarly, there may be certain more recent reasons why some of the ADRs have performed the way they have.
From this select list of roughly 115 Chinese ADRs, ADRs which began trading prior to and during 1998 to 2005 have displayed strong returns since inception. On average, seven out of 10 ADRs have returned a positive gain. Eighty percent of these have returned between roughly 140 to 1,750 percent to date. However, on the losing side, only one out of 11 had a negative return less than 60 percent.
It is important to note for ADRs beginning trading during this time frame that large national companies with mid to large market capitalizations and technology companies have provided some of the greatest returns. Out of the 28 total companies with market capitalizations of more than $1 billion as of March 21, roughly 75 percent had returns above 35 percent since inception, and roughly 67 percent had returns above 140 percent since inception. These include in no particular order Netease.com (NASDAQ:NTES), PetroChina Co. Ltd. (NYSE:PTR), China Petroleum and Chemical Corp. (NYSE:SNP), Baidu, Inc. (NASDAQ:BIDU), China Mobile Ltd. (NYSE:CHL), Yanzhou Coal Mining Co. Ltd. (NYSE:YZC), Ctrip.com International Ltd. (NASDAQ:CTRP), CNOOC Limited (NYSE:CEO), and Huaneng Power Intl. (NYSE:HNP). Of the total ADRs on the list, the companies that began trading in the 1990s to 2005 represent roughly 30 percent of the total. So basically within this range, roughly 20 percent have provided significantly strong returns.
For the period between 2006 to current, ADRs display a completely different story. For these ADRs that began trading during this time, roughly 85 percent have returned negative gains. This group represents roughly 57 percent of the total. Notable companies with gains include China Biologic Products Inc. (NASDAQ:CBPO), Changyou.com Ltd. (NASDAQ:CYOU), Hollysys Automation Technologies (NASDAQ:HOLI), HiSoft Technology International (HSFT), TUDO, and Vanceinfo Technologies, Inc. (NYSE:VIT). These companies have had gains ranging from roughly 20 to 80 percent.
As stated previously, TUDO's gains are directly related to the YOKU acquisition. Technology ADRs seem to be leaders for this group and to a lesser extent smaller market capitalization ADRs. Similar to ADRs returning negative gains in the previous time frame, roughly 70 percent of negative performing ADRs between 2006 to current-date provided a negative return greater than 50 percent. This poor performing group represent roughly 33 percent of the total. So basically one out of five ADRs provided significant returns, while one out of three ADRs provided significant losses. A little under 50 percent of ADRs provided returns ranging from negative 40 percent to 80 percent gains.
Another key observation worth mentioning is the volatility between all the ADRs during each time period. Regardless of performance since inception, Chinese ADRs have consistently displayed volatile pricing movements. This is clearly expressed by the high and low prices during each time period. The best performing stock over this review period, CEO, displayed significant volatility between the high and low stock price for each time period.
Looking more closely at the long-term chart, we do see that the lows and highs consistently were at the beginning and ending of the time periods respectively, until the "Housing Bubble" crash. This is actually a positive long-term trend as we have two major upward trends between 2000 to 2008, and 2009 to 2012. It is important to consider this list as a general indicator of price volatility and long-term performance and to consider the economic, fundamental and technical variables for each company within these time periods.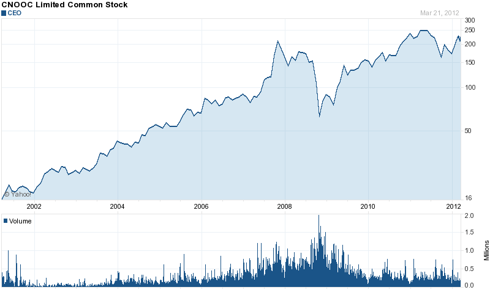 In conclusion, it appears there are some companies that have performed quite well with long-term gains. The risk for Chinese ADRs is clearly apparent. There also seems to be some consistency with national companies, large market capitalizations, and technology sector companies performing very well over the last decade. This by no means should allow for a perceived lack of risk for ADRs with these traits. There are many different things to consider when investing in Chinese ADRs, with respect to national policies and regulations. And as we all know, past performance is no guarantee for future performance.
Disclosure: I am long ASIA, BIDU, CISG, CRIC, CTRP, DANG, JOBS, NTES, RENN, SFUN, SINA, SOHU.