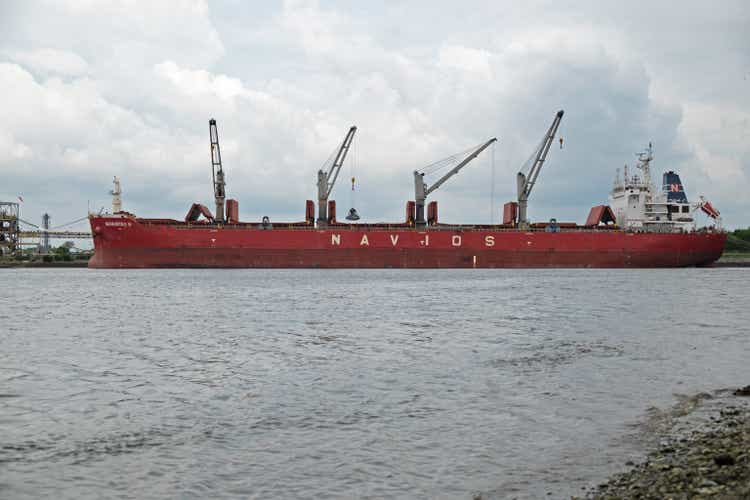 Navios Maritime Partners L.P. (NYSE:NMM) is in its best position in its history. In this article, I will explain what investors can expect going forward. I have been following the Navios Group since 2010, and for those who have been following me, here on Seeking Alpha, I have been writing about NMM since 2015. A large number of my purchases were made back in the early doom-and-gloom days of the coronavirus, and returns have been more than satisfactory. This is not a victory lap, but I was pushing for a Navios "mega merger" for many years, and it finally materialized. But it happened in a slightly different way with respect to the last piece of the puzzle. Navios Maritime Holdings (NM) did not actually merge with NMM, but instead sold all of its ships to NMM.
Specifically, on July 27, NM announced that it sold its 36-vessel drybulk fleet for an aggregate consideration of ~$835M consisting of cash and the assumption of bank debt and finance leases related to the vessels and subject to working capital adjustment at closing, to NMM. As a result, following the closing of the deal, NM will have exited direct fleet ownership, strengthened its balance sheet by repaying debt, including eliminating all short-term debt maturities and created a solid liquidity position, after recording an estimated net book gain of ~$100M. Going forward, NM will focus on growing the Navios South American Logistics business, in which it owns a 63.8% controlling equity stake, and will continue to hold a 10.3% interest in NMM.
With this transaction, the Navios Group has finally reached an appropriate simplification point whereby investors, from now on, can focus on fundamentals and not whether NMM will bail out another Navios entity, or whether there will be a related party transaction between Ms. Frangou, the CEO, and one of her Navios entities. In fact, Ms. Frangou has showed that she is sensible, being a very good captain during the depressed shipping markets prior to the coronavirus pandemic. My bet is that she will regain the title of "shipping darling of Wall Street."
At its peak, the Navios Group consisted of 5 publicly listed entities, namely:
Navios Maritime Partners - has been transformed into a leading publicly listed shipping company, representing a compelling investment in a well-positioned diversified maritime company
Navios Maritime Acquisition - merged with NMM, with NMM being the surviving entity
Navios Maritime Holdings - still a standalone public entity that will focus on growing the Navios Logistics business
Navios Maritime Containers - merged with NMM, with NMM being the surviving entity
Navios Midstream Partners - merged with Navios Maritime Acquisition, with Navios Maritime Acquisition being the surviving entity at the time, and subsequently Navios Maritime Acquisition merged with NMM, with NMM being the surviving entity
In other words, we are now left with 2 publicly listed entities; one focusing on shipping and the other on logistics.
NMM has always been the healthy child of the Navios Group. Two main criteria apply to this statement. Since inception, in 2007, NMM: 1) always generated substantial positive operating cash flows, in part due to its medium to long-term chartering strategy; and 2) always maintained prudent debt ratios. NMM never embarked upon a risky high-growth journey by issuing high-coupon bonds, unlike NM and Navios Maritime Acquisition. NMM focused on lower-cost traditional bank debt and sale-leaseback transactions. NMM "saved" the Navios Group by providing liquidity to other Navios entities in times of need. It is also because of NMM that the Navios Group pursued accretive distressed deals such as acquiring the entire containership fleet from troubled Rickmers Maritime back in 2017. In fact, this is how Navios Containers was born. I can go as far as saying that the Navios Group is afloat, and perhaps in its best position ever, thanks to NMM.
Through all of the aforementioned Navios entity mergers and creative third-party vessel/fleet acquisitions, NMM has grown into a shipping giant. The new NMM will be the largest U.S. publicly-listed shipping entity in terms of vessel count, with 188 vessels. Specifically:
90 Dry Bulk Vessels
49 Containerships
49 Tanker Vessels
The image below shows a more detailed breakdown of the fleet.
It is important to emphasize that this marks the end of pureplay structures within the Navios Group. This will ultimately result in a stronger and more resilient entity, well equipped to navigate sector-specific cyclicality. On a pro forma basis, the fair market value of NMM's fleet is a whopping $6.4 billion. This is calculated based on the charter-free fleet values based upon average publicly available valuations derived from Clarksons Research and VesselsValue as of July 2022. Note, the aforementioned calculation includes vessel values of:
$409.8M for 3 Kamsarmaxes and 3 VLCCs under bareboat agreements that have been classified as Operating lease liabilities in Company's balance sheet
$146.7M for 1 Kamsarmax and 1 VLCC that delivered in July 2022
$835M for NM's 36-vessel drybulk fleet
We can sit all day debating the pros and cons of the "new NMM." However, what really matters is to find a sustainable long-term solution whereby unitholders and Ms. Frangou are all happy and aligned. I think this can only be accomplished by having one Navios shipping entity. And that's what we got.
Even though Ms. Frangou has paid more than generous dividends to her shareholders in the past, it seems that she is now focusing on a self-funded model based on internally generated cash flows, and retaining most of the cash in the business. This, in my opinion, is the right way forward. For those who don't know or remember, prior to the 2015/16 shipping crash, NMM paid more than $165 per unit in distributions (in excess of $11 per unit prior to the 15:1 reverse split). In other words, Ms. Frangou was extremely generous, but this model failed her. As the old distribution coverage ratio was tight (at times below 1.05x), she was forced to fund acquisitions in part by issuing equity. However, in 2015/16 the energy/MLP space went through turmoil, the unit price collapsed to rock bottom levels and it was prohibitive for NMM to issue equity at rock-bottom prices, well below NAV, with a distribution yield in excess of 20%. As such, NMM eliminated the distribution and, since then, the payouts have been kept low, in part to preserve cash to support other Navios entities as well as fund new vessels acquisitions, not only for growth purposes but also to replace an ageing fleet.
The good news is that the future is more exciting than ever, and for several reasons. NMM units continue to trade at a large discount to NAV (Net Asset Value) and this provides an unusually strong margin of safety, even if the shipping markets face turbulence in the future. With a fair fleet value of ~$6.4 billion and total debt (including bareboat liabilities) below $2.2 billion, we are left with an equity value in excess of $4 billion. However, the current market cap is still below $1 billion. In other words, the discount to NAV is more than 70%.
The good news doesn't stop here. Not only does NMM trade at a large discount to NAV, the NAV is growing organically due to: 1) the massive amounts of contracted cash flows, totaling $3 billion in revenue with a broad exposure to credit quality counterparties; and 2) the fact that the distribution is kept at very low levels, meaning virtually all of the cash is kept in the business to be reinvested and/or further strengthen the balance sheet. In light of the above, what makes more sense in this scenario is for NMM to take advantage of its depressed unit price, by capitalizing on its strong balance sheet (LTV below 35%), through opportunistic unit repurchases. This is exactly what the company is doing. In the Q2 2022 earnings release, NMM announced a unit repurchase program worth $100M. At current prices, this reflects approximately 15% of common units outstanding and 17% of the public float.
The good news continues. EBITDA for Q2 2022 increased to $163.5M (vs. $90.4M in Q2 2021), and net cash from operating activities came in at $142M. On an annualized basis, EBITDA is heading towards the $650M-$700M range, and operating cash flow is poised to surpass $500M. In other words, NMM is a massive cash flow machine right now. And this will continue for several years, due to the strong contracted backlog. With Ms. Frangou's creativity, imagine what she can pull off with $500M per year in operating cash flow.
Eventually, NMM will find the right balance in terms of growing the fleet, buying back units and, in the future, pursuing a progressive distribution policy, starting from today's low base. Like this, the distribution will never be a burden again, avoiding unpleasant scenarios of dividend cuts, etc., as was the case back in 2015-16. It is in NMM's best interest to adopt a blue-chip model in terms of capital allocation. Shipping needs this and NMM is one of the few shipping companies out there that can actually pull this off. This is because it has a large diversified platform and the cash flows to support various corporate priorities. Let's be honest, scale matters. It's different when a shipping company produces $500M per year in operating cash flows and different when producing $50M. For starters, with $50M operating cash flow, it's virtually impossible to grow the fleet, buy back shares, pay an attractive dividend, keep the CEO happy, deleverage and also retain an attractive amount of surplus cash on the balance sheet for a rainy day. NMM can do all of the above. In closing, I am confident Ms. Frangou will become significantly more unitholder friendly. It's in her best interest now. But it wasn't in her best interest over the past years. Why? Because she had to clean up her house first and ensure the Navios entities will survive, before thriving. Now, following the recent NM deal, we are long past the survival phase, and we are entering the thriving phase. As Ms. Frangou stated:
Our board authorized a unit repurchase program for up to $100.0 million. At current prices, this program would cover approximately 17% of the public float. The timing of the repurchases and the exact number of units to be repurchased shall be determined by the Company based on market conditions and financial and other considerations, including working capital and planned or anticipated growth opportunities. Total return to investors, we believe, is the way to measure our success, and will use this tool as a means of achieving this result for our unitholders.
For those who have followed Ms. Frangou over the years, this is the first time she is speaking the language of unitholders. Specifically, she is telling the market "look, our unit price is low, and this time we are serious about buying back our units, and by doing so we will eliminate 17% of the public float." What also stands out is that she is talking about "total return" for the first time. In my view, she wants to make NMM stand out compared to other shipping companies. The fact that peers like Genco Shipping (GNK) and Star Bulk Carriers (SBLK) are paying high (and variable) dividends right now, just because the market has picked up, doesn't really excite me. Why? Because when the market turns south, and it will, shareholders won't like it.
I endorse Ms. Frangou's conservative strategy and I am a buyer at these levels. In fact, I am exiting my position in SBLK as well as some other shipping stocks, and consolidating everything into NMM. For me, right now, shipping is synonymous to NMM, and it's the first time in years that I feel that one could invest in a shipping company with a long-term outlook in mind.