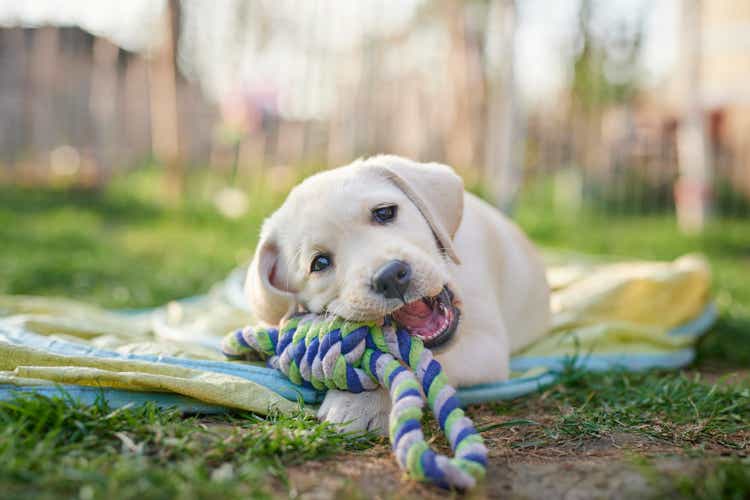 In the last year, the rating to hold Elanco (NYSE:ELAN) did not work out so far. The stock broke down from the $30 to $35 trading range. ELAN stock is now trading down after the company posted disappointing results. The company, which produces medicines and vaccinations for pets and livestock, also issued lower guidance for the year.
Elanco scores a fair valuation grade. Without its deep value to cushion further disappointments, should investors expect a 2023 growth re-acceleration? The company faces inflationary pressures. It needs to de-leverage by lowering its debt-to-adjusted EBITDA. Furthermore, investors need to believe Elanco will rebound from China's lockdown in the last quarter.
Elanco Animal Health Q2 Earnings
Elanco posted non-GAAP earnings per share of 36 cents. This figure included adjustments to impairment charges worth $86 million. For example, this includes integration efforts and external costs related to Elanco's Bayer Animal Health and KindredBio acquisitions.
Revenue fell by 7.8% Y/Y to $1.18 billion.
Elanco posted a strong operating cash flow of $312 million in the quarter. This is mostly due to a benefit of a net $124 million cash interest rate swap settlement. The company reported a cash benefit in the quarter. However, it will negatively impact operating cash flow over the next four years.
The company reduced its net leverage ratio to 5.3 times adjusted EBITDA. This is a 0.3 times decrease from the quarter ended March 31, 2022. It expects to end the year with a 5.0x adjusted EBITDA. The gross margin will expand in 2023 and 2024. Management is targeting a 60% gross margin and a 31% adjusted EBITDA margin. It will update investors on its timing in 2023.
China Headwinds in the Quarter
Astute investors need to monitor unsettling events in China. Its increased aggression toward Taiwan, the real estate de-leveraging, and increasing civil unrest are examples. More recently, Elanco's swine business weakened in the country. Growth in its international Pet Health business was flat. This is due mostly to the impact of two months of Covid lockdowns in China.
Elanco cut between $100 million and $120 million in its 2022 revenue guidance, citing macroeconomic factors: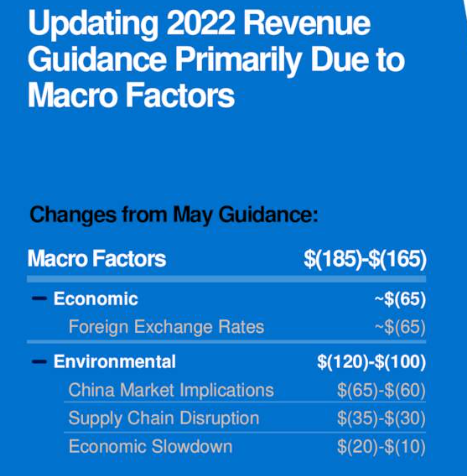 From its presentation on slide five, China accounts for $60 million to $65 million of that reduction. Management previously expected its business in China would grow by 22%, similar to that of 2021. However, China's lockdown started one week in duration. That extended to two months. The country will likely continue similar lockdowns across the country for the rest of 2022.
While Elanco does not expect a bounce-back in the second half of the year, it will grow its market share. In the first quarter, Elanco's Credelio product will increase its parasiticide market share in China.
In the farm animal sector in China, investors should expect volatility in swine prices. Producers face rising costs as a result of the African swine fever outbreak. Chinese demand for pork will face continued pressure. The Covid lockdown is hurting demand. Furthermore, competition from cheaper pork also harms Elanco's poultry business.
2025 Opportunity
Investors should characterize Elanco as a stock to hold for a very long term. Along the way, expect underperformance as the company navigates through the multiple headwinds.
The company's product launches that began in 2021 are revenue opportunities by 2025. Elanco is forecasting a $600 million to $700 million revenue generation from many new products. From late 2022 to early 2023, it expects approvals for dog parvovirus treatment. It will submit a request for regulatory approval for broad-spectrum parasiticide and a dermatology product in the next two to four months. In the next 12 months, Elanco expects the Food and Drug Administration to approve a product for feline diabetes care.
Elanco Guidance
Elanco is guiding investors to a diluted EPS loss of between six and twelve cents:

The company raised prices in the first half of the year. It raised prices further in the mid-year. The latter action will not lift revenue until later in the year. In 2023, management expects the price hikes to lead to revenue acceleration. The firm assumes favorable demand elasticity, especially in its protein and its differentiated products.
Risks
Investors are frustrated that Elanco is not demonstrating better results from its research and development efforts. However, Experior offers a value proposition to its customer base. Elanco said on the conference call that cattle doubled from Q1 to Q2. This suggests that Experior will become a blockbuster product. Increxxa is a treatment for bovine respiratory disease (or BRD). The increase in cattle will set Experior as a growth driver in 2023.
ELAN Stock Score and Your Takeaway
Elanco scores well on growth and profitability. From Seeking Alpha Premium, the stock gets an A- on growth and profitability.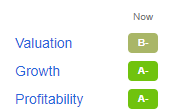 Valuations are still not compelling even after the stock dropped. If shareholders lose patience, they may sell ELAN stock. A further decline would improve the valuation grade to at least a B+.
Elanco did not issue any positive near-term catalysts that would help the stock. Patient investors should watch the stock this quarter. It has a good chance of reporting a better third quarter. By later this year, macro pressures will ease. Most importantly, its business in China should improve. The country will contain the Covid spread.