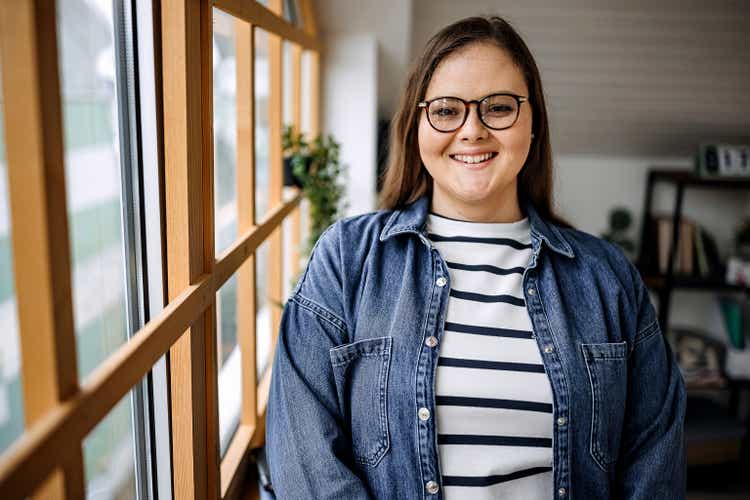 A Quick Take On Torrid Holdings
Torrid Holdings Inc. (NYSE:CURV) went public in June 2021, raising approximately $231 million in gross proceeds from an IPO that priced at $21.00 per share.
The firm sells plus-size apparel and other items to women in the U.S. and internationally.
Until we learn more about how the consumer is responding to CURV's reduced promotion approach and to the overall economy, I'm on Hold for CURV in the near term.
Torrid Holdings Overview
City of Industry, California-based Torrid was founded to create a direct-to-consumer [DTC] platform and related omni-channel structure for the design and sale of plus-sized apparel and intimates to women in the United States.
Management is headed by Chief Executive Officer Lisa Harper, who has been with the firm since May 2022 and was previously Executive Chairperson of Belk, a department store chain. She also previously was CEO at Torrid and predecessors from 2011 to 2016.
The firm pursues an omni-channel approach to attracting and retaining customers but is primarily a direct-to-consumer-centric [DTC] company. It operates a large retail network of stores in the U.S., Canada and Puerto Rico.
Management has said the company is the largest DTC company for plus-size apparel and intimates in North America.
Torrid's Market & Competition
According to a 2018 market research report by Credence Research, the global market for plus sized women's clothing was an estimated $165 billion in 2017 and is forecast to reach $243 billion by 2026.
This represents a forecast CAGR of 4.4% from 2018 to 2026.
The main drivers for this expected growth are a growth in the demand by plus-sized women for similar levels of luxury as women in other categories have access to.
Also, the Asia Pacific region is expected to produce the highest demand through 2026.
Major competitive or other industry participants include:
Specialty retailers

DTC Brands

Local, National and International Retail Chains

Online clothing retailers and ecommerce websites
Torrid's Recent Financial Performance
Total revenue by quarter has fluctuated within a tight range: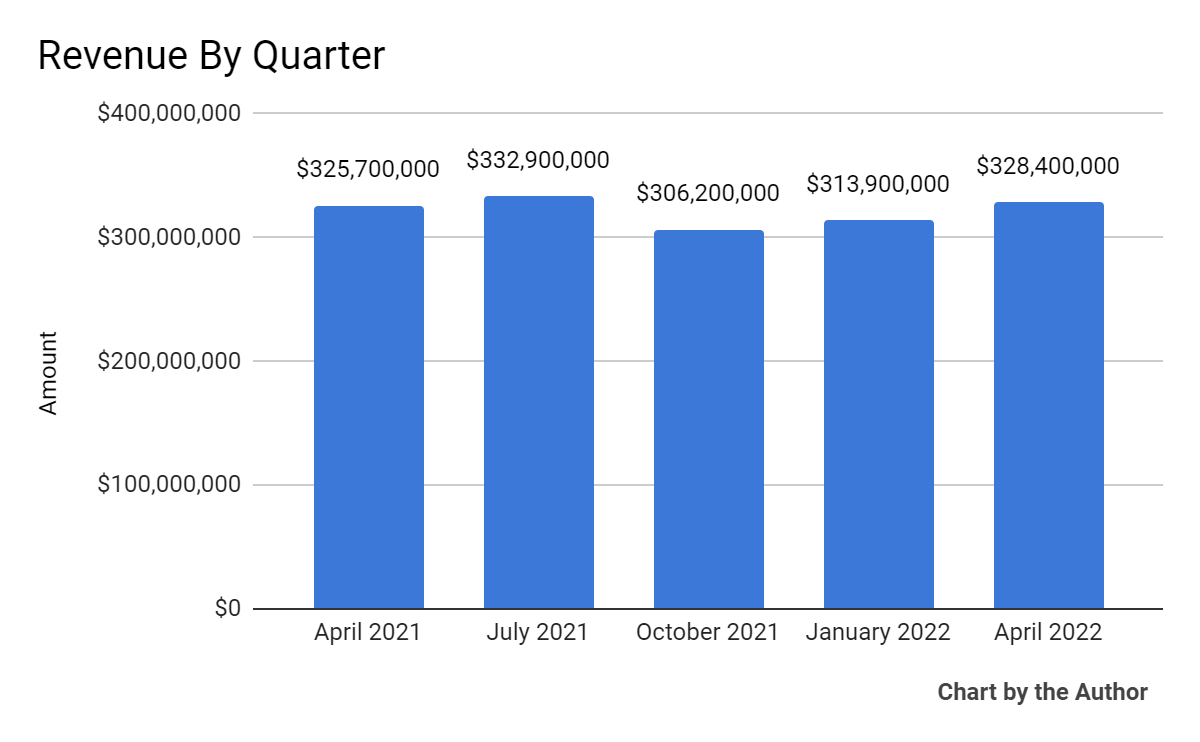 Gross profit by quarter has trended lower in recent quarters: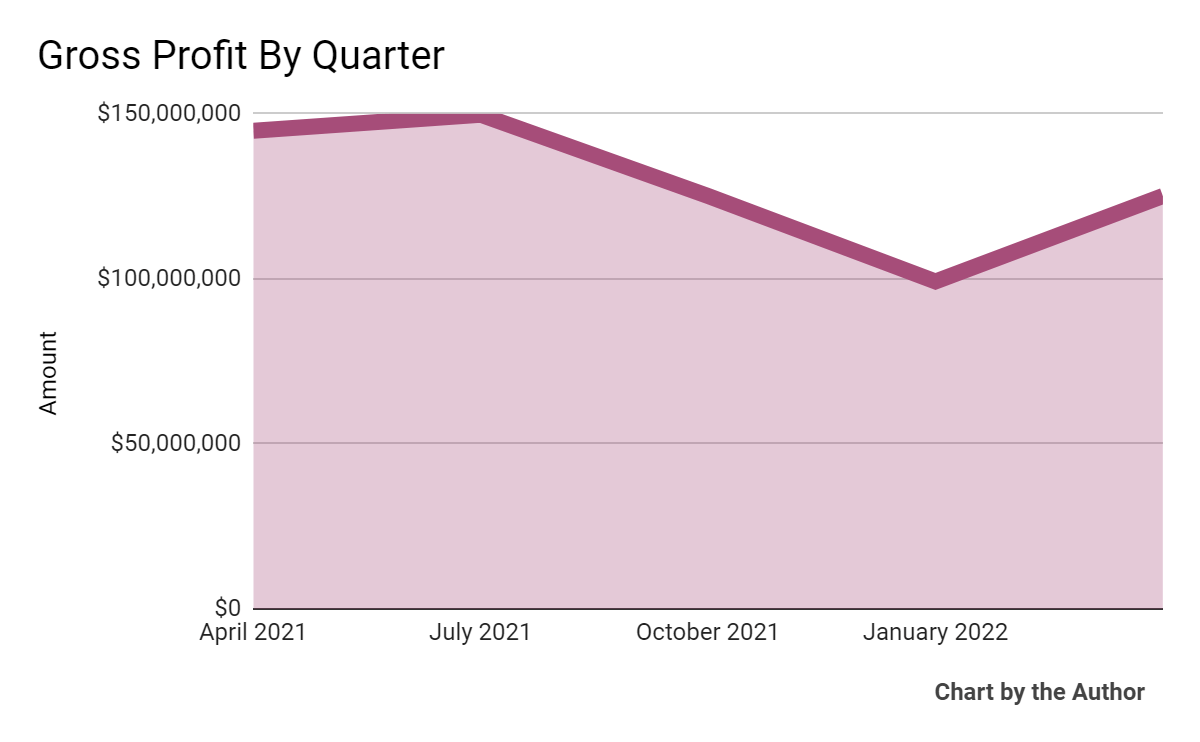 Selling, G&A expenses as a percentage of total revenue by quarter have remained around 26% in the three most recent quarters: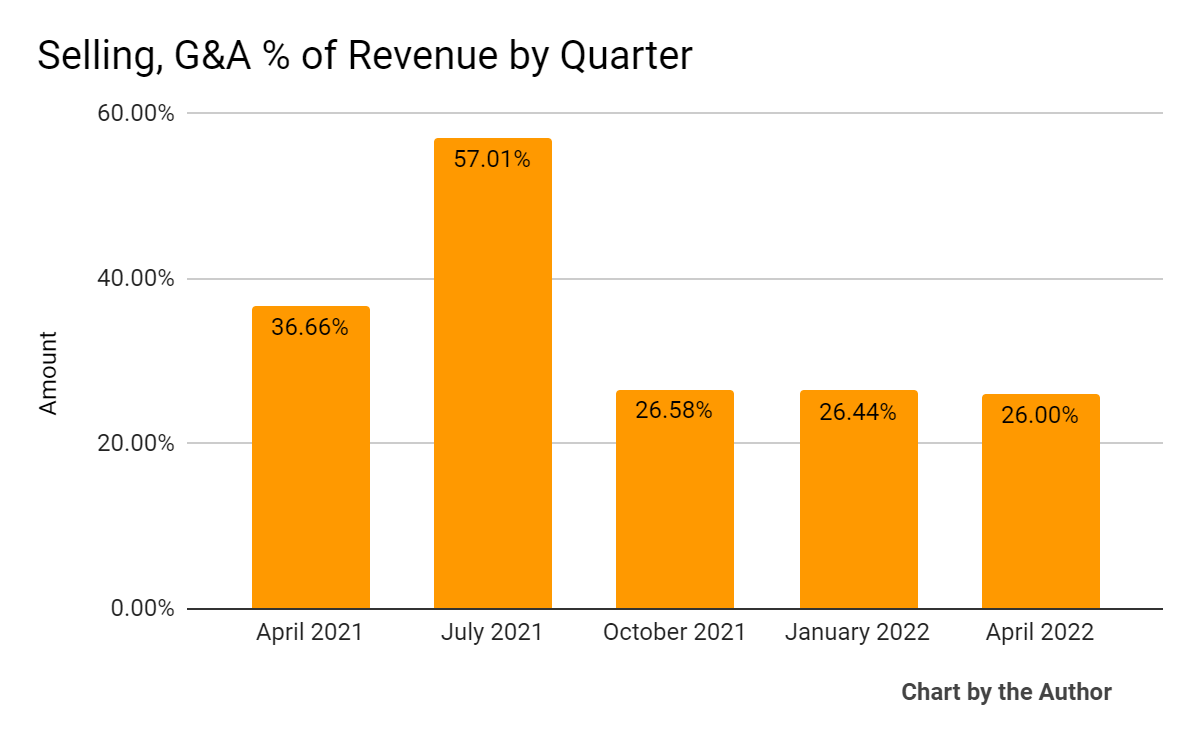 Operating income by quarter has remained positive except for the quarter the firm went public: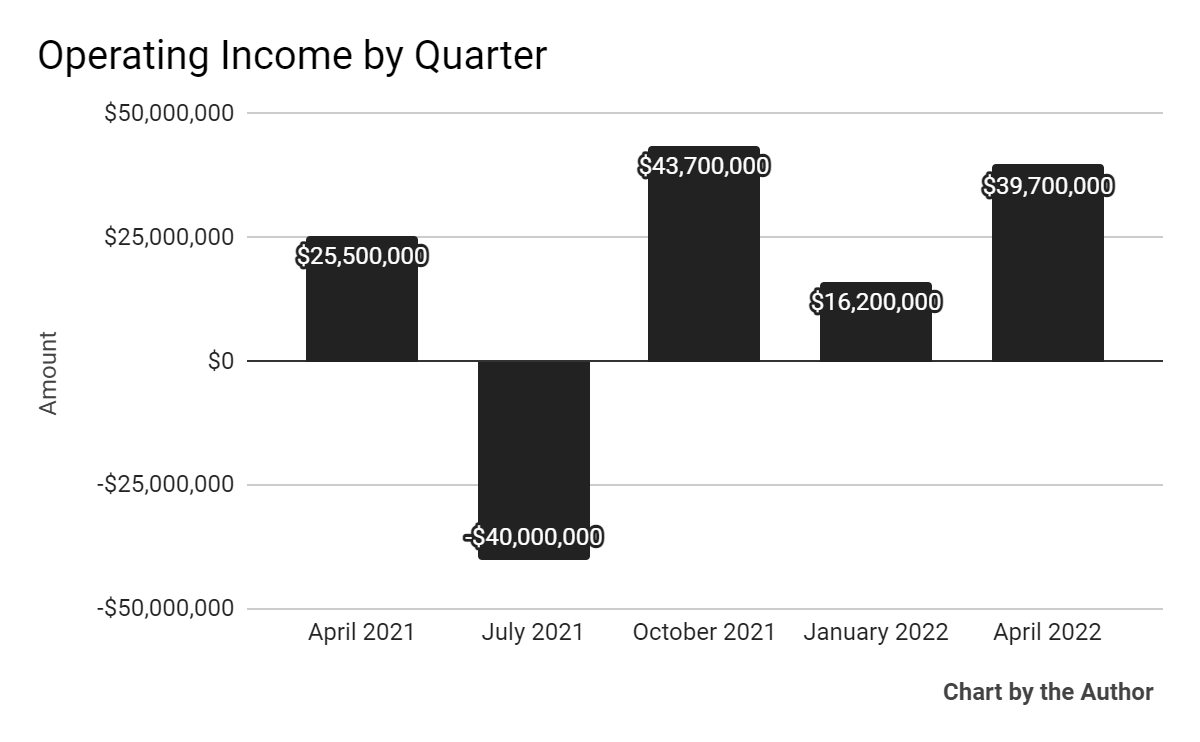 Earnings per share (Diluted) have fluctuated considerably: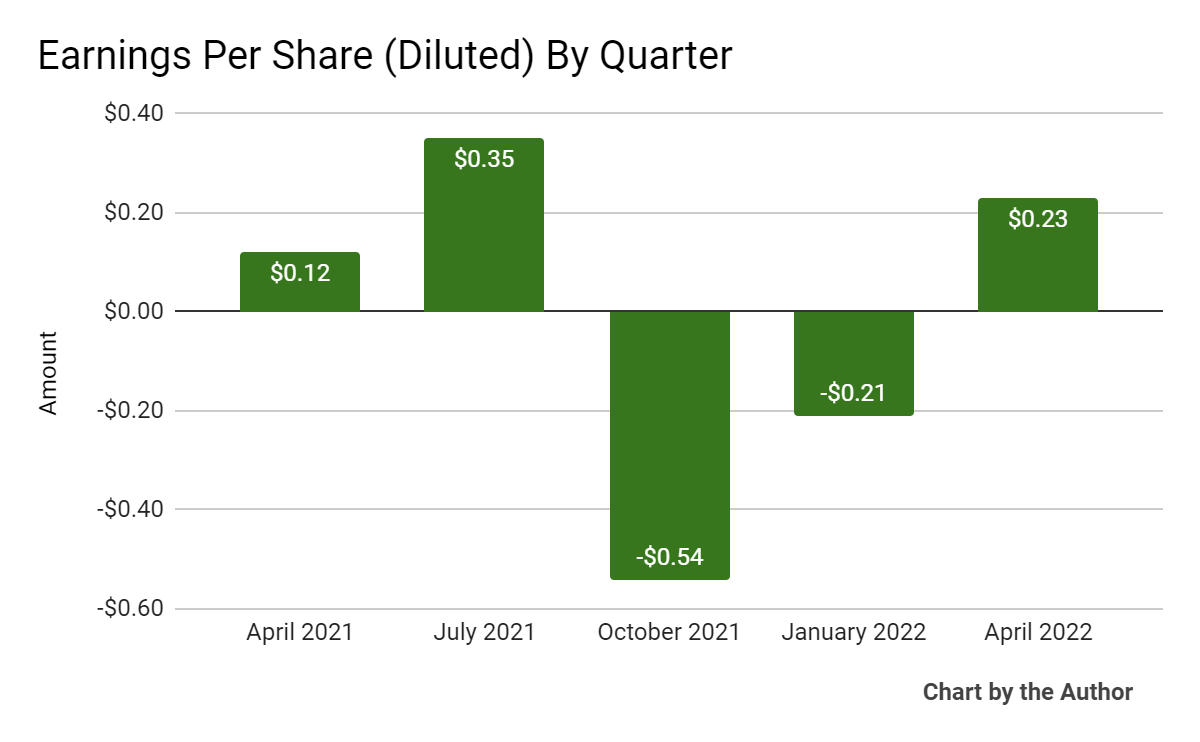 (All data in above charts is GAAP)
In the past 12 months, CURV's stock price has dropped 79.9% vs. the U.S. S&P 500 index' drop of around 6.9%, as the chart below indicates: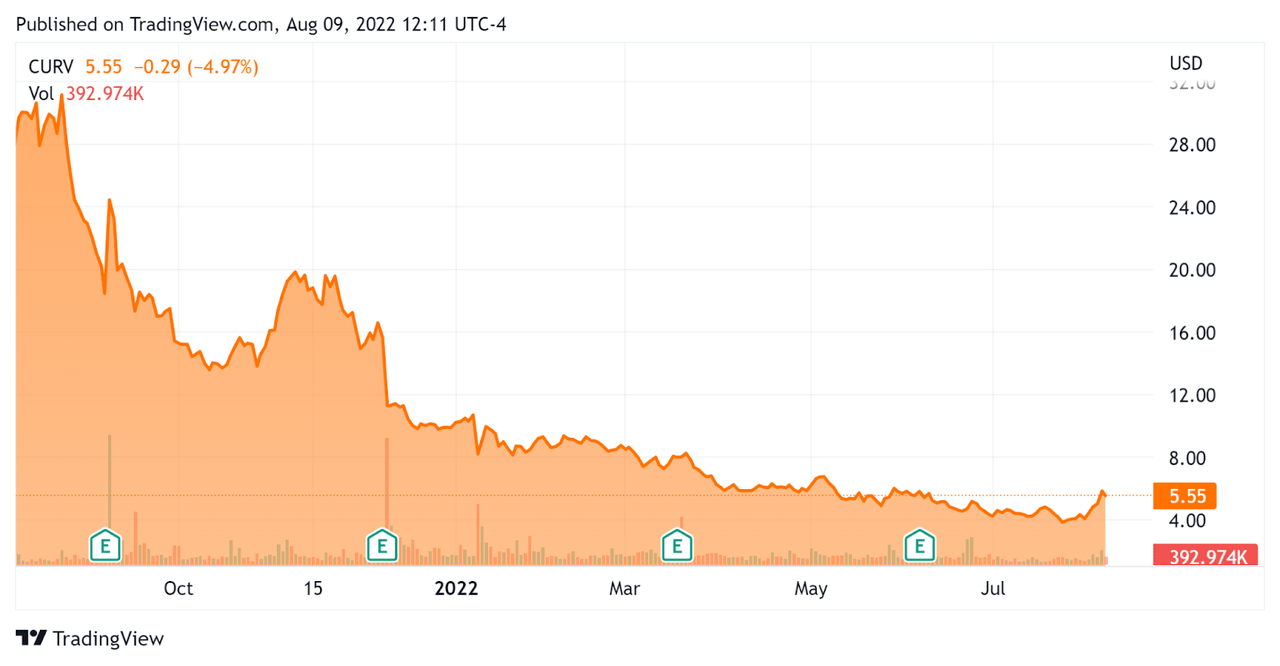 Valuation And Other Metrics For Torrid
Below is a table of relevant capitalization and valuation figures for the company:
| | |
| --- | --- |
| Measure | Amount |
| Enterprise Value | $1,180,000,000 |
| Market Capitalization | $605,460,000 |
| Enterprise Value / Sales [TTM] | 0.92 |
| Revenue Growth Rate [TTM] | 12.13% |
| Operating Cash Flow [TTM] | $56,560,000 |
| Earnings Per Share (Fully Diluted) | -$0.17 |
(Source - Seeking Alpha)
Below is an estimated DCF (Discounted Cash Flow) analysis of the firm's projected growth and earnings: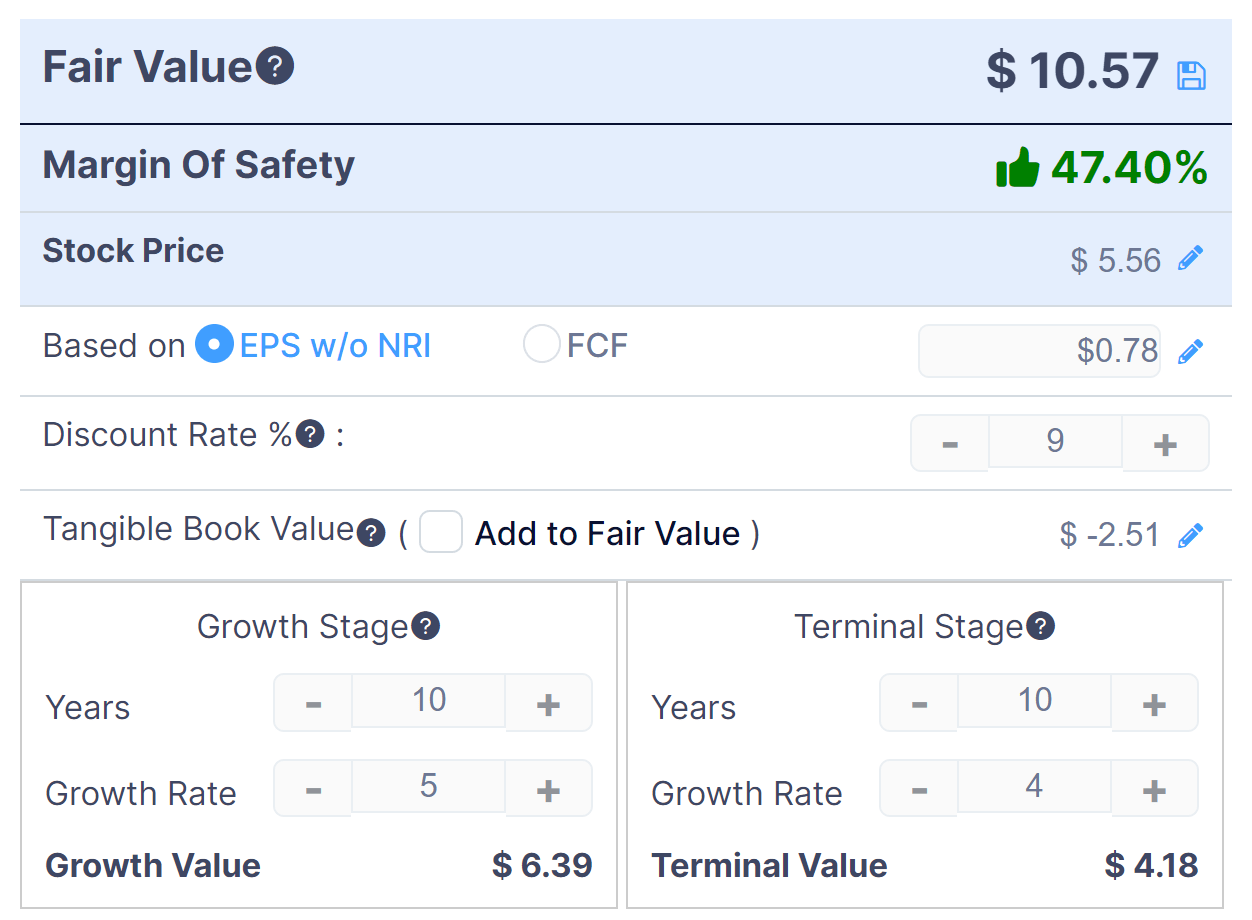 Assuming generous DCF parameters, the firm's shares would be valued at approximately $10.57 versus the current price of $5.56, indicating they are potentially currently undervalued, with the given earnings, growth and discount rate assumptions of the DCF.
Commentary On Torrid
In its last earnings call (Source - Seeking Alpha), covering Q1 2022's results, management highlighted refinements in its marketing and promotion efforts, seeking to reduce its reliance on site wide promotions and focusing its efforts on 'product franchises and launches and better balancing retention, reactivation and acquisitions activities.'
The team is also reevaluating its approach to its Curve business, with a focus on "sustainable and high quality growth," as management does not believe its Curve business can reach $500 million in sales by 2023.
Instead, the company seeks to build new franchises such as its Studio and Lovesick assortments.
As to its financial results, net sales grew only 1% year-over-year due to "shifts in event and shipment timing." Otherwise, net sales would have increased by 6%,
Gross margin declined 640 basis points due to higher discounts and more promotions versus the previous year.
While the firm was able to pass through some price increases, it was negatively affected by product and transportation inflation, like so many retailers.
For the balance sheet, the company finished the quarter with cash and equivalents of $25 million after purchasing $23 million of common stock, with another $54 million remaining on its stock buyback program.
Notably, total debt was $357 million versus $202 million in Q1 2021.
Looking ahead, management reiterated revenue and adjusted EBITDA guidance for the full year.
Regarding valuation, the market is valuing CURV at an EV/Revenue multiple of 0.92x and the stock was recently downgraded on fears of exposure to 'lower income consumers' and higher markdowns from inventory bloat.
The primary risk to the company's outlook is continued high inflation delaying consumer purchases or forcing consumers to substitute for cheaper items.
My DCF using conservative figures indicates the stock may be significantly undervalued.
However, we have limited visibility into the effects of consumer behavior on CURV's offerings.
Until we learn more about how the consumer is responding to CURV's reduced promotion approach and to the overall economy, I'm on Hold for CURV in the near term.