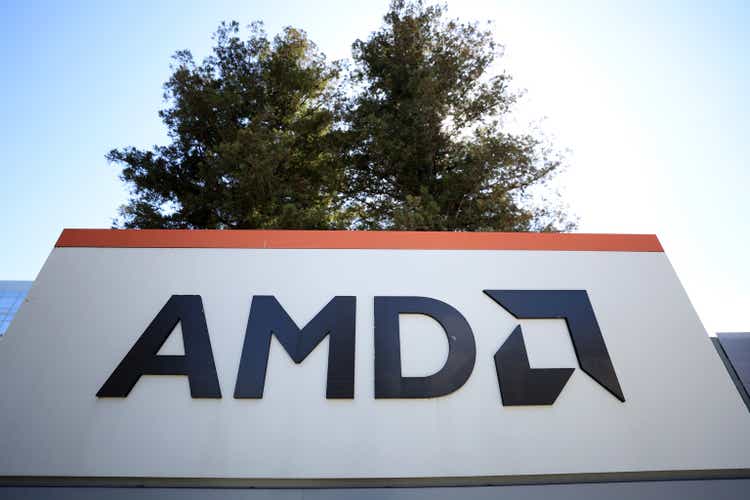 Advanced Micro Devices, Inc. (NASDAQ:AMD)'s second-quarter results were slightly better than predicted, but the company's outlook for the third-quarter was not as great as it used to be. While Lisa Su has mentioned that headwinds in the PC market -- which recently led to devastating results for chip maker Intel (INTC) and caused Nvidia (NVDA) to pre-release FQ2'23 earnings -- AMD is well positioned to expand its business in the data center business!
Data Centers driving AMD's entire performance
AMD had a great second-quarter with revenues soaring 70% year over year to a record $6.6B. Once again, no business performed better than the Data Center business which is driven by sales of AMD's super-successful EPYC processors.
AMD's outlook for Q2'22 called for $6.5B in revenues +/- $200M so actual revenues fell within the guidance range. However, AMD has consistently outperformed its own revenue guidance in FY 2021 and in Q1'22, meaning by AMD's standards, the chip maker has only had a decent quarter. All segments performed well for AMD, however, with Data Centers showing enormous growth of 83% year over year to $1.5B.
As opposed to Nvidia and Intel, AMD saw strong growth across the board with even Gaming revenues up 32% year over year to $1.7B. Gaming revenues increased due to higher semi-custom product sales although AMD saw a decline in graphics revenues. AMD's new Gaming segment includes sales largely from its desktop and notebook GPUs as well as gaming consoles.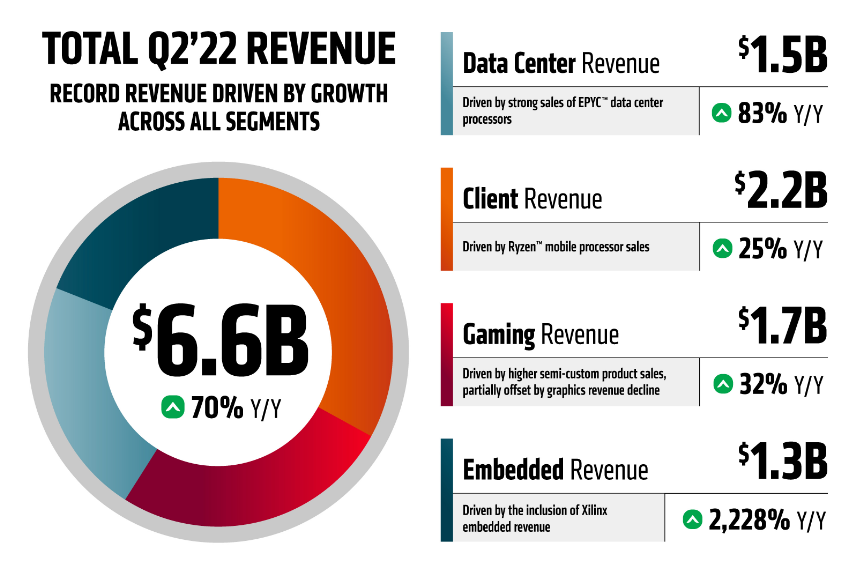 A strong catalyst for growth in the Data Center segment is the recently closed acquisitions of Xilinx and Pensando. The Pensando acquisition cost AMD $1.9B and is meant to expand AMD's Data Center product portfolio. With more workloads moving to the cloud, AMD's Data Center business is primed for a sustained period of growth which is becoming more important now since there is growing evidence of a serious down-turn in the PC shipment and Gaming markets.
AMD continues to crush it in Data Centers, in part because it has a great product line-up, in part because Intel keeps slipping up in the server market by repeatedly delaying the release of its highly anticipated 4th gen Xeon server processors, code-named Sapphire Rapids. Intel is still in the validation phase for these processors but has said that the Sapphire Rapids will be available this year, with a potential volume ramp expected towards the end of the year. Rumors have it that the Sapphire Rapids release may once again be delayed, this time to Q1'23.
Intel's Sapphire Rapids Xeon CPU was slated to compete against AMD's Milan-X branded EPYC processor, but repeated delays have seriously messed up Intel's release timeline. Due to continual delays, Sapphire Rapids processors are now set to compete against the even better Genoa-X branded EPYC processor, a successor of the Milan-X server CPU, which is expected to launch in the fourth-quarter.
Graphics card shortage officially over
Graphic cards have been in short supply in 2021 and is has fueled AMD's financial performance. A severe GPU shortage, which was partly driven by cryptocurrency miners that used graphics cards for mining purposes, has supported average selling prices throughout FY 2021 and driven record GPU prices. However, with cryptocurrency prices falling and demand for GPUs dropping in 2022, prices have fallen into a down-trend. Prices for AMD's RX 6000 GPU have dropped below the manufacturer's suggested retail price in July and are now available for just 0.86 X MSRP. The decline in pricing power is set to weigh on AMD's Gaming segment going forward.
AMD's gross margins: The canary in the coal mine
I don't worry about AMD's gross margins, yet. In Q2'22, AMD's non-GAAP gross margins improved 1 PP sequentially and 6 PP year over year to 54%, largely because of strong execution in Data Centers and the Embedded business. The Embedded business essentially includes the product portfolio taken over by AMD through its acquisition of Xilinx.
As long as gross margins are either growing or remaining stable, AMD's business is on fundamentally sound footing. For me, gross margins are the canary in the coal mine in the chip industry and two consecutive quarters of gross margin declines would be a strong indicator for a cyclical correction in the industry that may also foreshadow a deceleration of AMD's revenue growth.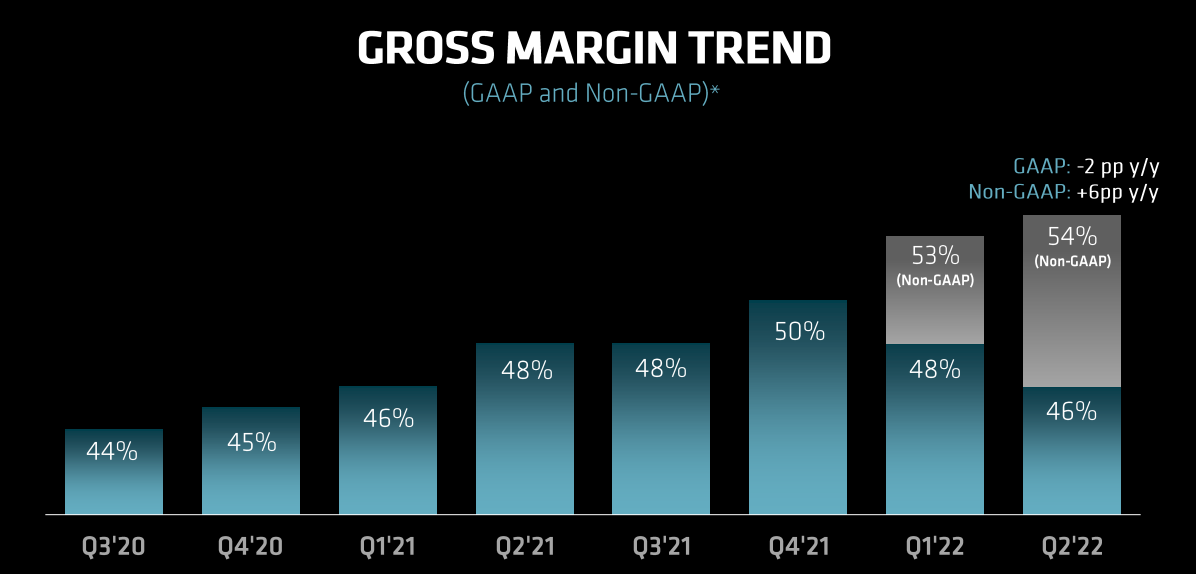 Down-turn risks
Intel has warned the market that PC shipments are expected to remain weak in 2022 which is set to weigh on processor sales in the industry. According to consulting company Gartner, shipments of PCs, tablets and mobile phones are projected to decline 7.6% this year with shipments of PCs expected to see the largest decline of 9.5%. The reason for the down-turn in the PC market is that consumers bought new computers during the pandemic for remote work, meaning they don't have a pressing reason to upgrade their equipment again. The expectation of a down-turn in the PC industry led Intel to issue a truly devastating outlook for FY 2022 and AMD has also cautioned that the PC market will remain weak.

Free cash flow
Strong EPYC server processor sales pushed AMD's operating cash flow above $1.0B in Q2'22 for the first time. AMD's free cash flow didn't mark a new record due to higher capital expenditures, but remained solid above $900M. AMD's free cash flow margin declined sequentially to 13.8% and may come under more pressure if AMD's pricing power in the Gaming market wanes going forward.
AMD

FY 2022

FY 2021

million $

Quarter 2

Quarter 1

Quarter 4

Quarter 3

Quarter 2

GAAP net cash provided by operating activities

$1,038

$995

$822

$849

$952

Purchases of property and equipment

($132)

($71)

($86)

($85)

($64)

Free Cash Flow

$906

$924

$736

$764

$888

Free Cash Flow % Of Net Revenues

13.8%

15.7%

15.3%

17.7%

23.1%
(Source: Author)
Light outlook for FY 2022
AMD's outlook for the third-quarter was not great and implies a top line deceleration, although AMD is still expected to grow fast. For Q3'22 AMD sees $6.7B in revenues +/- $200M which implies 55% year over year growth. Considering that AMD grew its top line at a 70% rate in Q2'22, AMD's Q3'22 guidance implies a 15 PP decline in the growth rate. However, AMD expects a stable 54% gross margin. Nvidia's gross margins dropped off steeply in FQ2'22, in large part because of growing weakness in the Gaming segment. The outlook is not as great as it used to be, but still good enough to buy AMD's shares.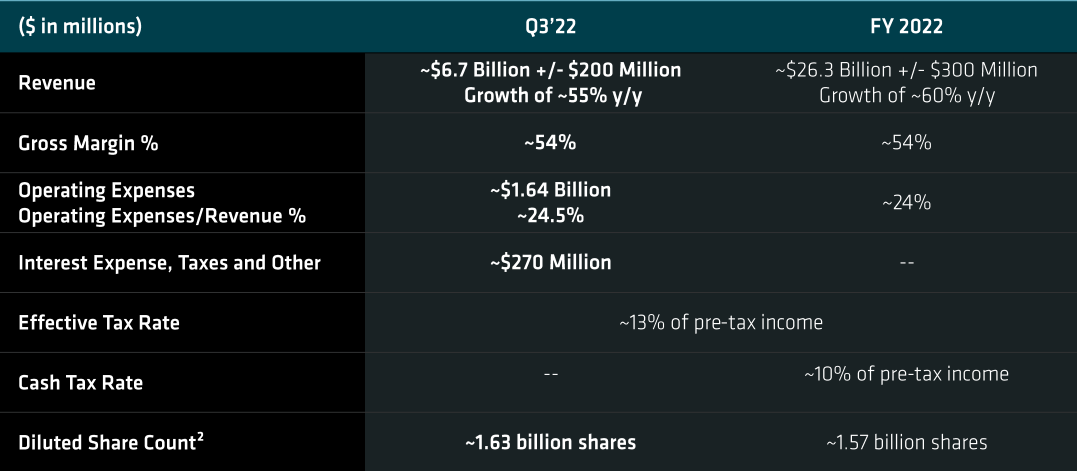 AMD has the better risk profile
Compared against NVIDIA, which just pre-released FQ2'23 earnings, AMD is the better deal for me here. Nvidia saw a 33% decline in Gaming revenues in FQ2'23 and although AMD also saw declining graphics cards revenues, total Q2'22 results were much better and didn't show the massive revenue deceleration that Nvidia reported. Based off of valuation (20.3 X P/E ratio for AMD vs. 30.80 X for Nvidia) and execution, I believe AMD is the better choice.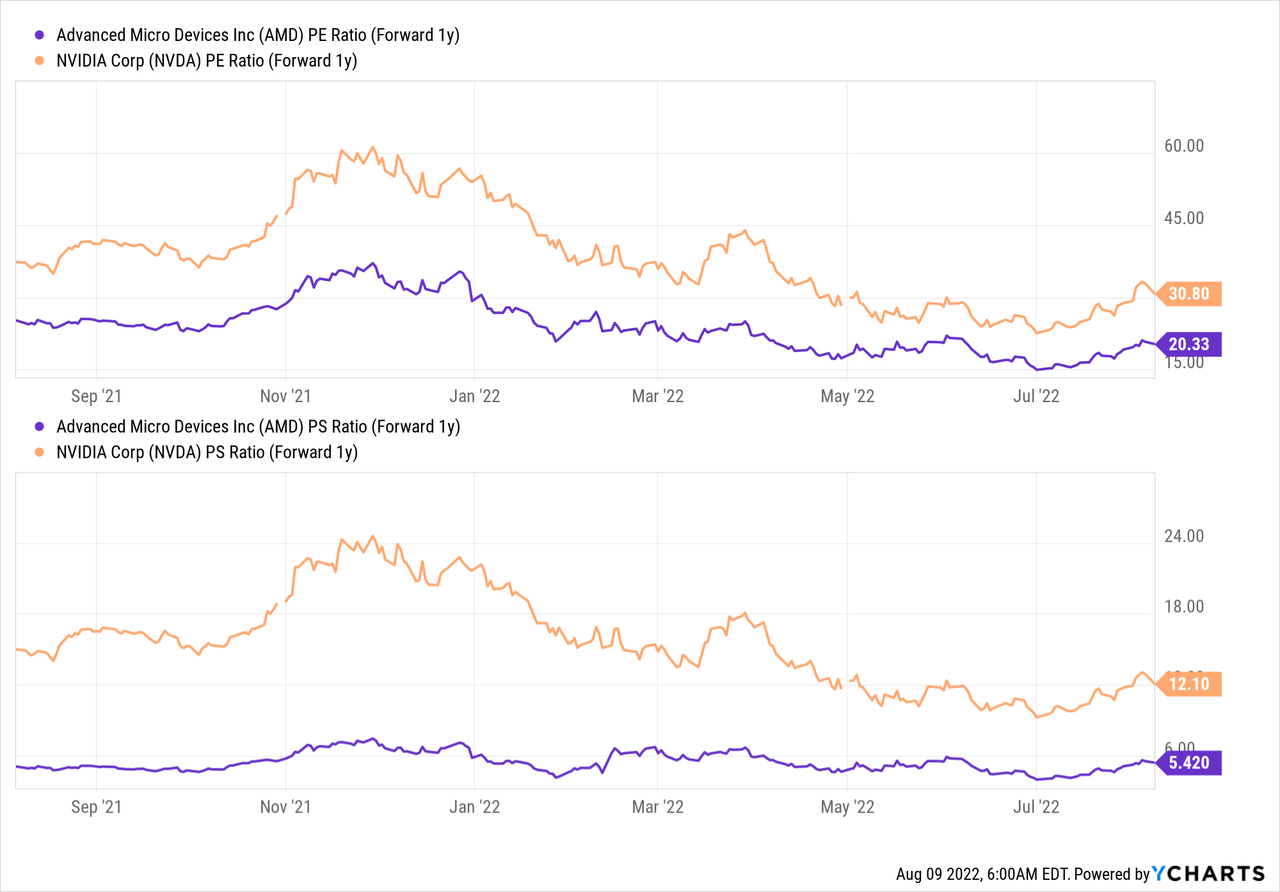 Risks with AMD
The big risk for AMD is that a down-turn in the PC market will affect the volume of processor shipments which may result in a deceleration of revenues and weaker gross margins going forward. AMD is still going to grow rapidly, however, so even a deceleration of growth does not speak against investing in AMD. What would change my mind about AMD is if the firm saw materially lower free cash flow margins and two consecutive quarters of gross margin declines.
Final thoughts
The second-quarter was a great quarter for AMD and although the chip maker gave a lighter than usual outlook for Q3'22, shares of AMD are a buy for me here. AMD is seeing broad-based strength across its businesses, but especially in Data Centers which is where I believe AMD's business will shine. The acquisitions of Xilinx and Pensando fortify AMD's position in the server market and Intel slipping up with its Sapphire Rapids launch only helps AMD.
Data Centers are AMD's biggest growth opportunity and the company will capitalize on it by rolling out new EPYC (Genoa-X) processors that promise even stronger performance for Data Centers than prior-gen CPUs. While a down-turn in the PC market is a risk, AMD's developing focus on the Data Center business may provide an offset to PC market weakness and to lower GPU shipments in the Gaming segment!