While everybody was focusing Greece and the European Central Bank (ECB), people were merely assuming that Italy under the hugely popular and zealously reforming Mario Monti had done enough to stop the rot of the Euro zone crisis right there, where it matters most. The question is, has he?
First the good news. Monti is highly capable and highly popular. By the latest count, his technocratic government commands a 60%+ approval rating. That is huge, considering the amount of harsh reforms and austerity measures his government have pushed through in record time. He has done more for necessary Italian economic reforms in a couple of months than the previous governments in 20 years, and that is no exaggeration.
And now he has arrived at his 'piece de resistance', labor market reforms. On the table are proposals that make it easier to fire people for economic reasons. Now, employees have recourse to the courts with the chance that they have to be re-employed by the company years later, certainly not an optimal situation.
The reforms are useful, but actually quite moderate. Italy isn't going to change into a US style hire and fire economy as a result. Even octogenarian president Giorgio Napolitano (a former communist!) is in favor. But the most radical union isn't and has threatened with strikes.
These strikes aren't likely to derail the reforms though, as Monti has at least two of the big three political parties behind him, it's guaranteed to pass into law. But here is not were the problems lie.
Economic slump deepens
While the fresh supply side revolution blowing through much of the euro zone will deliver solid returns in the medium term in terms of more dynamic, entrepreneurial economies, today the outlook is distinctly bleak. Greece is already firmly in the grips of a vicious cycle in which austerity worsens the slump and tax receipts, leading to more austerity, with only increasing debt levels as a result, leading to a necessary (but likely insufficient) debt restructuring.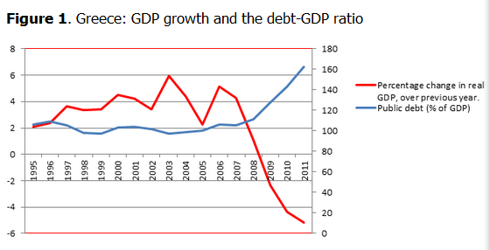 Spain, Portugal and Ireland are teetering on the brink of similar dynamics setting in. All three economies are in the midst of a severe recession. Only Ireland has restored competitiveness, but the economy has fallen back into recession nevertheless. The situation in Italy is also dire, and Italy matters most, because of its size and the size of its outstanding public debt (its public deficit is actually rather modest).
In the midst of falling output, falling industrial production, and falling monetary aggregates (so much for ECB 'money printing')
Mr Monti is carrying out a draconian fiscal squeeze of 3.5pc of GDP this year (the UK is doing 1pc) in the midst of deep slump, even though Italy is close to primary budget surplus. (unlike the UK, with an alarming primary deficit). No rich developed country with control over its own policy levers would engage in such pro-cyclical folly. [The Telegraph]
And this comes from the conservative(!) UK newspaper The Telegraph. We already argued elsewhere that this 'pro-cyclical' policy (that is, cutting public spending and raising taxes in the midst of a slump) or austerity is enforced by Italy being a member of the Euro zone.
The economy will sink 2.2% this year and not recover in 2013 according to the IMF. While benchmark 10 year bond yields have come back from their highs above 7% to below 5% on Monti's credibility and reform program, and of course the two three year LTRO liquidity injections of the ECB. But despite these favorable events, we feel that worries about Italy can easily resurface.
The Euro zone as a whole displays such a terrible deflationary bias, that the risks are increasing again, we feel. The deficit countries are collectively embarking on rather unprecedented austerity to regain lost competitiveness and 'credibility' in the bond markets. But the surplus countries (Germany, The Netherlands, Finland) or any of the others (like France, which has a small current account deficit) are not compensating for this, but are also embarking on austerity themselves.
We side with the conservative UK Telegraph. Embarking on austerity, without compensatory monetary ease or depreciation, in the midst of a terrible economic slump is not a good idea. Europe's only saving grace is that the structural reforms could reinvigorate growth in the medium term. In the short-term, they're either doing nothing or only adding to the misery.
Some trading ideas
Can we do something with this somber outlook? Well, if you don't have access to the Italian market and/or don't want to pick individual shares, the best way is an exchange traded fund (ETF) with Italian exposure, like the iShares MSCI Italy Index Fund (NYSEARCA:EWI). This is the only ETF trading in New York with 100% Italian exposure.
However, this ETF contains large cap funds, so the exposure isn't limited to the Italian domestic market. For instance, more than a fifth is invested in Italian energy conglomerate Eni (NYSE:E) a giant corporation with world-wide exposure. Another giant, Telecom Italia (NYSE:TI) would offer somewhat more domestic exposure (although they're also present in Latin America) but telecommunication isn't terribly sensitive to the recession (here is the latest quarter conference call transcript).
Italian banks have been beaten up last year but got a shot in the arm from the ECB through the 1% LTRO loans that will last three years, and they are making a killing so far this year on their Italian government bond holdings. However, should things deteriorate further, they will be in the first line of fire.
Italian banks trading as ADR's in New York are UBI Banca (OTC:BPPUY), Intesa Sanpaolo (OTCPK:ISNPY), Banco Popolare Societa Cooperativa (OTCPK:BPSAY), Bana Popolare di Milano (OTCPK:BPMLY), Mediobanca (OTCPK:MDIBY) and Banca Monte dei Paschi di Siena (OTCPK:BMDPY).
A nice trading stock is Natuzzi (NYSE:NTZ), an Italian furniture maker. According to good Italian tradition, it is still being led by the 72 year old Pasquale Natuzzi. The one analyst following the stock (at least in New York) expects a turn around from a 20 cent loss per share last year to a 57 cent profit this year. The company has a market cap of $151M, revenues of $646.5M $130.4M in cash and $52.6M in debt.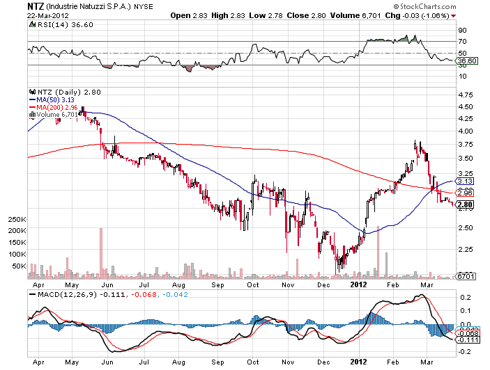 As you can see, we missed a bit of an overbought situation which would have been quite a nice short trade.
Fiat (FIATY.PK), seems another obvious candidate. The Italian home market traditionally is their strength (there was a time when they had like half the car market there, but these days have long gone). There also was a time when Fiat made 600,000 cars a year, but these days are also gone. Today, it produces a mere 50,000 and it uses only 20%(!) of its production capacity in Turin.
Most employees are sitting home with half pay under an agreement called 'cassa integrazione,' which as just been renewed for 1.5 years so they are not optimistic about any immediate turn-around of this bleak situation. Indeed, the CEO sees painful restructurings ahead.
That's quite a different tune than he was singing two years ago, when he spoke of "Fabbrica Italia," a plan to invest a whopping 20B euro in new models and plants. However, only 1.5B of that has been spend so far, and with existing plants operating at 20% of capacity we're not convinced there is a need for new plants any time soon.
The shares trade at just under $6 and have been above $20 only a little over a year ago, much of the bad news seems to have been priced in already. However, in mid-December the shares were considerably lower at $4.5. If the outlook doesn't improve we could retest those lows. Nevertheless, they're still profitable and expect to remain so for this fiscal year.
The simple route for trading the Italy risk is the euro. Should Italy get worse, this will surely rekindle the euro zone crisis and the euro will start to suffer as a result. One could trade directly in the foreign currency market or use a currency ETF. For going long in the Euro:
One could also go double long in the Euro via Euro
Or go short Euro:
Of course, to bet against the Euro one could also short any of the long Euro ETF's
Disclosure: I have no positions in any stocks mentioned, and no plans to initiate any positions within the next 72 hours.