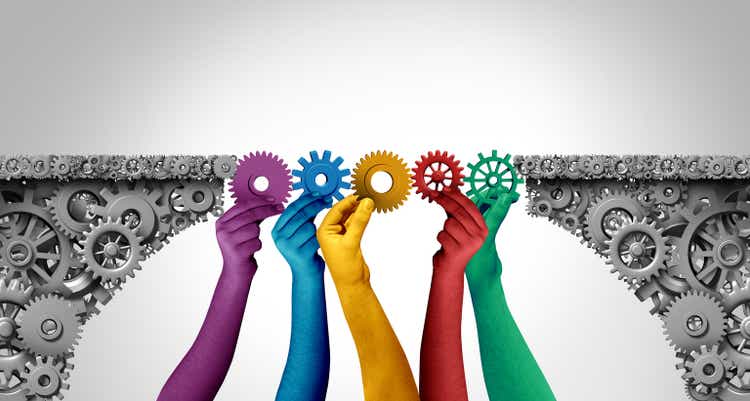 The leading NYU Professor Aswath Damodaran considers acquisitions as an addiction and believes this to be the most value-destructive action a company can take. So, what if a company continues to acquire businesses regularly and multiplies the revenues over 5x with levered free cash flows increased from US$20m to over US$700m in 2022 on TTM basis? On top of that, it decides to go for two acquisitions in less than 24 months with one of those over US$10 billion. Would you consider that a value stock or value destroyed twice or peak performance before it pivots to diminishing returns on capital employed? It's not an easy question to answer in our view, as some parameters have changed drastically for the macro-environment as well as for the company.
Celanese Corporation (NYSE:CE) was bold enough to go for two multi-billion dollar acquisitions within a span of two years. The company took on board Santoprene from Exxon Mobil during 2021, for a total purchase price of $1.15 billion on a cash-free, debt-free basis. As part of the deal, they acquired Santoprene®, Dytron™, and Geolast™ trademarks and product portfolios, and among other things, two production facilities in the U.S. and U.K. with over 190 kt of total annual production capacity.
In February 2022, the company agreed to acquire Mobility and Materials business from DuPont for US$11 billion all cash deal, which is expected to conclude towards the end of 2022. The implied EV/EBITDA multiple is slightly on the higher side at 11.3x on forward basis, based on the average of estimated 2022 EBITDA by DuPont and Celanese. The company has so far secured financing of US$10.5bn with effective net borrowing rate of 5.4%. One of the tranches at US$7.5bn was priced between a range of 5.91% to 6.38% while the other at EUR 1.5bn with four-year and 6.5-year maturities at interest rates of 4.78% and 5.34%, respectively.
As usual, the management on the buy-side is very optimistic expecting revenue and cost synergies of up to US$450m over the next 4 years. The growth potential is obviously there, especially with a solid automotive market which is continuing to use more of the plastics and polymers.
One of the main reasons you acquire a company in this space is to get hold of the patents and try to expand the already established market share. The perceived benefits are even more credible if the product portfolio has been developed and nurtured by market leaders like ExxonMobil or DuPont. The Santoprene and M&M acquisitions give Celanese a foothold in the relatively more resilient categories of advanced mobility and medical devices which have a predictably growing demand for the products Celanese will be selling in future. According to the company presentation, just the annual growth in the addressable volume in the automotive industry is 4% p.a. for the period 2022-27. We may safely assume that the increase in demand from other applications will be incremental to the Celanese revenue growth.
The product portfolio they are acquiring is quite diverse in its application which means the accretion to current revenues would be quite stable in nature.
For example, Hytrel provides a lightweight solution with its resilience, durability, higher temperature related fatigue resistance, flexibility and tear-and abrasion resistance. Some of the applications include sportswear and athletic goods, automotive boots and bellows, consumer electronics, medical devices, seals and gaskets, specialty films and garments, air ducts and wire & cables.
Similarly, Vamac elastomers can be used across a range of automotive solutions, which include electric as well as hybrid vehicle components. Just like Hytrel, it is used to provide the extreme temperatures and fluids related resistance required for powertrain components, air management systems, seals and gaskets, cable insulation and jacketing, and high voltage connector seals.
These products should place CE at an advantageous position in the growing markets like Advanced Mobility, 5G, Medical devices, and Electrical (cables and ducts). This acquisition would also expand their geographic footprint to India, Mexico, and Southeast Asia along with adding to the existing capacity in their current core geographies. On the financial side, the potential addition to the revenues and EBITDA is over US$4bn and US$975m based on average estimates by DuPont and Celanese.
Although the management is confident that they would be able to generate enough free cashflow to bring down the leverage ratio below 3.0x by 2024, we believe that it will take some time to achieve those results. The stock is still trading at a reasonable discount though, with forward (non-GAAP) P/E at only 6.11x compared to the sector median at 11.20x with other relative valuation multiples suggesting the same. One should consider accumulating the stock for long-term if there's a dip in share price due to higher market volatility or the company missing its guidance.
Downside Risks
The higher financing costs in the backdrop of rising rates, could be a drag on the overall profitability and the company's ability to meet their target. The key downside risk is the persistently higher inflationary environment due to substantial addition to the debt which would reduce the levered free cash flow or at least decelerate the growth. This would obviously have an impact on the future revenue and profitability growth due to demand erosion of the end-products, subsequently affecting the overall returns. In addition, the dividend payout ratio is already low and with the additional debt, the share buyback might also be negatively affected.