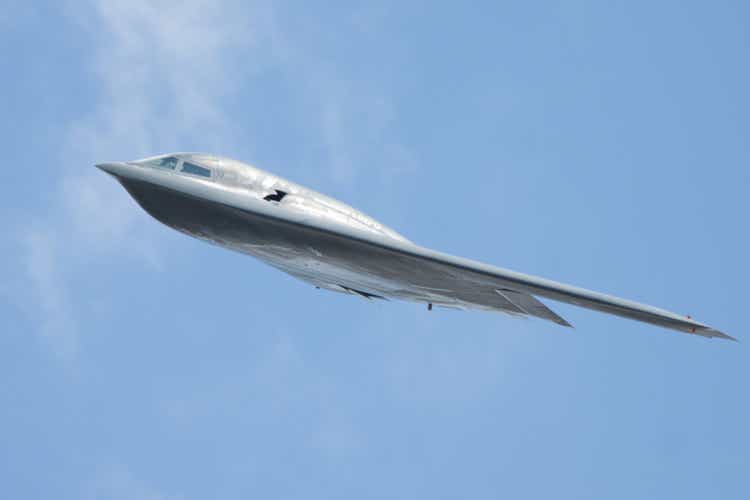 Introduction
I doubled my Northrop Grumman (NYSE:NOC) investment this week. I made the company a part of my dividend growth portfolio last year. However, the company was my smallest holding prior to the Ukraine war as other investments benefited from capital appreciation before my NOC investment. That has changed as I just made Northrop Grumman a top 5 holding in a portfolio that includes 94% of my total net worth. In this article, I will cover a number of things including why I have so much trust in Northrop Grumman as a rock-solid, low volatility, dividend growth investment, and why ongoing macro and geopolitical developments favor investments in this defense giant. Essentially, we're dealing with a wide range of tailwinds that provide a foundation for a fundamentally-backed technical breakout on top of the fact that NOC remains one of the best sleep-well-at-night stocks.
So, without further ado, let's look at the details.
Low Volatility Dividend Growth
But first, this is a breakdown of my dividend growth portfolio.
While I do own a number of high-yield investments - mainly in energy and utilities - I am a big believer in buying low volatility dividend growth stocks as these investments are generally speaking great at building long-term wealth for their shareholders.
This is mainly based on the quality aspect. For example, companies that pay a dividend (ignore growth) are able to not only survive but to take cash out of their business and distribute it to their owners. This separates them from all businesses that are not able to do that. It's a stamp of approval. Needless to say, I'm ignoring companies who borrow money to distribute cash as that is irresponsible and often uncovered rather quickly.
Companies that are able to grow their dividend consistently are even better as they not only survive in a competitive world but they also let shareholders benefit from it by growing the dividend. Often, the dividend grows at rates above inflation, which gives investors another incentive to buy shares.
This means investors buy quality, which helps these companies during bear markets. After all, investors prefer quality over speculative investments when the economy slows.
The chart below shows that going back all the way to 1866, higher volatility has led to lower compounded returns.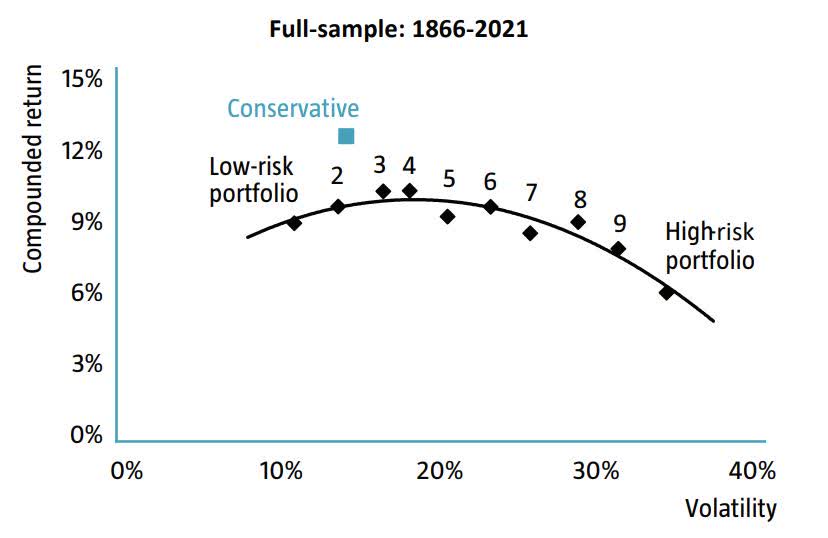 One could make the case that this theory does not make sense. After all, higher volatility means higher risks. Higher risks require higher compensation. So, why do conservative stocks outperform?
The table below comes from a 2013 article published in The Journal Of Investment Consulting, Geoffrey Gerber explains why dividend growth is such a good defensive equity strategy.
He concludes that:
Reduced-volatility equity strategies utilizing dividend growth in the stock selection process are shown to have historically provided a boost to risk-adjusted performance.
As the table shows, investment A had the highest return as it turned $1.0 million almost into $4.3 million. This portfolio had a high annual return and a low standard deviation. Even investment C outperformed investment B despite a lower annual average return. The key was lower volatility.
It's all about downside protection. Even if a dividend stock does not outperform during every single bull market, preventing steep (unreleased) losses in bear markets is a big part of the deal.
That's where Northrop Grumman comes in.
Going back 20 years, the company has returned 16.5% per year including dividends (total return). The S&P 500 returned 6.6% during this period. That's below average as the time series starts more or less at the start of the dot-com bubble. Needless to say, the standard deviation of NOC was 23.1% during this period, which is less than 8 points above the S&P 500 standard deviation. Hence, the company performs better on a volatility-adjusted basis as well (Sharpe/Sortino ratios).
To prove that I'm not cherry-picking here, the company has continued to perform very nicely over the past 3/5/10 years with a similar standard deviation.
Another thing I want to show you is how powerful a combination of NOC with other non-volatile investments is. The graph below shows a mix of 50% NOC and 50% Vanguard Dividend Growth ETF (VIG).
Since 2007, this would have resulted in 13.3% annual compounding total returns. That's more than four points above the S&P 500. Moreover, the standard deviation is less than 100 basis points higher. Hence, it's a much more efficient portfolio with an 80% market correlation.
So, with all of this in mind, let's look under the hood of Northrop Grumman.
What Makes Northrop Grumman So Special?
Northrop is one of the world's largest defense companies and my fifth-largest position since this week. When it comes to market cap, the company is the fourth-largest player in the industry behind Raytheon Technologies (RTX), Lockheed Martin (LMT), and Boeing (BA). In this case, commercial aerospace has been included.
Aerospace & defense is by far my biggest industry as it covers 24.8% of my portfolio. That's a lot, and most of it is defense exposure.
I made that decision based on a number of factors. The most important is the anti-cyclical behavior of the industry. While defense stocks do sell-off along with the market during bear markets, sell-offs are often much less severe as defense companies have little to no commercial exposure. The biggest risk is supply risk, not demand risk.
Before I go over recent defense budget developments, it's fair to conclude that defense spending has been boosted in almost every single recession since the second world war. That makes sense for one major reason, which is that defense spending is an efficient way to maintain manufacturing employment.
For example, major defense projects like the F-35 have tens of thousands of minor and major suppliers. Spending money on these projects benefits hundreds of thousands of employees, to put it very bluntly.
Another reason why I like Northrop is that it's a high-tech company. While Apple (AAPL) is my only holding in the technology sector, I believe that Northrop is my biggest high-tech holding.
Just like my investments in its peers, the goal is not to make money from wars (and I have never talked to someone who wanted war), but to benefit from war prevention and technological developments. This includes space developments.
Or as Northrop puts it:
Northrop Grumman solves the toughest problems in space, aeronautics, defense, and cyberspace to meet the ever-evolving needs of our customers worldwide.
Besides that, the company produces the fuselages for both the F-35 and F-18 jets, it has a wide range of products and services covering everything from the depths of the seas to space and in between.
Especially in the air, the company is a major player as it is the producer of the B-2 Spirit bomber, it has competed in almost every single major defense project, and it is the owner of the soon-to-be-released B-21 Raider, the successor of the B-2 and what some call a huge advantage over both Russia and China.
As Christian Orr writes:
If the program continues to proceed as planned, the B-21 will indeed be an impressive bomber. It will have sufficient range to reach Red China itself if necessary, with the capability to strike adversaries with conventional long-range cruise missiles, the B61-12 nuclear gravity bomb, and the AGM-86B nuclear cruise missile alike.
The aeronautics segment also produces unmanned drones like the RQ-4 Global Hawk, the NATO version called Alliance Ground Surveillance, and manned battle management planes like the E-2D Advanced Hawkeye.
49% of contracts in this segment are cost-type contracts, meaning variable given the rate of inflation, which is good in high-inflation environments.
In 2021, this segment did $11.3 billion in sales.
What I find interesting is that the company's space systems segment did $10.6 billion in sales. This segment has a stunning $37.1 billion in backlog (orders that have not been turned into finished products).
That's almost half of the company's current $80 billion backlog.
In its space segment, the company has 39% restricted customers, meaning it's not publicly known who is behind the order. 28% comes from the Air Force, followed by NASA with 13% of total sales. 74% of all contracts are adjusted for inflation.
Key programs include launch & strategic missile products like Trident II (nuclear-capable rockets), Antares, and related systems.
64% are space-only products like support for the James Webb telescope and various other programs.
Citigroup believes that space could be a $1 trillion industry by 2040 as launch costs are set to drop 95%. In other words, it's set to become a way more accessible industry.
As reported by CNBC earlier this year:
Citi's estimates for the industry match forecasts published in recent years by Morgan Stanley, Bank of America and others. The global space economy's value reached $424 billion in 2020, according to research from Space Foundation, having expanded 70% since 2010.

"Revenue from manufacturing, launch services and ground equipment will make up the majority of the revenue growth in the satellite sector," Citi said. "However, the fastest growth rate is expected to come from new space applications and industries, with revenue forecast to rise from zero to $101 billion over the period."
According to Northrop:
Our customers have made it clear that space underpins many missions vital to our national security. And we recognize that we need to think about space differently as a rapidly evolving contested domain.
Before I move over to the dividend, I want to highlight some recent geopolitical developments, especially with regard to defense spending.
Higher Defense Spending & (Inter) National Security
Defense spending has always been in an uptrend as I discussed in the first part of this article. However, there are now at least two major reasons to boost spending (excluding inflation).
The war in Ukraine is the biggest threat to European security since the second world war. While Russia is struggling to gain territory in Ukraine in a horrible conflict, European nations are finally realizing that the biggest driver of defense is not engaging in a hot war with Russia, but to boost spending in order to prevent an invasion of other countries, in the first place.
In an earlier article, I highlighted NATO comments that the 2% defense spending target (as a percentage of GDP) is now no longer the goal, but the expected bottom. In other words, above-2% spending is expected.
This is what Northrop commented on that:
We've seen a fundamental shift in global commitment of resources for defense and national security, particularly in Europe. Just this year, we've seen Finland and Sweden progress their membership in NATO and many European countries increase or state their plans to increase their defense budget.
In general, the geopolitical tensions have caused bipartisan support for higher defense spending in the US as well. Note that China has threatened Taiwan as well - especially after Pelosi decided to visit the Island.
In June, Defense One reported that the defense budget for 2023 was on pace to come in close to $860 billion.
The Senate's bill includes $817.33 billion for the Defense Department, according to a summary of the legislation released by the committee. Combined with national-security funding at the Energy Department and other defense programs outside the jurisdiction of the bill, the total national defense topline would be $857.64 billion.
A chart I used in my L3Harris (LHX) article shows that the Senate Armed Services Committee ("SASC") budget request would exceed the 2022 budget by 9.5%.
Not only is this a case of "the rising tide lifts all boats", it benefits Northrop in a number of segments:
[...] the U.S. FY '23 base defense budget request included strong support for key programs like T21, GBSD, NGI, IBCS, next-generation OPIR and Triton. And there is an opportunity for additional funding for GATOR, E-2D, F-35 and F-18 that we've seen in proposed plus ups from Congress.
Now, let's look at the company's dividends.
NOC Dividend
The Northrop dividend scorecard provided by Seeking Alpha is impressive - except for its yield. The company scores high on safety, growth, and consistency, while its yield is lagging behind its industrial sector peers.
Northrop pays a $1.73 dividend per share per quarter, which translates to $6.92 per year.
This translates to a 1.5% dividend yield.
Northrop has "never" been a high-yielding company. However, its dividend growth is high and consistent. 10-year average annual dividend growth is 12.1%.
These are the most "recent" hikes:
May 2022: 10.2%
May 2021: 8.3%
May 2020: 9.8%
Moreover, Northrop spends billions on buybacks. In 2021, the company spent $3.7 billion on share repurchases, one of the highest numbers in its history.
Since 2012, NOC has bought back 38% of its shares outstanding, which has helped in boosting capital returns.
Bear in mind that despite supply chain issues, the company is expected to grow free cash flow to $3.4 billion in 2024. Free cash flow is net income adjusted for non-cash operating items and capital expenditures.
Using the company's $73.3 billion market cap, we're dealing with an implied FCF yield of 4.0% for 2023 and 4.6% for 2024, which means the dividend is not only safe but also likely going to be raised by double-digits on a longer-term basis.
It's also based on below-14% EBITDA margins as a result of supply chain and related issues. If we account for accelerating sales growth and slowly easing supply problems, I believe we're at the start of a long-term uptrend in free cash flow.
It also helps that the company is expected to maintain roughly $9.6 billion in net financial debt, which means a net leverage ratio of less than 2.0x. Hence, NOC has financial room to spend FCF on shareholder distributions.
The valuation is good. We're dealing with a 16.5x 2023E EBITDA multiple using the $73.3 billion market cap, $9.6 billion in net debt, and $2.7 billion in pension-related liabilities.
While that valuation does not look cheap, investors are looking beyond the next 2 years as Northrop is poised to accelerate EBITDA thanks to the B-21 program, space, and higher defense spending. All of the company's segments have a book/bill ratio of more than 1.0x, which means orders are coming in faster than NOC can produce.
The implied 4.6% FCF yield is close to the longer-term median, which means that investors are not overpaying for cash flows. That's key here.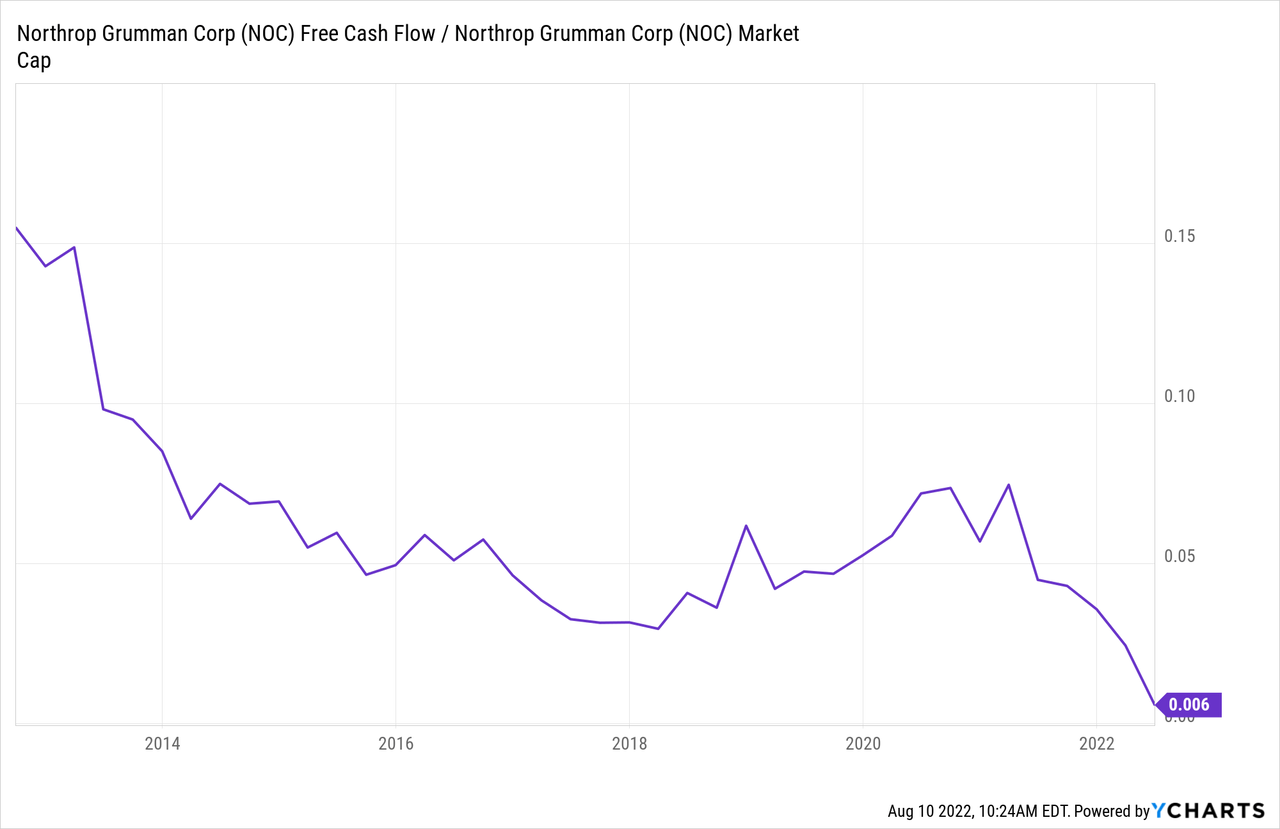 I believe that NOC is setting up for a technical breakout, working its way towards $520.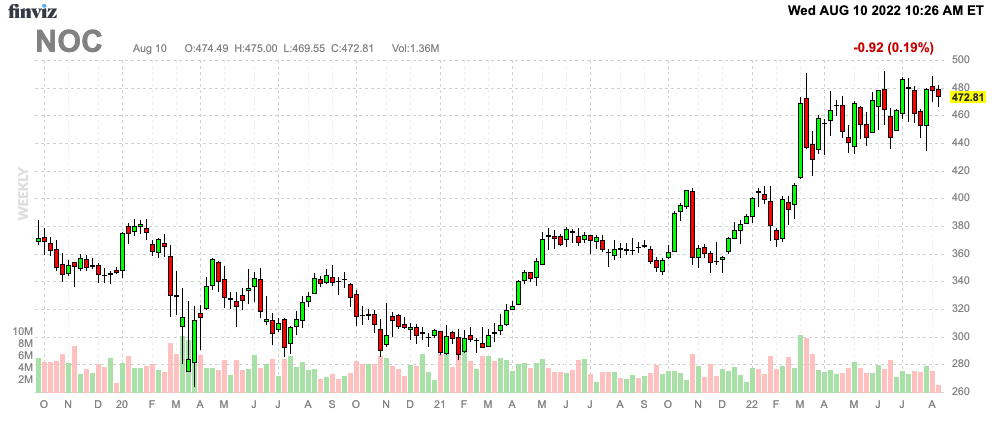 Takeaway
Northrop Grumman has become one of my favorite dividend stocks. The company offers a decent yield, very consistent and high dividend growth on top of aggressive buybacks, and a balance sheet and cash flows to back it up.
Moreover, I believe that Northrop has a future-proof business model that will continue to generate high and rising free cash flow thanks to high space exposure, the B-21, and other major programs, as well as surging defense spending.
It also helps that the company has a lot of inflation-protected contracts.
While the valuation does not scream deep value, I believe NOC is a perfect long-term investment as it not only comes with the aforementioned shareholder distributions but also a low-volatility profile, which provides steady outperformance.
So, long story short, if you're looking for steady outperformance and low volatility, NOC is the way to go.
(Dis)agree? Let me know in the comments!