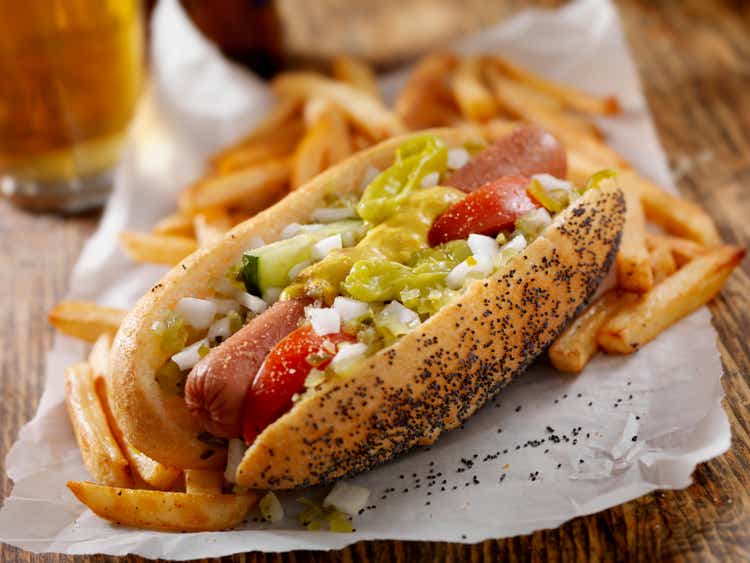 Investment Conclusion
Portillo's (NASDAQ:PTLO) reported mixed F2Q2022 financial results. System sales increased substantially driven by the opening of six new stores over the recent 18 months and higher same-store sales derived from the continued improvement in on-premise sales (even as off-premise sales remained stable for the most part) and a menu price increase, which although below inflationary trends, was still significant. However, revenue leverage from sharply higher sales, the menu price hike, and incremental labor productivity were insufficient to counter cost inflation associated with commodity and wages, and reflected in considerable downturn in restaurant level margins on a year-over-year basis. Similarly, corporate level margins suffered as a flow-through of decreased leverage at the restaurant level, as well as higher general and administrative costs. Accordingly, although earnings and free cash flows surged over the second quarter on a sequential basis, they lagged on an annualized basis. During the period, PTLO opened one new restaurant, located in St. Petersburg, Florida, expanding the footprint to 71 restaurants.
Over the next couple of quarters, we expect the sales momentum experienced in the front-end of the year to be sustained, despite gathering recessionary headwinds. Factors that drive our favorable conviction on potential sales growth include the excellent value proposition the hot dog chain offers customers (given its menu prices hikes have been consistently lower than those rolled-out by the competition), that its customer satisfaction scores which are a leading indicator of potential demand were the best in 24 months, that its target customer group skews above average income for the most part, that dine-in sales are likely to keep growing while take-out transactions remain solid (although we expect declines in delivery orders), and incremental sales associated with the expansion of PTLO's restaurant footprint, which by the end of the year will have grown by 11 restaurants over two years. In addition, despite a planned increase in hourly wages for front-line staff, we expect sequential improvement in margins at the restaurant level, fueled by lower marginal fixed costs/dollar of sales, decrease in commodity prices, stability in hourly wages, and efficiencies related to operations and labor. As a flow-through, we anticipate considerable surge in earnings and free cash flows for FY2022.
Longer-term, PTLO's focus on sustaining existing strong customer demand, by expanding: same-store sales and the number of restaurants, will ensure growth in earnings and free cash flows, in our judgment. Same-store sales growth will be derived from menu innovation, digital sales, and the loyalty program. In regard to new unit development, the company has committed to a target growth rate of ~10% every year, with an objective of developing a footprint of 600 domestic restaurants. We expect the number of new units launched every year to exceed planned targets, as the popularity of its brand, forces PTLO to rapidly expand the footprint, to benefit from the considerable customer demand. In addition, given the clamoring for its product across the U.S., we believe PTLO is being overly conservative with regard to the number of restaurants it can successfully operate within the country. The firm is likely to keep adding stores even after its footprint expands to 600, in our assessment.
Given the scenario, PTLO appears well-positioned for substantial revenue growth over numerous years. Consequently, due to revenue leverage from sharply higher sales, restaurant operating margins are likely to expand, as marginal costs per dollar of sales decrease. Additional leverage will be derived from a decline in commodity prices from current levels, and economies of scale related to the digital platform, advertising, and corporate fixed costs. As a flow through of significantly higher sales and margin expansion, we anticipate boosts in: profits and free cash flows, over the long-term.
Considering that F2Q2022 results have only reinforced our secular outlook on PTLO, we remain constructive on the company. PTLO appears well positioned to meet and exceed the estimates for growth in revenues and operating cash flows factored into our 10-year Discounted Cash Flow model. Therefore, we're maintaining our 1-year Price Target of $30/share. Reiterate Buy Rating. (Please go through our initiation report "Portillo's: Solid Business With Potential For Significant Growth" and related notes for our long term opinion on the stock).
Key Takeaways From The Second Quarter
F2Q2022 Results Summary. For the quarter, revenues of ~$151 million (+7% compared to F2Q2021), missed consensus estimates of ~$152 million, and earnings per share of $0.13, was above analyst projections of $0.07. On a year-over-year basis, same-store sales advanced by 1.9%. Net income for the period was ~$10.8 million vs. a net income of ~$13.7 million during the previous year's same quarter. Restaurant level: adjusted EBITDA declined to ~$38.4 million (~negative 10.9% compared to F2Q2021), while adjusted EBITDA margins decreased by 510 bps on a year-over-year basis to ~25.5%. During the second quarter, the firm generated operating cash flows of ~$25.4 million.
Leveraging Employee Experience To Drive Sales Growth. PTLO raised wage levels for front-line staff at the beginning of the third quarter. The increase follows an extension in hourly rates implemented during June 2021, and represents a cumulative growth of 12.5% on a year-over-year basis.
With the objective of deriving peak performance from its employees, PTLO is continually implementing strategies to make staff feel energized and empowered. Beginning with above industry average compensation and benefits, and supported by continuous improvements in kitchen operations, and on the front-lines, the company believes that improved employee satisfaction will reflect in better customer service scores, and consequently higher demand. The goal is to create an environment for employees which is focused on family, greatness, energy, and fun, that attracts and retains them indefinitely.
In regard to employee career development, PTLO typically hires for leadership positions from within the organization. Over the previous year, 80% of leadership openings were filled with employees that started at junior positions within the firm. Considering the energy and dynamism evident within PTLO restaurants, and the strong customer satisfaction scores it achieves, year after year, it appears that the company has been successful in sustaining its founder's vision of providing folks delicious culinary selections with excellent customer service.
We are encouraged that management recognizes the critical role of employee satisfaction in securing optimal customer service. Net-net, although the employee compensation strategy creates near-term margin challenges, longer-term, considering that higher customer satisfaction scores clearly lead to improvement in customer retention, investments to uplift employee morale are prudent, in our judgment.
Geographic Diversification Remains On Track. Despite, cost inflation, regulatory delays, and supply-chain restrictions, management appeared committed to deliver the targeted ~10% annual growth in new unit development for FY2022. Further, in addition to locations in Joliet, Illinois, and St. Petersburg, Florida which debuted in the first half of the year, plans are on schedule to launch restaurants in The Colony, Texas, Schereville, Indiana, Orlando, Florida, and in Gilbert and Tucson, in Arizona, by the end of FY2022. Similarly, for FY2023, management believes the company will handily deliver ~10% year-over-year growth in the restaurant footprint.
Considering that expansion in the number of restaurants translates to incremental profits (as PTLO's restaurant level margins are solid), we are glad that PTLO remains committed to rapidly developing its restaurant base. In addition, given the ~10% target new unit development growth rate, the number of new stores being opened will increase significantly every year, resulting in an escalation in the momentum of profit growth. In our opinion, the company should temporarily accelerate the growth rate associated with the opening of new stores for the next few years, to deliver a large enough restaurant base, that would support rapid expansion of the footprint to the 600 units target, when the growth rate reverts to ~10%.
Value Proposition Likely To Insulate PTLO From Recession Impact. Considering that PTLO's guest satisfaction scores were the highest in 24 months during the second quarter, it appears that customers have noticed that compared to other restaurant chains, the firm has not resorted to reducing portion sizes of its menu offerings and has raised menu prices below inflationary trends. In that regard, it is noteworthy that PTLO's menu prices over the third quarter are up by ~8.3% compared to F3Q2021. Comparatively, grocery prices have increased by ~12%, and those associated with the peer group by 11% to 13%, over the same period.
In addition, PTLO appears confident that an economic downturn is unlikely to substantially impact sales growth. As per management, the strong value proposition (reasonable prices, large portion sizes, excellent customer service, and significant convenience) the company offers its guests, and that a majority of its target customers belong to the above average income group which is unlikely to experience financial challenges sufficient to prevent visits to fast casual restaurants (such as PTLO), position the firm in a sweet spot in regards to a recession.
Based on our competitive analysis on PTLO and research on discretionary spending trends during typical financial crises, we believe that an economic decline is likely to have limited impact of the company's sales. Although customers might pullback on purchasing beverages or shareables, and the frequency of visits might decrease for some customers, for the most part, PTLO's sales growth is likely to remain positive, during a recession, in our judgment.
Balance Sheet Appears Strong. At the end of F2Q2022, the company had a restricted cash and cash equivalents balance of ~$49.7 million and long-term debt of ~$315 million on its balance sheet. In regard to additional funding, PTLO has available for use, a remainder of $45 million on a revolving credit facility, it secured in March 2020. Given these factors, we believe that the firm is appropriately funded to operate effectively and execute on its footprint growth targets.
Bottom Line
Although margins are suffering driven by a strategy to invest in customers, by keeping prices reasonable, and in employees, by paying higher than industry average salaries and benefits, we remain upbeat on PTLO. We fail to see how an approach to invest for the long-term by retaining consumers and manpower, could go wrong. Being a volume player (annual average unit volumes were $8.3 million for the second quarter) with lower margins but higher overall earnings is also a sound business strategy. With the planned accelerated growth of the footprint, profits will multiply quickly, even if margins don't recover to peak levels. We'd be buyers of the stock on any pullback.