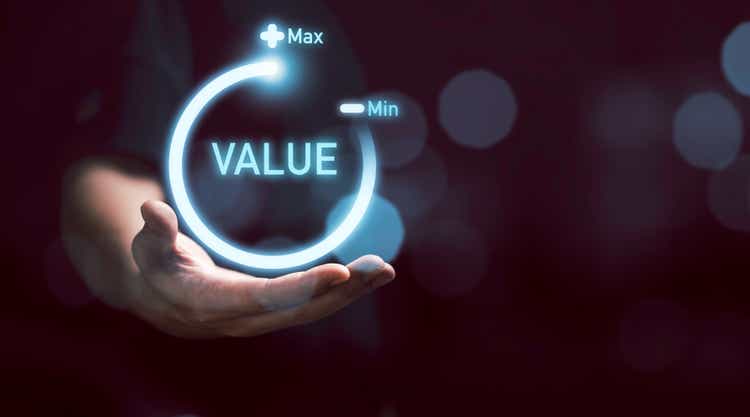 The Royce Value Trust (NYSE:RVT) is a closed-end fund ("CEF") that scours the small-cap universe for opportunities. It has a long-term track record of doing so successfully and has outperformed its benchmark in total and risk-adjusted returns. This also results in a slightly better Sharpe ratio for the fund. The performance of this and other Royce funds has resulted in Royce's reputation as a strong small-cap value manager.
The investment team favors companies with: 1) high returns on invested capital; 2) strong fundamentals; and 3) trading at attractive valuations. The fund has often traded at a deep discount to the net asset value. This year, the discount has narrowed considerably. I presume people are rediscovering Royce as a strong value manager, as the value factor - for a change - is outperforming the growth factor.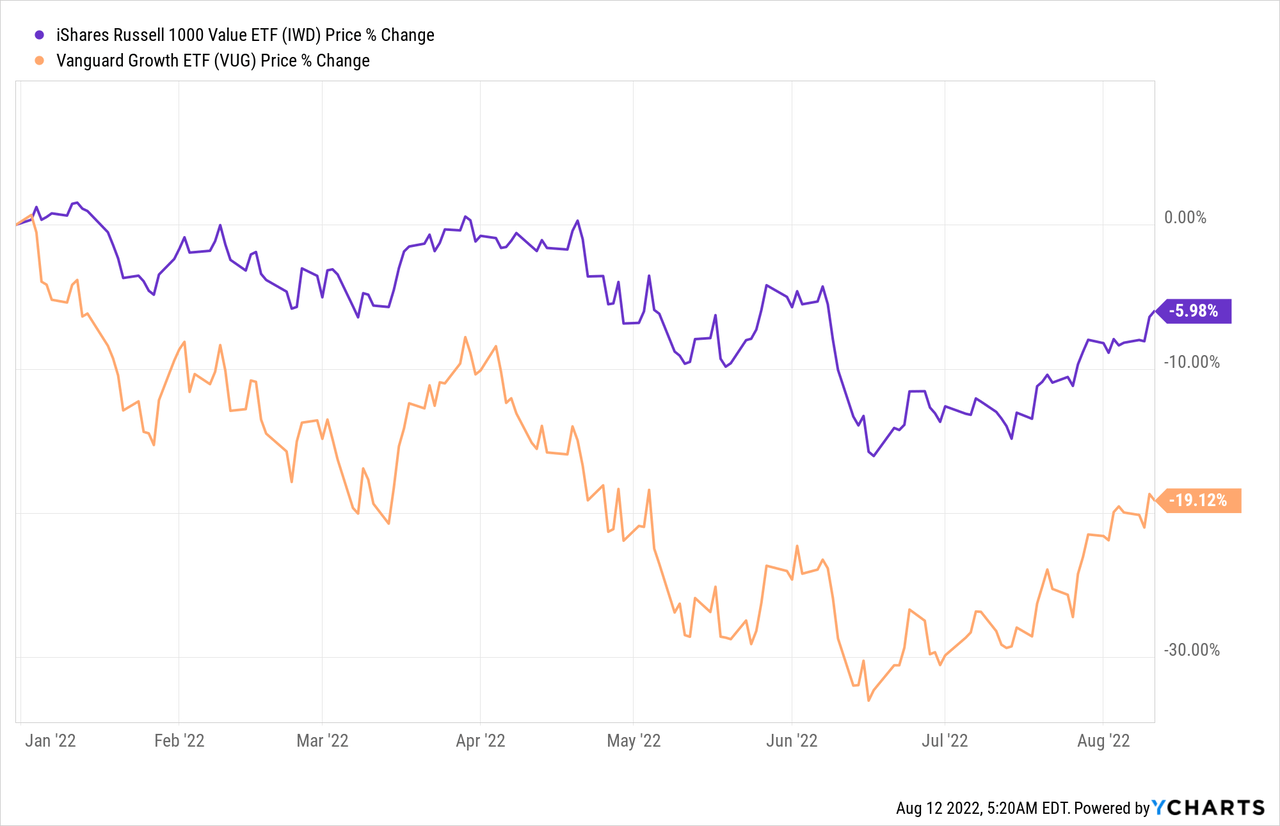 The discount has suddenly narrowed considerably: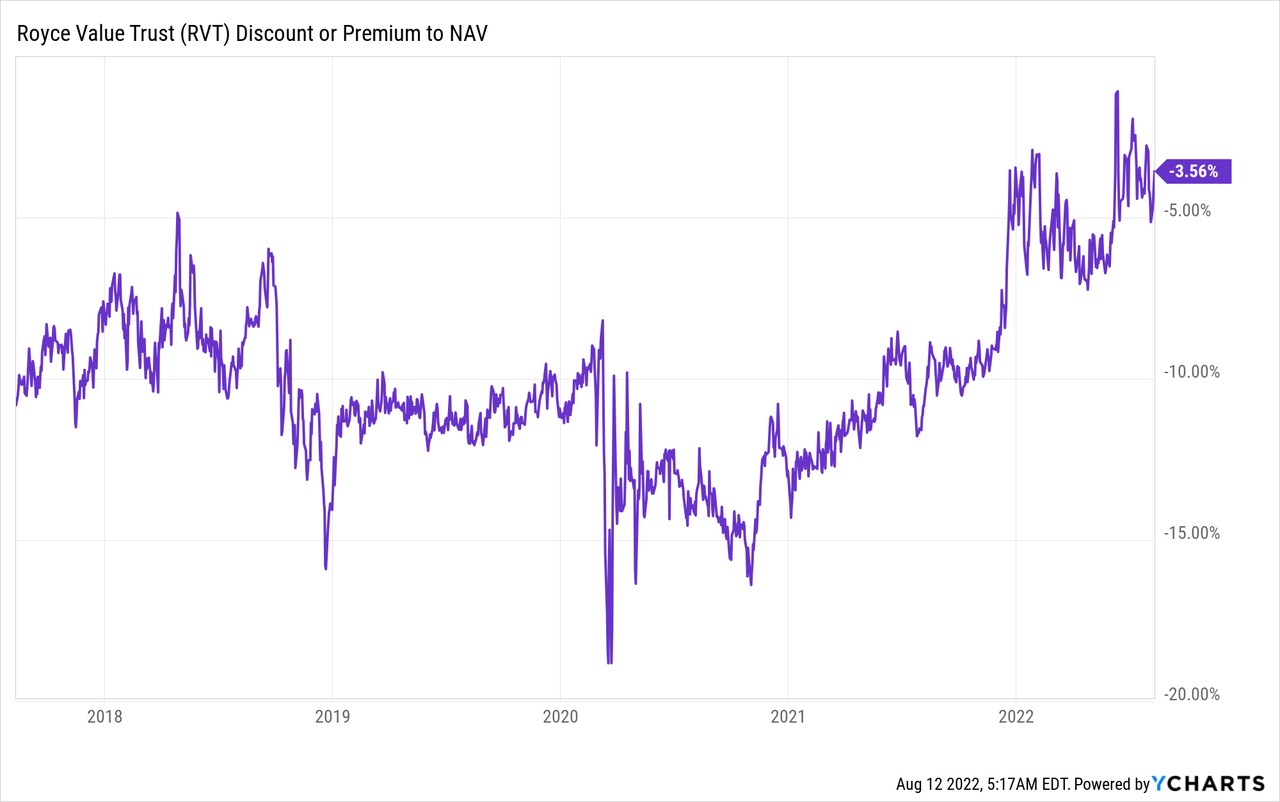 The average discount over the past 6 months has been 5%, and in the past 3 years it has been over 10%. The fund uses a negligible amount of leverage (at this time) and it deploys over $1 billion of assets under management ("AUM"). Royce is a traditional value manager who generally achieves results with low turnover, so deploying this amount shouldn't be overly challenging. It does result in a very diversified portfolio with hundreds of names.
Fund fees and expenses are quite modest and compare attractively to a lot of other closed-end funds:
Unfortunately, the fund is trading at only a slight discount to the net asset value. I like this type of fund when it is trading at a 10%+ discount to the net asset value. It is quite common for CEFs to trade at sizeable discounts.
I tend to buy these at a 10% discount or more, hold until the discount decreases to around ~5% (here it is even smaller), or until I find something that I like more. In many cases, there are sizeable distributions while waiting.
When buying closed-end funds, I always review the portfolio. Not primarily to second-guess the manager, but because it often offers clues whether: 1) this is a skilled team; 2) whether they're benchmark hugging (I don't love to pay fees for that); and 3) it is a source of investment ideas to look into (especially if I think the team is very good). I've included the top 20 ideas below: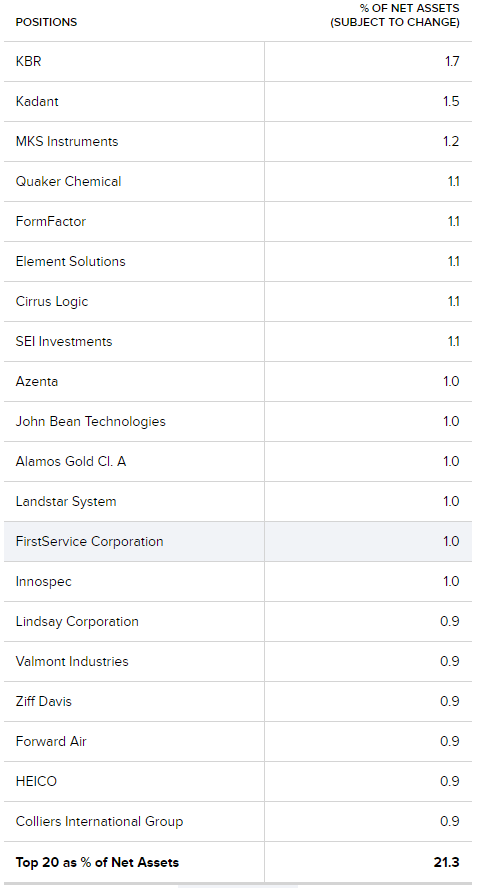 It is immediately apparent the fund is highly diversified, as the top 20 make up only 21.3% of the portfolio. The top position takes up only 1.7% of the invested assets. It shows the team is looking for high returns on invested capital, as the names lean towards higher quality businesses not necessarily the absolute cheapest on traditional value metrics. Two examples I'm familiar with are HEICO (HEI) and Ziff Davis (ZD).
In sector diversification, the fund is underweighted real estate and utilities, which is typical for active managers. These tend to offer lower absolute returns, and active managers don't love the impact on their long-term track record. The manager is also underweighted in financial services, energy and healthcare. They're overweight tech and industrials. These could be sector bets tied to their read on the economy, but might also result from looking for quality businesses. It is hard to find quality businesses in real estate and utilities.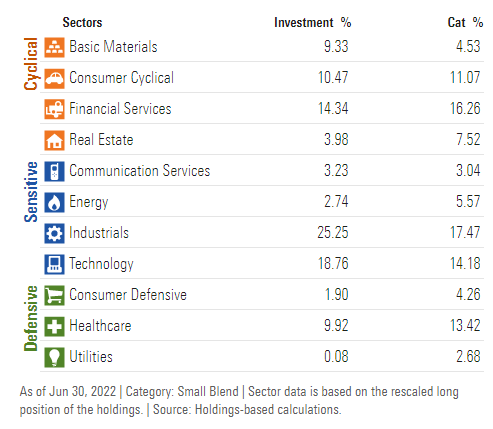 There is much to like here: 1) great management team; 2) highly agreeable fees; and 3) great strategy (I like value and small-cap tilts). The discount to NAV is one problem I can't get over for now. There are so many closed-end funds available at much steeper discounts to NAV. It's not just the absolute level of the discount to NAV either. Historically, RVT has traded at much more attractive discounts to net asset value. I'm passing this fund for now. I'm keeping it on my watchlist to revisit as the discount widens back out. If I held it, it would be a prime candidate to liquidate if I needed funds to reallocate to a really great idea.