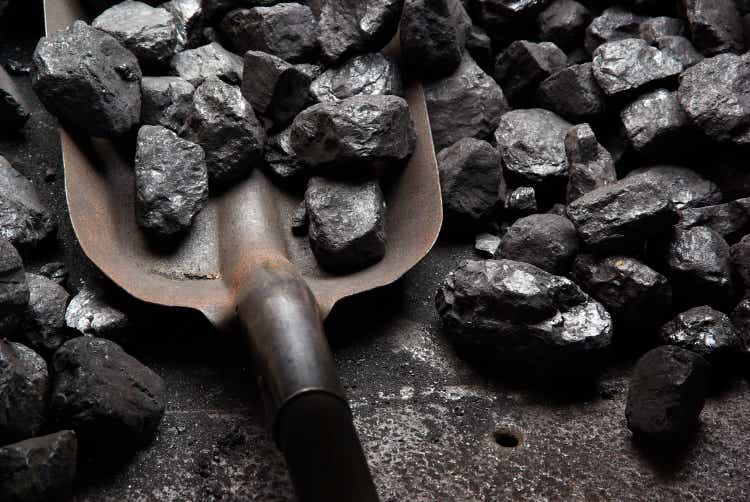 Introduction
While I have been bullish on various coal stocks this year, I did not expect that CONSOL Energy (NYSE:CEIX) would become one of the best-performing calls I've made this year. In March, I wrote that the stock had more upside as even Germany is going back to coal. Since then, the stock is up 85%. The S&P 500 is down 9% during this period. In Early June, I updated my call as the energy crisis in Europe and the global hunger for coal rose on the back of an increasingly worsening energy crisis. Since then, the stock is up 26%. I'm not saying that to show off, but because it's important to remain on top of these things. In this article, I will update my bullish coal thesis using macro fundamentals, the company's recently-released earnings, and a quickly changing valuation. After all, the bull case is strong, but investors are quick to price in the good news.
Moreover, the company is about to announce a dividend and buybacks to distribute some of its free cash flow going forward.
So, without further ado, let's dive into this coal giant!
Coal Is Back
Energy has become the cornerstone of my research in 2020. Back then, I became bullish because demand came back after lockdowns. It was nothing special except that the market was way too bearish and energy made a strong comeback. Then, in 2021, it became clear that governments were pushing hard for the Paris Climate Agreement, which was once again underlined in Glasgow later that year.
Corporations, governments, and NGOs globally started to accelerate efforts to get rid of anything that emits carbon. I always say that I am in favor of clean energies. However, it's a trend that cannot be forced.
For example, in the US, fossil fuels account for 79% of the total energy supply. A trend towards cleaner energies cannot be forced without causing what people now call "greenflation".
Not only can it not be forced, but it is also backfiring. In oil and gas, producers started to focus on free cash flow instead of production growth. That's good for the environment, but devastating for prices as we are now figuring out the hard way - I discussed this in great detail in this article.
On top of that, Russia lowered natural gas exports to Europe in a move that started before the invasion of Ukraine.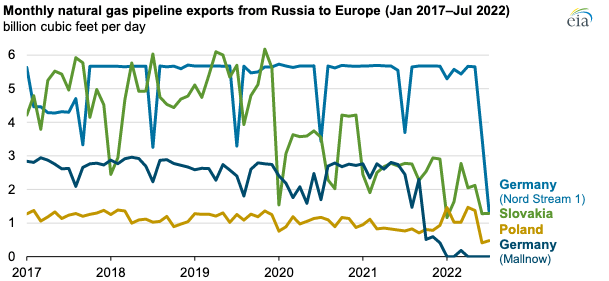 That's obviously economic warfare as natural gas is a key feedstock for Europe's massive chemical industry, and an energy source (a bridge technology) needed to transition from carbon-intensive energy to clean energy.
Fast forward to 2022, and we're in a situation where one of the biggest winners of the environmental transition is coal. Imagine that.
Earlier this month, the Wall Street Journal published an article highlighting the surge in global coal prices.
To quote the article:
Churning out more coal isn't easy even as the IEA forecasts that global coal consumption will this year match the annual record set in 2013. The industry has received little investment in the West in recent years as governments emphasized the need for renewables to combat climate change. Extreme weather events have posed problems, as well as logistical challenges and a shortage of workers.
This is what the global coal consumption forecast looks like. Note that 2023 is expected to be roughly 75 million tons higher than 2021 - entirely driven by India, China, and the European Union.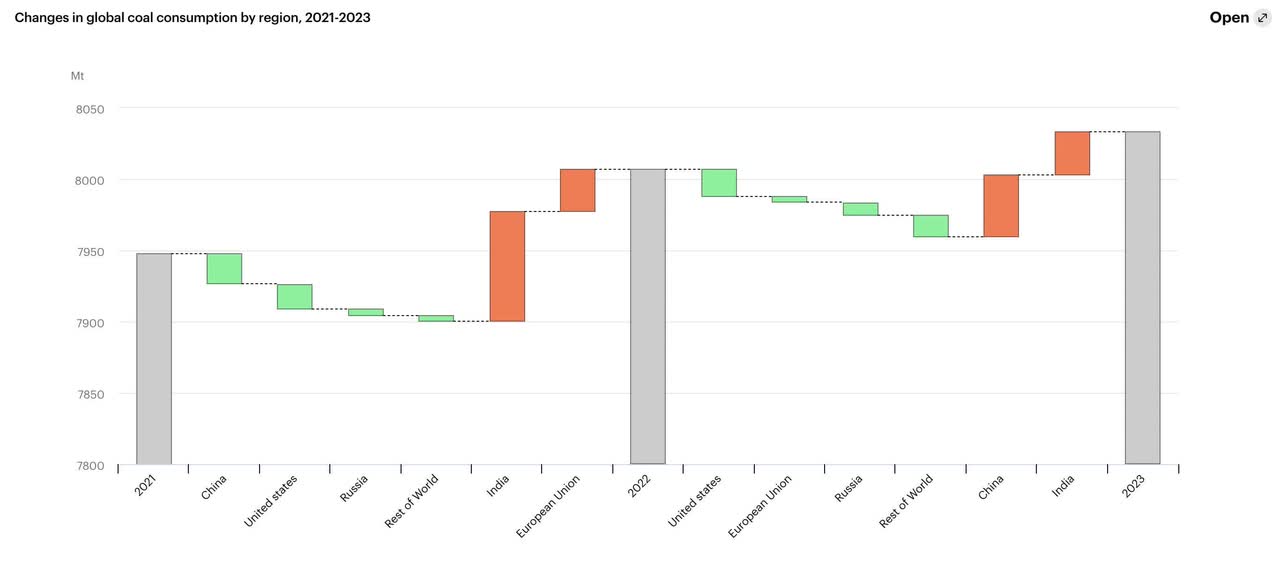 This is what benchmark coal prices currently look like. I went with Rotterdam (European import) and Newcastle (Australia). Please note that there are two different y-axes.
Even in the US, coal production is increasing. Year-to-date, ending August 6, coal production totaled 349.5 million metric tons. That's 2.5% higher compared to the prior-year period.
On top of that, high natural gas prices make the use of coal more attractive, even in the US.
US-based Henry Hub natural gas futures are trading close to $9. That's one of the highest levels ever if we ignore temporary spikes. It is also close to three times the median of the 10 years prior to the pandemic.
That's where CONSOL Energy comes in.
How CEIX Benefits
With a market cap of $2.4 billion, CEIX is one of the world's largest coal companies. As I wrote in my last article:
In 2021, roughly 63% of its coal output went toward power generation customers. The remaining coal went to industrial customers as metallurgical coal. Roughly half of its sales were export sales. The company owns an export terminal in Baltimore, Maryland, where it has 15 million tons per year in throughput capacity as well as 1.1 million tons of coal storage capacity.
High power generation exposure is exactly what lets CEIX benefit from the current situation. That's on top of its ability to export using its Baltimore terminal.
As a result, the company reported fantastic earnings. In 2Q22, the company was estimated to do $445 million in revenue, which it exceeded by a wide margin as the company grew revenue to $533 million. That's a 105% increase.
The Pennsylvania Mining Complex shipped 6.2 million tons of coal in 2Q22, and for the second consecutive quarter, it achieved the highest average coal price in its history - since becoming independent in 2017.
The CONSOL Marine Terminal shipped 3.8 million tons in the quarter and for the second consecutive quarter generated its highest ever quarterly revenue and adjusted EBITDA.
As a result, adjusted EBITDA came in at $216 million. Free cash flow reached $160 million. Thanks to an increasingly healthy balance sheet (more on that later), the company implemented a shareholder return program, which will begin in the third quarter of this year. The company will reveal more details on that shortly.
On a side note, the company mentioned fewer railroad delays and continued improvements from its transportation partners. This is a result of higher staffing levels and it's good information for people (like myself) who have railroad exposure. In the case of CEIX, its main railroad partners are Norfolk Southern (NSC) and CSX Corp. (CSX).
With regard to the Itmann mining project, the plan was 80% complete with most of its equipment being installed. In 2Q22, Itmann produced roughly 35,000 tons of low-vol metallurgical coal and 51,000 tons of export coal.
This Wyoming Country, West Virginia-based mine has a total capacity of 900 thousand tons per year and at least 20 years of expected mine life. This mining project started in April of 2020 and is expected to be fully operational in 3Q22 (the current quarter).
Moreover, the company confirmed my own view on (global) coal markets in its 2Q22 earnings call:
Looking across the broader thermal coal markets, global demand remains robust as a result of tight supply. In the U.S., we are seeing domestic coal-fired electric generation units delaying retirements due to energy shortage and grid reliability concerns.

Internationally, Europe, Australia and Japan are all bringing back coal-fired electricity generation units due to grid reliability concerns in the face of a potential loss of Russian gas. Adding to the concerns of further declines in supply availability, the new incoming Colombian President is anti-fossil fuel and though not guaranteed could elect to ultimately gain fossil fuel extractions in the country. Colombia currently exports about 50 million to 60 million tons of thermal coal annually, which is already down considerably from roughly 90 million tons exported [ph] in 2016.
Adding to that, the company secured new contracts and increased its forward sale position by 7.6 million tons through 2025. The company is fully contracted for 2022 and has 19.6 million tons contracted for 2023. I expect that number to grow quite substantially *if* natural gas prices don't come down significantly anytime soon.
With regard to the aforementioned $160 million in free cash flow, the company made debt repayments of $116 million. This included $75 million for Term Loan B and $35 million to fully retire Term Loan A. The company has now repaid debt worth $154 million in the first half of this year.
As the company has prioritized a healthy balance sheet in the past 2 years, it is now in a position to let shareholders benefit.
According to the company:
In the near term, we'll continue to allocate the majority of our free cash flow towards debt reduction. And as we achieve our target debt level, we'll consider a further increase to our shareholder returns.
Moreover:
Here's how the shareholder return program work. Under this program, at the discretion of the Board of Directors, CEIX will return a portion of its free cash flow generation back to shareholders in the form of quarterly dividends and/or share repurchases.

Based on the free cash flow results from Q3 '22, the first payment under this new program will happen in the fourth quarter and return approximately 35% of free cash flow.

In the short term, the majority of our remaining free cash flow will be allocated toward our debt reduction goals. Once our target gross debt level is achieved, we expect to further increase free cash flow allocation percentage.
In other words, while it needs to be seen how high shareholder distributions can become, there's finally the chance to benefit from a dividend. That's especially good for the readers and investors who bought at very low prices.
This brings me to the valuation.
Valuation
2022 is shaping up to be an incredible year. Analysts expect the company to do close to $1.0 billion in free cash flow. That's 42% of the company's market cap. EBITDA is expected to reach $1.3 billion.
Even in 2024, the company is expected to do roughly $710 million in free cash flow. That's 30% of the market cap and it allows the company to distribute hundreds of millions to shareholders, which would imply a dividend in the high-single-digit area. Note that analysts expected the company to generate $340 million in 2024 FCF in June. Adjustments over the past few weeks have caused that number to be doubled.
With that in mind, the company is expected to do $25.6 in normalized EPS in 2023 followed by a decline to $16.7.
If I completely ignore the 2023 numbers, the company is trading at 4.2x normalized earnings. Needless to say, if coal prices remain high, the company can easily beat $20 in long-term annual EPS.
In my prior article, I wrote that the stock had room to run another 25% without being anywhere close to overvalued territory. Well, that has happened.
Now, I still see roughly 25% upside. That's the base case, ignoring a worsening energy crisis.
However, I want investors to become careful. A lot of good news has been priced in. CEIX is starting to feel like a gift that keeps on giving. That's not a good thing.
Yet, the numbers speak for themselves. CEIX is everything but expensive if coal fundamentals remain strong. And that's what I expect. So, if you are new to coal, do not make coal a big position. If you decide to buy, start small and add gradually over time. Some investors can stomach high volatility, but it's not for everyone. It's now a very headline-driven market due to the war and geopolitical decisions. While that won't really matter in the long term, it does cause volatility.
The same goes for its dividends. Do not buy CEIX because you aim for a high cash flow. The dividends here are a bonus, not a goal. Coal companies are too volatile to become large holdings in someone's dividend portfolio. At least that's my view. Feel free to disagree with that.
Takeaway
The coal bull market continues. Demand remains high, production needs to increase, and pricing has gone through the roof. It's a best-case scenario for CEIX, which not only provides metallurgical coal but also utility coal for domestic and export markets.
The company is now boosting output, securing new long-term contracts, and reducing debt to levels that allow it to let shareholders benefit from its exploding free cash flow.
Given long-term fundamentals, CEIX is in a good spot to continue its uptrend as the valuation leaves room for more upside.
(Dis)agree? Let me know in the comments!