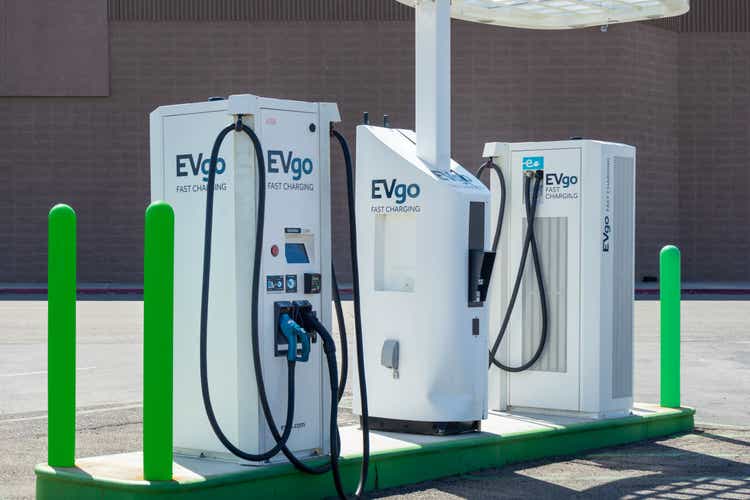 Introduction
EVgo, Inc. (NASDAQ:EVGO) is still down over 47% from its 52-week high as a result of macroeconomic conditions and negative investor sentiment. Supply chain issues have slowed down electric vehicle ("EV") production, while EVgo's cash-burning business has turned away investors seeking safety amid market fears. However, EVgo's growth potential remains intact and its valuation continues to present upside.
Company Overview
Through EVgo's own infrastructure, their main line of business is the supply of EV charging services to individual EV drivers (45% of total revenue), OEMs (1%), and fleet owners (9%). As the owner of the infrastructure for charging, the company also makes money from the regulatory credits produced by its charging operations, which accounts for almost 18% of total revenue.
Q1 2022 Analysis
EVgo's growth remains strong. In Q2 2022, they reported $9.1 million in revenue, representing an 89.6% increase YoY. The company also had an EPS of $0.06 and this beats analyst expectations by $0.24. Lastly, it is worth pointing out that EVgo grew user accounts by 17% quarter over quarter to almost 450,000 user accounts.

Earlier this year, EVgo benefited from the strong sales of electric vehicles due in part to concern of rising petrol prices and alluring tax incentives. Although EV growth is slowing due to supply chain issues, the market overall remains to be in strong demand as Q2 sales soared to over 190k, representing a 13% growth just from Q1.
Business Model Has Great Rewards
Some investors are hesitant about EVgo because of its high cash burn and asset heavy business model. However, the fact that the EV market is heavily subsidized, EVgo's market dominance, and finally its valuation combine to make it a sound investment.
Earlier this year, Biden's Infrastructure bill guaranteed over $5 billion in 5 years for subsidies to create a National EV charging network. As a result, the EV Charger market is expected to grow at a 30% CAGR to 2028. In addition, the fact that EVgo is the only charging network that runs on 100% renewable energy makes it a more attractive candidate for subsidies related to combating climate change compared to its peers.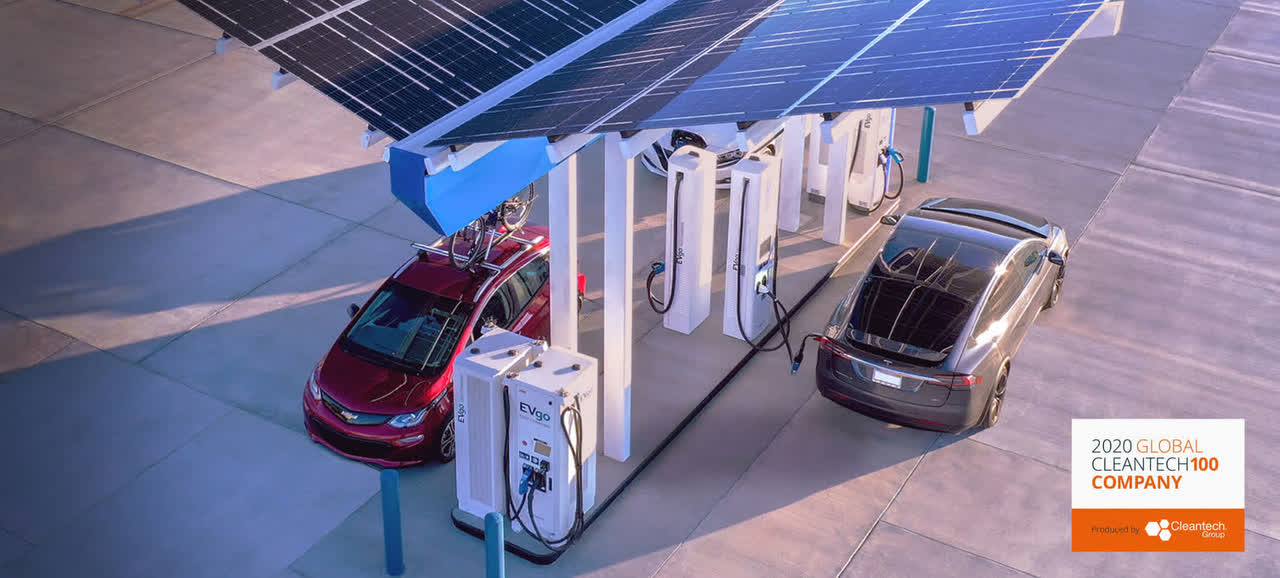 Though EVgo's business model might be more risky, it comes with its rewards as well. EVgo currently has the fastest charging speeds in the market as well as the most charging stations in the United States. As the EV market consolidates, they have the greatest chance of becoming a market leader in a fast growing market.
Valuation
In 2021, the global EV charging market was worth $17.59 billion-with EVgo taking about 4% of the market. Now by 2028, the market is expected to grow to $111.9 billion. I valued the company by taking into account all of its growth potential with a conservative stance and assumed that EVgo will retain its 4% market share in 2028. Next, I used the energy sector's P/S ratio of 1.12x and applied it to the company in 2028. Altogether, this resulted in the stock being worth $72.46 in 2028, and discounting back to today gives a price target of $41.35 and an impressive 300% upside. However, I don't want to give this valuation without stating the caveats. No matter how strong a company looks right now, there is no guarantee that it would stay relevant in a market like EV Charging (because it's so new and bound to be disrupted with new technologies and consolidations). Therefore, EVgo is definitely a high risk and high reward play.
Insider Buying Activity
On July 26, 2022, two directors purchased 11,962 shares each. These insider transactions serve as further indirect statements of confidence for EVgo's ability to endure the macroeconomic conditions in the short term and to grow in the long term.

Conclusion
EVgo is a strong contender in a growing and essential market and I believe that this stock should be bought. While investors seek shelter in value stocks amidst the recession, EVgo's growth and value potential should not be ignored. However, investors should always stay on the cautionary side as the company remains a high risk to reward investment.