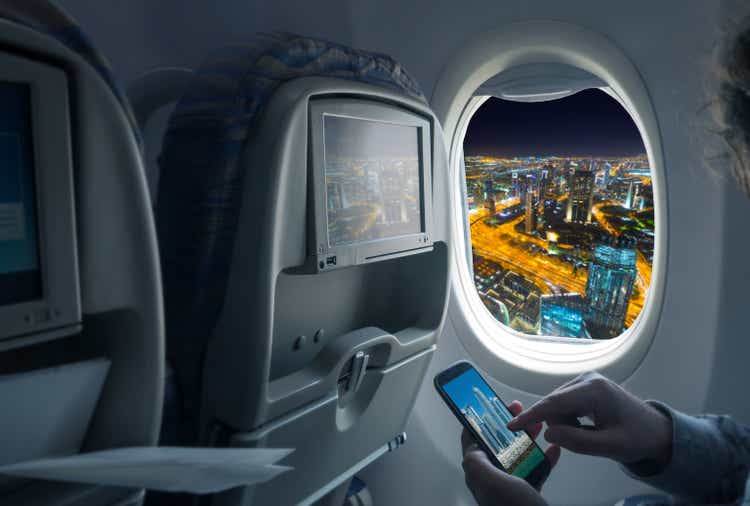 The forthcoming years are likely to be challenging for value investors. Uncertainty as to economic growth and geopolitical stability, as well as persistently high inflation together with unsupportive central bank policy, are factors that are likely to translate into weak portfolio performance with relatively high volatility.
In these circumstances, in addition to fundamentals and technical analysis, it is also essential to look for stocks that will be driven higher by major upcoming developments. For this purpose, I select Gogo Inc. (NASDAQ:GOGO) a provider of in-flight internet services whose stock has outperformed the Communication Services Select Sector SPDR Fund (XLC) by nearly 50% since the beginning of 2022.
At $16.6 and a trailing price-to-earnings ratio of 8.69x, the company remains undervalued with respect to the sector median by over 50%. However, going beyond the valuation perspective, the objective of this thesis is to elaborate on how developments around open radio networks in 5G and passengers' requirements for high-speed Internet can both constitute catalysts for an upside.
Open Standards with More Chips Made Locally
Elaborating on the first development, Gogo has opted for open RAN (radio access network) standards in upgrading from 3G to 5G so that it can provide a better experience to people traveling on planes. In this case, while most investors are focused on identifying the airline which should benefit the most from the post-Covid-19 recovery or the telco which is optimally monetizing 5G, Gogo combines both of these two sectors as a provider of communication services aboard planes. Also, since it targets business travelers who have the capacity to pay for premium services, it stands a better chance to monetize 5G investments than telcos whose customer base is much wider.
Now, Gogo is not alone as it faces competition from Viasat (VSAT) and many others. However, two of its main differences is that compared to peers, it is working mostly with U.S.-based vendors and is focusing on open standards, somewhat similar to DISH Network (DISH). This approach represents a paradigm shift to traditional and proprietary radio systems supplied by big vendors like Ericsson (ERIC), Samsung (OTCPK:SSNLF, OTCPK:SSNNF), Nokia (NOK), and Huawei, which are all exposed to China, to various degrees.
However, Gogo's strategy is not without risks.
Thus, there was a delay in the 5G rollout, which after already having been postponed from 2021 to H2-2022 due to the global semiconductor crunch, has again been pushed back to mid-2023, this time due to some issue in late-stage testing by chip supplier, Airspan Networks (MIMO). This company, which I covered in April, came into the limelight three years back as President Trump banned China-based Huawei from supplying telecommunications gear to the U.S.
To be fair, Gogo through supplier Airspan is also dependent on subcontractors in the Far East, but this is where the CHIPS act which was enacted into law on August 10 should help, namely in bringing back associated supply chains to American soil. Here, again while most of us tend to look towards Intel (INTC) as one of the main beneficiaries, it is in fact companies like GOGO, whose share price rose by nearly 2% on August 10, which stand to benefit the most. The reason for this is that semiconductors form the core of electronic circuits and, combined with the legendary design prowess of its semiconductor companies, the U.S., also turning into a manufacturer of chips could significantly accelerate the development cycle for Gogo.
Thus, the CHIPS act could well be the inflection point in the adoption of open RAN as it lays down the foundation for more chips to be made in the U.S.
The Financials
Despite the 5G deployment delay, Gogo saw strong demand for its existing lower-speed equipment and services resulting in record revenues (table below) as together with airlines, Internet connectivity services are also benefiting from the post-Covid-19 recovery. In this context and pertaining to the second development mentioned above, passengers are showing a tendency to extend work-from-home to the plane cabin thereby demanding the same videoconference and social media applications in the sky.
To provide investors with an idea of the prospects, 30K out of the roughly 40K planes still need to be equipped with mobile cellular antennae and Gogo provides customers with the option to upgrade to 4G while waiting for 5G to become available.
Looking at profitability, expenses which also include marketing have fluctuated on a quarter-to-quarter basis, yielding an operating income in the latest reported quarter (Q2-2022) that is 2.88% lower than in the same period last year. However, this was expected and remains in line with investments made to broaden and deepen Gogo's network, and the profitability trend should continue through 2024 with the rollout of the Gogo Global Broadband or GBB service. The target here is to equip 14K business jets outside North America with satellite-based high-speed internet in partnership with OneWeb.
Looking at the industry, the company faces competition from Elon Musk's Starlink (STRLK), which is also testing broadband services aboard planes. But, one of Gogo's advantages is that it is already in the business of in-flight Internet and entertainment, and I like its strategy to extend its competitive moat through the latest communication gear, all aligned to business customer preferences in a world full of technology.
Assessing specifically how this can drive long-term shareholder value, I noted that with cash flow from operations margins of 27% (obtained by dividing cash obtained by revenue), Gogo's business model is proving resilient in weathering the impact of inflation. In this respect, part of its debt totaling $785.8 million at the end of Q2 is explained by the accumulation of more inventory in anticipation of higher component prices. Along the same lines, in light of wage inflation foresight, the management already budgeted more for staff expenses in 2022.
Consequently, with $264 million made up of cash and revolver, as well as simplification of the capital structure to reduce the net leverage ratio to less than 4x, the company has the means to invest while remaining insulated against volatile geopolitical and macroeconomic environments. As a matter of fact, despite devoting a considerable portion of capital expenses to Gogo 5G, or $50 million out of $65 million in 2022, the expectation is for $35 million to $45 million of free cash flow to be delivered or more than three times the amount obtained in 2021. Continuing on an optimistic note, this figure is expected to rise to approximately $110 million in 2023.
Valuations and Risk Mitigation
Now, the company trades at a trailing price to cash flow of 21.22x which is above the sector median of 8.53x by 148%. This valuation is based on a trailing levered free cash flow of $30.5 million, or the cash obtained during the last four quarters combined together. Based on the $110 million figure for 2023, or 3.6 times the $30.5 million, this translates to a forward price/cash flow of 5.9x (21.22/3.6 = 5.9) which is lower than the forward value for the sector median as seen in the table below.
This signifies that the stock is undervalued when considering 2023 free cash flow, with the undervaluation rationale further supported by the trailing GAAP price-to-earnings metrics being lower too.
However, whether it is earnings or cash flow, for Gogo, these should be driven firstly by the planned 5G network which will start by mid-2023 as well as GBB from 2022 onwards. Now, these are new developments that require testing and imply possibilities of delays. Thus, investors should expect volatility in the stock depending on the type of news update hitting the market.
Still, I am positive about the company as in the meantime, it can expect recurring revenues with increased equipment shipments to airlines wanting to satisfy the growing number of customers requesting inflight internet services. In fact, as shown in the table below, equipment revenue is seeing higher growth currently. Subsequently, this should convert to more service revenue as customers upgrade service plans in line with passenger requirements.
Gogo can also rely on a backlog that already covers this entire year and stretches well into 2023.
Conclusion
Coming back to open 5G radio networks and in-flight internet usage by plane passengers, these two developments have been embraced by Gogo and should help to propel the stock back to the $22-23 levels. This should happen by the middle of next year, when the company delivers on high speed 5G for planes flying above the U.S. and satellite-based Internet for the rest of the world.
Also, after delivering double-digit growth and the management upgrading the CAGR growth forecast from 15% to 17% for the 2021-2026 period, investors seem to have already priced in the growth factor as evidenced by a high price-to-sales multiple (valuation table above). But, due to high inflation, I find it better to stick to earnings and cash flow where it remains undervalued. These are also more relevant for profitability reasons in the event of a slump in travel due to Covid-19, as Gogo can charge higher since it serves the more lucrative business category.
Last and most important, this is not necessarily a hyper-growth stock packed with innovative technology, but rather one which is applying two new developments by partners while at the same time balancing out cash obtained with investments made. This is one of the reasons that Gogo represents a better option than investing in telcos or even airlines.
Editor's Note: This article was submitted as part of Seeking Alpha's stock catalyst competition which runs through August 31. With cash prizes and a chance to chat with the CEO, this competition – open to all contributors -- is not one you want to miss. Click here to find out more and submit your article today!