The most telling report I read this year on the State of my local economy, written by Comptroller Thomas P. DiNapoli was "Economic Trends in New York State."
It told me that NYS has regained 46% of all the jobs that were lost during the recession as of the end of 2011. Jobs that were lost were mostly in these industries:
Trade, Transportation and Utilities
Manufacturing
and Professional and Business Services

The bulk of the jobs that have been created were in the following industries:
Business Services
Health Services
Education
Tourism
The average salary of the jobs created in the past two year is more than 40% lower than the average salaries than the jobs lost during the recession.
In other words, we're moving from having higher paying jobs to lower paying jobs in New York State.
It was in 2008 when gasoline prices last peaked over $4 a gallon. Now that gas prices in NYS are at or near $4 a gallon again and with new jobs in the aggregate paying 40% lower than previous, the pain at the pump in NYS will be even worse this time around. I suspect greater dent in aggregate demand for gasoline as more people choose simply not to drive.
See this chart showing finished motor gasoline delivery to stations in America: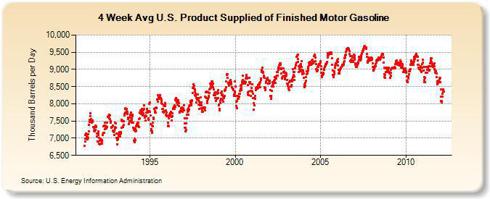 While it is good news that the US economy is adding jobs and less people are losing their jobs, we have to consider that the jobs being created are generally lower paying jobs. I.E. Losing highly skilled manufacturing job and getting new job as a home health aide.
See chart of All Employees Total Nonfarm: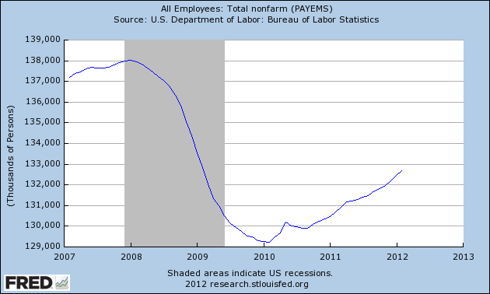 An economy is best defined as production and consumption in a given region. Consumption can be had by having a higher amount of purchasing power from your wages. (It can also be had by borrowing money and living above ones means.)
Here is a chart showing the past 5 years, Real Inflation Adjusted Personal Income Per Capita y/o/y % change: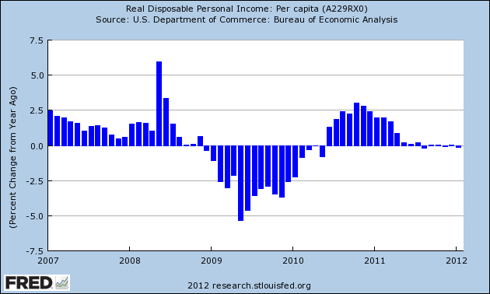 It's purchasing power that is declining as incomes in the aggregate of the U.S. are barely keeping pace with the rate of inflation.
Despite gains in productivity, which should lead to falling prices, the debasement of our dollar due to Federal Reserve policy of inflation targeting and intentional dollar printing, prices are going up, especially in food and energy.
See Monetary Base of Federal Reserve: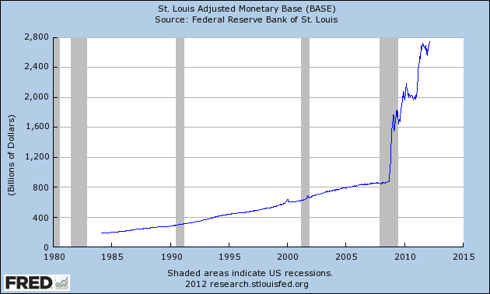 Here is a chart of y/o/y % change in Output Per Hour of Nonfarm Workers, which gages productivity: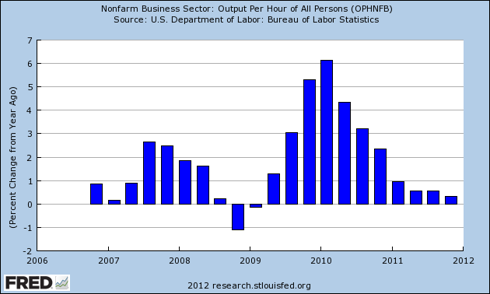 Productivity is important because if you can be more productive, your employer should be able to pay you a hire wage. But also, if employees can be more productive, employers might not have to hire more workers and might even be able to let go of some workers.
Where we are now on the productivity side of things, it looks like we're seeing low gains in productivity and thus if businesses are to see volumes of work picking up, then they will need to hire additional workers.
So this is why we're likely to see jobs being added to our economy. This is assuming we continue to run $1 trillion + federal deficits and continue to subsidize income with government transfer receipts, I.E. Medicare, social security, food stamps, unemployment, disability, etc. Given it's an election year, I suspect the current administration will keep the borrowing going.
The next 4 years will be a different story.
Here is a 5 year chart of the total amount of money spent by the federal government on transfer receipts: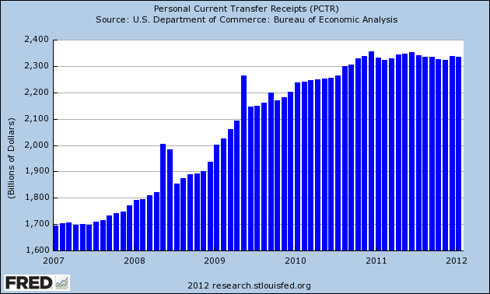 As you can tell it's been flattening out. Here is a y/o/y % change over the last 5 years: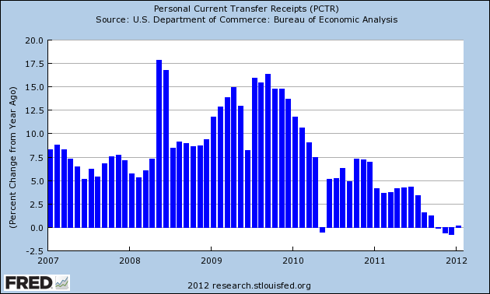 Government handouts have been rising at a percentage rate above the percentage rate of income from wages, but the y/o/y change has stalled and that might well contribute to aggregate demand decline for goods and services.
When I look at the current federal deficit, I'm reminded that the ability to continue to increase the transfer payments is going to be very difficult because of the already high deficit.
The U.S. credit rating was already downgraded in August from AAA to AA+ citing our debt levels. The debate in Congress over that issue was short lived and we're back to business as usual.
Here is a chart of our Federal Deficit: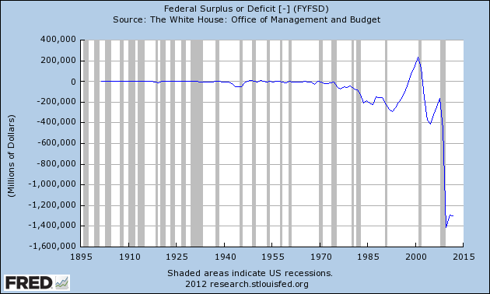 One extreme example of why adding jobs alone does not mean economic recovery is Germany's experience during their hyperinflation. The summer of 1922, Germany had a 1% unemployment rate. While they were certainly producing goods and services, they exported much of what they produced. By November of 1923, their currency became worthless. The aggregate demand within Germany collapsed and the entire economy disintegrated.
That's an extreme example but it shows that by either earning less wages like NYS is experiencing in new jobs that are being created or further debasing the dollar's value, the aggregate amount of goods and services one will be able to afford falls.
Another really good example is the experience of JM Smucker, (NYSE:SJM) the company that sells Folgers Coffee, a coffee I drink.
Here is an excerpt from their 4th Quarter Conferance call:
"First, to ground everyone. We now anticipate cost increases in excess of $500 million for the full year, which we have been covering primarily with price increases, along with expense cuts and productivity gains. To put this into perspective, our net pricing increased approximately 16% for the quarter, which we believe is more than double the average inflation rate in the food sector. With leading brands in most categories where we compete, we have maintained price leadership and transparency with our retailers and have been responsible with both price increases and decreases when commodity cost warrants such adjustment. Although we expected volume to decline during the quarter, the magnitude of the decline was unexpected.

Consumer takeaway declined sharply in a number of our categories during the Fall Bake and Holiday season. This is consistent with IRI data, which indicated that year-over-year, the overall volume of food and beverage sold through measured channels decreased 4% for the 12-week period ended January 22, reaching a new 5-year low. This time period, of course, aligned fairly closely with our own quarter."

"..As stated, we expected the volume to be down somewhat, but it was down greater than we thought.
(Emphasis mine)
In essence, weaker dollar, lower wages are beginning to lead to lower aggregate demand not just in gasoline but in food and beverage products as well.
This is the economic reality we're facing today. We're facing a labor force that is growing just barely and with a lower % of the population employed in a job that in most recent decades.
See chart below of Employment to Population Ratio: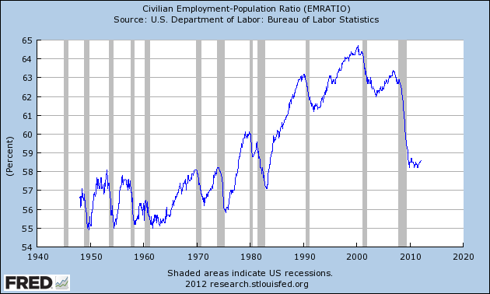 We're facing an economic reality that has hit us with a fierce inflation tax that has been digging into our purchasing power of our wages.
We're also facing a global economy that is rebalancing with greater and greater demand for goods and services moving from the West to the East. For example, the U.S. was consuming close to 22 million barrels of oil per day in 2007 and today consumes about 18 million barrels per day. China consumed 8.7 million barrels of oil per day in 2009 and is forecasted to consumer 15 million barrels per day by 2015.
See chart of U.S. oil demand: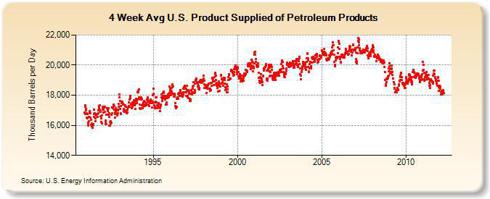 We're in the early stages I believe of this economic winter for the U.S. We are kidding ourselves if we ever thought we could remain 4% of the worlds population and consumer 25% of the worlds oil production forever.
Frankly, energy is the most critical aspect of an economy. In physics, Energy = Work and you need to do work to produce things like cars, houses, machines for example. I question if we even have enough oil available to do the work and make the production to rebuild our car stock and our housing stock not to mention our infrastructure, especially our bridges.
The good news is that there is still a lot of oil being produced daily. We as individuals, as a nation and as a world need to work on ways of being smarter about how we use this energy to get the most out of it. As we figure these challenges out, I'm optimistic the real physical economy can regrow and our standards of living around the world can be raised.
I'm personally planning to build a solar water and space heater either this summer or fall for my home. If it works well and I can calculate the energy savings and quantify the investment value of it, I'll be sure to highly recommend it!
Disclosure: I have no positions in any stocks mentioned, and no plans to initiate any positions within the next 72 hours.