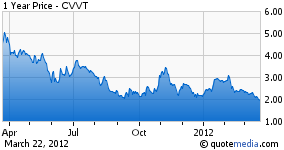 China Valves Technology Inc. (OTC:CVVT) is a recognized leader in developing and supplying valves and related services in China. Over the past few months the company has had an aggregate of favorable developments that are worth mentioning while focusing on the firm's business outlook.
Recent Major Developments:
Business Outlook
Currently, there are 11 research projects for valves to be manufactured by local companies for ultra-supercritical thermal power plants, out of which Kaifeng Valve has undertaken seven. According to the China Electricity Council, China 's installed power generation base will rise from 966 Gigawatts in 2010, to 1,437 GW in 2015. Given CVVT leadership in the industry, the compnay is positioned to play a growing role in supplying mission-critical equipment to support this expansion.
CVVT nuclear permits represent an important step in establishing the company's recognition as a qualified supplier to the nuclear safety industry. Currently CVVT is well positioned to benefit from the progress in the Chinese nuclear market. With the most recent two purchase orders, CVVT looks to continue this momentum and expects more revenue from the nuclear industry in the future.
CVVT was designated by the Chinese government as the only "National Corporate Technology Center for the valve industry". Normally China Central Government entitles a single National Corporate Technology Center for each industry. Consequently, CVVT is expected to receive more government support such as fund appropriation from central government, tax benefits, possible preferred land use right and other subsidies. In addition, such a strong level of national recognition would allow CVVT to participate in the growth of high value markets and displace more expensive imported products.
Hanwei Valve is currently the only Chinese producer of the RV III-1200 24-way rotary valve, which is key equipment in the separation of Metaxylene and Paraxylene, the original ingredients for Purified Terephthalic Acid commonly used in polyester production.
The Agreement between CVVT and Sinopec is valid from June 16, 2011 to June 15, 2013, and can be further extended for another two years by negotiation between two parties. Both parties agreed that they would sign specific contracts for specific projects under the general cooperation framework. Depending on the specific project, Sinopec Petroleum Service would buy all valve products directly from China Valves or act as a sales agent of China Valves through its more than 35 subsidiaries in the world.
In February 2012, management determined that a restatement of certain line items presented in the consolidated financial statements and the relevant notes for the quarters ended March 31, 2011 and June 30, 2011, and the year ended September 30, 2011, would be necessary in order to correct the under accrued VAT for the year ended September 30, 2011. This matter was brought to attention by the company's current independent auditors BDO. As a result, the retained earnings in the consolidated balance sheet and consolidated statements of stockholders' equity as of September 30, 2011 were decreased by approximately $2.67 million (about $0.07 per share). The good news is such announcement indicates that the company's current auditors BDO are really doing their job. Furthermore, no other additional material weaknesses were identified. Also, CVVT has engaged a third party in January 2012 to help enhance the internal controls over financial reporting. Such developments will raise investor confidence and remove any previous uncertainty.
Currently, CVVT looks significantly undervalued, with a current P/E ratio of 1.8, not to mention the projected growth in the valve industry. As always in the investment markets, good companies will get distinguished and fearful investors will stay behind missing the opportunities. I feel very comfortable that CVVT is a reputable company and is well managed to benefit from the robust growth in China's valve market.
Disclosure: I am long OTC:CVVT. I might sell or buy any mentioned stock at any time without prior notice.