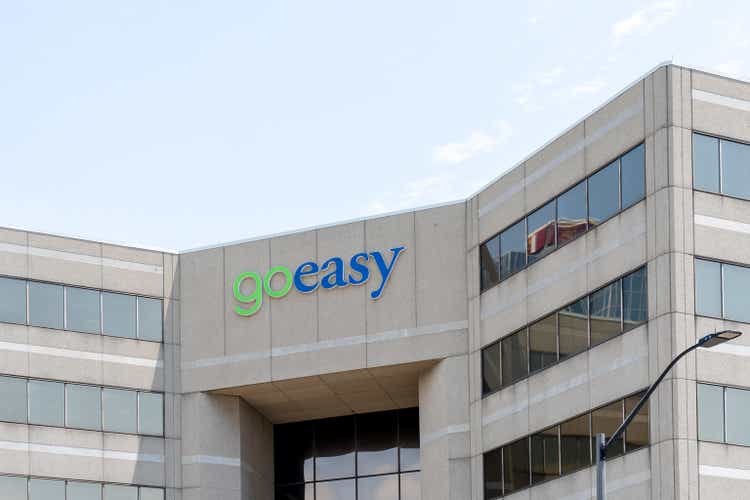 goeasy (TSX:GSY:CA) (OTCPK:EHMEF) the largest Canadian subprime lender has been an incredible stock to own the past 5 years. The company has hit the sweet spot between the riskier payday loan market and the prime major bank lenders. The company's main segment easyfinancial is a network of stores providing personal, home equity and auto loans. That is the focus of the company the past 8 years as its easyhome leasing segment has mostly stagnant revenue/earnings. Recently the company has moved into the growing point of sale and online loan area to bolster growth. Strong loan book growth, smart equity investments and good management have led to significant outperformance in share appreciation over that time. It has been one of the best performing stocks on the Toronto Stock Exchange over the past 10 years. The company has a solid 2.54% dividend yield with has grown yearly for many years, making it extremely appealing for investors. The nature of its business in high risk subprime lending has kept some institutions on the sidelines, but that has proven to be a mistake as the company has fired on all cylinders. The company recently reported a very strong Q2 print even as fears of recession are creeping into the markets.
Q2 Print provides confidence long term
goeasy tends to have a very stable performance quarter to quarter for a small cap stock, with consistent revenue growth and profitability over the past few years. Revenue growth was 24.4% over the prior year up to 252 million CAD. The key metric that moves the stock on a shorter term basis are the loan originations - new loans the company created in the quarter. Q2 was a huge quarter for loan originations with the largest number of applications ever for the company. The company had an extremely strong $628 million of originations in the quarter with loan growth of $216m after accounting for loans that ran off. After the quarter the company has loans owning of 2.37 billion CAD, showing how strong originations are today. Part of this strength is due to company specific factors such as the new auto loan product, which management called out as it was $50 million in the quarter up 450% over last year. They also saw strength from home equity loans up 169% over last year. These home equity loans are secured on the value of the home, which lowers the risk for GSY. This is one of the factors allowing goeasy to reduce its net charge off rate from 13% a few years ago to a range of 9-10% now. This means a smaller provision for loan losses is required, and more money to the bottom line with record operating income of $85 million or 35.3% operating margin. The downside of a lower yield from these better performing loans is negated by the increased credit quality and stability it provides the business long term.
Another factor for strength in loans in the subprime consumer are the recent issues with inflation squeezing lower end consumers. This means more people may need to take out a loan to consolidate debt or meet large payment obligations. GSY mentioned how powersports and home improvement demand were strong, hurting the imminent recession theory talked of late. These are discretionary purchases that someone that has had a bankruptcy may need to turn to GSY for if they cannot lend from the major Canadian banks. The company also noted on the Q2 conference call that the big 5 Canadian banks lending requirements have been getting tighter, pushing some low end customers down from the major banks to goeasy. The record number of customers this quarter seems to suggest this is a factor at play. This tailwind should help going forward as inflation is unlikely to abate soon and expenses will likely stay tight in the lower end of the income spectrum where GSY has customers.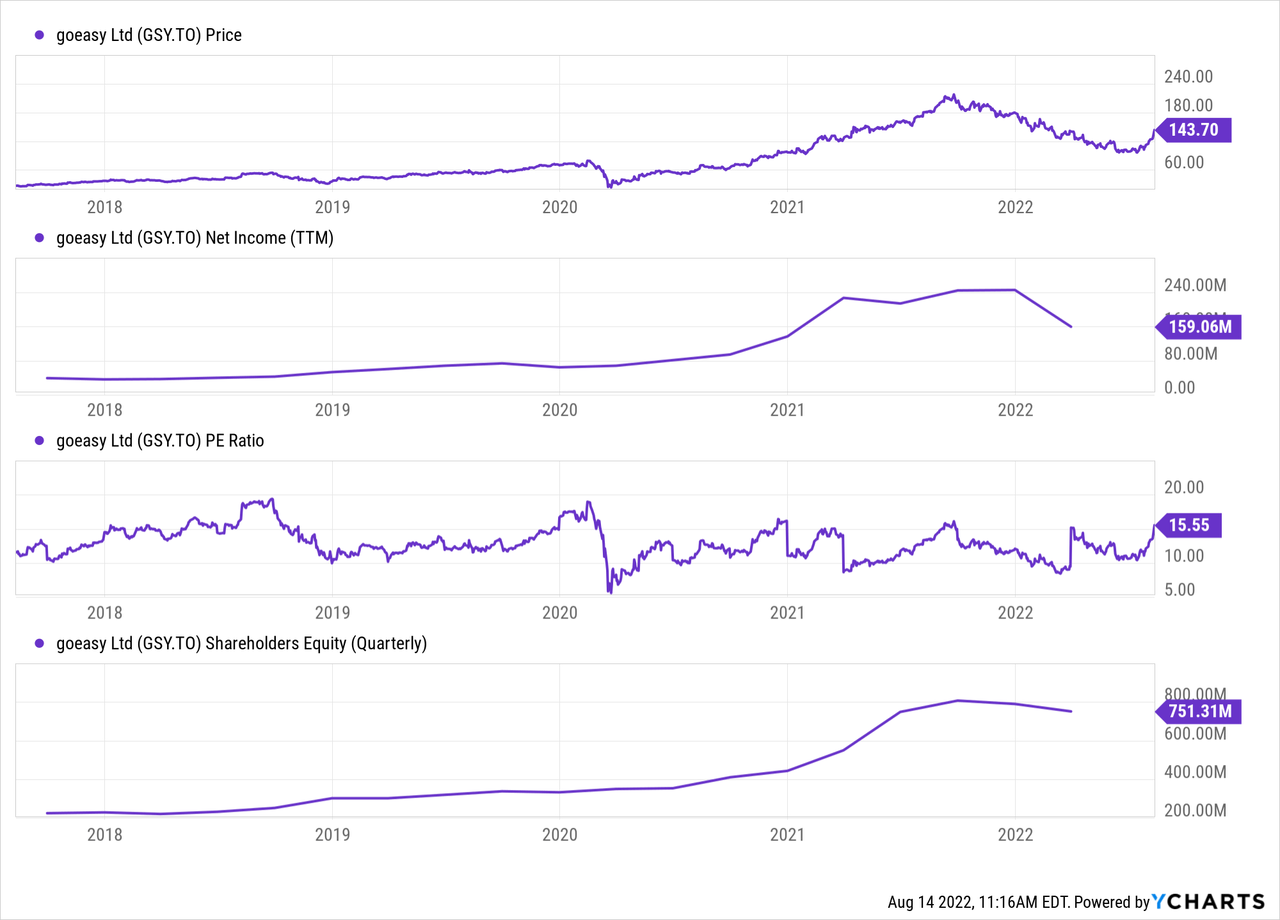 As you can see above the company is actually cheaper on a price to earnings basis than it was prior to Covid-19 in late 2019 and mid 2018. However, the company is still benefitting from a lower bad loan rate and higher growth rate. Fair value of the shares likely lies in the high 100 dollar range with a solid 10-20% share upside each year with strong performance. Keep in mind that as the company has strong originations, GAAP net income is reduced in the short term by increased loan loss provisions with that income made up in future quarters when the loans are repaid. You can see this in the above chart with the reduction in TTM net income to $159 million. Still the company trades at just 15x trailing P/E just a bit higher than the 5 year average. The company expects to nearly double its loan book by the end of 2024 to around $4 billion Canadian, which would mean significant growth still to come. This is with a moderate addition of 20-35 locations over the next two and a half years, showing it is mostly coming from efficiency in their current locations. This helps lead to that higher company operating margin even with 2% lower yield on consumer loans. The increased benefit of its online loan offerings helps increase operating margin over time, as the company benefits from scale.
Canada Drives investment
goeasy made a large acquisition last year with its LendCare purchase to give itself a strong foothold in the automotive loan and power sport arena. They paid $320 million for the business, acquiring $404 million in loans to bolster growth. LendCare has been a big asset for them in the past year with a mostly secured portfolio, with a lower interest rate helping lower charge offs and bad debt. This area gave a new vertical to lend for goeasy helping power the next leg of growth while improving credit quality. They just made a 40 million CAD investment in Canada Drives, the largest online car shopping and delivery platform in Canada. Non prime customers of Canada Drives will be able to get loans through GSY, helping growth in this area. Over 100,000 customers have been sent from Canada Drives over time, and the strengthening of that partnership is a large benefit. GSY has also been very successful in similar investments in the past, with a $34.3 million investment in Paybright in September 2019 turning into a huge gain in Affirm (AFRM) shares when it got acquired. The gain made on this purchase as of today is 3.2 times the original investment, or an impressive 109 million CAD gain as of August 2022. These shrewd moves help give confidence that the company will be able to sustain 15%+ revenue and earnings growth even as the loan book becomes less risky.
Risk factors
The market sees risks such as a potential bill to lower the legal interest rate in Canada as unlikely. Bills such as this have been put forward in the house of commons in Canada in the past, but never gained enough traction to move forward toward a vote. Reason being as posited by CEO Jason Mullins, that doing so actually pushes consumers to things such as payday loans which don't help rebuild credit. To protect against this unlikely possibility, the company has been reducing its blended interest rate with the increasing use of the secured loans offsetting this potential risk to some extent.
Recessionary risks due to the subprime consumer was mostly disproved during the Covid-19 pandemic. Many clients are trying to rebuild credit scores, and thus take loan protection which prevents charge offs in poor economic times. Also, many of the customers with unsecured loans don't own their own homes, meaning less difficulties paying loans than those who end up in trouble with a mortgage. This remains the largest risk to the stock, with the stock showing quite a bit of volatility during the Covid-19 March 2020 shock. The stock went from $79 to a low of $20 with no deterioration of fundamentals. Keep in mind similar shocks are a risk in the future, as a somewhat thinly traded small cap stock with perceived risk during recession.
Conclusion - A must own Canadian stock
The reward for goeasy has far outweighed the risk for the past number of years and the company has dramatically de-risked its profile over time. Some avoid the stock due to its perception as somewhat of a 'sin' stock or that it will fall apart in a recession. However these unfounded fears just mean increased shareholder returns for those that invest. The company is strong with an increasing online presence, improving brand name and impressive return on equity. I highly recommend American investors to take a look at this name, as it does trade OTC under the ticker EHMEF. Keep in mind if you purchase in USD that liquidity and volume will be quite low and to use limit orders to average into the name. It has far outperformed its American peers in the space, with Canadian low end consumers exhibiting a superior risk/return profile. The company will continue to grow for years to come, with dividends to boot making it a very enticing financial for any portfolio.