I've got to give it to you Chipotle Mexican Grill (NYSE:CMG). You are truly an unstoppable and stubborn teenager. By the end of this trading week you will very likely accomplish, for the first time ever in your market trading history, a 14-week winning streak in your stock price. In each one of those weeks, the closing price at the end of the week was higher than the closing price of the week before. The only other time where you had a similar remarkable run was during the August-November 2010 time period, when you achieved a 13-week winning streak. You are about to smash your own record, pending some nasty surprise in the markets before this week's end.
Click to enlarge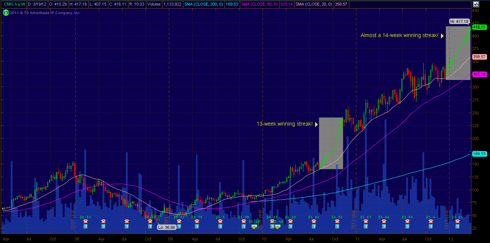 I've watched you grow ever since you were a kid [and back when you were under the care and protection of your parent McDonald's (NYSE:MCD)], and more closely over the last five years. I recognize you've proven to be a superb business - growing healthy, strong and fast.
I like you very much as a company, and I admittedly eat in your restaurants every once in a while, although I don't find your food particularly impressive. Coming myself from an Hispanic heritage, I do have a taste for your kind of food, and I realize you still give it to me in a tasty, relatively cheap, and quite convenient way. Oftentimes I do get mad that you barely put enough meat in my burrito, especially in the New York area, but that's a different story.
However, I despise your stock price. You are way too richly valued and very ahead of yourself. Truth be told, you have yet to give me a strong fundamental reason to bet against you. Back when you were younger I tried shorting you based solely on valuation, but I got my head handed to me on a silver platter.
I concede that as a result of that you have allowed me to learn one of the most valuable lessons in my investing career. One that will remain with me for the rest of my life: never short a stock on a pure valuation basis, since "the market can remain irrational longer that you can remain solvent".
Many other people have also advocated numerous reasons where you might lose your edge, but you've beaten every single one of them every time. I've heard compelling arguments regarding food inflation, prime market saturation, competition, valuation, changing consumer preferences, limited pricing power, what have you. Some of them might prove to be true at some point in time, but just not yet.
Time and again you have demonstrated that you can deliver, even against high expectations. And that's precisely the problem with you. Because even though you are a very healthy business with zero debt, excellent management, superb balance sheet, good margins, and plenty of growth (including international) ahead of yourself, you are no longer valued as the teenager that you currently are, but rather as an adult that is already way into your late 20s or early 30s. Let's see why.
At your current price of $416, anybody buying your stock would inherently be paying the price of a company that should be delivering:
$16.8 EPS (assuming a fairly aggressive yearly growth rate of 25% for the next four years compared to the 39% CAGR of the last five years and 21.4% analysts expect for the next five years) versus your $6.89 basic EPS today (FY2011).
12% profit margin versus the current 9.47% (assuming some economies of scale are realized along with increased operational efficiencies). For comparison purposes McDonald's (a 60-year old senior size-wise) achieves a 20% profit margin but their food is not of the same quality or as expensive as yours, right?
Revenue of $4.38B versus the current $2.27B (almost 2x with a share count of 31.26 million) assuming an average sales per restaurant of $2.59M in 1,691 restaurants, versus the current $1.85M average in 1,230 units. Keep in mind that these averages are approximations for simplicity purposes, as I'm not taking into account units that are opened or closed during the year (the actual average sales per restaurant as reported in your latest 10-K is $2.013M).
The revenue figure and number of restaurants mentioned above imply a very healthy comparable restaurant sales growth of 8.85% per year, which is what management guided for FY2012 (high single digits).
Not only do you have to achieve these fairly aggressive numbers by the end of FY2015 in order to justify your current price at an earnings yield of 4% (25x PE), but also if investors expect to realize further gains in your stock, you have to deliver even more domestic/international expansion for either increased revenue, better margins, or both.
Are you realistically expecting to achieve these numbers by then with no bumps on the road or some sort of correction whatsoever? I don't think so, but again who knows. You've surprised me many times before, so why not again. But in the back of momentum and swing traders, I can assure you that anybody who pays your current price now is simply playing the "Greater Fool" game, where they foolishly buy you at $416 expecting to sell to a greater fool at a higher price sometime in the future.
On the other hand, as crazy as your valuation might be, I must reiterate you haven't yet given me a fundamental reason or technical weakness to prompt me to bet against you.
Having said all this, what's then the best play I can do with you? The answer is very simple: absolutely nothing. Even the options in your stock are very expensive, and since I'm no better than the next investor in predicting the future, I'd rather stay on the sidelines for now (not that there's anything wrong with that).
Granted, amid this market rally, your stock might continue to appreciate, but at what cost/risk? I'm trying to invest more often than trade, and your risk/reward ratio at this point in time is clearly on the negative side. You will eventually give me a much more obvious and convincing reason to either go long or short. Until then, enjoy your momentum Mr. Chipotle, because you're living ahead of your time.
Disclosure: I have no positions in any stocks mentioned, and no plans to initiate any positions within the next 72 hours.
Additional disclosure: Disclaimer: This article is intended to be informative and should not be construed as personalized advice as it does not take into account your specific situation or objectives.