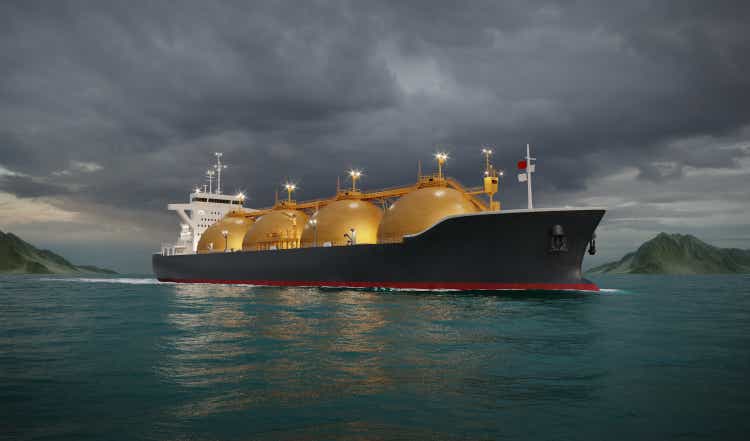 Summary
Golar LNG Limited (NASDAQ:GLNG) should continue to monetize the extraordinary price (8x higher than 10yr average) of European LNG called TTF (Dutch Title Transfer Facility) and Brent oil via its floating natural gas liquification unit (FLNG) that carries impressive variable price performance contracts. The company stands to reap US$200m in EBITDA this year and US$235m in YE23 from variable price sharing or near triple the base processing fee of US$67m. On top of this, it has paid down most of its debt (US$2bn) via asset swaps for stakes in newly listed New Fortress Energy (NFE) and Cool Co, which are worth US$852m. On a sum of the parts valuation, I estimate fair value at US$38.3 +42% for YE23.
Just Natural Gas Liquification
Golar operates one FLNG ship called Hilli: this is a floating gas liquification plant with a capacity of 2.4mmt/yr. It converts natural gas into liquid form (LNG-liquified natural gas) by freezing it so that it can be transported to global markets. The Hilli is based in Cameroon under contract to Perenco and SNH (national oil firm). The contract has a US$67m base lease plus variable payments based on the price of TTF and Brent as well as production levels. This unit earns US$3.1m for every dollar Brent is over US$60 and US$3.5m for every dollar TTF is over US$1.6mmBTU on an annual basis according to the 2Q22 results. Golar keeps about 87% of the EBITDA as each train has varying ownership stakes. The company consolidates (100% ownership) revenue and EBITDA with the earnings of the 13% that it does not own deducted from net income as minority interest.
*The YE22 and YE23 estimates are based on Golar guidance.
Long term TTF to decline
It's probably not a good idea to assume TTF prices will remain in the US$60mmBTU level. The energy crises caused by the Russian invasion of Ukraine will require a rapid and extensive response that should be largely surpassed by YE24. Building or hiring regassification plants, LNG and Oil storage to eliminate the need for Russia oil and gas. The current futures contracts for TTF point to a gradual decline to US$20mmBTU by YE25, while Brent is more stable at US$78bbl. It's very likely cold weather and Russia's supply disruptions will cause spikes, but the trend needs to go back to a US$20mmBTU long term. This scenario is very favorable for most of the global LNG supply chain, including US shale gas.
Under this TTF and Brent price scenario, for which Golar can hedge/lock in, I arrive at YE24 and YE25 EBITDA estimates that decline to around US$360m as seen in the financial summary table.
TTF & Brent Price Futures
Gemi LFNG
The company should add another FLNG unit called Gemi in 4Q23 that has a 20yr contract with British Petroleum (BP) and is slated to add US$150m in EBITDA (adjusted for 70% equity stake). This unit has about US$300m in capex remaining, which can be funded by cash and cash flow.
Golar has planes to build a third FLNG unit with a tentative YE25 delivery date. However, construction has not started. I believe the company will not become a cash cow and instead look to reinvest the sizable free cashflow that accumulates until capex is announced.
New Fortress Energy and Cool co.
Golar owns stakes in two listed companies, NFE and Cool. These stakes are accounted for as other current assets and priced at the end of each quarter i.e. marked to market. I do not count these investments as cash and instead add them to the value of Golar's valuation in real time. These share stakes resulted from Golar's restructuring, where it divested all its other businesses and took cash and shares in leu. Management has stated that it will keep these stakes or can be used as a funding source when needed.
Fortress is large company with operations across the LNG value chain and even hydrogen. Could be an interesting next idea to analyze. As with many LNG related names, NFE's share price has been on a tear since its IPO. Cool Co has only recently listed on the Norwegian exchange and has 8 LNG carriers. Below the consensus estimates and valuation for the peer group on YE22 estimates.
Financial Estimates and Valuation
Below is a financial summary and valuation for Golar. I used equity adjusted EBITDA i.e. the percent that Golar is entitled to. EBITDA margins are above 100% due to the variable payment on TTF and Brent prices. I value Golar at 12x EV/EBITDA plus the stakes in NFE and COOL at current market value. The YE24 results grow on the incorporation of FLNG Gimi, while YE25 EBITDA reduction is due to lower variable payments as TTF declines to US$20mmBTU as indicated by futures prices on the CME.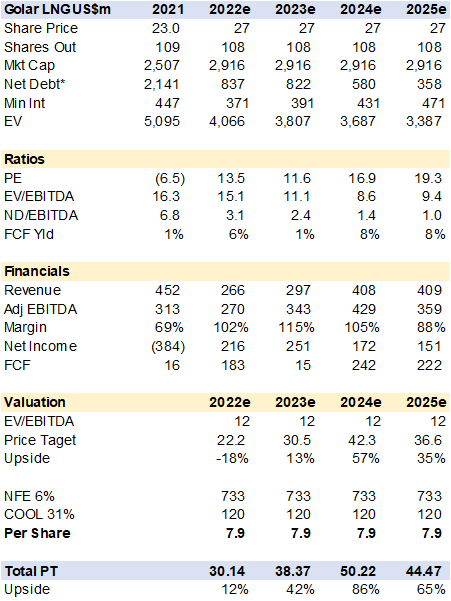 *Net debt excludes the US$853m value of the NFE and Cool stakes.
Conclusion
I consider Golar a strong buy. The valuation does not yet fully reflect a completed restructuring nor its operating leverage via LNG and Brent price linked contracts. The company is a direct beneficiary of Europe's energy crisis and is benefiting from spiking LNG prices (TTF) that should carry into YE23. Golar has locked in YE22 EBITDA with forward contracts and about 50% of YE23. My estimates point to a YE23 fair value of US$38 +34% on a sum of the parts valuation.