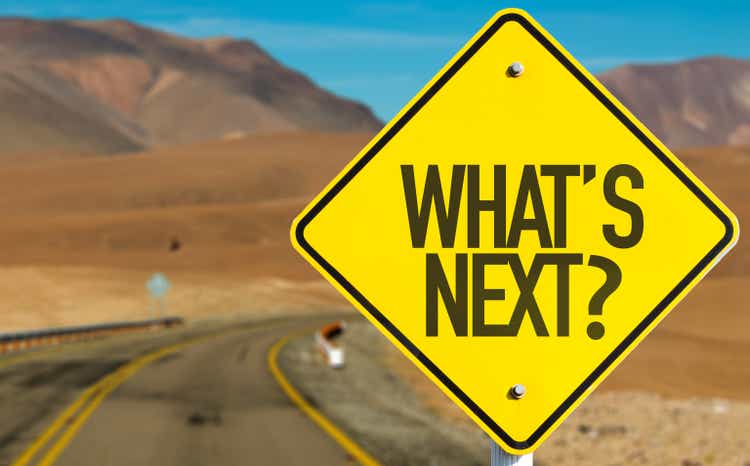 At first glance, Stanley Black & Decker (NYSE:SWK) and Newell Brands (NASDAQ:NWL) are not necessarily comparable companies. SWK, which I have already reported on, primarily develops, manufactures and distributes hand and power tools for consumers and professionals, as well as industrial fasteners. Its well-known brands include Stanley, Black+Decker, DeWalt, Craftsman, Facom and Proto.
NWL is mainly involved in writing, baby, outdoor and leisure, and home appliances businesses. It owns well-known brands such as Rubbermaid, Coleman, Marmot, Nuk, Waterman, Parker, Dymo, Elmer's, and Yankee Candle. I have been following the company since 2018 and have written several articles during that time.
What the two companies have in common is that they have a history of seemingly one-off charges due to acquisition-related restructuring efforts, but NWL in particular has performed miserably since its bold acquisition of Jarden Corporation in late 2015 (Figure 1). Since 2016 - and including dividends - SWK and NWL have posted annualized returns of -1% and -11%, respectively, according to FAST Graphs, while the S&P 500 has gained nearly 13% over the same period on an annualized basis. Since the acquisition of Black & Decker in 2009/10, SWK has posted an annualized return of 7.3%, still trailing the S&P 500 by nearly five percentage points. However, SWK has been performing miserably since mid-2021 and especially since early 2022, when the company had to restate its earnings (see my detailed discussion on this topic) and lowered its forecasts in April and July. Therefore, it could rightly be asked whether SWK is destined to suffer the fate of Newell Brands: Billions of dollars in impairment charges, declining profitability, weak cash flow conversion, a management team that over-promises and under-delivers - and ultimately, weak shareholder returns.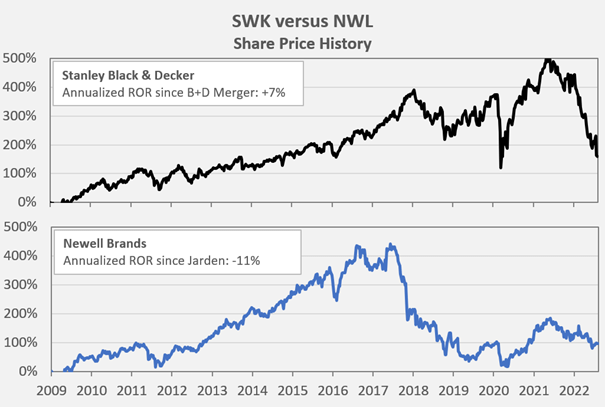 Restructuring Charges – When A One-Time Event Becomes A Permanent Condition
I have analyzed the financial statements of NWL and SWK since 2010, thereby taking into account SWK's merger with Black & Decker and NWL's acquisition of Jarden in 2015.
In absolute terms, SWK reported significantly higher restructuring-related expenses since 2010 (Figure 2). It seems worth noting that SWK sometimes refers to this item as "restructuring costs and asset impairments", although the company has not recorded any material impairment-related costs since at least 2010 (as discussed later).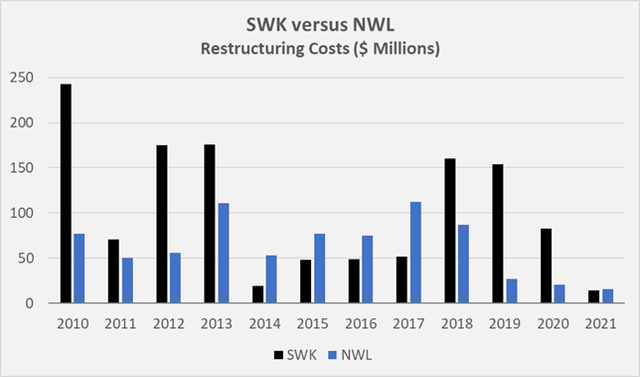 To better appreciate the magnitude of the costs shown in Figure 2, I relate them to post-merger and 2021 sales.
Since 2016, NWL recorded $338 million in restructuring costs, representing 2.5% and 3.2% of 2016 and 2021 sales, respectively. SWK recorded $1.2 billion, or 14.8% and 8.0% of 2010 and 2021 revenue, respectively. 14.8% is a very high figure, but it takes into account a much longer period - Black & Decker was acquired in 2009/10. Over the same period, NWL recorded restructuring costs of $762 million, or 13.5% and 7.2% of 2010 and 2021 revenue, respectively.
Of course, these costs should be considered by investors assessing the actual earnings power of each business.
Given that Newell Brands has been undergoing a restructuring process since 2018 (see my related articles from late 2018, early 2019 and late 2019), it seems reasonable to consider only most recent restructuring charges and expect a completion of the restructuring process in the near future. In my latest article, I discussed signs that point to a conclusion of the process.
SWK is still in the midst of a multi-year process of transitioning its portfolio to a tool-centric business, highlighted by restructuring-related charges of $72 million in the first half of 2022, an increase of $60 million year-over-year. The company recently announced the sale of its Oil & Gas, Security, and Access Technologies businesses. Based on an analysis of SWK's remaining portfolio, it therefore seems reasonable to assume that the process will be completed soon. However, as the company has laid-out a cost reduction plan (slide 7 f., Q2 2022 earnings presentation), investors should expect further restructuring-related charges.
Involvement of Activist Investors And Improving Fundamentals
In early 2018, a battle over board seats at Newell Brands emerged. Activist investor Starboard teamed up with Jarden chairman Martin Franklin in an attempt to oust Newell's CEO and the entire board. A few months later, however, activist investor Carl Icahn, with Starboard's support, succeeded in appointing three new independent directors to the NWL board, averting a proxy battle. Newell's then-CEO Michael Polk (who had overseen the Jarden transaction) was shown the door, and Brett Icahn (Carl's son) was nominated to Newell's board.
The company sold a large part of its portfolio. Revenue declined 41% year-over-year in 2018, from $14.7 billion to $8.6 billion, and proceeds were used for share repurchases and debt reduction. Newell's operating margin has improved 2% since 2019, and its cash conversion cycle is also on a solid path (Figure 3). In this context, SWK's recently increased cash conversion cycle should not be overstated due to the recent increase in inventories (see my detailed analysis).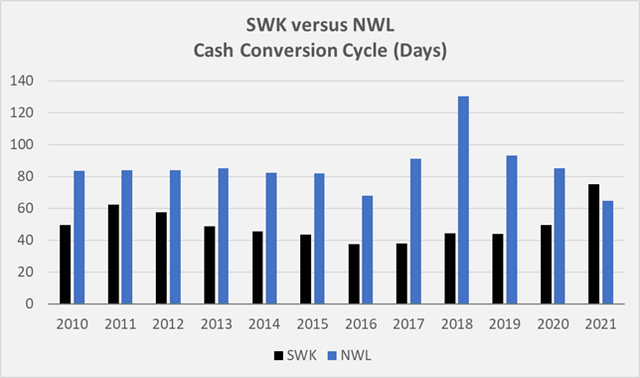 Recently, there has been speculation that an activist could also become involved in SWK. The company definitely has its issues at the moment, such as ongoing supply chain bottlenecks (leading to a steep rise in inventories and consequently abysmal free cash flow) and weakening demand due to the economic slowdown and likely declining brand loyalty, but it is still in good shape overall.
Debt levels are substantial, but nowhere near as high as they were at Newell in 2017, when the company's debt level was a staggering 20 times 2015-2017 average free cash flow. SWK's free cash flow has been quite volatile recently, but on average it would take SWK only about six years to pay off all of its debt if it suspended its dividend and buybacks. This estimate does not take into account the proceeds from recent asset sales, which will significantly reduce leverage.
Moreover, SWK is still an investment-grade company, as evidenced by its "A"-rated long-term (Standard & Poor's). In contrast, Newell lost its investment-grade rating in the midst of its turnaround (late 2019) when the company announced it would retain certain businesses it had previously planned to sell. Nevertheless, the company recently regained its former "BBB-" rating.
All in all, I think an activist's stake in SWK is pretty unlikely, even if there is plenty of room for improvement, as underlined, for example, by the measly returns on invested capital. The company has recently unveiled a cost reduction plan and is in the process of transforming its portfolio into a tool-centric one. However, I would not be surprised if one or another hedge fund or similar investor reports a passive holding to the Securities and Exchange Commission (SEC), given SWK's current low valuation. The restructuring at Newell Brands is bearing fruit and the company is on a good path - the valuation does not fully reflect this, largely due to the weak macroeconomic environment and the fact that management is still largely relying on highly normalized figures.
Lack in Effective Internal Control Systems
The auditors of both Newell Brands and Stanley Black & Decker stated in their reports that the respective company did not maintain effective internal controls over financial reporting.
In January 2022, SWK announced that it had received an opinion from the SEC regarding its accounting for equity investments. The company determined that errors were made in its original accounting conclusions due to material weaknesses in its internal control over financial reporting for such instruments. Accordingly, the issue was highlighted in the 2021 10-K by SWK's auditor, Ernst & Young (p. 64 et seq., 2021 10-K), and the company was required to restate its latest results. As I have outlined, I do not consider the misrepresentation (intentional or unintentional) to be of particular concern, although it is to be expected that investor sentiment will remain subdued for the foreseeable future. Moreover, management statements and corporate reports will likely continue to be subject to heightened scrutiny for the foreseeable future.
Based on the 2018 financial statements, Newell Brands' auditor, PricewaterhouseCoopers (PWC), concluded that the company did not maintain effective internal control over financial reporting because the company had not designed and maintained effective controls over accounting for the effects of divestitures (p. 40 et seq., 2018 10-K). In fiscal 2019 and 2020, the company apparently still did not have effective internal controls over financial reporting, and the 2021 10-K is the first annual report in which the auditor has issued an unqualified opinion on Newell's financial statements and related financial reporting.
Of course, the problem highlighted by PWC reflects poorly on Newell's management at the time, and the auditor's comments do not seem overly surprising given the many moving levers in the early stages of the restructuring. However, given the signs that the turnaround is taking hold, the fact that several years have passed since the auditor noted the lack of effective internal controls, and since Michael Polk et al. are a thing of the past, I would not overstate the issue at this time. Also, it seems worth noting that Newell Brands was not required to restate its earnings.
In summary, the problem pointed out by Newell's auditor is a thing of the past, and I would not decide against investing in the company solely because of that problem. The problem at SWK seems a bit more serious, primarily because it has resulted in inflated earnings per share ($7.77 vs. $7.46 in 2020, $6.35 vs. $6.11 in 2019). Critical investors could potentially suspect intentional misconduct here, but I give management the benefit of the doubt given the magnitude of the misstatement and the fact that the problem relates to the accounting of equity units. In addition, the financial statements of SWK and NWL present a true and fair view of the financial position of each company in all material respects - the problems related only to internal control mechanisms. Therefore, I do not consider these problems as a criterion for excluding potential investments, but I am aware that they can (and probably will) have a lasting negative impact on investor sentiment.
Transaction Valuations
As a result of the rather bold acquisitions, goodwill and other intangible assets of both companies increased significantly, however, Newell's merger with Jarden Corporation was much larger, as shown in Figure 4. It therefore seems somewhat surprising that NWL's and SWK's revenues increased by almost identical amounts due to the consolidation of the respective acquired entity, i.e., by about 125% compared to the previous year.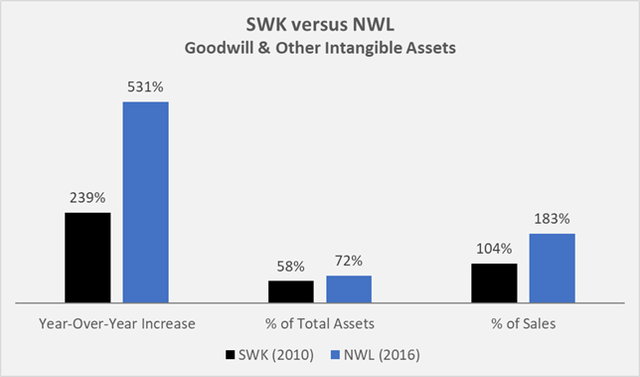 From this perspective, Newell's acquisition appears much more expensive, and this is also true when applying revenue- and earnings-based multiples. The price tag of $15 billion translates to a 26 times average 2013-2015 GAAP operating income multiple, and when restructuring and impairment charges are taken into account, the multiple is lower but still significant at 23 times adjusted operating income. The transaction value corresponds to an average 2013-2015 sales multiple of 1.9.
In stark contrast, SWK's $4.5 billion acquisition of Black & Decker equates to GAAP and adjusted average operating earnings of 10.3 and 9.7, respectively, or 0.8 times average sales from 2007-2009. It should also be remembered that the profit multiples are mostly based on data from the Great Financial Crisis, making the true profit multiple even more conservative. In 2008 and 2009, Black & Decker reported year-over-year adjusted operating profit declines of 21% and 33%, respectively.
Critical investors might argue that the premium paid by Newell is due to the comparatively stronger earnings power and profitability of Jarden's assets. However, this could only be the result of theoretical (and to date meager) margin expansion, as Jarden's average gross and adjusted operating margins in 2013-2015 were 31% and 8%, respectively.
This suggests that Stanley Black & Decker's management took a much more conservative approach to capital allocation than that of Newell Brands. This is also underscored by the fact that Newell had to write down significant amounts of goodwill and other assets in the years following the Jarden transaction (Figure 5). Between 2017 and 2021, the company reported more than $11 billion in related impairment charges. In stark contrast, SWK reported no material impairment charges between 2010 and 2021, and the notes to its financial statements report charges of only $22 million (p. 104, 2013 10-K) and $61 million (p. 92, 2014 10-K). Also in 2021, the company determined that the fair value of the reporting units tested for potential impairment exceeded their carrying value by more than 50% (p. 47, 2021 10-K).
Finally, one can argue that Newell management's missteps are a thing of the past, but it still seems important to keep an eye on management's behavior with respect to mergers and acquisitions. Of course, the recurring and quite significant restructuring costs at SWK should not be forgotten, and as an investor in the company, I will be watching closely to see if management does indeed follow through on focusing the brand portfolio on tool brands. Given the recently revised forecast, investors should also keep in mind that sensitivity tests for SWK's cash-generating units are typically conducted with a 150 basis points decreased perpetual growth rate. It therefore does not seem unreasonable to expect modest impairment charges in the future.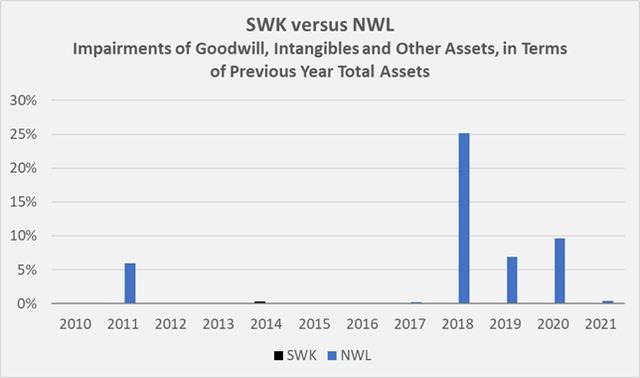 Conclusion
Stanley Black & Decker's past has been marked by recurring and significant restructuring charges, which I continue to watch with a wary eye. However, unlike Newell Brands, the company reported negligible goodwill impairments - despite making a similarly bold acquisition. In any case, SWK's management has taken a much more conservative approach to capital allocation than Newell's previous management. In light of the recently revised forecast, however, investors should keep in mind that sensitivity tests of SWK's cash-generating units are typically conducted with a 150 basis points decreased perpetual growth rate. It therefore does not seem unreasonable to expect modest impairment charges in the future, which could put further pressure on the stock.
Stanley Black & Decker's operational performance leaves something to be desired, but I am glad that management is working on optimizing the portfolio and reducing costs. The company's problems seem quite solvable, and I personally do not overestimate the recurring restructuring costs as SWK aims to become a pure tool company. However, I do take them into account in my valuation model as my regular readers know. Given the recent cost-cutting plan and the ongoing restructuring, I think activist ownership at SWK is quite unlikely. The current share price largely reflects the uncertainties associated with the company's revised earnings power. However, I believe that market participants are too pessimistic here and have therefore recently opened a long position. The company remains a dividend king with A-rated long-term debt. It's also worth noting that a company insider recently bought a significant amount of SWK stock (form 4 filings here and here) - this is the first insider purchase in four years and the first material transaction (i.e., in the millions of dollars) since at least 2016.
The involvement of activists at Newell Brands was certainly necessary and has led to significant improvements so far. Who knows if the company would otherwise have been able to deal with the amount of debt incurred to fund the Jarden acquisition without filing for bankruptcy protection? The missteps of Newell's former management are a thing of the past, but it still seems important to keep an eye on management's behavior with regard to mergers and acquisitions. The restructuring efforts are bearing fruit and the company is on a good path - the valuation does not fully reflect this, mainly due to the weak macroeconomic environment and the still opaque view on fundamental earnings power - management continues to report highly normalized numbers besides GAAP earnings. I have therefore adopted a wait-and-see stance, even though I am well aware that I may not be able to buy the shares at the current valuation which appears quite good.
Personally, I do not consider the issues that have led to an adverse opinion on internal controls by the respective company's auditor to be a disqualifying factor for potential investments, but I am aware that they can (and probably will) have a lasting negative impact on investor sentiment. As an income-oriented investor who gradually builds up his position in a company's stock, such longer periods of a stagnant price are actually welcome.
Thank you very much for taking the time to read my article. In case of any questions or comments, I am very happy to read from you in the comments section below.