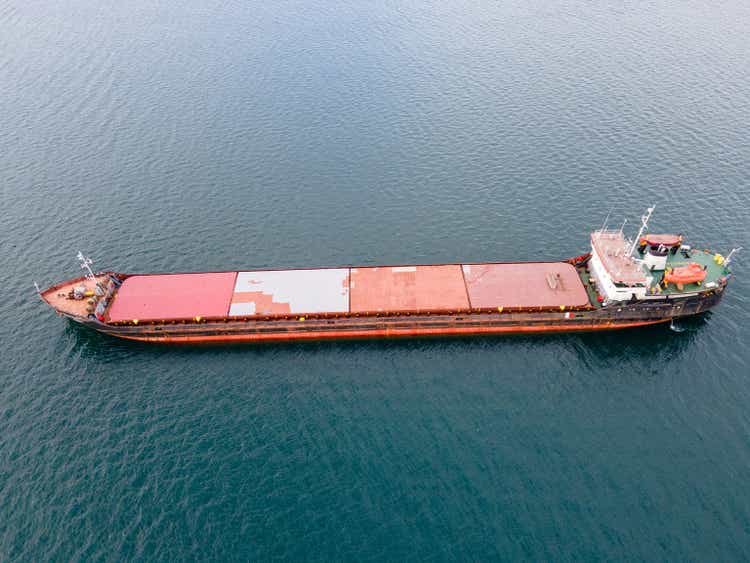 Diana Shipping Inc. (NYSE:DSX), herein referred to as "Diana" or "DSX," used to be one of the most conservative companies in the shipping space, focusing on simplicity and consistency. Analysts applauded Diana's management team, in a space battered by poor corporate governance, questionable related party transactions and complex corporate structures. In fact, Diana used to be the point of reference, especially during the tough times following the Great Financial Crisis, which materially affected the dry bulk shipping market, essentially all the way until the coronavirus.
Ironically, Covid-19 was a blessing in disguise for shipowners; it initially depressed the market, as demand plummeted, but it also led to many shocks in the system, including supply chain disruptions, changes in trading patterns, and a general freeze of the newbuilding orderbook. Eventually, demand came back roaring, yet there was no way for supply to rebound just as quickly. This led to a material increase in charter rates. The good news is that the dry bulk orderbook remains at historically low levels, as new ordering has been subdued despite a much better market compared to the past decade. The low numbers of newbuildings bode well for the future, as supply is expected to be kept tight. Unfortunately, Diana lost its way, especially after its entry into the containership space through Diana Containerships, which was a blow to its reputation.
The "Old Diana Shipping" Coming out of the Financial Crisis of 2008
In terms of chartering policy, Diana avoided "playing" the spot market, and instead went for period deals, focusing on cash flow visibility. Most of Diana's vessels were chartered out on period deals, typically for ~1 year on fixed rates, without profit-sharing arrangements. Moreover, in an effort to maintain full transparency, Diana disclosed each and every one of its charters via dedicated press releases, releasing information such as the charter rate, duration, charterer, and the associated commission paid to third parties.
In terms of balance sheet management, Diana always took pride in maintaining a "fortress" balance sheet, always maintaining a strong cash balance, usually above the $100M mark at any given point. Moreover, Diana kept as much cash as possible in the business by eliminating its dividend.
In terms of financing strategy, Diana opted for a "plain vanilla" capital structure focusing on common equity on the one hand and traditional low-cost bank debt on the other hand. It avoided issuing high-coupon bonds, convertible notes and high-yielding preferred shares as means of raising capital.
In terms of acquisition strategy, Diana wanted to be a net buyer of ships, but avoided larger, en-bloc transactions (i.e., fleet acquisitions or multiple vessel purchases at the same time). Instead, Diana opted to spread out purchases over time, and went as far as acquiring a ship every month or two, in a "staggered" manner. The rationale was to avoid timing the market and not be overexposed at any given point in time.
Unfortunately, Diana's strategy of buying a ship every month or two, as outlined above, backfired. It is important to note that at some point, Diana had more of cash on hand versus its total debt load. In other words, Diana was debt free, something rare for a shipping company. Specifically, in 2011, cash & cash equivalents was ~$417 million versus long-term debt of ~$374 million. However, as a result of Diana's staggered acquisition strategy, the number of vessels increased from 24 at year-end 2011 to 43 vessels at year-end 2015. But, this had an adverse impact on the balance sheet. In 2015, long-term debt surpassed $600M while cash & cash equivalents fell below $200 million. The balance sheet has never relived its 2011 glory days.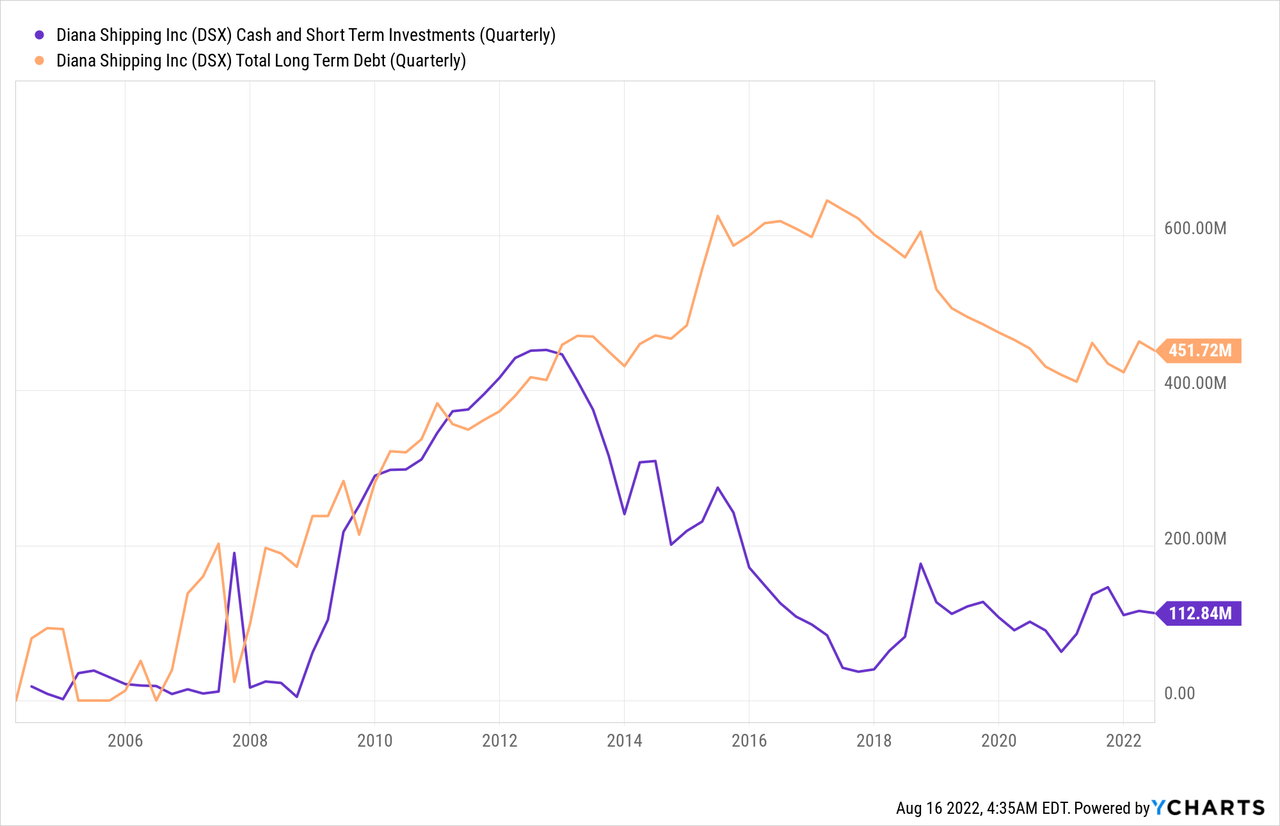 The "New Diana Shipping": 2014 and beyond
Compared to the "old Diana Shipping," arguably the only thing that has remained intact is the flagship chartering policy. The company continues to pursue period deals, with duration, and discloses each and every one of its charters, in line with previous practices.
Even though the balance sheet is in decent shape, it is far from being a "fortress" balance sheet, as discussed above. And the capital structure is no longer "plain vanilla." Diana eventually issued high-yielding preferred shares (close to 9% yield) in 2014 as well as high-coupon notes (8.50% Senior notes), which were retired in 2018, and has also engaged in sale and leaseback transactions.
In terms of acquisition strategy, Diana went through a phase of shrinking its fleet (by selling ships at NAV and buying back shares below NAV - a smart strategy) to shocking the market last week by acquiring 9 ultramax dry bulk vessels. Such a move (i.e., acquiring an entire fleet) was against the company's philosophy in the past. Not only that, there has been criticism that Diana overpaid, by paying a premium to NAV, and it will take on more debt to fund the $220 million cash portion (currently negotiating terms of a new credit facility with a major European lender), in addition to issuing ~18.5 million shares at a price of $5.95 per share. Moreover, Diana used to focus on the bigger vessel sizes (Panamax bulk carriers and above), but this deal focuses on a smaller vessel size, which is another shift in direction.
To complicate matters further, in addition to Performance Shipping (PSHG), which now focuses on tankers (previously it was named Diana Containerships and focused on containerships), Diana spun off a new listed company called OceanPal (OP), to act as vehicle to consolidate DSX's older dry bulk vessels, among other things. Diana's structure is effectively converging to the old Navios Group structure, which at it its peak consisted of 5 publicly listed entities. The irony is that Navios has consolidated all of its shipping activities into Navios Maritime Partners (NMM), which in my view is the best shipping platform by a wide margin. The only good news with Diana is that is that it has restored its common share dividend, for the first time since 2008.
But this is not enough. I feel that Diana's management team is not very consistent anymore. And I don't really understand their vision. It seems to me that some moves are also erratic. As a result, I have consolidated all of my shipping investments into Navios Maritime Partners, for the reasons I outlined in my article. The only bright spots for Diana over the past decade or so is selling vessels in the open market at NAV to buy back shares below NAV, and of course restoring the common dividend. But, as mentioned above, I don't really understand the vision of the "Diana Group" anymore.
I also feel that the Diana management team lost its way and credibility, especially by engaging with Kalani, the failure of Diana Containerships, and the dramatic U-turns in terms of strategy. Therefore, I am sticking with Navios Partners as I cannot really make any projections as to what to expect from Diana anymore. At least with Navios Partners I can understand the vision to build a diversified shipping platform, and most importantly Ms Frangou, their CEO, seems to have learnt from the mistakes of the past. Not sure this is the case with Diana.