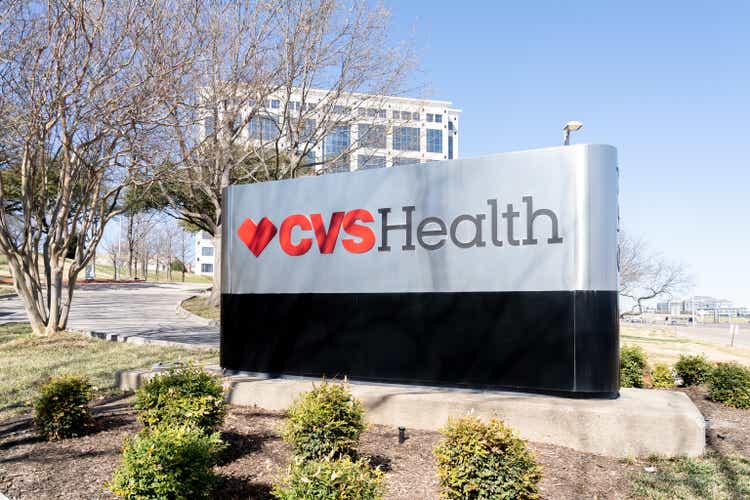 By The Valuentum Team
CVS Health (NYSE:CVS) has ~9,900 retail pharmacies, ~1,200 walk-in medical clinics, and is a top pharmacy benefits manager [PBM] with ~110 million plan members. The company has done a great job managing through the COVID-19 pandemic. Revenues have continued to advance during difficult times, while cash flow from operations has experienced a nice steady climb, all the while CVS has helped to lead the U.S.'s response to the coronavirus. Last year revealed nearly a 9% increase in the company's Health Care Benefits segment, while its Pharmacy Services segment was the standout, as adjusted operating income grew at a rapid pace.
After steadily reducing its leverage in recent years, CVS Health resumed dividend payout increases in 2022. The Aetna deal in 2018 significantly impacted its Dividend Cushion ratio due to the debt CVS took on to fund the acquisition. However, free cash flow generation has been more than sufficient in covering annual run rate cash dividend obligations in recent years, but excess cash returned to shareholders may be limited in the near term. CVS expects to unlock meaningful synergies from the Aetna deal, though integration efforts will be tricky. Adjusted earnings per share continues to grow nicely at the firm, nonetheless.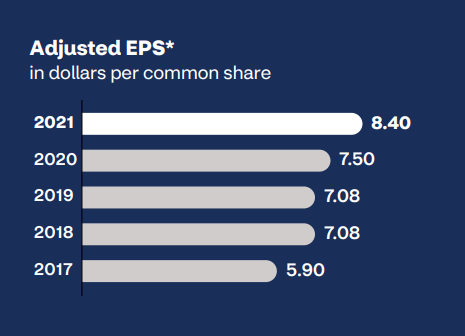 CVS Health's Key Investment Considerations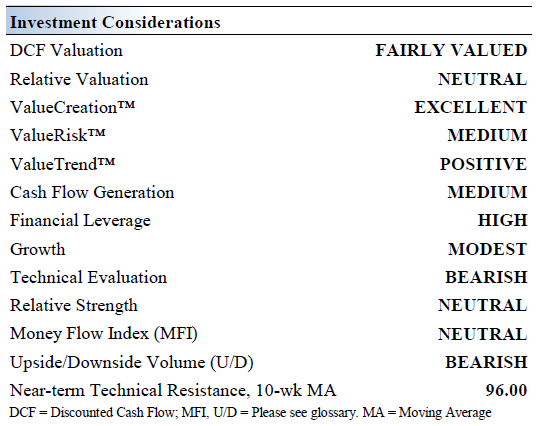 The 2007 merger of CVS Corp and Caremark created the largest pharmacy health care provider in the US. The company has ~9,900 retail locations, ~1,200 walk-in medical clinics, and a PBM business with ~110 million plan members. The company was founded in 1892 and is headquartered in Rhode Island.
CVS acquired Aetna in 2018 for a total transaction value of ~$77 billion, including debt assumption. CVS agreed to divest Aetna's standalone prescription drug plan [PDP] business as part of a consent decree reached with the US DOJ in October 2018.
The Aetna deal has brought on substantial debt, and deleveraging will be a priority as the firm targets a low 3x adjusted debt-to-adjusted EBITDA ratio by 2022. Aetna brings the strength of its consumer health and engagement model and leading health financing program. Though significant synergies are expected to be realized, integration efforts have been tricky.
The company raised its 2022 adjusted EPS guidance range to $8.40-$8.60 from $8.20-$8.40 when it reported results for the three months ended June 30. CVS is contending with sizable inflationary pressures and supply chain hurdles, and tailwinds from distributing COVID-19 vaccines are fading. The company's growth outlook is now contending with major headwinds, too, as changes to the U.S. healthcare space need to be monitored going forward.
Competition is growing as Amazon (AMZN) launched its own online pharmacy in November 2020. Efforts to reduce prescription drug costs and pharmacy reimbursement rates combined with new market entrants weigh negatively on CVS Health's outlook. CVS Health continues to be acquisitive, however. Recently, the WSJ reported that the company may be interested in buying Signify Health (SGFY), a home healthcare company. We like CVS Health's forward-looking focus and that it is not resting on its prior successes.
CVS Health's Economic Profit Analysis
The best measure of a company's ability to create value for shareholders is expressed by comparing its return on invested capital with its weighted average cost of capital. The gap or difference between ROIC and WACC is called the firm's economic profit spread. CVS Health's 3-year historical return on invested capital (without goodwill) is 48.8%, which is above the estimate of its cost of capital of 9.1%.
As such, we assign CVS Health a ValueCreation rating of EXCELLENT. In the chart below, we show the probable path of ROIC in the years ahead based on the estimated volatility of key drivers behind the measure. The solid grey line reflects the most likely outcome, in our opinion, and represents the scenario that results in our fair value estimate. CVS Health remains a strong economic-value generator.
CVS Health's Cash Flow Valuation Analysis
We think CVS Health is worth $108 per share with a fair value range of $81.00 - $135.00. Shares of CVS Health are trading at ~$106 each at the time of this writing. The margin of safety around our fair value estimate is driven by the firm's MEDIUM ValueRisk rating, which is derived from an evaluation of the historical volatility of key valuation drivers and a future assessment of them.
Our near-term operating forecasts, including revenue and earnings, do not differ much from consensus estimates or management guidance. Our model reflects a compound annual revenue growth rate of 3% during the next five years, a pace that is lower than the firm's 3-year historical compound annual growth rate of 14.5%.
Our valuation model reflects a 5-year projected average operating margin of 4.7%, which is below CVS Health's trailing 3- year average. Beyond year 5, we assume free cash flow will grow at an annual rate of 1% for the next 15 years and 3% in perpetuity. For CVS Health, we use a 9.1% weighted average cost of capital to discount future free cash flows.
CVS Health's Margin of Safety Analysis
Our discounted cash flow process values each firm on the basis of the present value of all future free cash flows. Although we estimate CVS Health's fair value at about $108 per share, every company has a range of probable fair values that's created by the uncertainty of key valuation drivers (like future revenue or earnings, for example). After all, if the future were known with certainty, we wouldn't see much volatility in the markets as stocks would trade precisely at their known fair values.
This is an important way to view the markets as an iterative function of future expectations. As future expectations change, so should the company's value and its stock price. Stock prices are not a function of fixed historical data but rather act in such a way to capture future expectations within the enterprise valuation construct. This is a key part of our book Value Trap: Theory of Universal Valuation.
Our ValueRisk rating sets the margin of safety or the fair value range we assign to each stock. In the graph above, we show this probable range of fair values for CVS Health. We think the firm is attractive below $81 per share (the green line), but quite expensive above $135 per share (the red line). The prices that fall along the yellow line, which includes our fair value estimate, represent a reasonable valuation for the firm, in our opinion.
CVS Health's Dividend Analysis
The Dividend Cushion Ratio Deconstruction, shown in the image above, reveals the numerator and denominator of the Dividend Cushion ratio. At the core, the larger the numerator, or the healthier a company's balance sheet and future free cash flow generation, relative to the denominator, or a company's cash dividend obligations, the more durable the dividend.
In the context of the Dividend Cushion ratio, CVS Health's numerator is larger than its denominator suggesting strong dividend coverage in the future. We note, however, that CVS Health has a large net debt position that weighs heavily on the numerator. The Dividend Cushion Ratio Deconstruction image puts sources of free cash in the context of financial obligations next to expected cash dividend payments over the next 5 years on a side-by-side comparison.
Because the Dividend Cushion ratio and many of its components are forward-looking, our dividend evaluation may change upon subsequent updates as future forecasts are altered to reflect new information. We would prefer that CVS Health use its strong free cash flow generation for deleveraging purposes.
Concluding Thoughts
Competitive headwinds are growing for CVS after Amazon launched its own online pharmacy in November 2020, and client demand for lower prices could create headwinds for CVS in terms of its future margins. Walgreens (WBA) and Express Scripts (owned by Cigna) are key rivals of CVS in the retail drugstore and pharmacy services, respectively. Long-term debt exploded due to CVS acquiring Aetna and that decimated its Dividend Cushion ratio. In 2022, CVS resumed dividend increases after aggressively deleveraging its balance sheet, though we forecast that future payout increases be modest in nature due to the company's large net debt load. Shares of CVS Health are fairly valued at the time of this writing, and its dividend is not as strong as it once was. Shares yield ~2% at the moment.
This article or report and any links within are for information purposes only and should not be considered a solicitation to buy or sell any security. Valuentum is not responsible for any errors or omissions or for results obtained from the use of this article and accepts no liability for how readers may choose to utilize the content. Assumptions, opinions, and estimates are based on our judgment as of the date of the article and are subject to change without notice.