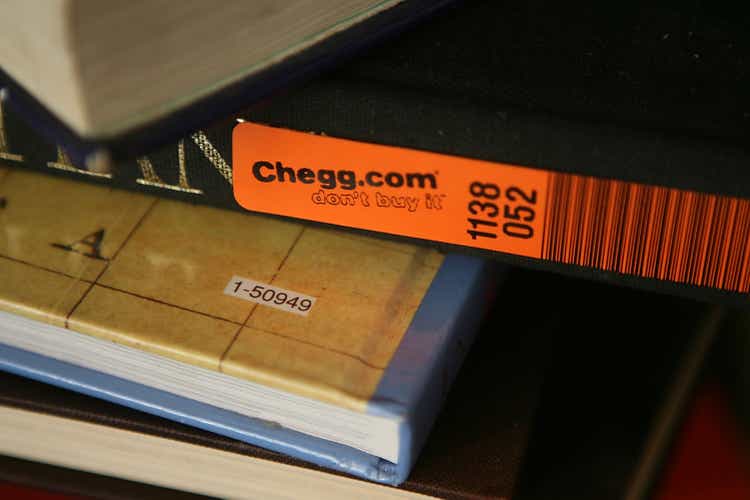 Few pursuits are nobler than the pursuit of education. Although many people generally think of the education space as being publicly funded, there are privately owned enterprises, some that are even publicly traded, that play in this market. A great example of one that has performed well recently is Chegg (NYSE:CHGG). Revenue growth at the company has been quite stable in recent years. The firm is still generating net losses, though this year might fix that. On top of that, other profitability metrics are encouraging. Of course, not everything is going great. Although revenue is slated to rise this year and net income is looking positive, cash flow might take something of a step back compared to what it was last year. Even with that factored in, however, the company does still work to be a reasonable prospect for investors to consider. Although I wouldn't call the company a home run prospect, I do think that it offers investors some decent upside moving forward. And as such, I have decided to rate it a soft 'buy' for now.
Earning and learning simultaneously
According to the management team at Chegg, the company's mission is to improve learning and learning outcomes for its students. The company does this through its platform that offers products and services aimed at supporting learners so that they, in turn, can better understand academic course material that they are given. To best understand how the company functions, we should dig into the two key categories of product and service offerings the company has today. The first of these is called Chegg Services. Through this, the company offers various subscription services that can be accessed online or using mobile devices. Last year, this part of the company had 7.8 million students subscribe to its platform. It also has roughly 30 million monthly average visitors to its platform, making it a truly large network. Its different subscription services Chegg Study, Chegg Writing, Chegg Math Solver, Chegg Study Pack, Mathway, and Thinkful.
We could spend an entire article going over each of these features. But instead, we will touch on just a couple. The first of these, Chegg Study is a subscription service that helps students master difficult concepts through the use of expert questions and answers, as well as through textbook solutions that are offered. As part of the subscription, students are able to ask questions on its website and received detailed explanations from experts in that domain. As part of this, customers also have access to something called Textbook Solutions that basically provides step-by-step explanations in order to help students solve the questions that are at the end of each chapter in their textbooks. And another offering is called Busuu, which is an online language learning company that the company acquired in January of this year. It currently provides access to courses in 13 different languages and connects its users to a community of native speakers with the end goal of helping language learners become more proficient.
The other main offering provided by the company is called Required Materials. This involves providing students with printed textbooks and etextbooks. The company does this through renting and selling these textbooks to its customers. However, management did make clear the fact that most of the print textbook transactions are rentals. On the etextbook on side of things, the company also provides other features like easy navigation, keyword search, text highlighting, note-taking, and more.
Over the past few years, the management team at Chegg has done a really good job growing the company's top line. Through a combination of organic growth and acquisitions, the company has grown its revenue from $255.1 million in 2017 to $776.3 million last year. One of the contributors to the company's top line expansion appears to be the number of subscribers to its services. Back in 2017, the company had just 2.2 million subscribers on its platform. This number ultimately rose to 7.8 million by the end of 2021. This growth has continued into the current fiscal year, but only slightly. Revenue in the first half of the year came in at $397 million. That's barely higher than the $396.9 million generated the same time one year earlier.
When it comes to profitability, the general picture for the company has been positive as well. The firm went from generating a net loss of $20.3 million in 2017 to generating a loss of $1.5 million last year. Over that same window of time, operating cash flow rose from $51.6 million to $273.2 million. Meanwhile, EBITDA turned from $46.4 million to $265.9 million. This year, the picture from a profitability perspective is somewhat mixed. In the first half of the year, net income came in strong at $13.2 million. That compares favorably to the $32.4 million loss generated the same time last year. On the other hand, operating cash flow dipped from $144.5 million to $143.8 million, while EBITDA fell from $141.5 million to $130.5 million. Of course, this change year over year does warrant some discussion. For starters, the increase in profitability was largely due to a loss associated with the early extinguishment of debt in the first half of 2021. Without that, 2021 results would have been better, even after factoring in the improvement in gross margin the company has seen so far this year. This is because, according to management, general and administrative expenses increased this year relative to revenue because of higher employee-related expenses, while sales and marketing costs also rose relative to revenue because of increased international marketing spending, including spending related to its Busuu purchase, and because of higher employee-related expenses.
When it comes to the 2022 fiscal year as a whole, management expects revenue of between $745 million and $770 million. This does imply some decrease relative to what the firm achieved last year. In addition to that, EBITDA for the company should come in at between $225 million and $235 million. Despite this decrease in profitability, the company still did complete a $300 million accelerated share buyback earlier this year and increased its total share plan by $1 billion to $2 billion. No guidance was given when it came to other profitability metrics. But if we assume that operating cash flow should change at the same rate that EBITDA should, then we should anticipate a reading of $236.3 million for the year.
Based on this data, the company is trading at a forward price to operating cash flow multiple of 12.1. This compares to the 10.5 reading we get using 2021 results. Meanwhile, the EV to EBITDA multiples should come out to 13.7. That compares to the 11.9 reading that we get using 2021 figures. To put this in perspective, I compared the company to four similar firms. On a price to operating cash flow basis, three of these companies had positive results, trading between a multiple of 12.8 and a multiple of 22.9. In this case, our prospect was the cheapest of the group. Using the EV to EBITDA approach, the range was from 5.5 to 21.7, with three of the four firms cheaper than our target.
| | | |
| --- | --- | --- |
| Company | Price / Operating Cash Flow | EV / EBITDA |
| Chegg | 12.1 | 13.7 |
| Graham Holdings Company (GHC) | 12.8 | 8.1 |
| TAL Education Group (TAL) | N/A | 5.5 |
| Grand Canyon Education (LOPE) | 13.5 | 9.6 |
| PowerSchool Holdings (PWSC) | 22.9 | 21.7 |
Takeaway
At this point in time, Chegg seems to have hit something of a rough spot. Shares are definitely looking somewhat pricier on a forward basis, but shares still look fairly attractive on an absolute basis. On the whole, the company strikes me as a quality operator with consistent cash flow generation and, while earnings are still problematic, the cash flow picture is more than enough to make up for that. Due to these reasons, I've decided to rate the business a soft 'buy' at this time.