TransCanada Corp (NYSE:TRP), is currently on the verge of making one of the largest investments ever in the US--a CAD7.6 billion extension of its Keystone Pipeline System.
Keystone XL would dramatically increase the flow of Canadian tar sands output to US Gulf Coast refineries. That's made it immediately controversial, with the environmental lobby in the US claiming the pipeline would encourage more tar sands development--thus increasing global warming from carbon dioxide (CO2) emissions, as well as emissions of scores of other pollutants.
The battle has pitted two key constituencies of President Obama against each other: environmental advocates, who see a focal point for their long war on oil, and labor unions, who see the opportunity for jobs. As a result the administration has basically delayed making a decision on the overall project -- which needs approval at the highest levels of government because it crosses national boundaries -- until after the November election.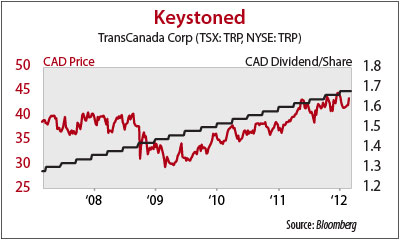 That, however, hasn't stopped TransCanada from moving ahead on another segment of Keystone XL, an expansion of capacity from the currently bottlenecked energy hub at Cushing, Oklahoma, to the Gulf Coast refineries.
That's a CAD2.3 billion chunk of the overall expansion project, which the company expects to get up and running by mid- to late 2013.
Like all energy infrastructure companies TransCanada at its core is an invest-to-grow story. Every time it finances, contracts out and finally builds a pipeline, for example, the cash flow boosts profits, which triggers dividend growth and, eventually, a higher share price.
I've said many times that we'll know there's a top in the North American energy infrastructure market when companies start building in anticipation of higher demand rather than pre-contracting before starting to work. That definitely hasn't happened yet for this industry. Until it does we can look forward to companies making more investment that flows right on through to earnings.
The only drawback of buying pipeline companies now is price. TransCanada, however, was never really caught up in the buying wave, mainly because of investor trepidation about Keystone. The upshot is it's still a fairly cheap growth stock. Moreover, even if the rest of Keystone never gets built, management has targeted some CAD50 billion in potential energy infrastructure projects, including CAD12 billion in the works for startup by 2015.
That includes a restart of the Bruce Power nuclear plant in Ontario, a project so massive it can potentially generate up to 25 percent of the province's electricity needs. The largest nuclear plant in North America, Bruce is already under long-term contract with the provincial power authority and is on track for startup by the second half of this year.
Once it does, the cash will immediately start flowing to TransCanada's bottom line, providing fodder for more dividend growth as well as further investment in growth. That's the fuel for a superior income investing opportunity in this low-risk company.
Disclosure: I have no positions in any stocks mentioned, and no plans to initiate any positions within the next 72 hours.