The Norwegian Economy

Norway is a Nordic country with the third-highest GDP per capita in the world after Luxembourg and Qatar. It is a member of the European Economic Area and not a member of the European Union. It uses the Norwegian Krone as its currency which is considered extremely safe by many analysts and investors. It is a next external creditor of debt and is first on the UNDP Human Development Index. The country is rich in natural resources like petroleum, hydropower, fish, forests and minerals. Even while Norway is a capitalist welfare state, the state continues to hold large ownership of corporations in key sectors. The economy grew in 2010 after being weak in 2008-09. The unemployment is less than 3.5% but there are reports that the numbers don't tell the entire story. All Nordic countries, much like most of Europe, face issues due to poor and often unskilled or under-educated immigrants.
Norway is home to a large number of companies in the petroleum, industrial and service industry. In this article, I introduce a few Norwegian companies that have attractive dividend yields and worthy of closer inspection for investment opportunities. My personal goal is to diversify my portfolio globally - have a large percentage in foreign stocks and not just US companies that get significant portion of sales and profits from abroad.
Dividends as Stock Screen
I firmly believe that dividends are real cash and hard to fake. They are paid out of positive cash flow and while accounting gimmicks (and even fraud) can be used to window dress earnings per share, dividends are typically honest. I use inconsistent dividend history and/or big cuts to exclude stocks. I prefer stocks with increasing dividend amounts in native currency. I do understand that the US dollar amount may vary due to conversion rates but since I don't use dividends as income that does not bother me at all.
I have included a simple chart for each company that shows the NOK (Norwegian Krone) dividend amounts. I was pleased to find that each company has an English website with easy access to Investor Relations section. Some companies make it straightforward to collate dividend history while for others I had to sift through previous annual reports in PDF format. The latest dividend distribution and yield is quoted in US dollars.
Withholding Tax on Dividends
Norway withholds tax on dividends at the rate of 15% for non-resident investors. An individual investor can file for tax credit on Form 1040 if the shares are held in a regular brokerage account subject to certain limitations. Amounts up to $300 ($600 for joint returns) can be claimed directly on the 1040 but greater amounts or carry-forward/backward requires Form 1116. If the shares are held in a tax deferred account like IRA or 401(k) then there is no mechanism to recover the withholding foreign tax and is lost thereby reducing the effective dividend yield. As always, consult your tax advisor on all tax-related matters since each individual case is different and I am definitely qualified to advice.
Fred Olsen Energy ASA (OTCPK:FOEAY)
Fred Olsen Energy provides exploration and production services to the offshore oil and gas industry. It is much smaller compared to its competitors like Transocean (NYSE:RIG), Diamond Offshore (NYSE:DO) and Schlumberger (NYSE:SLB). Fred Olsen manages 9 rigs and vessels that provide services to Anadarko, Petrobras, BP, Total SA and of course to Statoil. Over the last 10 years the company has been positioning itself towards the deep water especially in the North Sea. It now has two deep-water and six mid-water semi-submersible drilling rigs. It had no presence in the Gulf of Mexico at the time of BP oil spill.
Fred Olsen's investor relations website is a bit weak though all quarterly reports are available in English. The company has managed to increase EPS at a fast rate over the last 5 years. The company started paying dividends for the year 2006. The stated policy is to "pursue a yearly strategy to pay a dividend of NOK 10 per share subject to earnings, investment plans and financial strategy." It did pay an extra-ordinary dividend of NOK 10 per share for 2010 and proposed another extra NOK 10 for 2011. The expected dividend amount for US shareholders is $0.70 (each ADR is 5 foreign shares) which gives an approximate yield of 8.2%. It appears that the dividend may not grow at a consistent rate since the large extra-ordinary dividend may not paid for next year but for now the amount is attractive and the P/E is low at 7.3.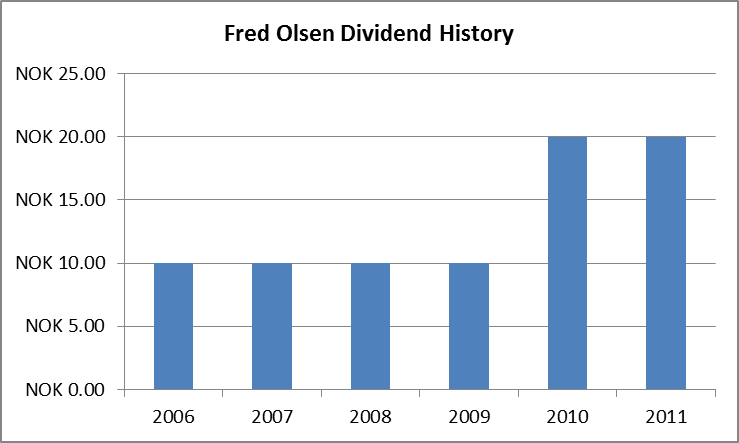 Golar LNG (NASDAQ:GLNG)
Golar LNG is one of the world's largest owners and operators of LNG (Liquefied Natural Gas) carriers. The company is a leader in Floating Storage and Regasification Unit projects as well Floating LNG production units. LNG appears to be abundant and due to lower price in the recent years, many corporations and government are increasing use of LNG to reduce over-dependence on crude oil. As a result, demand for Golar LNG products and services increased and the company has had a great year or two in the stock market. The company is well discussed here by Seeking Alpha experts.
Golan LNG is part owned by John Fredriksen who is known to be shareholder friendly when it comes to dividend distributions since he is often the largest shareholder and biggest beneficiary of large dividend payments. The forward dividend yield is 3.2% assuming a quarterly payment of $0.325 per share. As with other Fredriksen companies, the dividend amount may be inconsistent, e.g., there were no payments for 2009. The dividends come out of cash flow and I was unable to find the latest EPS for FY2011 in the PDF on the company website though dividend history is available. The stated policy is - "to pay a regular dividend in support of our main objective to maximize returns to shareholders. The level of our dividends will be guided by current earnings, market prospects, capital expenditure requirements and investment opportunities." Golar LNG's operational headquarters in Norway but is registered in Bermuda. Thus, no foreign taxes are withheld from the dividends due to US tax treaty with Bermuda. In this respect, Golar LNG is much like other Fredriksen's holdings like Seadrill and Golden Ocean Group.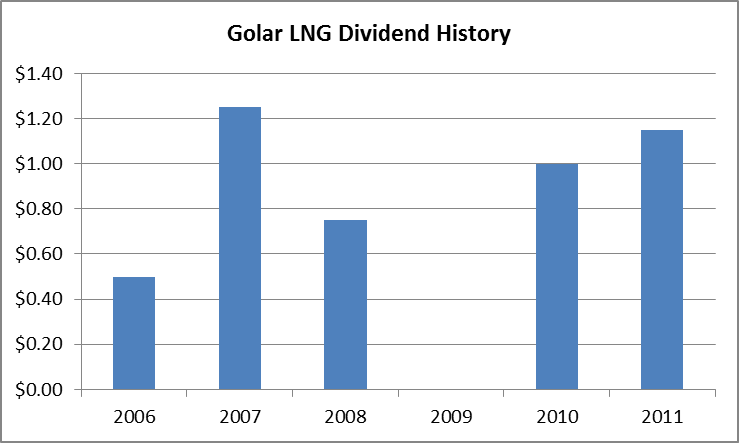 Marine Harvest ASA (MNHVY.PK)
Marine Harvest is the world's leading seafood company and the largest producer of farmed salmon. This is also one of John Fredriksen's companies and pays a good dividend yield. It has been discussed in reasonable depth by the Seeking Alpha community. However, I did not dig deeper into it given inconsistent dividend history. There was no dividend distribution in 2008 and 2009. The amount was again reduced in 2010 and the company has stated that the scope for a dividend distribution for 2012 is limited given the low spot prices for salmon and board's desire to strengthen the group's financial position.
Seadrill Limited (NYSE:SDRL)
Seadrill is an offshore deep-water drilling company that is registered in Bermuda but has operational headquarters in Norway. It is a relatively new company having been around only for 7 years. It acquired a few older drilling companies like Smedvig, Odfjell and Eastern Drilling and has grown rapidly since then. It operates a fleet of 62 units that comprises drillships, jack-up rigs, semi-submersible rigs and tender rigs that allow it to offer services ranging from shallow to ultra-deepwater areas. It has one of the most advanced fleet though that has required the use of large debt for the capital expenditure. Seadrill is well covered and followed by the Seeking Alpha investing community and there are multiple articles that detail the case for investing in Seadrilll.
It is one of John Fredriksen's holdings and like many of his other companies strives to pay good dividends. The company states that it has an "objective to generate competitive returns for the shareholder which will be supported by frequent distribution of cash dividend. The level of dividend will be guided by earnings expectations, market prospects, current capital expenditure programs as well as investment opportunities." The dividend history is a bit spotty with widely varying dividend amounts. Even though the operational headquarters of Seadrill are in Norway, it is registered in Bermuda so no taxes are withheld on dividend paid due to the tax treaty between US and Bermuda. This is similar to some of the other shipping companies that have chosen Bermuda as their country of registration to take advantage of favorable tax laws there.
This may not be one of the steady dividend growth investments, but more of a total returns company that may even see price volatility due to the crude oil prices, large levels of debt, inherent risks associated with deep-water drilling and other competitive pressures. I personally believe in their modern fleet and the growing global need for oil exploration and drilling activities in ultra-deepwater areas. I was lucky to make a small investment in Seadrill at the low price of $25 last year and am considering investing more on price dips.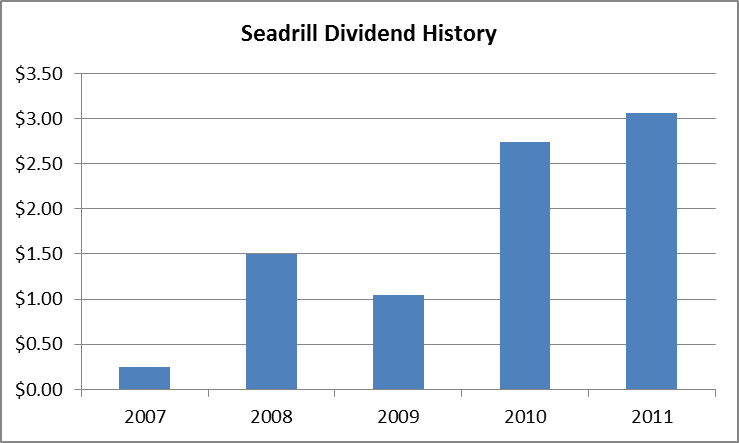 Statoil ASA (STO)
Statoil is a fully integrated petroleum company that is majority owned by the Norwegian government. It was formed in 2007 with the merger of Statoil and the oil and gas division of Norsk Hydro. It is the largest company in the Nordic region by sales and by market capitalization. Statoil also operates retail outlets in a few European countries. Its biggest oil fields are in the Norwegian Continental Shelf and in the North Sea. Statoil is now diversifying and reducing over-dependence on Norway for its proven oil reserves. It has entered the Canadian oil sands, Bakken shale via an acquisition, entered Brazil as well as Africa as well.
Statoil has an investor friendly website that gives past financial reports as well foreign taxation issues. The company states that it has an ambition "to grow the annual cash dividend, measured in NOK per share, in line with long-term underlying earnings. When deciding the annual dividend level, the board will take into consideration expected cash flow, capital expenditure plans, financing requirements and appropriate financial flexibility." Statoil pays out dividend once a year and the amount peaked in 2006 and then reduced for three years - generally a big negative in my humble opinion. But I see that the company has now returned to more manageable payout ratio and reasonably dividend yield for a big oil company. The latest dividend indicated dividend amount is $1.15 per share that gives a forward yield of approximately 4%. I have included STO on my watch list for now since I found Total SA (NYSE:TOT) and Shell (NYSE:RDS.A) to offer better yield and investment opportunities. It does appear that Statoil may offer greater potential for total returns due to their recent oil finds and their smaller scale compared to the big boys.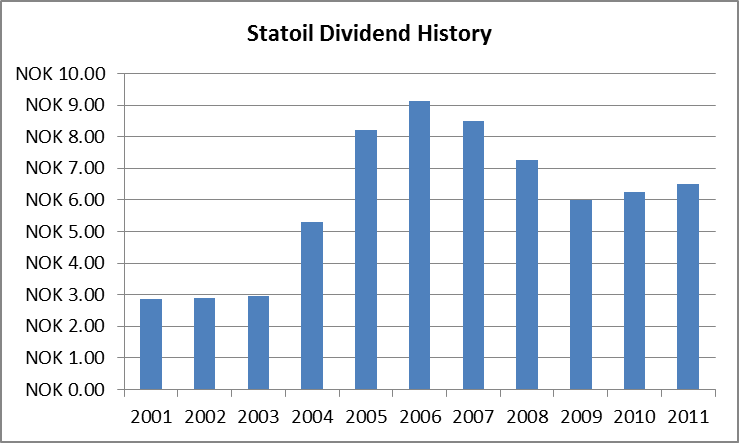 Telenor ASA (OTCPK:TELNY)
Telenor is a multi-national telecom giant that has huge operations in the Nordic countries, Central and Eastern Europe and even Asia. It has more than 140 million mobile subscribers and offers broadband TV services as well. It owns a 31.6% stake in VimpelCom that gives it access to 19 more markets. Telenor now has almost 100 million subscribers in Asia.
Telenor has managed to increase revenue and subscribers every year for the last 5 years and has rewarded the shareholders with decent dividend distributions. The dividend grew consistently from 2001 till 2007 but was unfortunately cut in 2008. The dividend was reinstated in 2009 but at lower-levels. The growth has returned and the latest indicated amount of $2.65 implies a yield of approximately 4.8% on the OTC exchange. While the dividend yield is not high and comparable to other telecom giants, the growth has been good in the last two years. I am not ready to buy it yet since the dividend was cut to zero in 2008. I will consider investing in it perhaps later next year as and when I have more funds available.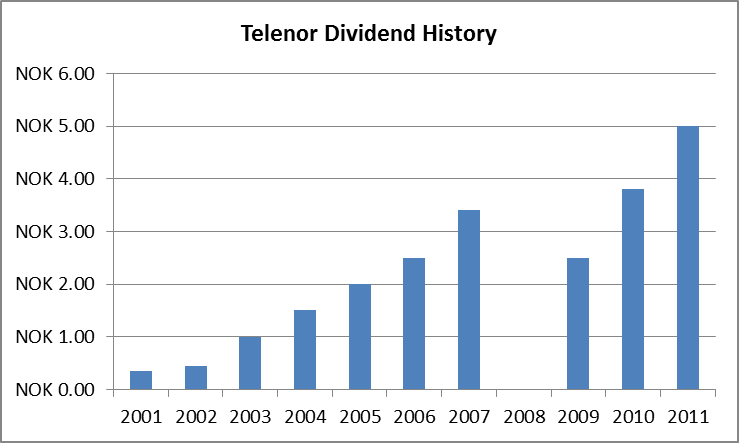 Yara International ASA (OTCPK:YARIY)
Yara is a leading fertilizer and chemical company. It was demerged from Norsk Hydro in 2004. It produces nitrogen fertilizers, dry ice, nitrates, ammonia and urea. It has production, sales, service and R&D operations around the world in every continent. It is the world's largest producer of ammonia, nitrate and complex fertilizer with more than one quarter of the global ammonia trade.
Yara was listed on the exchange after the demerger in 2004 and has a great dividend growth history since then. The company states its objective as to "pay dividends averaging at least 30 percent of net income over the business cycle. The company's ambition is to deliver steady growth in absolute dividend payments." The company is growing nicely and the forward dividend yield is approximately 2.6% based on expected payout of $1.22 per ADR. The yield appears low but the dividend is expected to grow at a fast pace. The P/E is also extremely attractive at 6.35 based on 2011 EPS of NOK 41.99. What's not to like about Yara?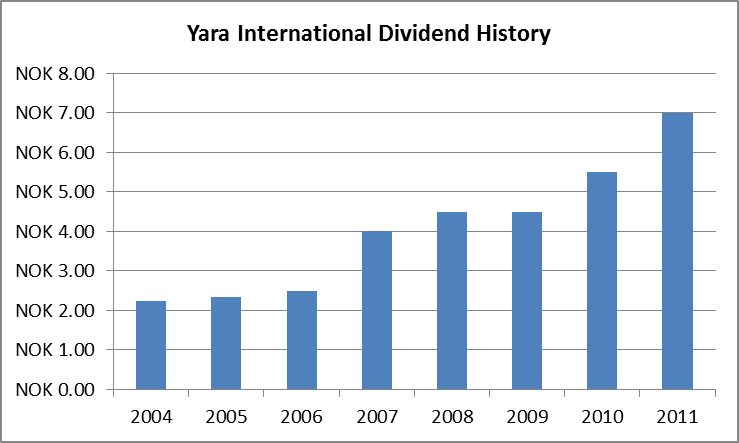 Other Norwegian Stocks
I briefly looked at some of the other stocks as well. Norsk Hydro (OTCQX:NHYDY) is a major aluminum and energy producer. However, the EPS has declined in the last few years and the dividend has been reduced. Prosafe (OTCPK:PRSEY) did not pay any dividends in 2008. Petroleum Geoservices (OTCPK:PGSVY) does not provide good dividend information and had poor results in 2010. Orkla (OTCPK:ORKLY) has had poor results in the last 2 years though the current dividend yield is pretty decent. DNB ASA (OTCPK:DNHBY) had poor financial results and the dividend declined steadily from NOK 4.5 in 2007 down to 0 and then only NOK 1.75 in 2009. Similarly, Storebrand (OTCPK:SREDY) had no dividend payments in 2011.
Concluding Remarks
The US market is at a 4-year high and there are few bargains in the dividend bucket. I am not sure whether US will continue to be an economic superpower in the coming five decades in the face of mounting federal debt and increasing trade imbalance. I also want to reduce geo-political risks and am slowly selling some of my US stocks and investing sale proceeds along with any new savings into foreign dividend paying companies. What are you doing? Are you looking abroad? Why? I look forward to a lively discussion in the comments section of the article. I find Yara International and Telenor attractive and would be looking to buy them in the coming months.
Disclosure: I am long SDRL. I plan to buy Yara International and Telenor in the coming few months.