Shares of dry bulk shipper Genco Shipping and Trading Ltd (NYSE:GNK) are down 9% so far in 2012. This decline is impressive when considering the Baltic Dry Index is down nearly 50% from the start of 2012.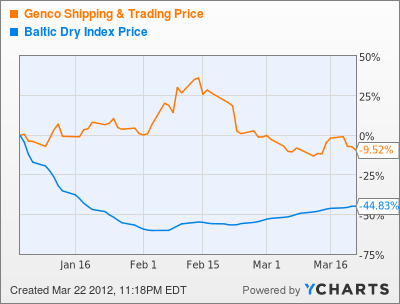 One potential reason for the divergence between GNK and the Baltic Dry Index is that GNK has been trading significantly below book value. Currently, GNK is trading at just 0.17 times book value. While a discount to book value can be a compelling reason to buy, it has not proven a wise reason to buy GNK in the past.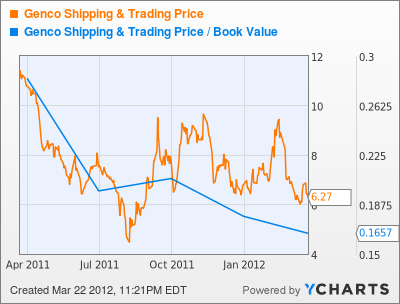 Investors could have argued that GNK was a buy in early 2011 based on its price/book of just 0.3. However, its price/book has fallen to a new low of 0.16.
A more important indicator for GNK stock is the Baltic Dry Index. The level of the Baltic Dry Index determines how much GNK can charge for shipping dry bulk. Historically, GNK stock performance has been closely tied to the Baltic Dry Index.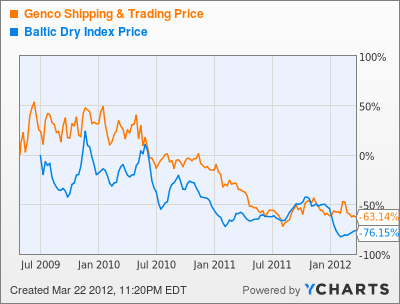 In the past, whenever GNK outperformed the Baltic Dry Index one of two things would happen. Either the Baltic Dry Index would rally and GNK would move sideways, or GNK would fall to levels more in line with the Baltic Dry Index.
Conclusion
Right now it is not prudent to buy GNK because it is much too extended relative to the Baltic Dry Index. A more prudent decision for investors is to wait for a further turn higher in the Baltic Dry Index as a confirmation sign to buy GNK. Even if the Baltic Dry Index rallies sharply, it is possible that GNK will not move much because it has already rallied significantly. Another possible outcome is that GNK may fall sharply if the Baltic Dry Index does not move higher. In any event, the prudent decision is to stay on the sidelines for now in GNK.
Disclosure: I have no positions in any stocks mentioned, and no plans to initiate any positions within the next 72 hours.