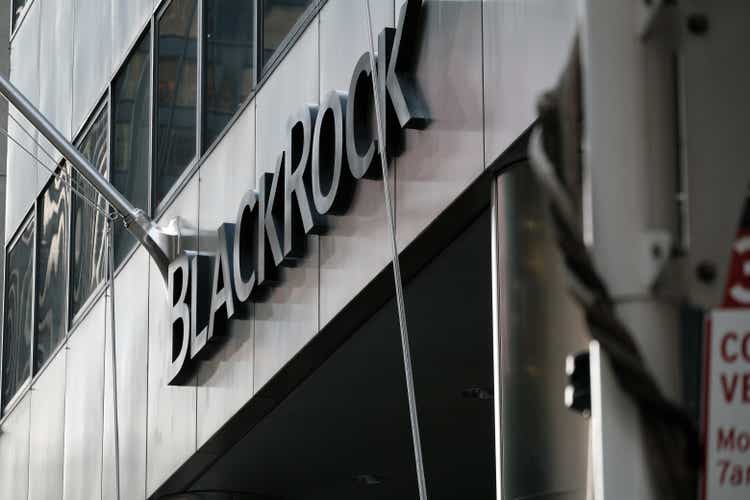 BlackRock (NYSE:NYSE:BLK) isn't the kind of stock that you'd expect to be trading nearly 30% lower than recent highs. The world's largest asset manager has been an under-the-radar secular growth story, but after the recent selloff, the stock trades at compelling valuations. This is a name that has guided for 5% long-term organic fee growth, which may lead to double-digit bottom-line growth. BLK has a net cash balance sheet and returns the vast majority of earnings to shareholders through dividends and share repurchases. The stock is priced for double-digit returns over the long term, representing an attractive buying opportunity from a secular story.
BLK Stock Price
After peaking at around $973 per share in late 2021, BLK has since pulled back 28% to now trade at around $695 per share.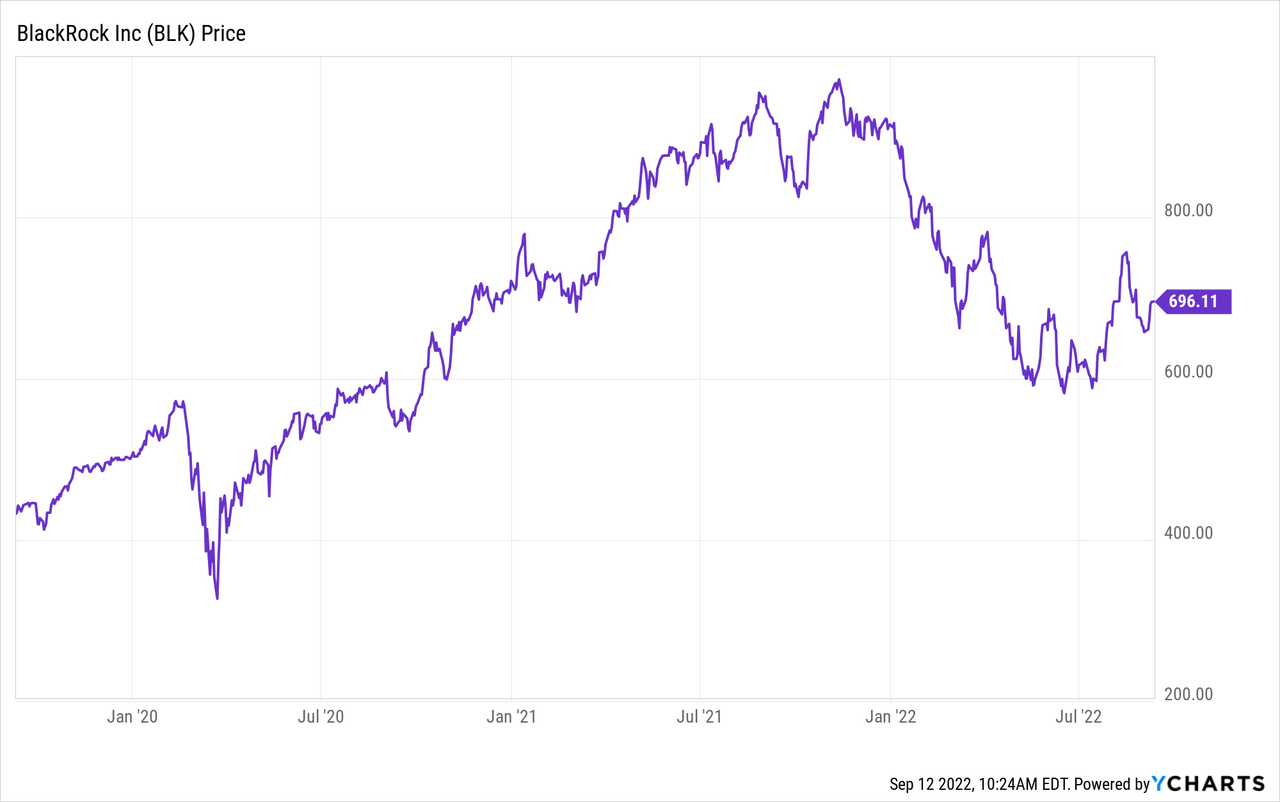 The stock does not trade far from where it did 3 years ago, reflecting multiple compression from 30x earnings to the roughly 20x earnings it now trades at. The stock appeared to have been hit alongside volatility in the equity markets, which on the surface makes sense considering that BLK is an asset manager.
BLK Stock Key Metrics
Amidst volatility in the broader markets, BLK still generated 5% organic growth in both assets and base fees (on a trailing twelve months basis).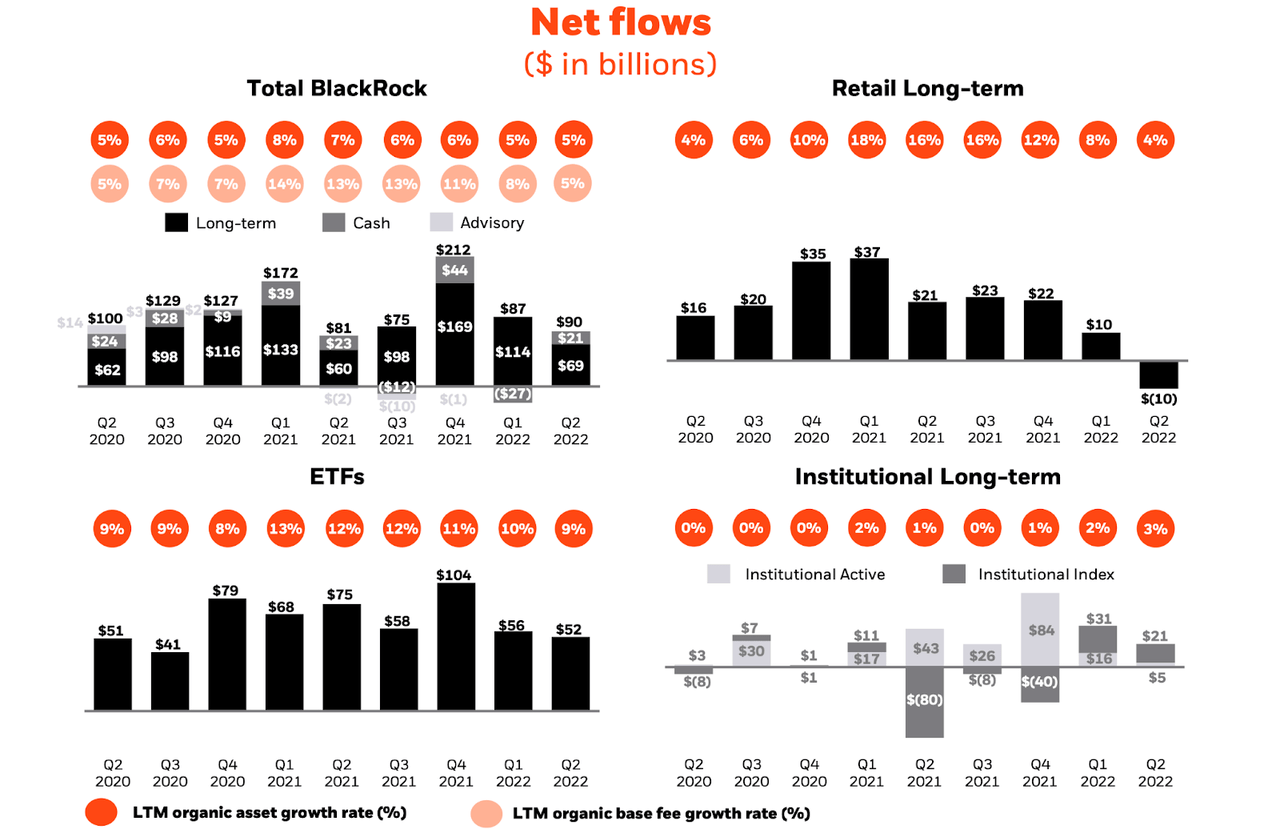 BLK did see weakness in retail long-term flows, which is not surprising. On the conference call, management noted market declines and the strength of the dollar reduced the value of assets under management by $1.7 trillion since the end of last year.
BLK did see some volatility in profitability, with operating margins declining over 300 basis points and net income per share declining 30%.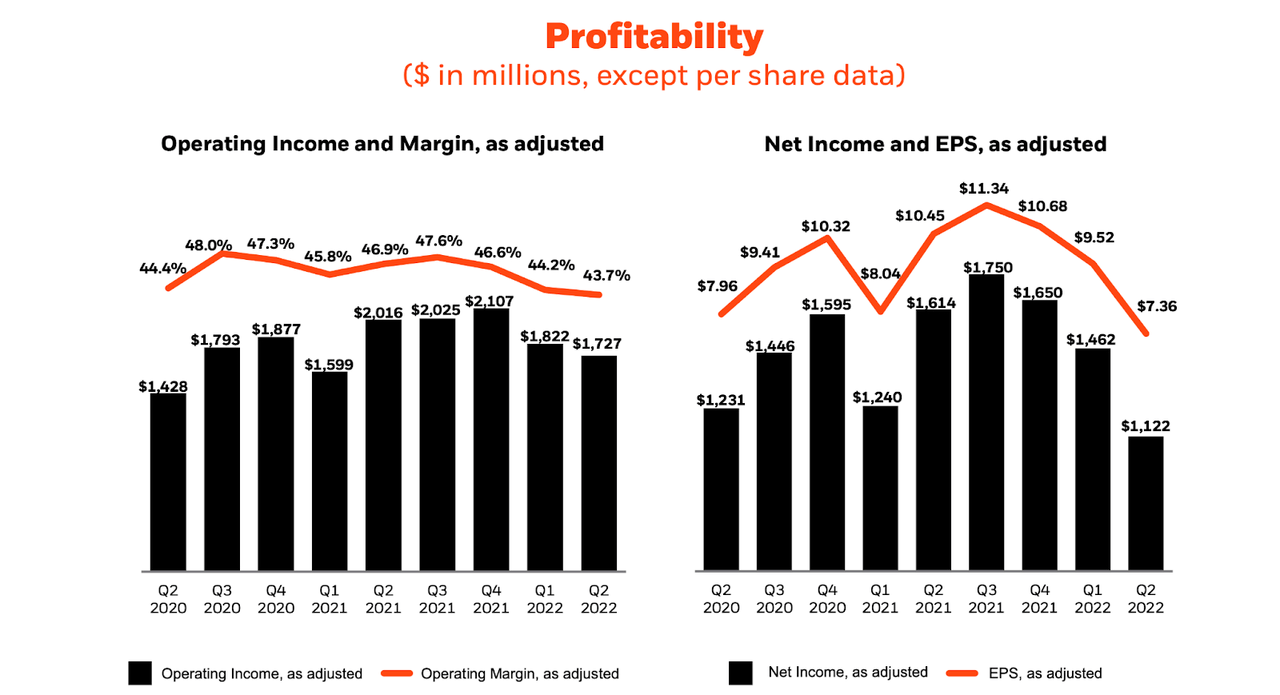 BLK cited lower performance fees and higher volume-related expense fees as being the main drivers for the margin compression. That has me expecting stronger growth next year, assuming a recovery in equities.
BLK continued to reward shareholders with growing dividends and $500 million of share repurchases. I consider that return profile sustainable on account of the $13.8 billion of cash & investments versus $6.6 billion of debt on the balance sheet.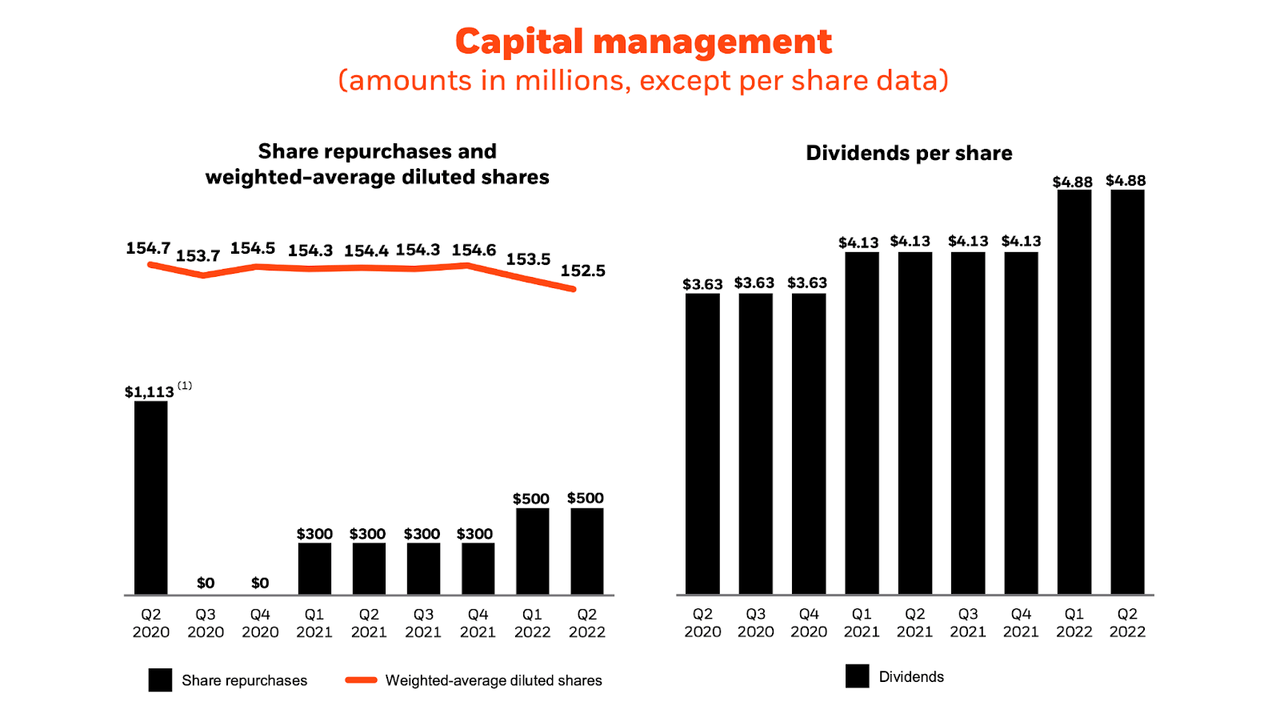 I note that BLK has paid out around 70% of GAAP net income to shareholders through dividends and share repurchases over the past 3 years.
Is BLK Stock A Buy, Sell, Or Hold?
BLK remains a secular growth story. The rise of passive investing has led to increased interest in ETFs. BLK expects global ETF AUM to reach $15 trillion by 2025.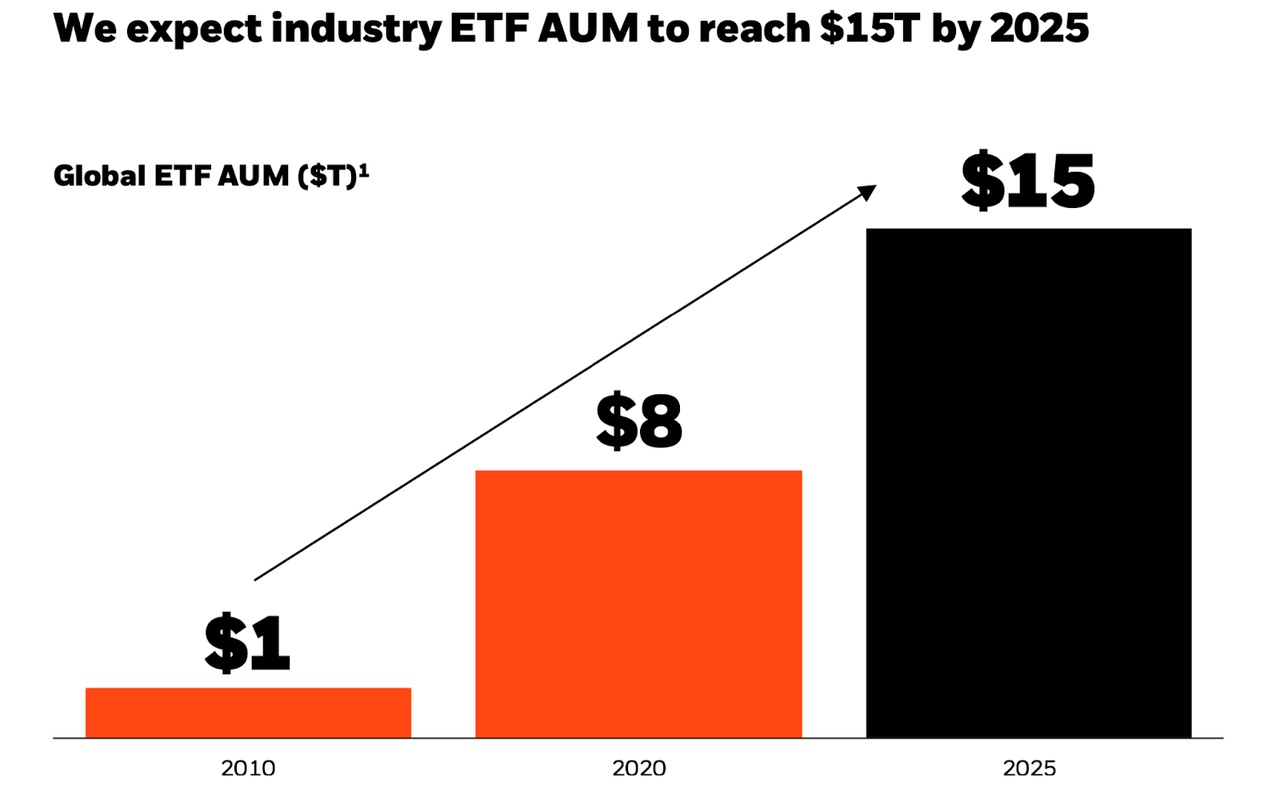 Within the ETF thesis, there is a trend towards both lower fees as well as differentiated strategies. That trend inherently benefits the largest providers like BLK due to being made possible only with scale.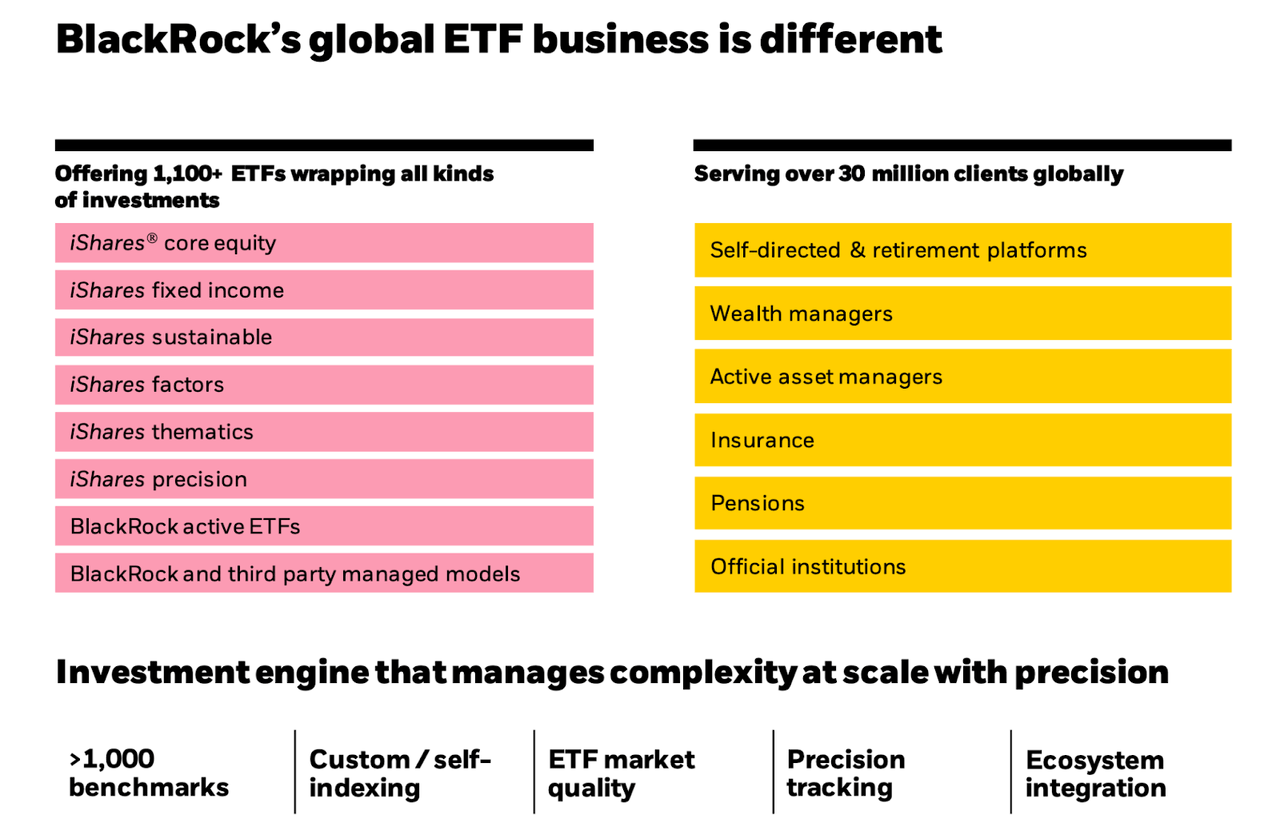 BLK trades at only 20x forward earnings, in spite of consensus estimates calling for double-digit growth thereafter.

This is a name which has sustained solid organic base fee growth across various market returns, making the valuation appear conservative.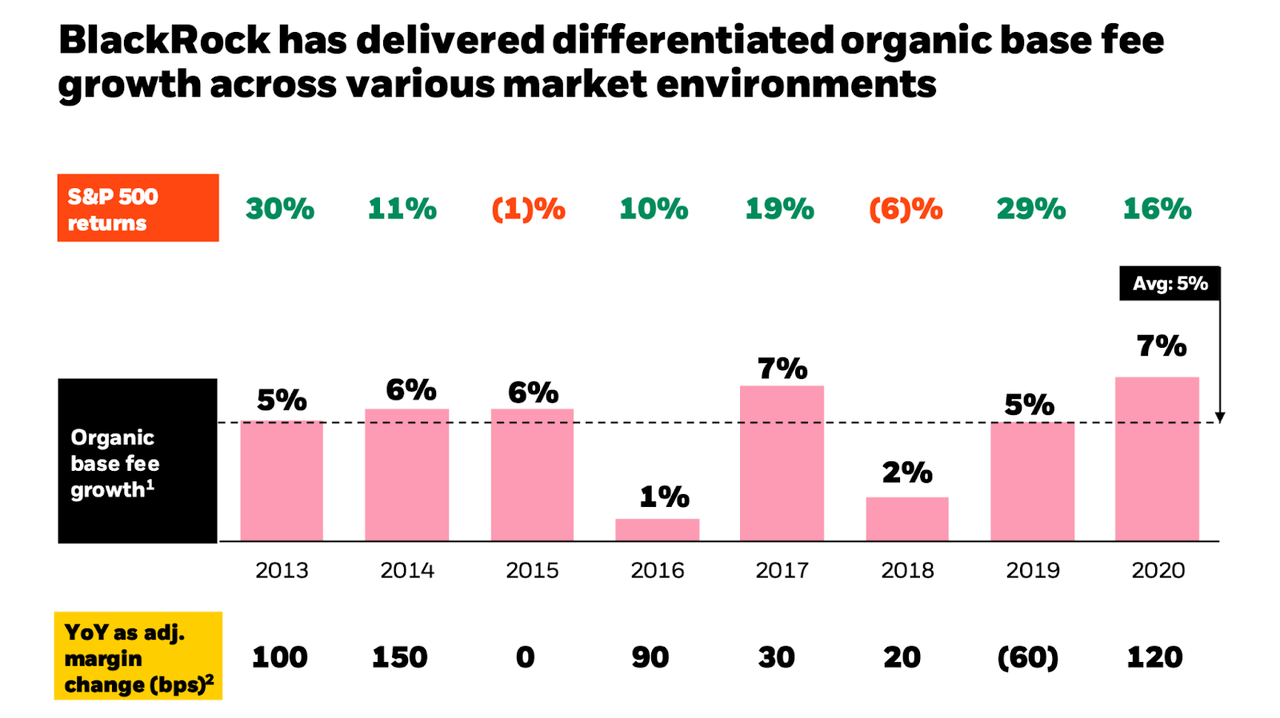 Typically, I'd expect to see clear secular growth stories trade at higher valuations. At recent prices, the stock is trading at a 1.6x price-to-earnings growth ratio ('PEG ratio'). Yet this is the kind of name that I could see trading at a 2x to 2.5x PEG ratio, or 26x to 32x earnings. That implies upside of 26% to 57% from multiple expansion alone. Throw in the double-digit earnings growth rate and that return potential gets even better.
Another point to consider is that the dividend yield at 2.8% is at the high end that the stock has typically traded at over the past decade.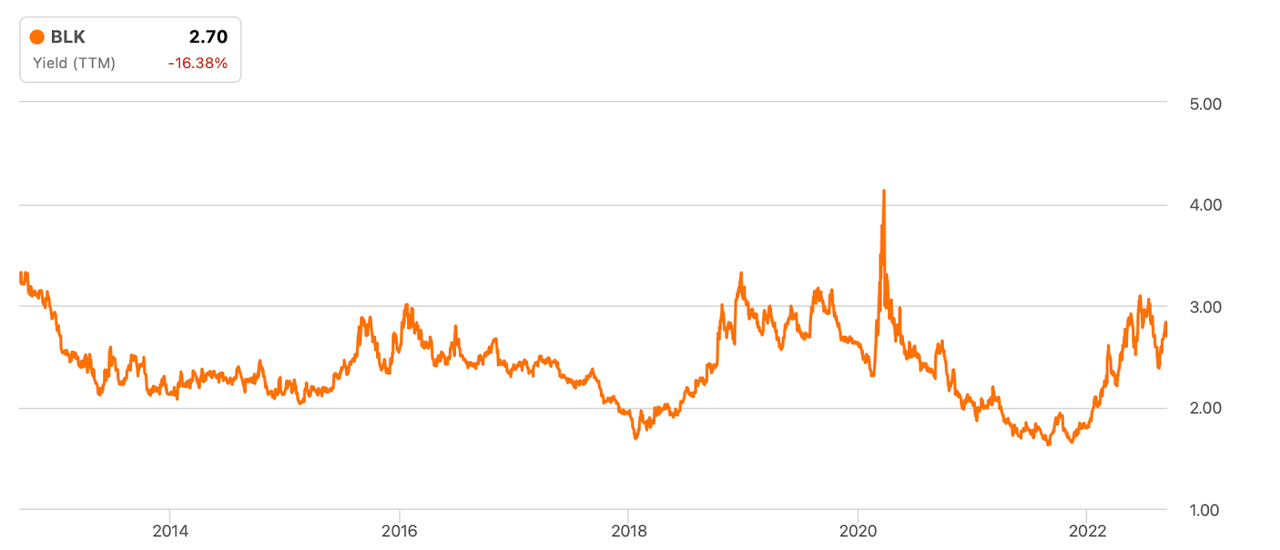 That sub-3% yield might not sound so impressive, but when earnings are growing at a double-digit clip that implies strong long-term dividend growth potential.
What are the key risks? I have mentioned that BLK's large size helps to increase the moat and growth of the business. But BLK does have sizable competitors from the likes of Vanguard and Charles Schwab (SCHW) among others. It is admittedly difficult to explain how these are not commoditized products in which investment fees are a race to the bottom. Both Vanguard and SCHW have their own online brokerage platforms from which they can push their own investment products - that may give them a long-term edge over BLK. Price competition may erode at margins over the long term, but I expect new investment products to help offset such margin compression. Another risk is that of backlash against, among other things, its push for ESG. Texas recently blacklisted the company for its efforts to reduce carbon emissions in the oil and gas industry. BLK's large size may give it a competitive edge but also puts it in the limelight, for better or worse. I rate the stock a buy on account of the reasonable valuation, growing dividends, and ongoing share repurchases.