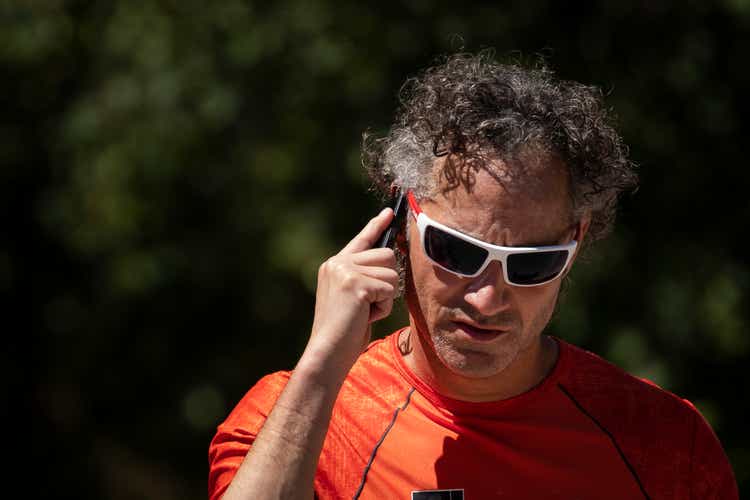 Thesis:
Palantir Technologies Inc. (NYSE:NYSE:PLTR) is an undervalued software stock especially compared to its competition. It has become oversold this past month, losing nearly 22% of its share price in the last month. What's interesting is a lot of the selling is coming from retail investors, of which shareholder count has dropped 8% year-over-year, but institutions have increased their holdings by nearly 10% in the same time frame. I believe the reason for this is that the institutions understand how significantly undervalued the company is, how strong their balance sheet is, and are demonstrating consistently high commercial customer growth rates.
What are the Bears and Bulls Saying About Palantir Stock?
Bears Feel Really Smart Right Now
Palantir bears are feeling good right about now, and it is easy to see why. Palantir has been publicly traded for almost two years, and it is 26% lower in share price than the day of its DPO. Palantir bears' main thesis typically is around the company diluting shareholders, which has so far been true, with shareholders being diluted over 28% since the company went DPO. The other two main bear theses that surround Palantir are:
Palantir is a consulting company and most of their revenue is government-dependent. We will discuss further how this may be perceived but is incorrect.
The company is overvalued, not profitable, and now missing their 30% sales growth forecast. The stock does still have bears that are extremely short on the company with the short interest of the stock at nearly 7%.
Bulls are Getting Impatient, Frustrated with Earnings, Concerned About Thesis
Palantir bulls rightfully are frustrated with the company's latest earnings results and are concerned about the stock reaching their initial long-term expectations. This company had retail investors screaming from the rooftops that this is a trillion-dollar market cap stock in the making. Palantir has a very large retail investor following totaling nearly 52% of all shares, and this group of investors has been very vocal on their feelings of disappointment and concern.
All you have to do is search for Palantir articles on Seeking Alpha, check the Reddit boards, type $PLTR in Twitter, or watch the hundreds of videos posted on YouTube about the stock. Now in full transparency, I am a retail investor of Palantir, and this is my number one stock holding. I too have a YouTube Channel and podcast on investing, and over 45 videos on the stock, as I am very bullish on the stock.
However, I am very objective in my perspective on this company and am aware of the risks and rewards it could present. My time horizon for this stock is at least 10 to 20yrs, as long as my thesis is intact. Once a thesis is broken, I have to truly reconsider my position in a stock and if it is time to get out. I will share my fair criticisms and risks surrounding this stock but also, why the stock is undervalued at the moment and requires patience and perspective to reap the rewards I believe it will deliver.
How Much Risk Does Palantir Stock Present?
The definition of risk is to have something valued that is exposed to danger, harm, or loss. If Palantir was your only stock that you held in your portfolio, I would agree you have a lot of risk in this stock. However, if you have a well-diversified portfolio, a time horizon longer than five years, and just want to beat the market average in those five-plus years, then there is limited risk in Palantir in my opinion.
Palantir is a stock not for short-term shareholders, nor one for the faint of heart, as it is very volatile, and not for investors who cannot get over the management style of the company. This stock holds a beta of 1.82, meaning when Palantir's stock fluctuates up or down it is almost 2x the size of what the market average is.
This reason, and the lack of profitability Palantir has currently, is why institutional investor holdings are not over 50% just yet. It is also the reason the retail investing community has gotten frustrated from the whiplash their shares have taken. The risks are different for every investor when it comes to Palantir or any stock because everyone's situation is unique. Therefore, it is important to know yourself as an investor why you are investing, understand your risk-tolerance, and when you need the money. If you have patience, can dollar-cost average during a long-term horizon, understand the nature of Palantir's customers, and business model, then you will not consider it risky to be a Palantir shareholder.
I believe the Institutional Investor Community is understanding these things more and more, and as a result, the number of institutional shares held since December 2020 has increased over 3.5x!
The Ugly
Let me begin by saying I was disappointed by the Q2 2022 earnings results, considering the revenue they achieved was what they said their base case was for Q2 expectations during Q1. Palantir also made this their third quarter in a row missing analysts' expectations on earnings. I don't care who you are in the stock market, three misses in a row never provide analysts or investors additional confidence in your company.
I also was not a fan of how leadership conducted themselves on the earnings call, getting short with those asking questions and sharing that some of their customers do not even like them but must use them because their product is that good. It is one thing to be overly confident or even slightly arrogant on an earnings call if you are exceeding all expectations, but it is a totally different one when performance has been consistently declining in different areas.
Management dropped their commitment for 30% annual growth in 2022 and dropped a bomb on investors when CEO Alex Karp said 2025 is when the company will reach profitability. The company is growing their government revenue 13% year-over-year, but this metric has decreased five quarters in a row, leaving much concern for investors. Palantir also had to take a loss of over $135M for their losses from their SPAC investments.
The sequential decline in stock-based compensation was only 2% less than the previous quarter and was $145.7M. Palantir had a net loss of $179.3M for their Q2 2022 performance, because of all these factors and due to significant government revenue pushing out due to timing of government budgets and deal cycles.
It is All About Perspective, Patience, and Expectations
I believe the short-term expectations of Palantir stock have been over-zealous from myself, other retail investors, and institutional investors. In my opinion, there are several reasons expectations got out of hand quickly, and perspective was lost. Here are the main reasons listed below:
The amazing capabilities of Palantir's software and outcomes it has proven already in the government sector.
The wild success this non-government entity had selling to the U.S. and other western allied governments for nearly 17 years before coming public.
The salesmanship of Alex Karp and the ability to keep this company generating meaningful revenue annually without a salesforce.
Being co-founded by Peter Thiel, one of the world's greatest private investors and former founder of PayPal. He also is the largest insider shareholder at 7% of all shares.
Now let's bring everything into perspective for both the bears and bulls for this stock. There are some fundamental truths concerning this stock and company right now, starting with the stock being undervalued from a price-to sales ratio of 9, which is significantly lower than its peers both in price to free cash flow as well as revenue per employee and revenue per customer. Below you can see C3.ai (AI) and Alteryx (AYX) do not even produce free cash flow, and Snowflake (SNOW) is over 3x more expensive regarding price to free cash flow than Palantir.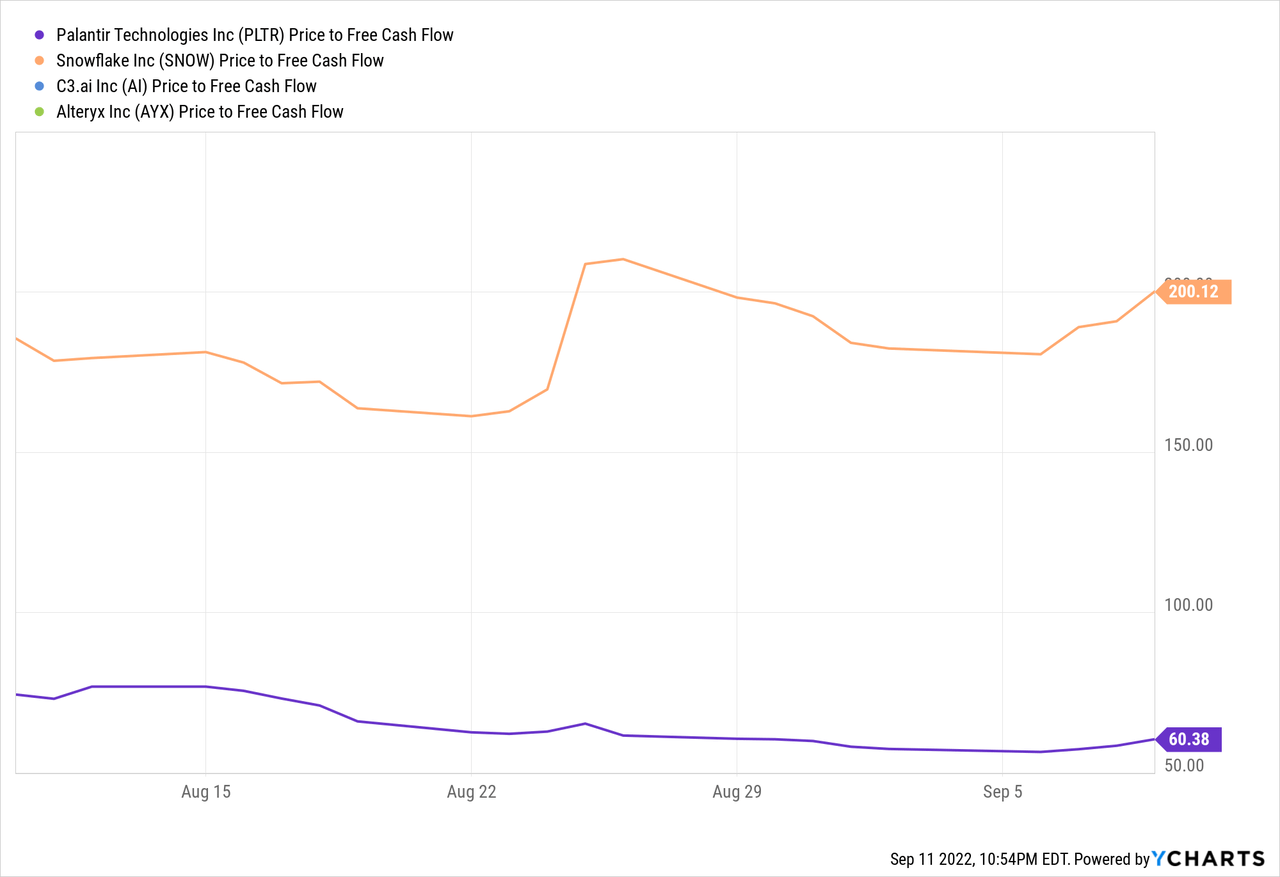 The government revenue is not always going to be decelerating as government spending goes in cycles and is very lumpy in nature. This past July, a record-breaking Department of Defense budget was approved by the senate this year for $858 billion and is projected to grow to an annual budget of $1 trillion by 2026. These past seven months we have had the war between Russia and Ukraine going on, with Palantir assisting the country of Ukraine any way they can with their Gotham & Foundry platforms. I believe there could be increased opportunity for Palantir to be able to assist other NATO countries in the defense against Russia with their software.
The United States is having increased tensions with China and Russia as their relationship grows intertwined against our country. There is an increasing risk of military conflict between China and Taiwan in the future, as China has said in public it wants to take over Taiwan. I say all of this because our world is becoming more conflicted, complex, and headed towards more de-globalization, and Palantir is one of the few companies in the world that thrives in these scenarios as opposed to crumbling. What many investors and other companies criticized Palantir for in the past may be one of the biggest catalysts yet to be fully realized, with the company only supporting the West and its allies.
As stated, before Palantir has an exceptional balance sheet and is building their company their way, whether investors like it or not. The reassuring thing is they have plenty of assets and cash to get to the $4.5 billion annual revenue goal in 2025. The company is seeing significant growth in its U.S. commercial business, and it was the diamond in the rough for their Q2 FY22 earnings report.
We can see the inflation the European countries are going through is significant and it has impacted the commercial customer growth outside the United States for Palantir. This past Monday, September 5th, the Euro dropped below 99 U.S. cents for the first time in over 20 years and the latest inflation rate was 9.1%. I bring this up because when you look at the 20 net new commercial customers Palantir acquired in Q2, only three of them were outside the United States.
What to Watch for With Palantir
There may still be some short-term turbulence for growth stocks like Palantir, with more interest rate hikes to come globally, including in the United States. However, Palantir's balance sheet is a flawless fortress for the company to stand on and grow their business while other companies are letting go employees. Palantir plans on having a 25% growth in employee headcount completed by the end of 2022! This is just one of many indicators that we could see Palantir hitting an inflection point for their business.
Remember, the ramp-up time is anywhere between 9-12 months for new Palantir sales employees, so we won't see the true benefits of the sales reps hired today until next year. Another indicator is Palantir has received significantly increased institutional investing since being a public company these past two years, as stated earlier. We know there is a finite amount of losses Palantir can achieve on their remaining SPAC investments and that negative hit to the operating income will be gone.
This company is not perfect by any means, and I believe you should never "marry" a stock but invest in your thesis and the fundamentals of a business. I believe based off the fundamentals of Palantir's business and where its share price is today, the stock is very undervalued for long-term investors. You also have to really understand how your company makes money and how their business model operates. Remember, Palantir has a three-tiered business model of (acquire, expand, scale) in which they invest in the customer upfront and ensure their problems get solved with the software and value is realized quickly. This is still a complex process that requires a forward engineer and some hand-holding for this process to be a success. Most of their customers don't yield a lot of revenue and profits until they reach the scale phase, but when they do the growth is exponential in nature, and switching costs are much higher due to how entrenched the customer is in the platform.
I will be looking out for continued commercial customer growth in the next few quarters that mimics what they have achieved previously. You will want to check to see at the end of the year if their revenues for each tier of their business model grew year-over-year. I am also expecting better government revenues in 2023, as the new government budget will be in effect then. I also want to see some sort of freemium model come out to increase the number of developers using the Foundry platform, or a major expansion on Foundry for Builders (their program for net new potential customers). Lastly, I would like to see more participation in technology conferences and publicizing the effectiveness of their software platform. Overall, I believe we see improvement in the share price and opportunities for Palantir to succeed in the long term.