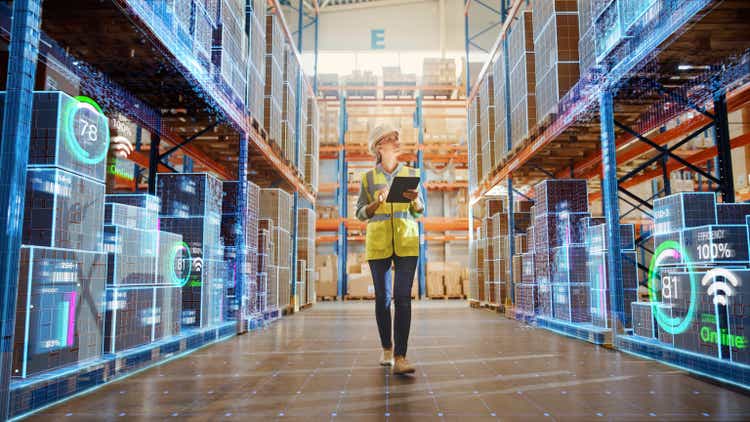 The technology and competitive landscape in the cellular internet of things ("IoT") market has grown over the past decade. Forecasts indicate that about 2.5 billion modules will be shipped by the end of 2022. It comes against the reduction of the 2G and 3G connectivity technologies taking up less than 10% of the market share in favor of the 5G and 4G technologies. Suffice it to say that the IoT module market has ventured into a consolidation phase, with several mergers and consolidations taking center stage.
Thesis
Sierra Wireless, Inc. (NASDAQ:SWIR) expects to ramp up its product lines especially for the 4G and 5G XR series into key markets to increase sales into 2023. The company hopes that the XR series routers will be certified on more global carrier networks after it closed deals with major utilities in Q1 2022 and other leading industrial manufacturers. Sierra is also riding on the business acquisition matrix by Semtech Corporation (SMTC), a move intended to bring innovation to IoT use cases and improve the bandwidth capabilities of cellular networks.
Business Overview
Sierra Wireless is a leading Canadian IoT solutions provider that helps clients to unlock the value of the connected economy. Its edge-to-cloud solutions include embedded and integrated networking solutions that convert data into intelligence. As we know, the digital supply chain demands that end-to-end tracking should have multiple connectivity nodes. Here is where Sierra comes in since it offers high-margin IoT cloud services. Out of the total revenue of $188 million generated in Q2 2022, about $139.7 million was attributed to IoT solutions. These sales represented an increase of 54.7% from $48.3 million realized in Q2 2021.
In September 2022, Sierra Wireless announced the launch of its AirLink RX55 LTE cellular router solution to advance the industrial IoT space and deliver secure intelligence to the critical applications on both the public and private network. The main element here of this mobile router is its optimization that helps clients in adapting to the rapidly advancing industrial IoT that needs the highest 5G performance and end-to-end security.
IoT is still a big business segment for Sierra and a major contributing factor that attracted Semtech, a leading global supplier of high-performance analog and mixed-signal semiconductors as well as the advanced algorithm. Back in August 2022, Sierra announced a definitive agreement where Semtech would acquire all of Sierra's outstanding shares for $31 per share in an all-cash transaction, valuing the company at $1.2 billion. In the deal, which is expected to close later in 2022, Semtech hopes to generate up to $40 million of run-rate operational synergies within the first 12 to 18 months post-transaction.
There has been a positive market response to Sierra's near acquisition, as opposed to Semtech's trading position in the past year.
Sierra Wireless has gained 89.83% against Semtech's decline of 63.44% (YoY). Already, Sierra's trading price is just less than 2% shy of the $31 per share buying price offered by Semtech. On its part, Semtech's decline was partly attributed to the downgraded forecast of adjusted earnings for Q3 2022 of 63 cents a share on sales of $175 million from 87 cents a share on sales of $209 million realized in Q2 2022. Analysts expected stronger guidance, with earnings at 90 cents a share against sales of $215.6 million in Q3 2022. This guidance will be lower than the earnings of Q3 2021, where Semtech stockholders earned 74 cents a share on sales of $194.9 million (representing a 10.2% decline in sales- YoY).
The apparent decline in Semtech was attributed to the market's pricing in the Sierra transaction expected to take place in the fiscal year 2023. It is also vital to note that the two companies will remain separate entities until the closure of the agreement. Until then, Semtech decided to lower its net sales guidance for 2023 to between $170 million to $180 million based on its booking trends and the company's backlog while entering into Q3 2022. This expected sales range does not take into account the results of Sierra Wireless but prominently considers macro-related events such as the Covid19-related shutdowns and factory maintenance procedures. In my opinion, Semtech's price return poses a stronger upside potential in the near term, considering it is trading ⁓68% below the 52-week-high.
Consolidation
The business combination between Sierra Wireless and Semtech is an interesting mix, considering Semtech is a non-cellular chipset provider while Sierra Wireless is a cellular IoT and router vendor. As an analog and mixed-signal semiconductor manufacturer, Semtech's main area of focus involves long-range or LoRa technology for IoT applications. Accordingly, Semtech will seek to integrate its LoRa modulation technology with Sierra's cellular modules. The latter uses technologies that include NB-IoT and LTE-M as well as combining both companies' cloud services entities.
In my view, there is a significant market for the low-power wide-area-network (LPWAN) of which LoRaWAN is its most adopted type.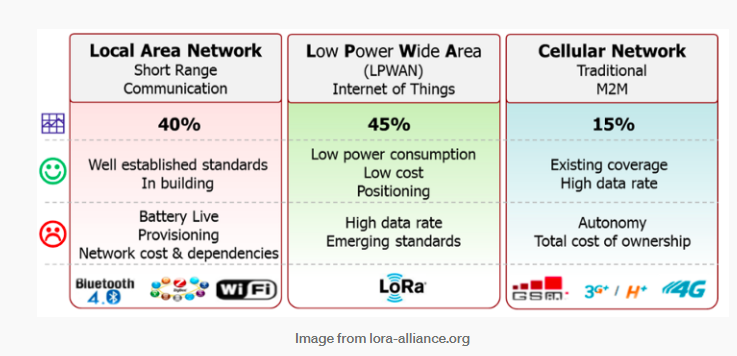 We are looking at wireless telecommunication wide area networks (WAN) that allow long-range communication at a low-bit rate among connected objects like sensors operated on a battery. As of March 2021, there were at least 178 million devices connected to more than 140 public and Private LoRa networks globally. Various LPWAN modules utilize either licensed or unlicensed frequencies as well as proprietary or open specifications. On its part, LoRaWAN (the medial access control MAC layer protocol implementation for LoRa) is increasing its vigor in support of IoT devices.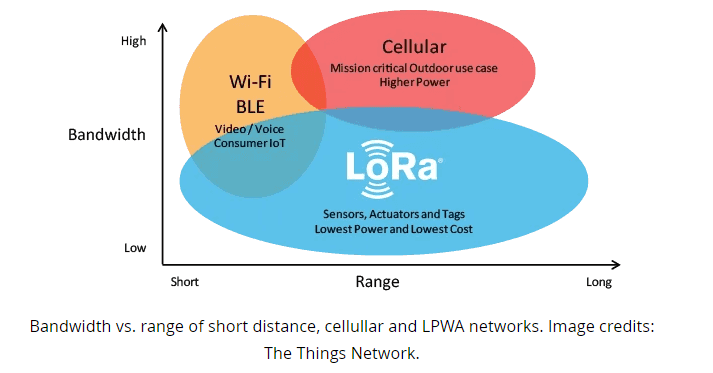 In line with this growth, analysts believe that by 2025, there will be more than 25 billion IoT devices connected to the internet.
With this cellular takeover, Semtech expects to double its annual revenue to more than $100 million, propelled mainly by the high-margin cloud services platform. The company is also hopeful that its IoT serviceable available market ("SAM") will be expanded to approximately $10 billion by 2027.
The apparent growth in the IoT space likely made Sierra Wireless divest its automotive product line back in 2020. In turn, it invested in high-speed cellular modules that are utilized in enterprise and mobile broadband. Since the year ending in December 2020, SWIR's annual gross profit has gained almost 20% to $190.3 million due to the high costs associated with the automotive industry. Before being acquired and delisted from the LSE, Telit Communications had also divested its automotive business and sold it to TUS International.
Back to Semtech. It appears its goal is to scale beyond selling hardware. It already has a lower revenue outlook for Q3 2023, and it needs to augment earnings in the long term. Additionally, after the acquisition, Semtech's customers will also be allowed to use both licensed (NB-IoT & LTE-M) and unlicensed LPWAN (LoRAWAN) connectivity.
Other Pockets of Strength
Sierra Wireless noted a surge in the uptake of 4G products into Q2 2022, especially the smart meters, industrial lighting, and asset and safety control verticals. Revenue from enterprise solutions grew 13.6% to $48.3 million in Q2 2022 as compared to $42.5 million in Q2 2021. The increase was driven by robust demand for routers despite a decline in connectivity and software.
Through its LoRa solutions, Semtech has a strong hold on the smart meter/ grid, industrial and asset-tracking market. The addition of Sierra Wireless will help the company acquire a high-end security camera market and fleet market in the future.
Risks to the Downside
Sierra Wireless is yet to recover in the connectivity and software space after it sold off the Omnilink Offender Monitoring Business to Sentinel Advantage back in April 2022. However, the $37.6 million deal helped to keep the company's cash balance stable at $127.4 million in Q2 2022, representing an increase of 30.8% from $97.3 million recorded in Q1 2022. While there was an increase in cash due to the sale of Omnilink, revenue from the connectivity, software, and services segment declined by 10.7% (QoQ).
Additionally, the company is still reeling from the adverse impact of the shutdown of the 2G/3G networks in the U.S. on its home security business. U.S. Multinationals such as AT&T stopped servicing the 2G network as early as 2017, while Verizon Wireless out-phased its 2G CDMA network at the end of 2020. T-Mobile on its part has indicated its intention to shut down its 2G GSM network by 31st December 2022. The decrease in the 2G/3G business is also expected in Europe further affecting Sierra Wireless' earnings into the future.
Disapproval of the Semtech takeover will have an adverse impact on Sierra's share price return. SWIR's market capitalization stands at $1.18 billion, almost similar to the $1.2 valuation pegged by the Semtech deal.
Bottom Line
IoT solutions were the main revenue drivers for Sierra Wireless's 41.5% (YoY) revenue growth in Q2 2022. Despite the decline in 2G/3G business in Europe and the U.S., there was an increase in demand for connected devices and the 4G/ 5G networks that are expected to continue into 2023. Sierra Wireless is confident of a successful acquisition by Semtech pending authorization from shareholders in 2023. This move is strategic for Semtech since it has been facing weak sales of chips for consumer devices like smartphones. We also expect that this acquisition will initiate new offerings in the IoT space. For these reasons, we propose a hold rating for the stock.