Yesterday's protest over a Vermont nuclear plant owned by a unit of Entergy (NYSE:ETR) illustrates a growing problem for the U.S. nuclear industry called the bathtub problem.
It was explained to me first in terms of human health - we most need health services near birth and death - but it's also true for most capital goods, and was first described in terms of nuclear power.
Put simply, the risks of an accident are high when a plant is first put into operation, they quickly reduce to a very low level during the expected life of the plant, but they rise quickly near the end of its useful life.
That useful life has usually been described as being 40 years, but the Nuclear Regulatory Commission had given 63 of the nation's 104 commercial reactors, including Vermont Yankee, 20-year extensions as of last year. The NRC is already researching the possibility of a second 20-year extension, bringing useful lives to 80 years.
Concrete, electrical insulation, and pipes can all be vulnerable to normal aging, accelerated by proximity to nuclear decay. Leaking pipes at the Vermont plant, and state government concerns resulting from it, led to yesterday's protest.
But those parts can be replaced. What likely can't be replaced is the reactor vessel itself. Vessels are routinely monitored for neutron leaks, using surveillance capsules. Think of it as being like the transmission on an old car. Once it goes, chances are you're better off getting a new one.
This is a global problem. Spain is now looking to extending the lives of its own plants until 2019. And it's not solved by building new plants, as Southern Company is doing in Georgia and SCANA is doing in South Carolina, because they still have to contend with the front end of the bathtub after investing billions in capital for construction.
The nuclear industry calculates the cost of its energy based on construction costs, operating costs, and decommissioning costs but that last amount can be put off - we don't know where the far end of the bathtub really lies any more than we know when we ourselves will die.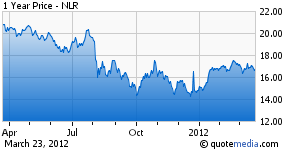 The biggest U.S., nuclear plant operators listed in the NLR (NYSEARCA:NLR) ETF are Exelon (NYSE:EXC) and Constellation Energy Group (NYSE:CEG).The others are mainly European operators for uranium miners.
All these companies are currently profitable. Exelon has an affordable 10.4 PE and a fat 5.38% yield. Entergy has a PE of 8.4 and a yield of 4.96%. Exelon announced last week it's buying Constellation and Kapitall calls Exelon undervalued.
This may be true today, but investors need to ask themselves how big the nuclear bathtub is. Once a true useful life approaches its end, costs rise dramatically and, like a human being's stroke, it may happen with no warning.
And there's no Medicare for investments.
Disclosure: I have no positions in any stocks mentioned, and no plans to initiate any positions within the next 72 hours.