Clean Energy Fuels Corp. (NASDAQ:CLNE) provides natural gas as an alternative fuel for fleet vehicles in the US and Canada. The stock started to rise at the beginning of 2012, and got a further lift from President Obama's State of The Union address in which he made natural gas a much more important part of the US energy plan. The NatGas Act will help implement the strategy outlined in the State of The Union address, and it is currently being considered by Congress. Some think the Act could pass as early as this spring. This could give CLNE another sentimental lift, and it could go up even further.
The real question is: do you want to invest in this company's journey upward? After looking at some of the fundamentals, I would not.
Company background: The company "designs, builds, operates, and maintains fueling stations. It supplies CNG (Compressed Natural Gas) and LNG (Liquefied Natural Gas) fuels. It provides natural gas conversions, application engineering, alternative fuel systems, service and warranty support, and research and development services for natural gas vehicles. As of Dec. 31, 2011, it served approximately 530 customers with approximately 25,000 natural gas vehicles. It owned, operated, or supplied 273 natural gas fueling stations in 23 states in the US, Canada, and Peru". (Yahoo Finance).
Let's take a closer look at CLNE. The company has already had a huge run-up from $10.01 in October 2011 to $23.92 yesterday. It is not expected to make money in either 2012 or 2013. In fact, in contradiction of public sentiment, the FY2012 and FY2013 average analysts' EPS estimates have both been reduced in the last three months. The FY2012 estimate has been reduced from -$0.38 to -$0.56, while the FY2013 estimate has fallen from $0.00 to -$0.24.
CLNE does have a next five-years' EPS growth estimate per annum of 30.00%. However, with no profits estimated for the next two years, this number is highly questionable. In fact, CLNE has 19.55% short interest. This indicates that some of the savviest investors in the market are extremely negative on the stock. Further, CLNE has competitors such as Westport Innovations (NASDAQ:WPRT) and General Electric (NYSE:GE) that could impact the company's possible future earnings.
CLNE faces other competition too, and still other competitors may spring up to challenge the company once the NatGas Act is passed. GE is already a formidable competitor with its "CNG in a box" product that can connect up to a local utility's natural gas line. From this, it can produce CNG. It is one small and neat module that is relatively easy to install. Plus, GE already has a huge marketing and sales force, and significant financial resources. If the CNG for transportation business starts to take off, GE is ideally positioned to profit from it.
This doesn't mean there is something dramatically wrong with CLNE. It simply does not measure up to its current valuation. Its price/book is 3.78, which is not outrageous. Its Total Debt/Total Capital is a reasonable 34.71%. It is not likely to go under any time soon. However, it is also not likely to make money, and its future is speculative at best. T. Boone Pickens was one of the founders, and I have no doubt that his name and connections will lead to some extra business for CLNE. Still...
The two-year chart of CLNE gives some technical direction for this trade: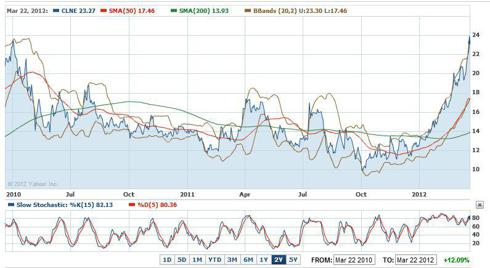 The slow stochastic sub chart shows CLNE is over bought. This is good if you want to short it. It is also an indication that you may be selling near a high if you are only taking profits. CLNE closed Thursday, March 22, 2012 at $23.27. The 200-day SMA was at $13.93. This puts it 67% above its 200-day SMA. This is an unsustainable position, especially with virtually no fundamental backing.
The main chart also shows that there is no significant support until you reach approximately $18. This means a short position down to that level will likely work well. Of course, if the Congress approves the NatGas Act, you may prudently decide to exit your short position. If you own the stock, you can probably be assured that you are taking profits near a high.
The fundamental data above are from Yahoo Finance and TDameritrade.
Disclosure: I have no positions in any stocks mentioned, but may initiate a short position in CLNE over the next 72 hours.