As I discussed recently in my previous article High-Risk, High-Reward: 3 Companies With Yields Over 8%, Portuguese company Portugal Telecom (NYSE:PT) currently offers a very attractive 16% dividend yield. But is this yield sustainable over the medium to long term, or will PT cut it over the next few years?
In this article, I analyze PT's financial situation to see if there is any meaningful dividend cut risk, or if dividend investors should take this opportunity to generate a good income stream over the coming years.
Company and Dividend History
PT's core business is telecommunications services. The company's activity covers every segment of the telecommunications sector: fixed, mobile, multimedia, data and corporate solutions. Portugal Telecom also distributes television programming over the Internet. The company also offers some of its services in Brazil, Africa, and Asia.
In the Brazilian market, PT has a 25% equity stake in Oi, the largest telecommunications operator in South America, as also a stake in Contax, Brazil's leading contact center services company. Within the telecommunications sector, PT has historically paid a high dividend.
In early 2006, the smaller Portuguese mobile operator, Sonaecom SGPS (OTC:SOVTY), launched a tender offer in PT. At that time, management's defense strategy was to increase shareholder remuneration through dividend increases and a share buy-back plan. The offer failed and the buy-back plan ended in 2008, but since then PT has maintained its high dividend policy, with stable dividend payouts year to year, or with slight increases.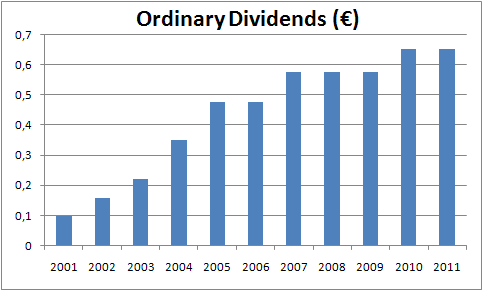 Source: Company data
In addition to the regular dividends, PT also paid two special dividends related to shareholding sales. In 2007, it paid a €1.62 ($2.14) extraordinary dividend resulting from the spin-off of PT Multimedia, following the failed bid offer from Sonaecom.
In 2010, PT also paid a €1 ($1.32) special dividend following the sale of its shareholding in Vivo (NYSE:VIV) to its Spanish partner Telefonica (NYSE:TEF). After the sale of PT's stake in Vivo, the company entered into a strategic partnership with Oi, enabling PT to maintain significant exposure to the growing Brazilian market.
The last dividend announced was at €0.65 ($0.86) for fiscal year 2011, at a stable level from the year before. Going forward, the company has committed to growing dividends per share by 3% to 5% for the period between 2012 and 2014.
Given that dividends didn't increase dramatically over the last few years, it's clear from the following chart that PT's huge yield is mainly related to its recent declining stock price. Indeed, PT's share price is down -41% over the last year, increasing the yield even with a stable dividend payment.
Dividend Sustainability
PT relies on domestic cash flow generation and the dividends paid by foreign subsidiaries to cover its own dividend commitment. Its exposure to Brazil and Africa, which together represent around 45% of revenues, allows it to enjoy significantly more supportive macroeconomic environments.
Regarding its domestic business, PT has recently been under pressure, given Portugal's weak economic performance in view of the austerity measures implemented over the past months. This pressure is likely to continue in the short term; the 2012 GDP forecast is for a drop of -3%, after the -1.8% drop in 2011.
PT's exposure to its domestic markets is its main weakness at the moment. However, PT's slightly resilient operating trends in Portugal over the past quarters also provide dividend support. In 3Q11, revenues declined -7.8% compared to 3Q10, but EBITDA only fell by 4.6%. The company is doing a good job on domestic profitability, with an EBITDA margin around 45% over the past quarters.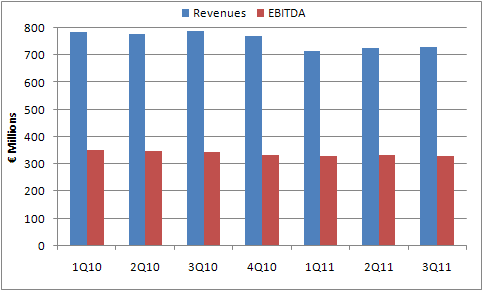 Source: Company data
To check PT's dividend sustainability a good starting point would be to compare its yield with its European peers. In the following table, it's clear that PT compares well on all ratios and that its high yield isn't the result of increased leverage or a higher payout.
| | | | | | | |
| --- | --- | --- | --- | --- | --- | --- |
| Company | Ticker | Div. Yield (%) | Payout Ratio (%) | EBITDA Margin (%) | Long-Term Debt/Equty (%) | PE Ratio (NYSE:X) |
| Portugal Telecom | PT | 16.4 | 26.6 | 35.5 | 142 | 7.55 |
| Telefonica | TEF | 12.1 | 62.8 | 30.9 | 266 | 10.6 |
| France Telecom | FTE | 12.2 | 95.2 | 33.2 | 123 | 7.8 |
| Deutsche Telekom | DTEGF.PK | 7.7 | 230 | 32.4 | 108 | 13.7 |
| Vodafone | VOD | 8.4 | 57.7 | 32 | 32 | 12.4 |
| Telecom Italia | TI | 6.4 | 38.1 | 41.4 | 119 | 7.1 |
| KPN | KKPNY.PK | 9.5 | 78.6 | 39.5 | 397 | 8.12 |
Source: Bloomberg
Over the last five years, the payout ratio has been always below 90%, with the last five years' average at 68%. This result is somewhat distorted by the 2010 extraordinary results from the Vivo shareholding sale as mentioned before, which lowered the payout to 35%. But even without taking into account 2010, the remaining four-year average only increases to 75%.

Source: Company data
Regarding cash flows, PT's free cash flow after interest payments has always been higher than dividends paid. Last year, PT paid the second part of its special dividend after the sale of its stake in Vivo.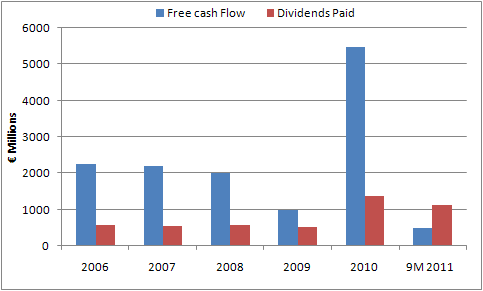 Source: PT and Bloomberg
Another dividend threat is an extended closing of the credit markets for Portuguese companies, given that at the end of September 2011, PT had €4.15bn ($5.48bn) net debt. The last time PT has had access to the bond markets was in the beginning of 2011. Although it's unclear at this point when the credit markets will lend again to Portuguese companies, PT has the advantage of having a bank (Banco Espirito Santo) as one of its main shareholders. In case of financial stress, BES (OTCPK:BKESY) will most likely support PT because the bank sees this stake as strategic.
Conclusion
PT's dividend appears sustainable, given that it's covered by free cash flow and that it is a key management commitment. The dividend will likely only be cut following a material operational deterioration; given PT's resilient domestic business and its exposure to the high-growth Brazilian market, the odds of this happening are low.
Trading at an undemanding 7.5x forward P/E ratio, near its 52-week low, and with a very attractive 16% yield, PT's seems undervalued and could be a interesting play for dividend investors. The company will announce 2011 results at the end of next week, and barring surprises, the results could serve as a positive trigger for the stock price.
Disclosure: I have no positions in any stocks mentioned, and no plans to initiate any positions within the next 72 hours.