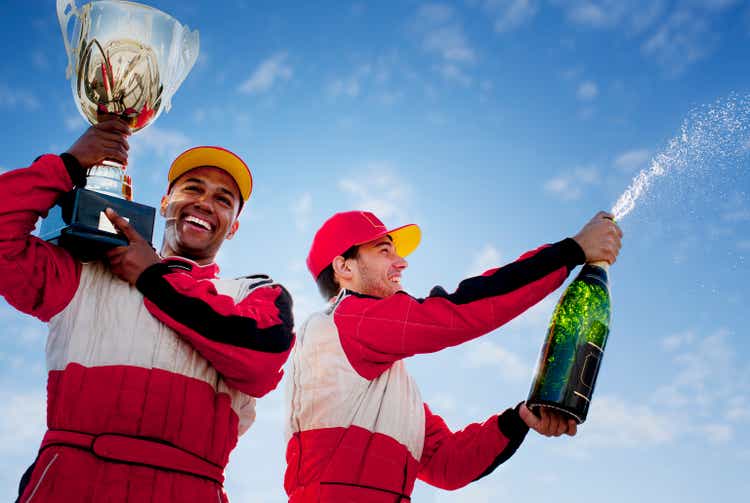 There are 4 reasons why Danaos (NYSE:DAC) is worth researching and could compete for a spot in your portfolio. The first reason is the containership lessor asset class, of which Danaos is a part of, has some of the strongest balance sheets in their history. The second reason is that they are blessed with a backlog of multiple years of contracted revenue and the third and most important reason is because the containership lessor asset class is the cheapest in the world (in my opinion). The last and final reason is because Danaos won the competition when compared to their containership lessor peers.
Containership Lessors
Containership lessors Danaos, Global Ship Lease (GSL), Navios Maritime Partners (NMM), Costamare (CMRE) and MPC Container Ships (OTCPK:MPZZF) appear to be hated by investors which can be seen by their world leading P/E and sporting enterprise values below their fleet's estimated demolition value + secured ebitda. This appears to be a setup of general market irrationality as the asset class has continued to strengthen their balance sheets and move in a more shareholder-friendly direction. This positive trend coincided with their liner customers experiencing a recent boom in freight rates and the containership lessors' corresponding ability to increase charter rates and lock in preferential terms far into the future.
Cheap, Cheap, Cheap
Due to these positive industry tailwinds and current irrational investor behavior the containership lessors have become the cheapest sector in the world.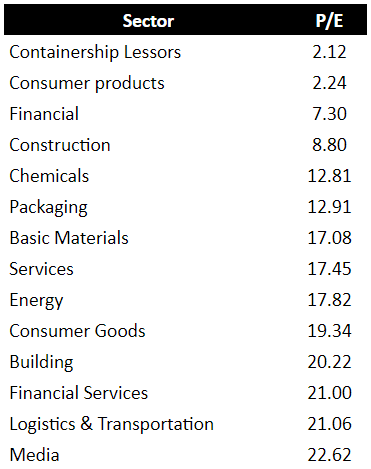 Containership lessors are the cheapest asset class in the world and have locked in their revenues for multiple years. The stage is set for future potential outperformance. Rather than investing in the entire bunch, I prefer to focus in on the best. To find the best I decided to look for the highest quality lessor at the cheapest price, the youngest fleet, and the greatest backlog. (I would love to see others comparisons and suggestions)
Quality At The Cheapest Price - Danaos and MPC Containerships Win
To understand the containership lessors' quality and cheapness, I compared DAC, GSL, NMM, CMRE, and MPZZF on various value metrics: Price to Sales, Price to Earnings, EV to EBITDA, EV to EBIT and EV to forward looking EBIT.

I weighted enterprise value and EBIT higher when comparing across metrics due to enterprise value including debt, preferred shares, and cash and EBIT including the depreciation of their vessels. MPC Container Ships and Danaos came out at the highest quality and cheapest containership lessors as they had the lowest EV/EBIT, EV/EBIT Fwd and were ranked at the top in the remaining value metric categories.
Guaranteed Revenue - Danaos, Global Ship Lease and MPC Container Ships Win
The second metric I compared in order to assist in distinguishing the safe and trusted lessor was the amount of contracted backlog they had in relation to their enterprise value.

MPC Container Ships, Global Ship Lease and Danaos came out with the most contracted backlog as compared to their enterprise value. MPC Container Ships has almost twice as much guaranteed revenue as their enterprise value. Danaos and Global Ship Lease were a close second and third.
Best Positioned For the Eco Future - Danaos
Lastly, as the environmental shipping regulations come into effect in 2023, I believe liners will have a strong preference for newer and more eco-friendly ships. So in order to figure out which of the lessors are the most prepared for the liners' future needs, I analyzed their vessels and corresponding cargo capacities built post 2009.

Danaos was the clear winner in this regard with 229,879 TEU built post 2009 in comparison to their $1.59 billion enterprise value.
Danaos for the Win
Danaos was the clear winner finishing at or near the top of each category when comparing containership lessors across quality, cheapness, contracted revenue and fleet age. That said, I did not see a quality vision, strategy and capital allocation plan in my review of Danaos and do assign additional risk in the uncertainty of what management will do tomorrow, but according to the analysis above they seem to be the best positioned for future shareholder success.
In Conclusion
When it comes to investing in the cheapest sector in the world, I believe Danaos is the current lessor of choice. If you'd like to expand your shipping sector search to include their liner partners I suggest looking into (ZIM) as well. Where Danaos lacks in leadership vision, ZIM excels and where ZIM lacks in future contracted backlog, Danaos excels.
Editor's Note: This article was submitted as part of Seeking Alpha's Top Ex-US Stock Pick competition, which runs through November 7. This competition is open to all users and contributors; click here to find out more and submit your article today!"