Sometimes it's the so-called mundane companies that are the consistent growers over the long-term. PPG Industries (NYSE:PPG) is one of those industrial companies that makes products that are typically taken for granted, but are essential for the end products for which they are designed. PPG manufactures the following products: paints & coatings, optical products (transition lenses), glass & fiberglass, specialty materials, and chemicals.
PPG is a $14.24 billion large-cap Pittsburgh based dividend paying company. The company pays a dividend of 2.4% and has raised the payouts annually for 26 years. PPG's consistency in raising its dividend is paramount for investors looking for income that is reliable.
Another important factor for income investors is the consistency of PPG's earnings. The company has exceeded its earnings estimates in all four quarters of 2011. It has two upward earnings revisions for 2012, which should lead to more positive earnings reports this year. PPG is expected to grow earnings at a market-beating pace of 12.31% annually for the next five years. This grow should allow the stock price to rise by about the same rate over that five year time period. The calculations show that PPG's stock should rise to around $166 in five years.
Investors should factor in the stock appreciation potential along with the dividend payments. Although the 2.4% dividend is not a huge yield, the 12.31% annual expected earnings should be added for a total annual yield of 14.71% since stocks rise in proportion to a company's earnings growth over time. Therefore, a $1000 investment in PPG providing a total annual yield of 14.71%, has the realistic potential of being worth $1986 in five years (a total gain of 99%).
image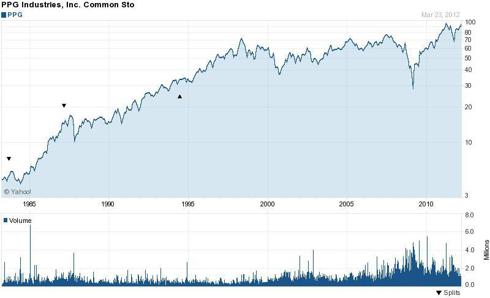 The company looks fairly valued or even slightly undervalued in terms of its earnings growth of 7.41% in the past five years. The stock was trading at $70 five years ago and is now trading at $93 which is about $7 below where it should be if the stock appreciated in exact proportion to earnings growth. As a cross-check, PPG has a trailing PE ratio of 13.63, a forward PE of 11.74, a PEG ratio of 1.04, a price to book ratio of 4.35, and a price to sales ratio of only 0.95.
PPG has a profit margin of 7.36% and an operating margin of 11.25%. It pulls in $1.44 billion in operating cash flow and $894 million in free cash flow. Only about $347 million of free cash flow is used to pay dividends, while the other $547 million is used to grow the business.
CEO Charles Bunch stated in the company's Q4 report that PPG is seeing continued global demand in Aerospace, Automotive OEM, and several general industrial markets. He also said that the company's sales have benefitted from seven consecutive quarters of higher pricing. This higher pricing offset raw material cost inflation.
The outlook for 2012 sees Europe as the most challenging region. The company expects moderate strengthening of the U.S. economy. PPG also sees an enhanced global cost position in the industrial sector due to lower natural gas prices. Growth rates in emerging markets are expected to be higher than in mature markets, but more moderate and erratic than in the past.
Overall, PPG Industries looks like a stable, consistently growing dividend paying company. Investors should do well as the company grows steadily as its products are used on aircraft, automobiles, optical lenses, ships, buildings, wind & solar products, and more.
Disclosure: I have no positions in any stocks mentioned, and no plans to initiate any positions within the next 72 hours.