In a recent article, I pointed out some of the reasons some companies are hoarding cash instead of returning it to shareholders. Many senior executives are being excessively cautious - due to two major cash crunches in under a decade - and often have the desire to build a corporate empire.
I have since discovered that this phenomenon isn't isolated to a few outliers. Companies across the S&P 500 (NYSEARCA:SPY) are withholding cash from their shareholders.
You might contradict this by pointing to the near record-level dividends on the S&P 500. As at the end of 2011 trailing twelve-month dividends on the S&P 500 were close to matching the the record set in September 2008. In fact, trailing twelve-month dividends have relentlessly risen since they bottomed in March of 2010 (see chart below).
images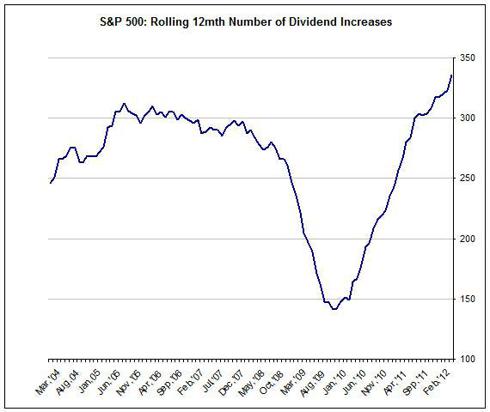 While the dividend growth trend seems to recently be heading in the right direction, investors must realize that corporate cash hoarding is still suppressing potential dividend payouts, and possibly total returns.
This is a major concern. With baby boomers approaching retirement and investors demanding greater management accountability, the demand for dividend paying stocks has been strong over the past decade. In fact, research suggests that stocks with high dividend payout ratios provide investors with higher total returns than stocks with low dividend payout ratios.
Since the early 1980s, corporate earnings growth has surpassed dividend growth. As a result, dividend payout ratios declined from over 40% in 1980 to about 29% today. (See chart below. Note that spikes in the payout ratio are caused by recessionary periods in which earnings temporarily fell.) If one were to calculate a simple average over the past three decades, today's dividend payout ratio is lagging by almost 20 percentage points!
Despite the rise in dividends paid since March 2010, for today's payout ratio to return to its historical average the dividend yield on the S&P 500 would need to rise massively to about 3.7%.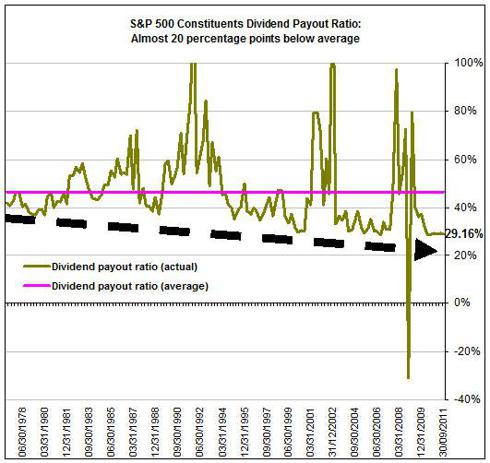 Not only are individual dividend-paying companies distributing less of their earnings, fewer companies are paying anything at all (see chart below). In the early 1980s, almost all S&P 500 constituents paid a dividend. Near the height of the dot-com bubble, that proportion fell to 70% - dividends were dead.
I blame this shift on the cult of equity and the presumption of persistent growth. The 20 years beginning in the early 1980s was a rare time. It was a period of disinflation, falling interest rates, increasing globalization, improving telecommunications and declining commodity prices. These trends provided a tailwind for growth, and it paid to invest in risky assets. During this time, corporate executives pursued high returns by retaining earnings to expand. Now, however, with business opportunities scarce, risky and often low-yielding, there is little many corporations can do with cash. Therefore, investors should demand excess cash idling on the balance sheets of corporations be returned to them.
Today, the number of companies paying dividends is beginning to rise again - long live dividends - but the number is still far below that of the early 1980s.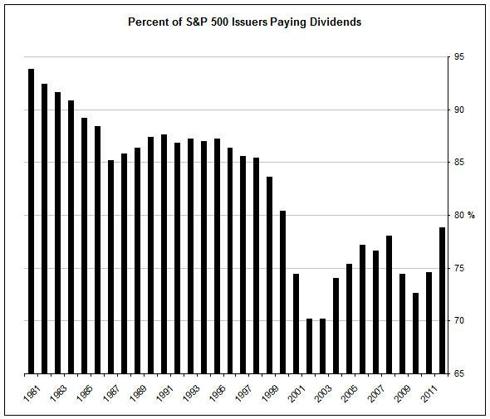 Many analysts argue that we are living in a new low-growth era - especially in the developed world. Given this, many investors are demanding that businesses distribute cash to shareholders. One way investors are voicing their opinion is by favoring companies that pay out a meaningful proportion of earnings in dividends and return excess cash on the balance sheet through share buybacks or special dividends.
Alternatively, other investors that simply want to execute a dividend strategy are selecting from a range of ETFs with dividend-related mandates.
Some of these ETFs with dividend-related mandates are listed below:
Good luck.
Data Source: Standard and Poor's.
Disclosure: I have no positions in any stocks mentioned, and no plans to initiate any positions within the next 72 hours.
Disclaimer: This is not advice. While Plan B Economics makes every effort to provide high quality information, the information is not guaranteed to be accurate and should not be relied on. Investing involves risk and you could lose all your money. Consult a professional advisor before making any investing decisions.