Raven Industries (NASDAQ:RAVN) is located way off Wall Street in South Dakota, which may explain why only one analyst covers the firm. Having visited the company in Sioux Falls, I can personally attest to how far away these guys are. Despite being such a little-known company despite exceeding the price return of Apple (NASDAQ:AAPL) since the turn of the millennium (23-bagger vs. 22-bagger), though, RAVN has been making itself known all over the world.
I have been following this company for several years now and find it to be a highly unique company of exceptional quality with several long-term growth drivers. Given its strong history of dividend growth (more than 25 consecutive years) and prudent and shareholder-friendly capital allocation (including several special dividends), I would characterize RAVN as great example of a smaller dividend growth stock. The recent profit-taking following Q4 earnings is giving investors an opportunity to enter at what looks like a reasonable valuation.
HISTORY
RAVN began operations in 1956 as a manufacturer of high-altitude research balloons. Over time, it has formed several new businesses, many of which were extensions of the original balloon business. The company has been publicly-traded since 1980.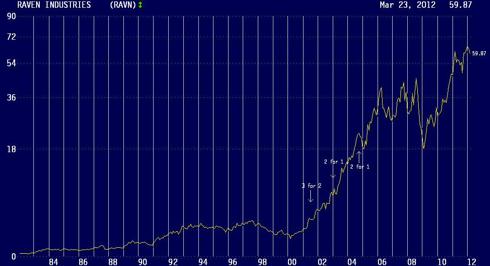 CURRENT BUSINESS
RAVN is leveraged to the big theme of precision agriculture as well as to energy production and wide-area persistent surveillance and monitoring.
Applied Technology (35% of FY12 sales and 50% of segment operating income) is the most exciting division. The company uses GPS and other technologies to help farmers automate steering and seed and fertilizer application. Sales grew 33% last year, with international growth very strong (South Africa, Brazil, former Soviet republics).
Engineered Films (35% of sales, 23% of segment operating income) took off last quarter as new capacity came on line. The company makes plastic films used about 50% in energy (pit liners). There are agriculture applications, and the products are used in construction as well. One promising development has been increased demand from municipalities for environmental applications (slope control).
Aerostar (14% of sales, 13% of segment operating income) consists of the original research balloons, but it's gone high-tech, making high-altitude and tethered aerostats used for surveillance. It also makes military parachutes. This is a lumpy division, and it just had a good year, so the near-term might be a bit challenged. Still, they just did a smart acquisition, adding sensors already used by their customers in the aerostats. Vista Research, which is a prime contractor, sounds like a 2013 opportunity for RAVN to replace expensive radar systems.
EMS (19% of sales, 13% of segment operating income) is a stable business that supports internal business and external customers. It's a low-volume, high-touch operation, with end markets consisting of aerospace, secure communication and other areas.
In FY12 (January), overall sales grew 21%, with net income growing 25%. The fourth quarter was particularly strong, with sales rising 26% and net income expanding 49%. All four divisions were strong in Q4, but the biggest driver was the added capacity in Engineered Films (sales up 48% and operating income up more than 100%).
BALANCE SHEET / CASH FLOW
RAVN has an exceptional balance sheet, ending the year with $26mm cash and no debt. Cash declined from a year ago as the company ramped CapEx and made the Vista Research acquisition. Historically, as cash has exceeded $40mm or so, the company has paid special dividends. In 2009 and 2011, it paid a special dividend of $1.25 per share.
CapEx for FY13 was guided to another strong investment at $35mm, up from $29mm. With many management teams, I would be concerned about the departure from historical spending levels, but the company has a history of very high return on invested capital. Still, it's worth noting that this spend, which is funding "the greatest investment in Raven history" according to the CEO on the last conference call, is out of step with historical patterns. In FY12, D&A was $9mm. To put things in perspective, the $29mm spent last year exceeded the total spent in the prior three years. The spending, though, is not without precedent, as the company made large capital investments in FY06 and FY07. So, while this may be a yellow flag to those not familiar with the company, it's actually rather exciting when one hears how they are investing.
EARNINGS
As I mentioned earlier, there is just a single analyst following the company, and I believe his earnings estimates, are too conservative. This has certainly been the case for a while. He is looking for sales growth and earnings growth over the next two years to be approximately 9%, which is well below historical norms.
When I make my own projections for sales growth by segment, I come up with 20% growth in FY13 and 14% in FY14. Based on mix-shift and increased margins in Engineered Films, I end up with overall margin expansion over the next few years, driving higher EPS growth. In fact, I believe that the company can produce EPS of 3.80 in FY14, which is substantially higher than the 3.30 estimate from Dougherty. I don't have access to his model to see where we differ, but it looks to me like his outlook is too conservative. 3.80 would represent 17% earnings growth over the next 2 years.
MANAGEMENT
In August 2010, COO Dan Rykhus, then 45 and a 20-year veteran of the company, succeeded a highly regarded Ron Moquist, who did an exceptional job in his decade as the company's third CEO of divesting non-core businesses. I think one of the reasons the stock was relatively inexpensive at that time may have been some concern about the leadership transition. I recall, though, Dan's first call with investors, where he clearly laid out his vision, telling shareholders that the company would be moving into a growth phase. CFO Tom Iacarella has served in that role since 1998 and joined the firm in 1991. There are 4 divisional GMs:
EMS - David Bair (55), since 1999
Engineered Films - James Groninger (53), since 2004 (joined 1986)
Applied Technology - Matthew Burkhart (36), since 2010 (joined 2008 from Johnson Controls)
Aerostar - Lon Stroschein (37), since 2010 (joined 2008)
According to the 2011 proxy, insiders own 5% of the company. Further signs of alignment are the use of options grants rather than stock awards and a bonus system (targeted at 50-70% of pretty low base salaries) based on net income, expense control and inventory controls (as well as divisional goals).
VALUATION
RAVN isn't cheap, but I don't think it's overly expensive. Over the past five years, it has traded between 11 and 26 PE (the 11 was just briefly in early 2009), with a median of 20. The current forward PE (on conservative numbers in my view) is 20.
TECHNICALS
RAVN had a huge run from mid-2010 through early 2011, more than doubling from the summer lows to the April highs (62). After consolidating in the 2011 swoon, the stock moved to an all-time high of 71 in February before pulling back. Now, at 60, the stock is exactly where it was a year ago.
I see very big support at 54, but it's quite possible that this 15% correction is all we get. It has looked like profit-taking to me, as all of the damage took place in February, prior to the recent earnings release, which has pushed the stock back to the February lows of 58. The stock bounced off of the rising 150dma.
CONCLUSION
RAVN is a hidden gem in my view, with limited sell-side coverage and very few Seeking Alpha readers including it on their own watchlists (just 53 are receiving email alerts) despite the fact that this stock has outperformed AAPL since 1980 and since 2000. I have shared some descriptive information that hopefully conveys what a high-quality growth company this is. The company should appeal to conservative growth investors who will appreciate earnings stability (its EPS barely fell in the worst recession in its history), strong balance sheet, friendly dividend policy (including return of excess capital), and interesting growth opportunities (especially in precision agriculture).
The valuation is fair, and the price action looks favorable. If you believe my earnings estimate, the stock could trade to $74 over the next year if it retains a 19.5 PE, representing a 25% total return and a price not too much higher than where it was two months ago. While I won't go into the precise detail, I use a blended segment PE for my forecast (EMS worth a lot less, Applied Technology a lot more). I don't currently include it in my Conservative Growth/Balanced Model Portfolio, but I am watching it very closely. I currently require a minimum expected one-year return of 30% for inclusion in the model.
Disclosure: I have no positions in any stocks mentioned, and no plans to initiate any positions within the next 72 hours.