Citicorp's (NYSE:C) shares have been on a tear since making a double bottom last year, returning more than 50% to investors. As the first quarter comes to a close everyone needs to reassess the fundamentals in the face of a failed stress test and overly exuberant capital markets while a slowdown in China and Europe stares Citicorp in the face.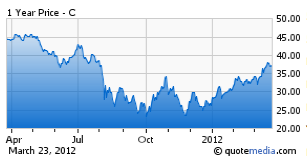 Consumer credit and housing are beginning to show signs of life in the US but just last October CEO Pandit commented during the earnings call that loan modifications are beginning to redefault and he expects it to get worse.
Fourth quarter earnings were disappointing with the release of loan loss reserves ($1.47 billion) more than covering fourth quarter net income ($1.17 billion). For all of 2011, loan loss reserve releases totaled approximately $8 billion dollars, making up a disproportionate amount of net income.
The miss on the stress tests did not bother me as much as the inability to find data related to problems in Europe for which there was a module but no results. Since the Greek debt restructuring was completed Austria has spent more than $1 billion dollars bailing out their banking sector and economic numbers emanating from Spain and Portugal remain weak. Compounding the problems, the IMF has told Greece that they need to find another $12 billion in cuts in order to guarantee the release of the next tranche. Most market participants believe that the problems that were not solved only kick down the road.
Slow growth in China and continuing problems from Europe indicate that the global economy is experiencing a slowdown, signaling a potential reversal of the loan loss reserve releases which have bolstered earnings reports for the past two years. The risk of a reversal on the loan loss reserve would undermine the progress made to date on Citicorp's restructuring which spans multiple divisions.
Core operations have yet to kick into first gear much less a second as evidenced by the need to rely on accounting gimmicks to boost profits.
Citicorp would like to raise the dividend and institute a share buyback, but given the uncertain economic climate the better track would be to wait until the global storm clouds clear. Instead of releasing loan loss reserves, create a rainy day fund in the event there are unforeseen problems.
Given the challenges Citicorp still faces globally with a measurable slowdown in China and the European problems being kicked down the road, investors should take a moment and book their profits from this rally and short the stock.
Disclosure: I have no positions in any stocks mentioned, and no plans to initiate any positions within the next 72 hours.
Additional disclosure: Note: While I am not short Citicorp I am short the broader market as a part of my overall portfolio strategy.