In 2003, Warren Buffett and Berkshire Hathaway, Inc. (NYSE:BRK.A) acquired Knoxville-based Clayton Homes (for $1.7 billion). As one of Buffett's prized investments (included in the smallest sector of Berkshire Hathaway's $87 billion portfolio), the finance and financial products sector includes Clayton and two rental companies, XTRA (trailers) and CORT (furniture). Clayton Homes, the country's leading producer and financer of manufactured homes, produced 23,343 manufactured homes in 2010, 47 percent of the industry total of 50,046. The manufactured housing sector peaked in 1998, when Clayton had an 8 percent market share (making around 372,843 homes).
With a nine year old investment in Clayton, Buffett's strategy (like his other acquisitions) was to deliver sustainable operating results distinguished by consistency in products that create consistency in profits. Conversely, manufactured homes deliver outstanding quality and performance at prices ranging from 10 to 35 percent less per square foot than conventional site-built homes. These savings allow homeowners to own their own home, even in the face of an ever-widening housing affordability gap. Part of Buffett's differentiated investment strategy in Clayton Homes was explained in a recent interview by Buffett:
People thought it was good news a few years back when housing starts - the supply side of the picture - were running about two million annually. But household formations - the demand side - only amounted to about 1.2 million. After a few years of such imbalances, the country unsurprisingly ended up with far too many houses.

There were three ways to cure this overhang: (1) blow up a lot of houses, a tactic similar to the destruction of autos that occurred with the "cash-for-clunkers" program; (2) speed up household formations by, say, encouraging teenagers to cohabitate, a program not likely to suffer from a lack of volunteers or; (3) reduce new housing starts to a number far below the rate of household formations.

Our country has wisely selected the third option, which means that within a year or so residential housing problems should largely be behind us, the exceptions being only high value houses and those in certain localities where overbuilding was particularly egregious. Prices will remain far below "bubble" levels, of course, but for every seller (or lender) hurt by this there will be a buyer who benefits. Indeed, many families that couldn't afford to buy an appropriate home a few years ago now find it well within their means because the bubble burst.
The Manufactured Housing Model
Will Rogers once said, "Buy land. They ain't makin' any more of the stuff". This frequently quoted mantra is certainly a reinforcing sentiment for the manufactured housing sector. Warren Buffett recently provided his bullish strategy in his 2010 letter to Berkshire Hathaway shareholders:
Homeownership makes sense for most Americans, particularly at today's lower prices and bargain interest rates," he writes in the shareholder letter. "But a house can be a nightmare if the buyer's eyes are bigger than his wallet and if a lender - often protected by a government guarantee - facilitates his fantasy. Our country's social goal should not be to put families into the house of their dreams, but rather to put them into a house they can afford.
Buffett's remarks about home ownership and the financial performance of Clayton Homes is certainly a valid reminder that the "American dream" is alive and well. In addition, Clayton's modular housing model provides for a strategically-aligned differentiation that is distinguished by quality and affordability.
According to Manufactured Housing Institute, the average modular home price (2010) is $62,800 with an average price per square foot of $41.45 (using average industry square footage of 1,515). By providing affordable prices that are an average of 10 to 35 percent less than costs for comparable site-built homes, modular home builders are able to control construction costs and weather delays. Furthermore, the modular building process is professionally supervised and inventory levels are controlled. Much like other assembly-line operations, manufactured homes benefit from the economies of scale resulting from purchasing large quantities of materials, products and appliances.
Manufactured Housing REITs
The homes, manufactured off-site, are rarely removed from the communities (over 90 percent stay attached), and generally have the quality and appearance of site-built homes. The homeowners enjoy amenities such as an attractive main entrance, clubhouse, pool, tennis courts, putting greens, exercise rooms, and laundry facilities. Approximately 19 million people (6 percent of our nation) live in them (based on data from the Manufactured Housing Institute).
In a recent Wall Street Journal article, Manufactured Housing Under Renovation, co-authors Dawn Wotapka and A.D. Pruitt wrote,
The industry - and Wall Street -also is betting that consumer attitudes toward housing have been updated, that buyers are soured on the bigger-is-better mantra of the boom years and looking for affordable alternatives.
Current sales remain well below the industry's boom time. However Wall Street has been warming up to the sector. As Wotapka and Pruitt explain,
While prices of most home builders - traditional and nontraditional - have rallied this year, stocks of manufactured housing companies were first out of the gate. The three manufactured-home real estate investment trusts tracked by Dow Jones All Equity REIT Index posted a total return of 20.5% in 2011. By comparison, the Dow Jones US Home Construction Index fell 3.9%.
The manufactured housing sub-sector is the smallest sector in the FTSE NAREIT Index. As of February 29, 2012 there were a total of 126 equity REITs ($454.58 billion market capitalization) and the manufactured housing sub-sector includes three REITs with a combined market capitalization of $3.96 billion (or less than 1 percent of the total equity REIT capitalization). The three REITs that make up the sub-sector include Equity Lifestyle Properties (NYSE:ELS), Sun Communities (NYSE:SUI), and UMH Properties (NYSEMKT:UMH).
UMH Properties, Inc.
UMH Properties, Inc. commenced operations in 1968 and has been operating as a public company since 1985. The New Jersey based REIT has a portfolio of 41 manufactured home communities containing approximately 9,000 sites located in Indiana, New Jersey, New York, Ohio, Pennsylvania, and Tennessee. UMH's well-balanced platform provides investors with a recession resistant income stream with sustainable long-term appreciation and growth. Here is a snap shot of the portfolio: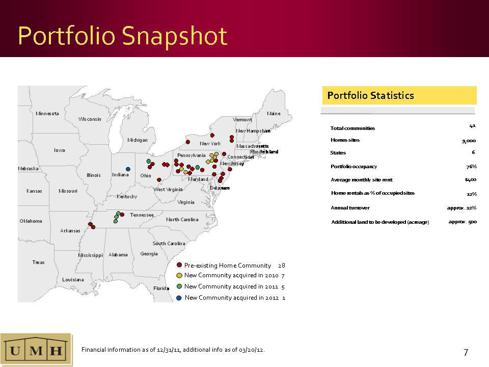 Over half (or 21) of the UMH communities are located within the Marcellus Shale region. This natural gas field lies beneath Pennsylvania, West Virginia, Eastern Ohio and upstate New York and the region has the potential to be one of the largest sources of natural gas in the world. Accordingly, activity that surrounds the Marcellus development is expected to accelerate over the next few years and it should have a direct impact on the economies of the region. With around 1,205 acres (owned by UMH) in the Marcellus region, the manufactured housing REIT expects significant growth in the demand for housing in the region.
UMH's primary business is the ownership and operation of manufactured home communities and the company also sells and finances homes to qualified residents through its wholly-owned taxable REIT subsidiary (UMH Sales and Finance, Inc.). With over four decades of experience, UMH has witnessed the cyclicality of the housing sector and the snapshot below illustrates the impact of the great recession and the impact of manufactured housing since 1990: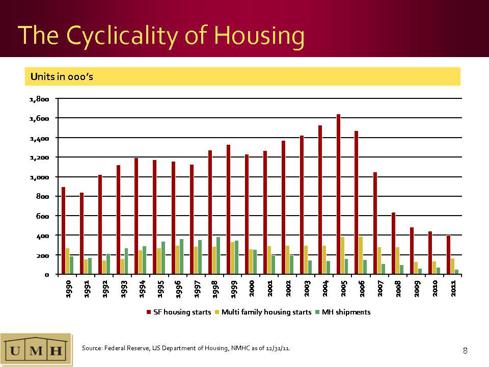 Although UMH has reported weaker sales in housing over the last few years ($6.3 m in 2011), the rental revenues have grown over the last three years. With combined year-end 2011 revenue of $46.6 million, UMH has demonstrated its resiliency by balancing its effective model of consistency.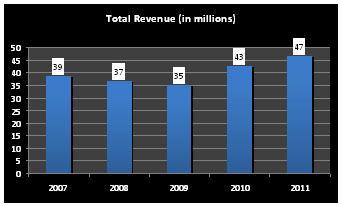 In addition, UMH continues to grow its asset base as the current (12-31-11) portfolio exceeds $223 million: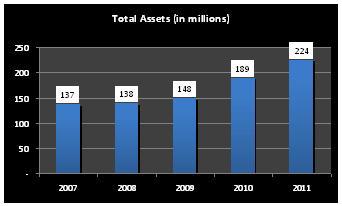 UMH has around $43.3 million (as of December 31, 2011) invested in REIT securities. This attractive diversification strategy provides risk-aligned value as the 15% asset composition is distinguished by sound yields and additional liquidity. Furthermore, the invested REIT securities consist of 24% preferred stock and 76% common stock.
UMH has invested $15.8 million if its securities portfolio in an affiliated REIT named Monmouth REIT (NYSE:MNR). I recently wrote a Seeking Alpha article on Monmouth and the industrial REIT is paying a current dividend of 6.4%.
The balance sheet is well managed as the REIT's latest mortgage debt/gross RE book value is 47.2%: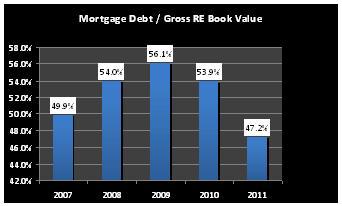 Fixed charge coverage (includes interest expense, capitalized interest, and preferred distributions) is also in-line with its peers: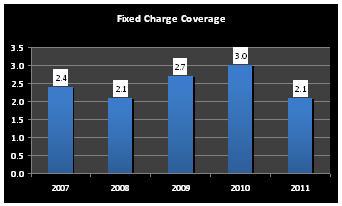 UMH has long-term debt of around $114 million (51% of assets) and the weighted average mortgage debt maturity is 6.6 years. Weighted average interest rate debt is 5.6% and the REIT has well staggered maturities (as illustrated below):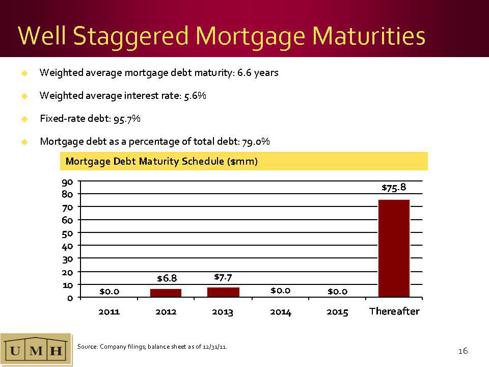 UMH has a strong record of dividend distributions. Up until the housing crash in 2008, UMH was on track to becoming a "dividend champion" (a.k.a. David Fish's Drip Investing Resource Center) and the streak of 17 years of consecutive and increasing dividends was broken with a cut in 2008. The annual dividends paid per share have been $0.72 per share for 2009, 2010, and 2011. The current dividend yield is 7.1%.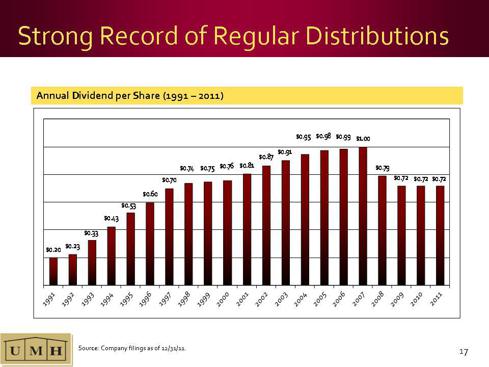 Although UMH is one of the smallest REITs in the sector (based on market cap), the modular home operator pays the biggest dividend. Here is a snapshot that illustrates UMH and its publicly-traded peers:

Sum It Up: Investing In Amenities
UMH Properties was founded forty four years ago by Eugene W. Landy (currently a Director and Chairman) and his son, Samuel A. Landy explains the UMH strategy as follows:
As a kid I watched my father and other entrepreneurs build communities. They paid for their communities with the money they made on home sales, and then they intended to collect the lot rent as an annuity for ever. Those original builders guaranteed the loans on all of the sales in their communities, and they and their wife and children made sure no bank lost money financing those home sales. Later in life a lot of those entrepreneurs sold to REITs. My Father had us become a REIT.

Only the government could have created a product people would choose over manufactured home communities. The product they created through Fannie Mae and Freddie Mac was instantly appreciating homes that you could buy with little or no money down and no ability to pay for. That's gone and now no one has a better house for the money then us.
During the last recession, overbuilding was rare due to the difficulty of getting property zoned and entitled, and the long lead times made the barriers to entry high. Infrastructure development is capital intensive and these characteristics make the modular housing sector a uniquely differentiated asset sector. In addition, the growing demand for affordable housing and amenity-driven options makes UMH a REIT worth considering.
UMH provides a distinguishable "economic moat" amenity to its investor model. By providing a strategically competitive advantage of providing consistency in profits, UMH should provide shareholders with sustainable value (7.1% dividend) and growth. The stock price is $10.24 (52-high was $11.49) and the current 77% occupancy rate should provide increased earnings potential and yield enhancement. I expect UMH's annual total shareholder return to exceed 20% anchored by the stable and attractive 7.1% dividend yield.
Disclosure: I have no positions in any stocks mentioned, and no plans to initiate any positions within the next 72 hours.