Do you think that the market rally is overdone? Is it time to flee to safety? With the economic and political climates only becoming more tumultuous I have been concentrating on high yield equities. We all know about the blue-chip dividend companies but there are attractive companies with high yields that are going ex-dividend every week. This strategy can work in one of two ways: either you buy before the ex-date to receive the dividend or buy after if the stock declines far below the after-tax amount of the dividend.
Buying the stock to receive the dividend is intuitive but many have contacted me requesting further details on the second strategy. Investopedia has a great example of how this works. To explain this, I will use AT&T (NYSE:T) as an example. AT&T declared a $.44 dividend to shareholders of record on January 10, 2012. On the ex-dividend date the stock price should decline by the after-tax dividend amount, with an assumed tax rate of approximately 15% because many dividends qualify for a preferential tax rate. It is true that you can personally avoid taxation by owning the security in a tax deferred account but this serves as a benchmark. As a result, an investor would expect the stock price to decline by $.37 = [$.44 * (1-.15)]. If AT&T declined by more than $.37 in the absence of negative news you might have an attractive opportunity. Executing this strategy can generate outsized returns over short periods of times but should only be performed on companies that you would be comfortable owning.
To focus on these opportunities I ran a screen with a focus on relative safety for the investments. I began with a specification of a dividend yield greater than four percent and an ex-dividend date within the next week. To provide some layer of safety I narrowed down the environment by looking at companies with market capitalizations greater than $1B, PEs between zero and 20, and institutional holding percentage of at least 25 percent. While not a precise requirement, I prefer companies that have underperformed the S&P 500 in the last 52 weeks as it indicates limited downside relative to peers. This is summarized below:
Dividend Yield ≥ 4.0%
Ex-Dividend Date = Next Week
Market Capitalization ≥ $1B
PE Ratio: 0-20
Institutional Ownership ≥ 10%
After applying this screen I arrived at the companies discussed below. Although I envision these as short-term trading ideas, you still need to be careful. The information presented below should simply be a starting point for further research and should not be taken as a recommendation. My goal is to present new companies to you and provide a brief overview of their recent developments and this should not be considered a substitute for your own due diligence.
Avoid: Real Estate Investment Trusts
Chimera Investment Corporation (NYSE:CIM): 14.86% Yield - Ex-Dividend 3/28
Capstead Mortgage Corporation (NYSE:CMO): 12.83% Yield - Ex-Dividend 3/28
Starwood Property Trust, Inc. (NYSE:STWD): 8.19% Yield - Ex-Dividend 3/28
National Health Investors, Inc. (NYSE:NHI): 5.3% Yield - Ex-Dividend 3/28
I have been utilizing dividend screens to executive dividend capture strategies on high-yield stocks to improve my returns while lowering my risk. More and more frequently I arrive upon financial service companies with extremely high yields, frequently in double digits. The traditional metrics associated with dividend companies may not fully apply to mREITs so a unique analysis is required. Note that National Health Investors is a healthcare REIT "that specializes in the financing of health care real estate by first mortgage and by purchase and leaseback transactions" so in theory it is less speculative than other mREITS.
From mreit.com: an "mREIT is a Mortgage REIT ... which is an entity that specializes in investing solely in mortgage products (e.g. purchasing and selling mortgage-backed securities). Like other REITs (Real Estate Investment Trusts), an mREIT can only deal with mortgages and 90% of earnings must be paid out to its investors annually." Not all mREITs are created equal as the mortgages can be for residential, commercial, healthcare or many other underlying purposes. Since these companies are required to distribute such a high percent of earnings to investors, the yields are much higher than you find with more traditional companies; however, the stock prices and dividends can both be quite volatile.
With the exception of NHI, the three REITs above all have yields in excess of 8% and are going ex-dividend in the next few days so you might think they are no brainer dividend captures, right? As I have said in the past, I do not have a wholesale blessing on this sector because there is still much uncertainty surrounding real estate and the related political environment. I wrote an in-depth article on these companies in December 2011 that I recommend consulting. These companies can make for profitable longer-term investments but since this area is not my forte, I cannot recommend them. I am simply reminding investors that these super high yield companies are going ex-dividend this week and to conduct further research.
Consider: Private Equity
Prospect Capital Corporation (PSEC): 11.35% Yield - Ex-Dividend 3/28
Prospect Capital is a specialty finance company that operates primarily in the private equity and specialized investment categories. As with many of the companies that appear in my dividend screens it appears that PSEC is depressed solely because it is a financial services company. This hidden treasure can be your gain. Private equity companies are attractive dividend producers because they often either turnaround or improve existing companies and are able to return excess cash quickly. These can be volatile companies because their ventures often do fail but once they have successful investments, they can pay higher than average dividends. The firm prefers to make small investments ($5-$50M) in small-to-mid size North American companies. In June 2010 Prospect began distributing dividends monthly rather than quarterly which accounts for the perceived dividend decrease from $.40 to $.10. The dividend has held steady around $.10 per share since then but with such a high current yield dividend growth is not a requirement. I am confident in the company's immediate term prospects primarily because the company announced a $100M repurchase plan in August. Last week Prospect agreed to acquire a specialty finance company, First Tower Corp, in a cash/stock deal valued at approximately $233 million. First Tower specializes in offering installment loans to consumers for mid-sized consumer purchases. Based upon TTM earnings, the deal would offer a current yield of 21%; therefore, should be an accretive acquisition. This is another case of the rich getting richer and shareholders should take advantage because the stock is still down 12% in the last year despite rising 15.5% year-to-date. With a yield hovering over 11% and PE below seven, I am bullish on Prospect Capital's future. Please note that Prospect makes monthly distributions
Consider: Oil and Gas Operators
Penn West Petroleum Ltd (PWE): 5.33% Yield - Ex-Dividend 3/28
Penn West Petroleum Ltd. (formerly Penn West Energy Trust prior to 2011) engages in acquiring, exploring, developing and the related activities for petroleum and natural gas in various Canadian provinces. Any company that produces crude oil and natural gas is likely to entail above average risk; however, I believe that this sector will reward investors going forward as the commodity prices should recover. Even while the stock remains flat you can collect a more than satisfactory 5% yield while you wait. Penn West has not been in the news much recently and has appreciated only slightly since I first covered it in December.
Consider: Regional Banks
Canadian Imperial Bank of Commerce (NYSE:CM): 4.65% Yield - Ex-Dividend 3/26
The Canadian Imperial Bank of Commerce is one of the largest banks in Canada that has retail banking, wholesale banking, and global wealth management services. One of the most important statistics for banks now is Tier 1 capital and CM's ratio is a respectable 14.7%. For comparison, Bank of America (NYSE:BAC) had a ratio of 12.4% as of 12/31/11. Earnings and dividends have been essentially flat over the past year but I just do not see a very compelling reason to buy now For a more detailed analysis of CM's most recent earnings please consult Jeff William's recent article.
The information presented has been summarized below.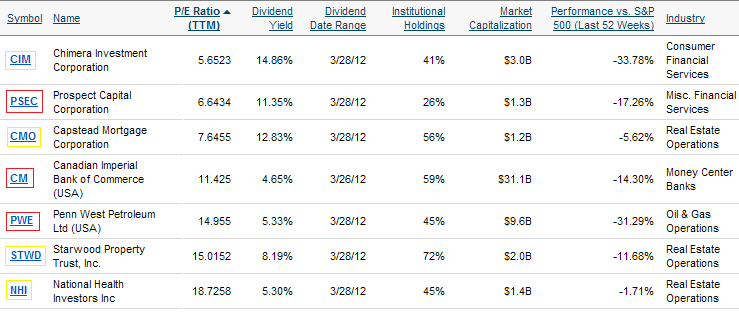 Disclosure: Author is long T.