Asbury Automotive Group: Driving Your Way To More Profits
Summary
Asbury Automotive Group continues to generate strong sales, earnings, and cash flow growth.
This is impressive, but it's only due to acquisitions and favorable pricing.
Even with that being the case, the company still is cheap and should make for an appealing long-term play.
Looking for a helping hand in the market? Members of Crude Value Insights get exclusive ideas and guidance to navigate any climate. Learn More »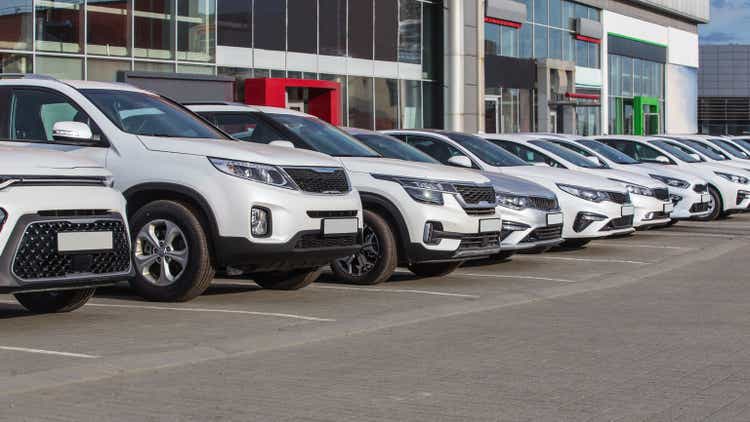 When it comes to investing, sometimes it takes a while for a prospect to turn out the way you think it should. Other times, it can happen rather rapidly. An example of the latter case can be seen by looking at Asbury Automotive Group (NYSE:ABG). Given that the company is a major franchised automotive retailer in the US, you might think that conditions would not be very favorable to the firm. After all, rising interest rates and other economic factors do not necessarily bode well for car sales. But thanks to strong revenue, profit, and cash flow growth, the company's shares have roared higher compared to what the broader market has achieved. Surely, the easy money has been made by this point. But given how cheap shares still are, I would make the case that further upside from here is probable. So because of this, I've decided to keep the 'buy' rating I had on its stock previously to reflect my view that shares should continue to outperform the broader market for the foreseeable future.
Driving growth
Back in the middle of October 2022, I wrote an article that looked favorably upon Asbury Automotive Group. In that article, I talked about how, in the months leading up to that point, investors were pessimistic about the firm and its prospects for the future. Even so, financial performance from the company remained robust and shares looked cheap enough to draw my attention. At the end of the day, this all led me to rate the enterprise a 'buy'. So far, since then at least, this call has played out well. While the S&P 500 is up 6.8%, shares of Asbury Automotive Group have generated upside for investors of 15.5%.
To understand why the company has done so well, I would like to draw your attention to financial results from the third quarter of the company's 2022 fiscal year. This is the only quarter for which new data is available that was not available when I last wrote about the business. During that time, sales came in at $3.87 billion. That's 60.7% higher than the $2.41 billion generated only one year earlier. It is very important to point out exactly why this growth is taking place. In short, the company has made multiple acquisitions that have added to its top line performance. On a same-store basis, the firm has actually struggled some.
As an example of this, consider the Dealership segment of the company. Overall, new vehicle sales jumped 59% year over year, driven by a 47% increase in the number of units sold. But on a same-store basis, overall revenue dropped by 7%, with the number of new vehicle units sold to customers down about 16%. The company also benefited on this front from an 8% rise in revenue per new vehicle sold. When it comes to used vehicles, overall sales were up 51%, driven by a 40% rise in used vehicle retail units sold and an 8% increase in revenue per used vehicle. What this means is that the company is essentially buying itself out of declining sales. It is worth noting that the company also benefited from a significant improvement in revenue associated with parts and services activities. Revenue there jumped by 83% year over year. But on a same-store basis, that revenue growth was a more modest 12%. This growth does make sense when you consider how much the price of a vehicle has increased in recent years. Instead of buying another vehicle to replace a broken-down one, individuals are more likely to spend money to fix what they already have.
This rise in revenue brought with it improved profits. Net income rose from $147 million to $205 million. It is true that operating cash flow worsened year over year, dropping from $371.3 million to $167.8 million. But if we adjust for changes in working capital, it would have risen from $164 million to $239.8 million. Meanwhile, EBITDA for the company also increased, jumping from $218.3 million to $328.8 million. As you can see in the chart above, results for the first nine months of 2022 relative to the same time one year earlier are very similar to results achieved in the third quarter alone. Sales of $11.73 billion dwarfed the $7.18 billion reported during the same time of the 2021 fiscal year. Net income jumped from $391.9 million to $644.1 million. Operating cash flow fell from $958.6 million to $664.4 million. But on an adjusted basis, it would have risen from $460.2 million to $752.8 million. And finally, EBITDA for the company rose from $1.16 billion to $1.27 billion.
In my prior article on Asbury Automotive Group, I highlighted the company's goal of growing revenue to $32 billion by 2025, with $8 billion, up from $2.20 billion in 2023, coming from Clicklane. Given me rapid growth the company has seen so far this year, I have no trouble believing that it can still hit this target barring any massive unforeseen circumstances. As for the more immediate future, we don't really know what to expect for 2022 as a whole. If we simply annualize results experienced so far, we would anticipate net income of $875 million, adjusted operating cash flow of $1.07 billion, and EBITDA of $906.3 million.
Based on these numbers, the company would be trading at a forward price-to-earnings multiple of 4.5. It would also be trading at a forward price to adjusted operating cash flow multiple of 3.7 and add a forward EV to EBITDA multiple of 7.9. By comparison, using the data from 2021, these multiples would be 7.5, 6.1, and 8.7, respectively. As part of my analysis, I also compared the company to five similar businesses. On a price-to-earnings basis, these companies ranged from a low of 4.4 to a high of 6.3. Only two of the five were cheaper than Asbury Automotive Group. Using the price to operating cash flow approach, the range was from 3 to 24.4. In this case, only one of the five companies was cheaper than our prospect. And finally, using the EV to EBITDA approach, the range was from 4.4 to 5.9. Only in this case was our prospect rather pricey, with all five comparable firms cheaper than it.
| | | | |
| --- | --- | --- | --- |
| Company | Price / Earnings | Price / Operating Cash Flow | EV / EBITDA |
| Asbury Automotive Group | 4.5 | 3.7 | 7.9 |
| Group 1 Automotive (GPI) | 4.4 | 4.4 | 4.5 |
| Sonic Automotive (SAH) | 5.4 | 3.0 | 5.9 |
| AutoNation (AN) | 4.4 | 4.3 | 4.4 |
| Lithia Motors (LAD) | 4.6 | 24.4 | 5.6 |
| Penske Automotive Group (PAG) | 6.3 | 7.5 | 5.9 |
Takeaway
From what I see here, I believe that the run-up in share price achieved by Asbury Automotive Group was most certainly warranted. In fact, I think it was terribly overdue. At this point, the easy money probably has been made. But given how cheap shares are and the rapid growth the company continues to exhibit, I can't help but imagine that further upside could be on the table. That is why I have no problem rating this a solid 'buy' at this time even if it's not the top prospect on my list when it comes to automotive retailers.
Crude Value Insights offers you an investing service and community focused on oil and natural gas. We focus on cash flow and the companies that generate it, leading to value and growth prospects with real potential.
Subscribers get to use a 50+ stock model account, in-depth cash flow analyses of E&P firms, and live chat discussion of the sector.
Sign up today for your two-week free trial and get a new lease on oil & gas!
This article was written by
Robust cash flow analyses of oil and gas companies
Daniel is an avid and active professional investor. He runs Crude Value Insights, a value-oriented newsletter aimed at analyzing the cash flows and assessing the value of companies in the oil and gas space. His primary focus is on finding businesses that are trading at a significant discount to their intrinsic value by employing a combination of Benjamin Graham's investment philosophy and a contrarian approach to the market and the securities therein.
Analyst's Disclosure: I/we have a beneficial long position in the shares of GPI either through stock ownership, options, or other derivatives. I wrote this article myself, and it expresses my own opinions. I am not receiving compensation for it (other than from Seeking Alpha). I have no business relationship with any company whose stock is mentioned in this article.
Seeking Alpha's Disclosure: Past performance is no guarantee of future results. No recommendation or advice is being given as to whether any investment is suitable for a particular investor. Any views or opinions expressed above may not reflect those of Seeking Alpha as a whole. Seeking Alpha is not a licensed securities dealer, broker or US investment adviser or investment bank. Our analysts are third party authors that include both professional investors and individual investors who may not be licensed or certified by any institute or regulatory body.